Syria
Syrian Arab Republic: Market Profile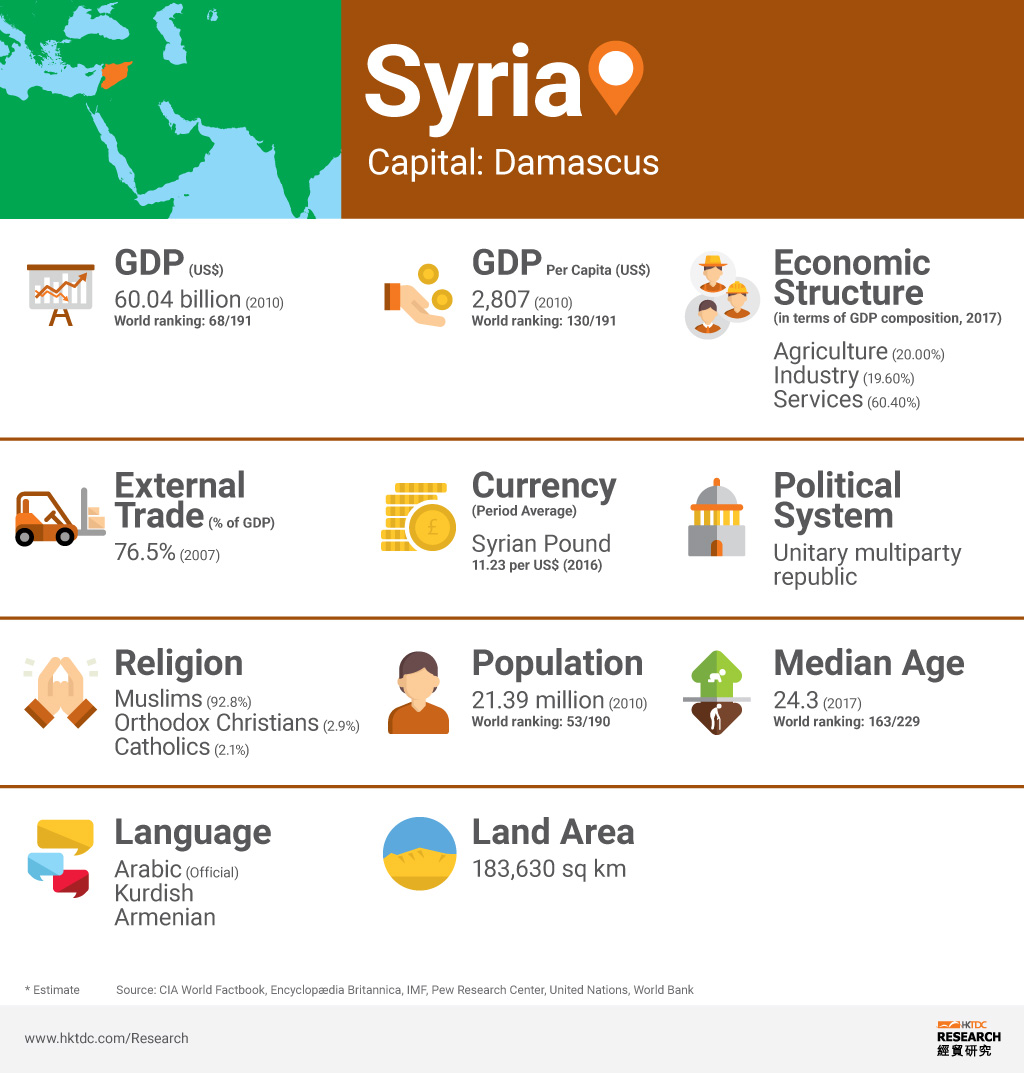 1. Overview
Now into its seventh year, the violent conflict in Syria continues to take a heavy toll on the life of Syrian people and on the Syrian economy. The UN estimates that more than 250,000 people have died. More than 6.3 million people are internally displaced and 4.9 million are registered as refugees.
Source: BMI Research
2. Major Economic/Political Events and Upcoming Elections
June 2017
US shot down Syrian fighter jet near Raqqa after it allegedly dropped bombs near US-backed rebel Syrian Democratic Forces (SDF).
July 2017
The Lebanese militant group Hezbollah and the Syrian army launched a military operation to dislodge jihadist groups from the Arsal area, near the Lebanese-Syrian border.
October 2017
The Islamic State group was driven from Raqqa, its de-facto capital in Syria.
November 2017
Syrian army took full control of Deir al-Zour from Islamic State. Syrian and Iraqi forces put IS under pressure in the dwindling areas still under its control.
December 2017
Russian President Putin visited, declaring mission accomplished for his forces in the battle against Islamic State.
January 2018
Turkey launched an assault on northern Syria to oust Kurdish rebels controlling the area around Afrin. It seized the town in March.
February 2018
Government launched a ferocious assault on Eastern Ghouta, the final rebel-held enclave near Damascus.
April 2018
Claims of a new chemical attack in Eastern Ghouta's main town of Douma prompted the US, Britain and France to carry out a wave of punitive strikes on Syrian targets.
Source: BBC country profile – Timeline
3. Major Economic Indicators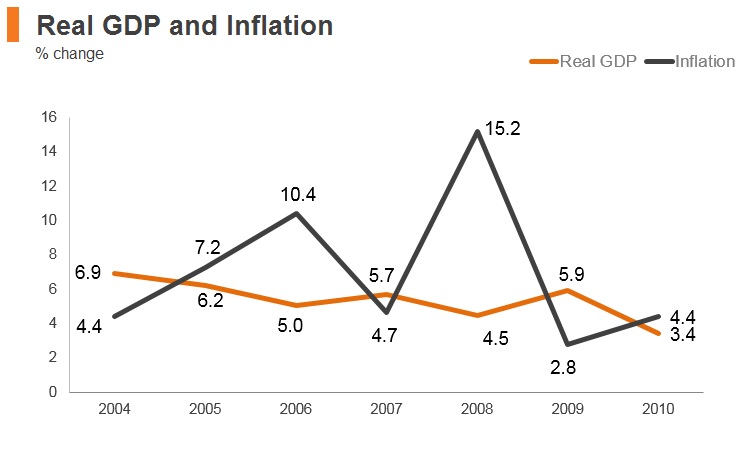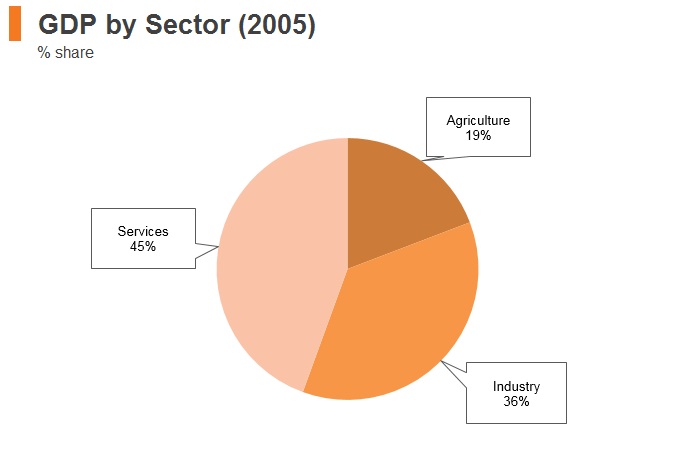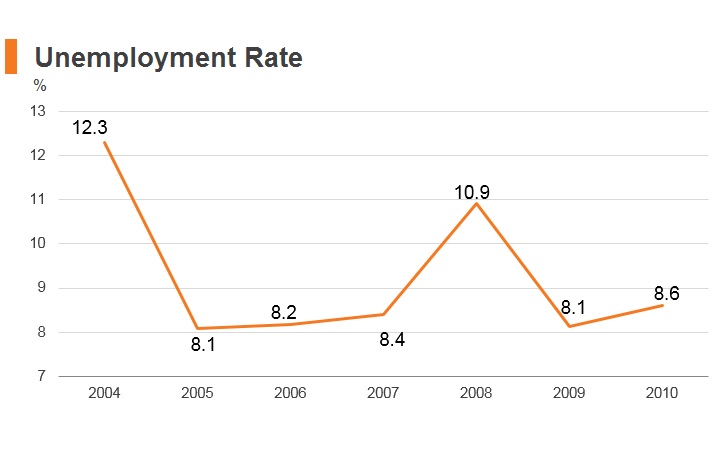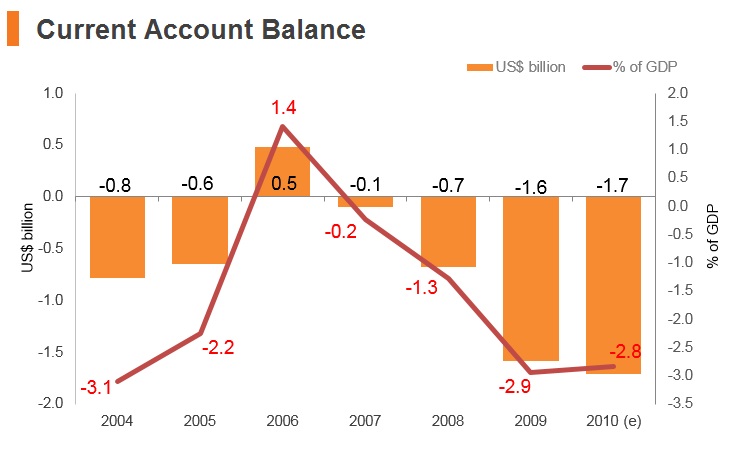 e = estimate
Sources: IMF, World Bank
4. External Trade
4.1 Merchandise Trade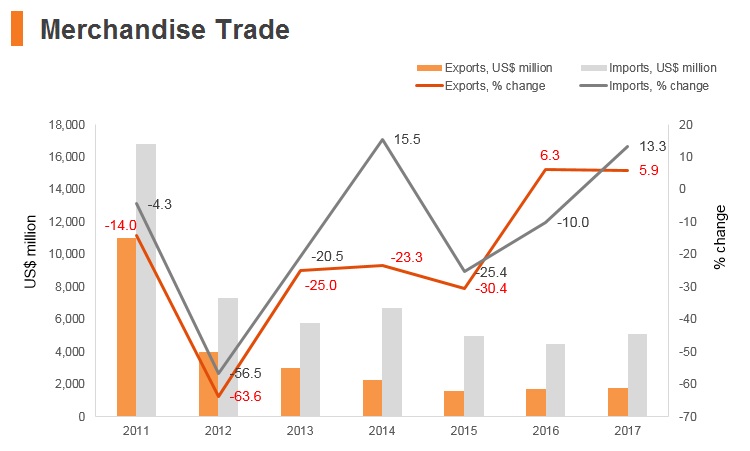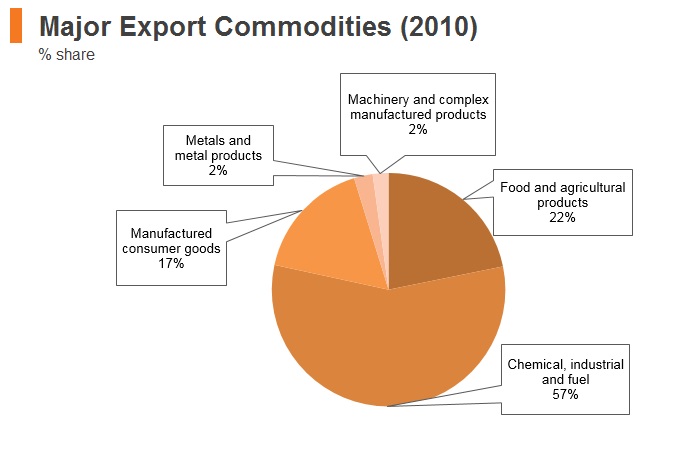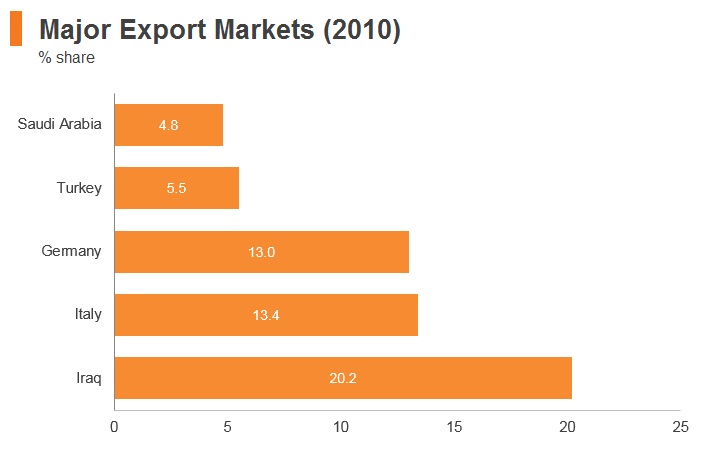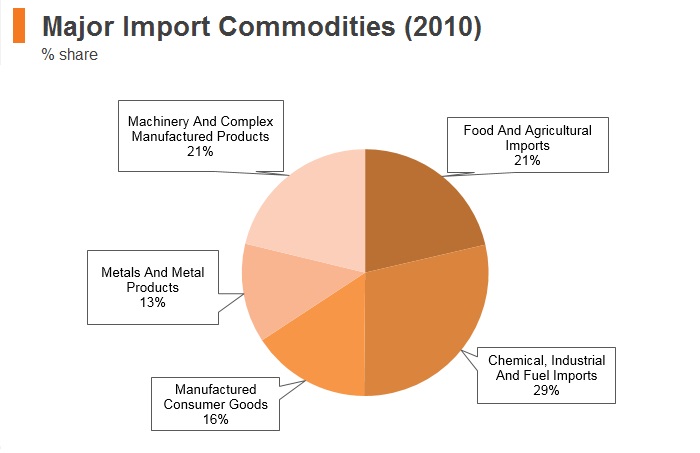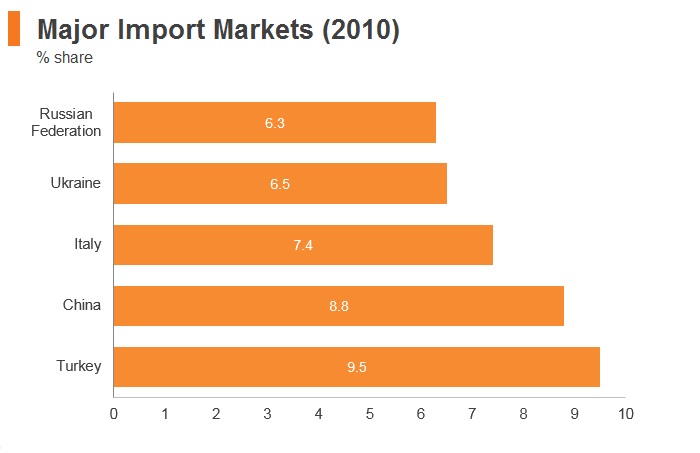 Sources: WTO, Trade Map
4.2 Trade in Services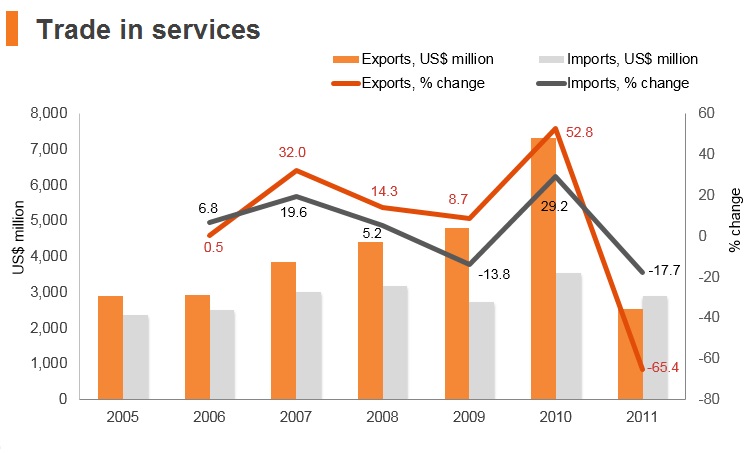 Source: WTO
5. Trade Policies
The Syrian Arab Republic's Working Party for World Trade Organisation (WTO) accession was established in May 2010. The Working Party has not yet met. Syria was open to international trade before the civil war began in 2011, and the government is still aiming to harmonise its import tariffs and custom duties to adapt them to WTO standards.


Syria experienced a few years of positive trade development, after which trading came to a standstill due to the start of the civil war and the consequent economic sanctions imposed by the country's trade partners.


Syria's average tariff rate is 14.2%, the second highest in the Middle East and North African region (out of 18 countries). Syria imposes a progressive tax rates system for partners that it does not have a trade agreement with. Customs duties oscillate between 1% and 200%, where raw materials are taxed at 5%-10%, equipment for industry 10%-20%, foodstuffs 1%-15%, and machines 30%-60%. A surtax of between 6% and 35% is levied on products meant to be sold to military barracks, schools and local councils. Tourism vehicles weighting under one ton are taxed 150%.


In May 2009, Syria banned all imports of 'any meat or products or materials containing derivatives of pigs'. Furthermore, travellers flying to Syria are banned from bringing in pets (unless accompanied with health certificates), animal products or prepared foodstuffs that contain animal products regardless of their origin. Both measures apply to all of Syria's trading partners.

Even though this measure is likely to have been taken on the grounds of protecting the citizenry's health, it still discriminates against foreign producers of the affected products.


Customs duties are currently being lowered and reviewed in the context of an agreement of association between Syria and the European Union and Syria's eventual membership to the WTO. Customs formalities have, therefore, been simplified and the list of prohibited imports has been lowered.
Sources: WTO – Trade Policy Review, BMI Research
6. Trade Agreement
6.1 Multinational Trade Agreements
Active
Syria is part of the Pan-Arab Free Trade Area (PAFTA), consisting of Bahrain; Egypt; Iraq; Jordan; Kuwait, Lebanese Republic; Libya; Morocco; Oman; Qatar; Saudi Arabia, Sudan; Syrian Arab Republic; Tunisia; United Arab Emirates and Yemen. The Agreement came into force in January 1998 and focusses on trade in goods.


EU and Syria: The FTA between the EU and Syria entered into force on July 1977, and it focusses on trade in goods.


Turkey and Syria: The bilateral FTA between Turkey and Syria entered into force in January 2007, and it focusses on trade in goods.
Source: WTO Regional Trade Agreements database
7. Investment Policy
7.1 Foreign Direct Investment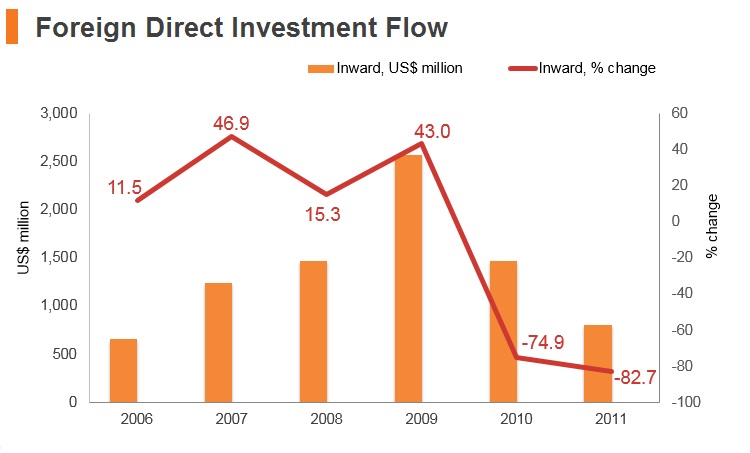 7.2 Foreign Direct Investment Policy
Before emerging into conflict in 2011, Syria was gradually opening up its economy and moving toward a free market system.


No reliable international data has been published regarding foreign investment into Syria since 2012.


Before the start of the conflict, Syria introduced structural reforms, which included the renovation of the Commercial Code (2007), the Maritime Code (2008), the Finance Act (2004) and the Banking Act of 2004, which would allow the country to be able to move toward a free market economy. Further to this, the Investment Law also gave incentives to foreign investors, including ownership of companies, import of machinery, transport and raw material free from customs duties.
Sources: WTO – Trade Policy Review, The International Trade Administration (ITA), US Department of Commerce
7.3 Free Trade Zones and Investment Incentives
Free Trade Zone/Incentive Programme
Main Incentives Available
Syria has seven free zones which allow for different production activities and services.

The government is also advocating for the development of industrial cities.
Even though various incentives exist, such as lower customs duties and administration, as well as tax breaks, investors will face challenges arising from the conflict.
Sources: US Department of Commerce, BMI Research
8. Taxation – 2017

Value Added Tax: N/A
Corporate Income Tax: 22%
Source: PwC Taxes at a Glance 2017
8.1 Business Taxes
Type of Tax
Tax Rate and Base
Corporate Income Tax rate
– Specific rates: 22% on joint stock and limited liabilty companies; 14% for joint stock enterprises which issues more than 50% of its shates to the public; 15% for insurance companies which issue at least 51% of its shares to the public; 25% to banks and insurance companies

– Companies falling outside these categories are taxed at a progressive rate ranging between 10% and 28%
Dividends
– 7.5% on dividends issued by a nonresident entity

– Dividends issued by Syria-based entities are not taxed on distribution to another company
Capital Gains Tax
– Treated as taxable income and taxed at the standard Corporate Tax rate

– Gains on real property are subject to a tax rate ranging from 15%-30% of the property's registered value
Surtax
– 4%-10% administrative tax, depending on region

– A temporary 5% is imposed on all direct and indirect taxes
Stamp Duty
Ranges between 0.3% to 0.7%
Interest
7.5% on interest paid to non-residents
Payroll Tax
Employers must withold 5% to 22% of salary payments
Royalties
5% withholding tax
Social security contributions – payable by employer
17.1% total: 14% equivalent of payroll costs to cover insurance relating to old age, disability and death; 3% equivalent to the payroll for work-injury benefits schemes; 0.1% to a lump sum for disability benfits fund
9. Foreign Worker Requirements
9.1 Security Situation
Employers will be obligated to pay exorbitant insurance premiums for foreign staff, and may also be required to offer substantial hardship and danger pay premiums.
9.2 Visa/Travel Restrictions
Citizens of all countries require a visa to travel to Syria. Before 2014, citizens of many Arab countries did not require a visa, and citizens of many former Soviet states were allowed to obtain visas on arrival.
Sources: Government websites, BMI Research
10. Risks
10.1 Sovereign Credit Ratings
| | | |
| --- | --- | --- |
| | Rating (Outlook) | Rating Date |
| Moody's | N/A | N/A |
| Standard & Poor's | N/A | N/A |
| Fitch Ratings | N/A | N/A |
Sources: Moody's, Standard & Poor's, Fitch Ratings
10.2 Competitiveness and Efficiency Indicators


World Ranking

2016
2017
2018
Ease of Doing Business Index

172/189
173/190
174/190
Ease of Paying Taxes Index

119/189
81/190
81/190
Logistics Performance Index

160/160
N/A
N/A
Corruption Perception Index

173/176
178/180
N/A
IMD World Competitiveness
N/A
N/A
N/A
Sources: World Bank, IMD, Transparency International
10.3 BMI Risk Indices


World ranking
2016
2017
2018
Economic Risk Index Rank
197/202
Short-Term Economic Risk Score
24
24.2
27.1
Long-Term Economic Risk Score
23.6
27.6
29.7
Political Risk Index Rank
199/202
Short-Term Political Risk Score
22.9
22.9
27.9
Long-Term Political Risk Score
22.4
21.7
21.7
Operational Risk Index Rank
187/201
Operational Risk Score
29.3
27.1
28.1
Source: BMI Research
10.4 BMI Risk Summary
ECONOMIC RISK
Given the prolonged period of unrest in Syria, along with the displacement of millions of Syrians, we expect continued economic decline over the coming years. The Syrian economy has contracted to the size it was in the early-1990s. While regions held by the regime of Syrian President Bashar al-Assad will remain better-off than those occupied by the rebels, business activity and state investment will stay stagnant, and living standards will continue to decline as the Syrian pound loses value.
OPERATIONAL RISK
Damascus undertook some key reforms to improve the country's business environment before the beginning of the civil war, such as allowing greater private investment in specific sectors through public-private partnerships. However, as long as the civil war continues, foreign investment will remain virtually non-existent, with only a few Iranian and Russian companies investing in government-controlled territory. Russia's entry into the Syrian civil war in September 2015 has reshaped the conflict, allowing the Syrian regime of President Bashar al-Assad to make its most sweeping territorial gains in years.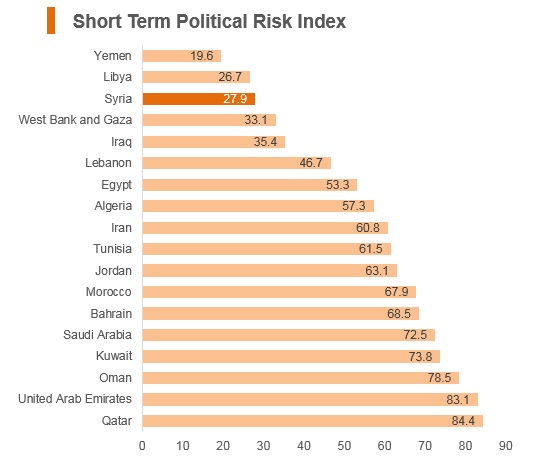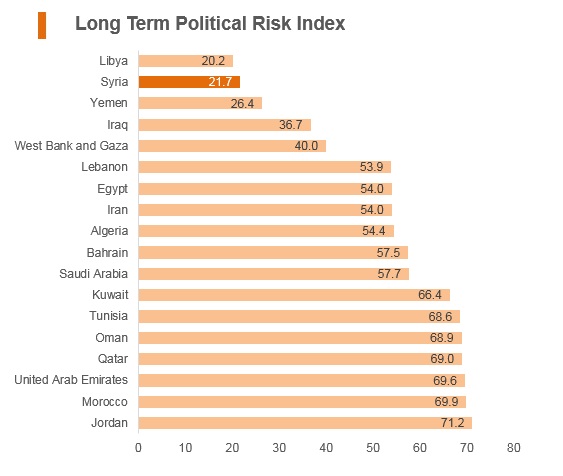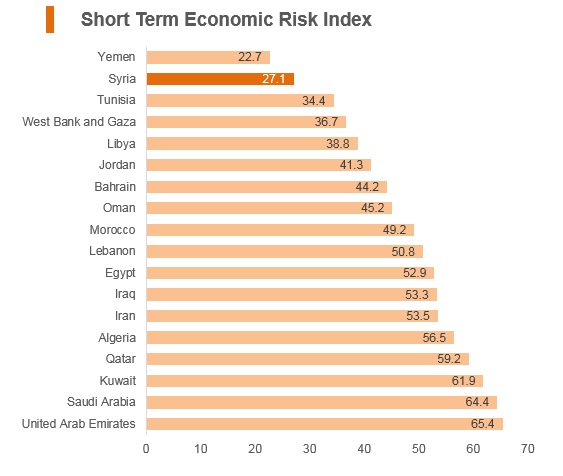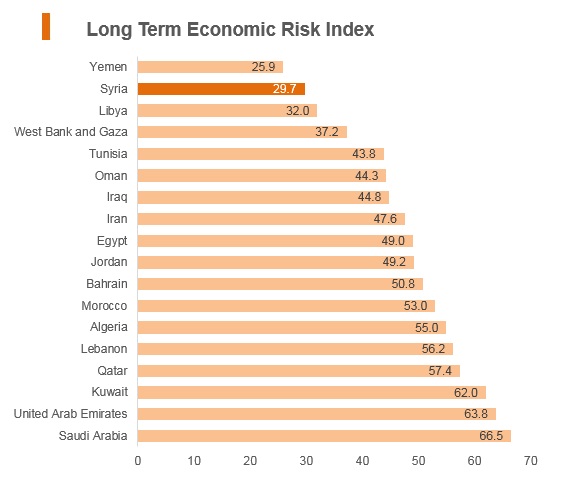 100 = Lowest risk, 0 = Highest risk
Source: BMI Research Economic and Political Risk Indices
10.5 BMI Operational Risk Index
| | | | | | |
| --- | --- | --- | --- | --- | --- |
| | Operational Risk | Labour Market Risk | Trade and Investment Risk | Logistics Risk | Crime and Security Risk |
| Syria Score | 28.1 | 42.9 | 30.0 | 26.4 | 12.9 |
| MENA Average | 47.4 | 49.3 | 48.1 | 48.4 | 43.9 |
| MENA Position (out of 18) | 16 | 15 | 15 | 17 | 17 |
| MENA Average | 47.4 | 49.3 | 48.1 | 48.4 | 43.9 |
| MENA Position (out of 18) | 16 | 15 | 15 | 17 | 17 |
| Global Average | 49.8 | 49.8 | 50.0 | 49.3 | 49.9 |
| Global Position (out of 201) | 187 | 146 | 175 | 185 | 196 |
100 = Lowest risk, 0 = Highest risk
Source: BMI Operational Risk Index

| | | | | | |
| --- | --- | --- | --- | --- | --- |
| Country | Operational Risk | Labour Market Risk | Trade and Investment Risk | Logistics Risk | Crime and Secruity Risk |
| UAE | 73.8 | 67.8 | 79.6 | 72.5 | 75.1 |
| Qatar | 66.3 | 63.9 | 63.1 | 67.8 | 70.5 |
| Bahrain | 64.1 | 58.4 | 68.5 | 71.1 | 58.5 |
| Oman | 63.2 | 51.0 | 59.8 | 66.4 | 75.4 |
| Saudi Arabia | 61.8 | 63.0 | 61.8 | 63.2 | 59.2 |
| Jordan | 58.0 | 54.9 | 59.1 | 59.7 | 58.3 |
| Kuwait | 55.3 | 52.3 | 51.7 | 51.1 | 66.2 |
| Morocco | 53.6 | 39.8 | 62.0 | 55.2 | 57.2 |
| Tunisia | 47.1 | 42.3 | 52.4 | 46.9 | 46.7 |
| Egypt | 45.8 | 46.0 | 46.4 | 53.5 | 37.4 |
| Lebanon | 43.0 | 47.9 | 50.0 | 40.6 | 33.6 |
| Iran | 42.9 | 48.7 | 38.3 | 51.2 | 33.3 |
| Algeria | 39.9 | 44.0 | 31.7 | 39.8 | 44.2 |
| West Bank And Gaza | 33.7 | 46.4 | 36.8 | 30.2 | 21.5 |
| Libya | 28.3 | 44.4 | 26.0 | 29.3 | 13.5 |
| Syria | 28.1 | 42.9 | 30.0 | 26.4 | 12.9 |
| Iraq | 27.3 | 43.7 | 25.2 | 28.8 | 11.5 |
| Yemen | 21.6 | 30.6 | 23.0 | 17.3 | 15.6 |
| Regional Averages | 47.4 | 49.3 | 48.1 | 48.4 | 43.9 |
| Emerging Markets Averages | 46.8 | 48.0 | 47.5 | 45.8 | 46.1 |
| Global Markets Averages | 49.8 | 49.8 | 50.0 | 49.3 | 49.9 |
100 = Lowest risk, 0 = Highest risk
Source: BMI Research Operational Risk Index
11. Hong Kong Connection
11.1 Hong Kong's Trade with Syria
| | | |
| --- | --- | --- |
| | 2017 | Growth rate (%) |
| Number of Syrian residents visiting Hong Kong | 297 | -11.1 |
| Number of Syrians residing in Hong Kong | N/A | N/A |
Source: Hong Kong Tourism Board
| | | |
| --- | --- | --- |
| | 2017 | Growth rate (%) |
| Number of Middle Eastern residents visiting Hong Kong | 129,816 | -2.5 |
Source: Hong Kong Tourism Board
11.2 Commercial Presence in Hong Kong


2016

Growth rate (%)

Number of Syrian companies in Hong Kong
N/A
N/A
- Regional headquarters
- Regional offices
- Local offices
Source: Hong Kong Census & Statistics Department
11.3 Treaties and Agreements between Hong Kong and Syria
N/A
Source: Hong Kong Department of Justice