Israel
Israel: Market Profile
Major Economic Indicators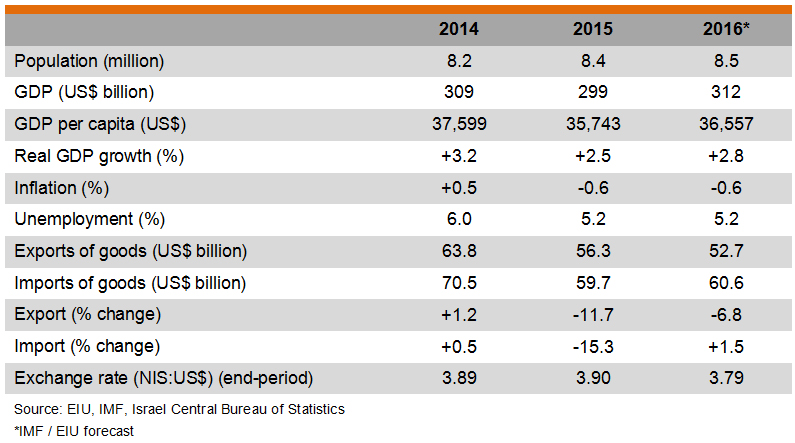 Recent Developments
After expanding 2.6% in 2015, the Israeli economy grew by an annualised 4% in Q2 2016 with support from higher private consumption and government spending.
Israel's inflation rate fell by 0.7% year-on-year (YOY) in August 2016, continuing a declining trend from 2015 and dipping below the inflation target of 1%-3% set by the Bank of Israel (BOI). The BOI kept its administered rate unchanged at 0.1% in September 2016.
With a small population and limited geographical area, the government encourages Israeli companies to develop high-tech industries for the international market to achieve economic growth. Information and communication technology (ICT), homeland security, aircraft, electronics, and environmental technologies are areas which Israel excels.
Israel is Hong Kong's second largest export market in the Middle East after the UAE. In the first eight months of 2016, Hong Kong's total exports to Israel decreased by 14% YOY, with pearls and precious stones items accounting for 73.4% of exports to the country.
Current Economic Situation
Economy
Israel is considered one of the most advanced countries in the Middle East in economic and industrial development. In the past two decades, the Israeli economy has changed radically, moving away from agricultural industries to become a high-tech powerhouse. Industry now accounts for about 27% of Israeli GDP, with services assuming a GDP share of about 70% and the rest attributed to agriculture.
After expanding by 2.6% in 2015, the Israeli economy grew by an annualised 4.0% in Q2 2016 thanks to a 10% growth in private consumption and an 8.6% increase in government spending. Merchandise exports, on the other hand, continued the downward trend due to a faltering global economy and strong Israeli currency. Projected real GDP growth of 2.8% in 2016 is contingent on sustained private consumption and a modest recovery in exports.
Israel's consumer price inflation rate declined by 0.7% YOY in August 2016, continuing the deflationary trend in 2015. In view of sluggish economic growth and a deflationary trend, with consumer prices way below the official inflation target of 1%-3%, the Bank of Israel (BOI) cut its administered interest rate to a new historical low of 0.1% in March 2015 and has since held the rate unchanged in order to maintain an accommodative monetary stance.
High-tech industries
Many international high-tech companies have opened up branches as well as research and development centres in Israel, such as Intel and Microsoft. Other high-tech corporations such as IBM, Cisco Systems and Motorola have set up facilities in the country as well. Israel is a global leader in water conservation and geo-thermal energy, and its development of cutting-edge technologies in software, communications and life science has evoked comparison with the US' Silicon Valley. Recently, there have been a number of acquisitions of Israeli technological companies by US firms like Google, IBM and Facebook. Major transactions span various high-tech sectors, including software, mobile application and digital advertising.
The diamond industry is another important sector of Israel's economy. The country has one of the world's largest diamond exchanges in volume terms, situated in Ramat Gan on the border of Tel Aviv. In 2015, exports of polished diamonds totaled US$5 billion, dropping 20% from 2014 due to soft demand in key markets. Hong Kong is the country's second largest export destination of polished diamonds, accounting for 27% of the total, following the US. Diamond, under the product category of precious stones and semi-precious stones, is the largest trade item between Israel and Hong Kong.
External trade
In the first six months of 2016, Israel's merchandise exports dropped by 5.7% YOY to US$26 billion while imports increased by 3.7% YOY to US$32 billion. As exports account for over 30% of the country's GDP, external demand has a clear impact on its economic growth. As Israel's largest export market, the US absorbed more than a quarter of Israeli total exports in 1H 2016, and a sustained US recovery bodes well for a pickup in Israel's external demand in the remaining months of the year.
Investment Policy
The Israeli authority aims to foster supportive conditions for companies looking for business opportunities in the country. To promote foreign direct investment (FDI), the government has set up Invest in Israel, an investment promotion centre under the Ministry of Economy to aid investment growth across Israel's industries. A wide range of incentives and benefits are offered to investors in industry, tourism and real estate, while special focus is given to high-tech companies and R&D activities. Investment incentives, outlined under the Law for the Encouragement of Capital Investment, are divided into two main parts: the Grants programme and the automatic tax benefits programme. Details of the schemes as well as information on Israel's investment climate can be found on the Invest in Israel website.
To qualify for benefits, the company has to be an "industrial company" registered in Israel and has to be "internationally competitive" (i.e. with export capability). Biotechnology and Nanotechnology companies are exempt from the "export" requirement to qualify. Recognised investment in the Priority Area, however, will be treated as an Approved Investment and the company will be designated as an Approved Enterprise.
Foreign investment
Majority of Israel's FDI was channeled to the ICT, R&D and other capital-intensive industries. In 2015, cumulative FDI in Israel touched US$104 billion, with key contributors being the US, the Netherlands and Cayman Islands. Hong Kong's FDI stock to Israel stood at US$92 million in 2014, while that from the Chinese mainland was recorded at US$87 million in the same year.
Trade Policy
Most goods can be freely imported into Israel, though licences are required for defence-related items. When applying for an import licence, the importer must either be an Israeli resident, a corporation, or a non-profit organisation registered in Israel.
Israel's import tariffs are classified under the Harmonised System codes (HS). Ad valorem duties are imposed on imports transaction value (declared by importers). On top of custom duties, a value-added tax (VAT) is applied to almost all imported and domestically produced goods and services. For imports, VAT is levied based on the CIF value plus custom duties. The Minister of Finance has increased the VAT to 18% since June 2013.
Israel maintains strict regulations on product labelling and country of origin marking. All imports into Israel must bear a label showing the country of origin, the name and address of the manufacturer, the name and address of the Israeli importer and the contents, weight and volume in metric units. All labels must be in Hebrew. English language may be added and the printed letters are not larger than those in Hebrew.
In pursuit of higher export growth, the Israeli government has been active in negotiating free trade agreements (FTAs). Israel has signed FTAs with a number of countries and regional bodies, including the US, the European Free Trade Association (EFTA), Turkey, Canada, Mexico, Colombia, European Union (EU) (an Association Agreement which includes tariff-free treatment for industrial goods and most agricultural products) and MERCOSUR countries. The Israeli government is also pursuing an FTA with India and Panama.
Under the US-Israel Free Trade Area Implementation Act (IFTA Act), products from Qualifying Industrial Zones (QIZs, which encompass Israel's border areas with Jordan and Egypt), with no less than 35% of QIZs-produced contents (including a minimum of 8-10.5% Israeli inputs), are eligible to receive duty-free treatment when imported into the US.
Israel has also concluded double taxation agreements (DTAs) with a number of countries including the US, the EU and China.
Hong Kong's Trade with Israel[1]
Israel is Hong Kong's second largest export market in the Middle East after the UAE. In the first eight months of 2016, Hong Kong's exports to Israel dropped by 14% YOY to US$1,351 million. Major export items included pearls, precious & semi-precious stones (73.4% share), telecom equipment & parts (7.5%), and electrical apparatus for electrical circuits (2.4%).
Hong Kong's imports from Israel decreased by 10.8% YOY to US$1,652 million in the same period. Major import items included pearls, precious & semi-precious stones (84.1% share), semi-conductors, electronic valves & tubes (2.5%) as well as telecom equipment & parts (2%).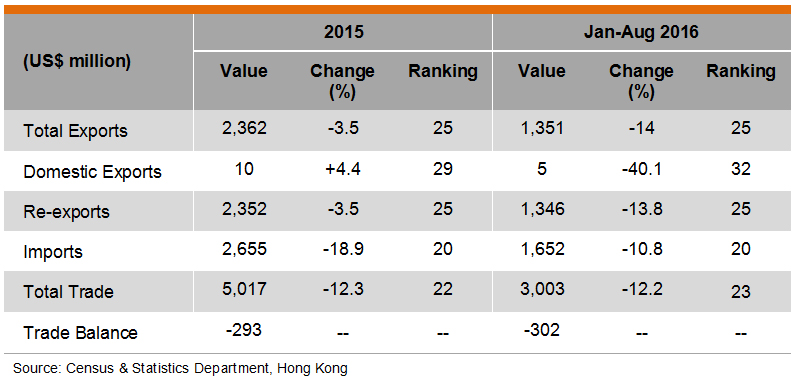 Israel's Involvement in the Hong Kong Economy
As at June 2015, Israeli companies had set up nine regional headquarters, eight regional offices, and eight local offices in Hong Kong, according to the Hong Kong Census & Statistics Department. Israeli companies in Hong Kong are engaged in sectors including high-technology, telecommunications, transportation and finance. They include Bank Hapoalim (Switzerland), El Al Israel Airlines and Orbotech Pacific Ltd.
In 2015, a total of 63,951 Israeli visitors came to Hong Kong, down 2.8% from 2014. In the first eight months of 2016, the number of Israeli visitors dropped 3.5% YOY to 39,415.
More Information
More information on the Belt and Road countries' economic and investment environment, tax and other subjects that are important in considering investment and doing business are available in The Belt and Road Initiative: Country Business Guides.
---
[1]  Since offshore trade has not been captured by ordinary trade figures, these numbers do not necessarily reflect the export business managed by Hong Kong companies.
Location: Israel
Sectors: CleanTech
Capital Required (USD):
$ 7,000,000
-
$10,000,000