Malaysia
Malaysia: Market Profile
Major Economic Indicators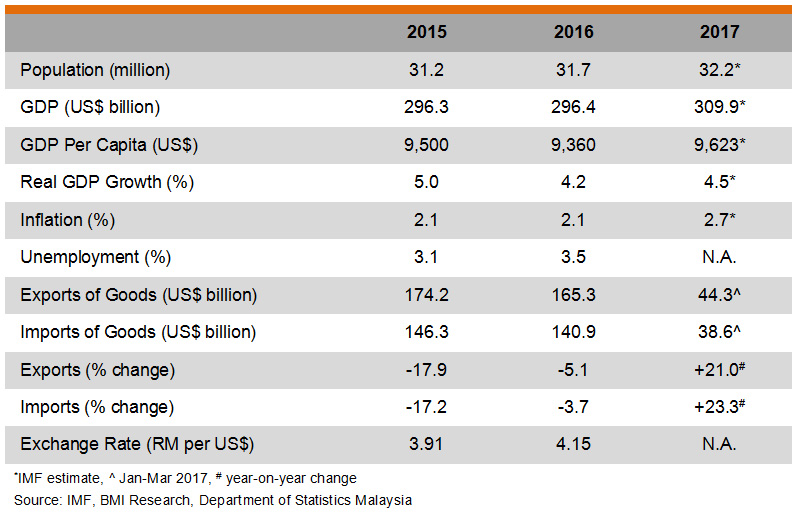 Latest Development
Malaysia's economy expanded by 4.2% in 2016, slowing from 5% in 2015. The IMF expects GDP growth at around 4.5% in 2017.
Malaysian consumer prices recorded a 2.1% growth in 2016. The central bank lowered the policy rate by 0.25% to 3% in July 2016. 
Inward FDI to Malaysia fell slightly to RM41 billion (about US$9.9 billion) in 2016 from RM43 billion (US$11 billion) in 2015, with a sharper decline reported in US dollar terms due to the depreciation of the Malaysian currency.
In Q1 2017, Malaysia's export expanded by 21% YOY while imports increased by 23.3% YOY in the same period.
Hong Kong's exports to Malaysia increased by 6.6% YOY to US$1.2 billion in the first four months of 2017, while imports expanded 6.1% YOY to US$3.9 billion during the same period
Current Economic Situation
Economy
Malaysia is the fourth largest economy of the 10-member ASEAN[1] bloc, trailing Indonesia, Thailand and the Philippines. The service, industry and agriculture sectors account for, respectively, 55%, 36% and 9% of Malaysia's GDP. Major sectors include electronics, automobiles, palm oil processing, construction, finance, Insurance, real estate, wholesale and retail trade.
Malaysia's GDP growth slowed to 4.2% in 2016 from 5% in 2015, with the services and manufacturing sectors growing by, respectively, 5.6% and 4.4%. The construction sector experienced a stronger growth rate of 7.4% in 2016. The IMF expects the Malaysian economy to grow by 4.5% in 2017 amid firmer private spending and oil price stability. Yet, the IMF cautioned in the Article IV Consultation on Malaysia, released in April 2017, that risks to the economic outlook are tilted to the downside, citing heightened global financial stress and associated capital flows as external threats, while domestically public, corporate and household debt levels remain high, thereby limiting policy space to respond to shocks.
Concerns about US monetary policy tightening and the slowdown of the Chinese economy have dealt a serious blow to the currencies of many emerging economies. After a short-lived rebound in the first half of 2016, the Malaysian Ringgit (RM) edged down to revisit the 2015 low of RM4.5 to US$ in early 2017, only to recover modestly to around RM4.3 to US$ in June of 2017.
Malaysian consumer prices recorded 2.1% growth in 2016, led by price increases in energy, fuels and food and non-alcoholic beverage. In the face of quickening inflation and a weakening RM, the Bank Negara (BN), the country's central bank, lowered its overnight policy rate by 0.25% to 3% in its July 2016 meeting. Meanwhile, the employment market deteriorated somewhat in 2016, with the jobless rate edging up to 3.5% from 3.1% in 2015.
External Trade
In 2016, Malaysia's exports dropped by 5.1% to US$165.3 billion while imports fell by 3.7% to US$140.9 billion. A slight increase in both exports and imports of less than 2% was recorded in RM terms. In Q1 2017, both exports and imports recorded strong YOY growth, up 21% and 23.3% respectively. Major Malaysian exports include electronics and electrical products (E&E), palm oil and palm oil-based products and refined petroleum products. Major export markets include Singapore, China, the US, EU and Japan. Malaysia's export performance is gradually improving with signs of stabilising oil and commodity prices.
Main imports to Malaysia were intermediate good and capital goods, including electronics, machinery and petroleum products. Major import sources included China, Singapore, EU, Japan, and the US. Despite the decline in exports, Malaysia continued to post a trade surplus in 2015 as imports slowed by an extent similar to exports.
Economic Reforms
The Economic Transformation Programme (ETP) launched in 2010 targets 12 National Key Economic Areas (NKEA) seen as having the greatest potential to boost overall economic growth, including palm oil cultivation, tourism, financial services and electronics industries. The ETP is a comprehensive economic plan to propel Malaysia's economy to the rank of high income economies (with a per capita income of at least US$15,000) by 2020. The implementation of ETP is still on track, which is further supported by the Eleventh Malaysia Plan (11MP) announced in May 2015, with the 11MP consisting of initiatives for deployment in the last five years before the 2020 deadline for achieving high-income status for Malaysia.
Investment Policy
Export-dependent Malaysia is keen to attract FDI and promote high-value manufacturing. Investment incentives including corporate income tax exemption and tax allowance are provided in such industries as advanced electronics, medical devices, bio-technologies and green technologies. More information on investment guidelines and incentives can be found at the website of Malaysian Investment Development Authority (MIDA).
Foreign Investment
Inward FDI to Malaysia fell slightly to RM41 billion (about US$9.9 billion) in 2016 from RM43 billion (US$11 billion) in 2015, with a sharper decline reported in US dollar terms due to sharp RM depreciation.
The bulk of inward FDI in 2016 came from the Hong Kong, the US, Singapore, Japan and the Chinese mainland. China was Malaysia's biggest manufacturing FDI source in 2016, mostly investing in steel, non-metallic mineral and solar industries. Hong Kong is Malaysia's fourth-largest foreign investors in manufacturing projects in terms of FDI stock, spanning E&E, basic metal, fabricated metal, garment and textile, wood and related products. In recent years Hong Kong has also been expanding its investment in Malaysia to the services sector. 
As of 2016, Hong Kong's cumulative FDI in Malaysia stood at US$10.6 billion, while that of the Chinese mainland reached about US$2.2 billion. Hong Kong's cumulative FDI in Malaysia had increased significantly by US$3.8 billion from 2015 to 2016.
In 2013, China and Malaysia jointly developed the Malaysia-China Kuantan Industrial Park (CMKIP) on the east coast of the Malaysian Peninsula. The Malaysian government, apart from providing the infrastructure support to CMKIP, has recently approved a special incentive package for all park investors, including 100% income tax exemption for up to 15 years.

Trade Policy
Malaysia is a member of the World Trade Organisation (WTO), and it adopts a liberal trade regime. Companies are allowed to trade freely without special restrictions.
Import tariffs, where applicable, are mostly imposed on an ad valorem basis. The average applied duty rate was 6.1% in 2014. For non-agricultural products, import duty ranges between 0%-68%, and about 77% of the non-agricultural imports were duty-free. Raw materials, machinery and essential foodstuffs are generally non-dutiable or subject to duties at lower rates. The trade regime has been progressively liberalised to encourage integration at the regional and global level.
Malaysia has abolished import tariffs on a wide range of items, including raw materials, components equipment and machinery that are directly used in manufacturing process.
ASEAN Economic Community
Further, as Malaysia is a member of ASEAN, the country is committed to the ASEAN Common Effective Preferential Tariffs (CEPT) scheme, under which all industrial products traded within ASEAN are subject to import duties of 0-5% only. At present, Malaysia has already eliminated duties on over 95% of its tariff lines to other ASEAN countries. In 2015 Malaysia adopts the rotational chair of ASEAN, at end of the same year the ASEAN Economic Community was established.
Free Trade Agreements
Malaysia has continued to participate in various free trade arrangements (FTAs). Bilateral FTAs include those forged with Australia, Pakistan, Chile, India, New Zealand, Turkey and the EU. Lower import duties are applied to imports originated from the trading partners under different arrangements.
At the regional level, Malaysia under the auspice of ASEAN has concluded free trade agreements with China (i.e. ACFTA or CAFTA), Korea, Japan, Australia, New Zealand and India. Several regional FTAs are still under negotiations, including Regional Comprehensive Economic Partnership (RCEP, which includes 10 ASEAN nations, Australia, China, Japan, Korea, India and New Zealand), Trade Preferential System-Organisation of Islamic Conference (TPS-OIC) and Developing Eight (D-8) Preferential Tariff Agreement (PTA).
Malaysia is among the four ASEAN member countries participating in the Trans-Pacific Partnership (TPP), a trade agreement signed among 12 Pacific Rim countries[2] in February 2016. With US President Trump resolved to pull the US out of the TPP, the remaining TPP nations have decided to press ahead to pursue a free trade arrangement without the US.
Malaysia was Hong Kong's tenth largest trading partner in 2016, yet ranking fourth among ASEAN countries in its trade with Hong Kong. Hong Kong started to negotiate an FTA with ASEAN in 2014, with a view to concluding the FTA in 2017. 
Tax Agreements
In April 2012, Hong Kong and Malaysia reached a Comprehensive Double Taxation Agreement, which came into force in December 2012.
Hong Kong's Trade with Malaysia
Hong Kong's exports to Malaysia increased 6.6% YOY to US$1.18 billion in the first four months of 2017. Major export items included telecom equipment & parts (US$280 million, 23.8% share, +12.9% YOY), semi-conductors, electronic valves & tubes (US$158 million, 13.4% share, -5.7% YOY), electrical apparatus for electrical circuits (US$129 million, 10.9% share, +7% YOY), and electric power machinery circuits (US$65 million, 5.5% share, +4.7% YOY).
On the other hand, Hong Kong's imports from Malaysia increased 6.1% YOY to US$3.93 billion in the first four months of 2017. Major imports included semi-conductors, electronic valves & tubes (US$2,507 million, 63.7% share, +9.1% YOY), telecom equipment & parts (US$201 million, 5.1% share, +9% YOY), parts and accessories of office machines (US$181 million, 4.6% share, +14.2% YOY) and computers (US$132 million, 3.3% share, -43.4% YOY).
Malaysia's Involvement in Hong Kong Economy
According to the Census & Statistics Department of Hong Kong, Malaysian companies had set up 6 regional headquarters, 24 regional offices, and 38 local offices as at June 2016.
In Jan-Mar 2017, a total of 123,127 Malaysian visitors came to Hong Kong, with an increase of 2.5% YOY from the same period in 2016.
More Information
More information on the Belt and Road countries' economic and investment environment, tax and other subjects that are important in considering investment and doing business are available in The Belt and Road Initiative: Country Business Guides.
Related information: Malaysia infographics
---
[1]  ASEAN consists of 10 members: Brunei, Cambodia, Indonesia, Laos, Malaysia, Myanmar, the Philippines, Singapore, Thailand, and Vietnam.
[2]  Theses 12 countries include: Australia, Brunei Darussalam, Chile, Japan, Malaysia, Peru, Singapore, the US, Vietnam, Mexico, Canada and New Zealand.