Singapore
Singapore: Market Profile
Major Economic Indicators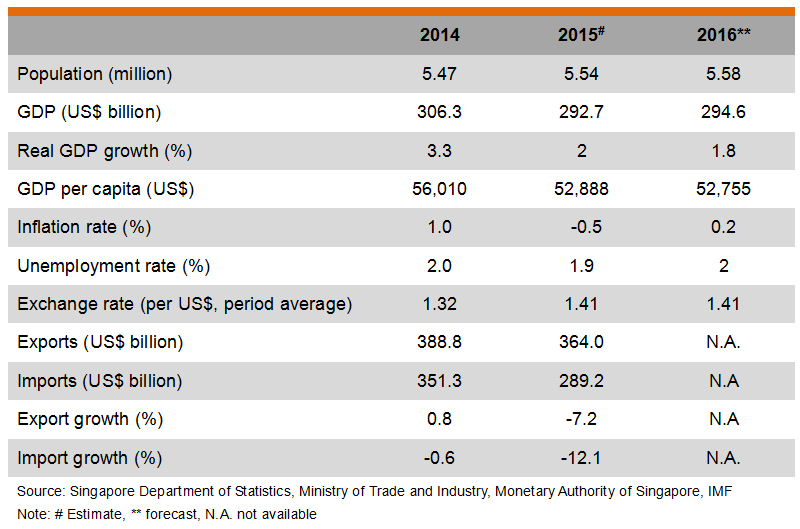 Latest Development
Singapore's advance estimate of GDP growth grew by 1.8% year-on-year (YOY) in Q1 2016 due to a contraction in the manufacturing sector, slipping from 2% in 2015. Sluggish GDP growth is expected to continue in 2016.
Consumer price inflation dropped 0.5% in 2015 due to the sharp drops in the cost of transport, housing and utilities, while the unemployment rate remained low at 2%. 
Singapore's exports fell 7.2% in 2015, reversing the marginal growth of 0.8% in 2014. Imports shrank by 12.1% during the same period, after a 0.6% drop in the preceding year.
Hong Kong's exports to Singapore fell 2.3% YoY to US$7.49 billion in 2015 while imports dropped by 5.7% to US$31.51 billion.
Current Economic Situation
Economy
Singapore's services sector contributes some 70% of the country's GDP with the finance & insurance, wholesale & retail trade and business services sectors being the primary growth drivers. The industrial sector takes up almost the remaining GDP share, as agriculture contributes to less than 1% of GDP. Among the industrial sector, electronics, biomedical, petroleum and petrochemicals are key industries.
After expanding by 2% in 2015, Singapore's GDP growth (advance estimate) grew by 1.8% YOY in Q1 2016 as the manufacturing sector contracted by 2% YOY, weighed down by the output loss in the transport engineering and electronics sectors. GDP growth for 2016 is expected to be at1.8% due to the unconstructive external market. 
In 2015, Singapore's goods producing sector (comprising manufacturing, construction, utilities and other goods industries) accounted for about 24.9% of GDP. The sector contracted by 3.4% in 2015 due to a 5.2% decline in manufacturing output. The service sector grew by 3.4% in the same period.
In Budget 2016, Singapore reiterated the importance of transforming the economy through enterprise and innovation, with a new Industry Transformation Programme being launched, while placing stronger emphasis on technology adoption and innovation. A Business Grants Portal will be launched in Q4 2016 to assist enterprises according to their core business needs.
In recent years, Singapore has been keen to develop its MICE industry (i.e. Meetings, Incentives, Conventions and Exhibitions) as a growth engine for the country. According to the latest Global Rankings by the International Congress and Convention Association (ICCA), Singapore has retained its spot as the Asia's Top Convention City for more than 10 years.
With a view to achieving quality economic growth, Singapore has lowered the foreign worker dependency ratio by raising foreign worker levies on low-skilled labour across different sectors over the years. Despite these established measures, the government announced in its Budget 2016 to lower the levy in the construction and process sector and freeze the levy in the manufacturing sector to help retain the experienced workers.
Singapore's overall unemployment rate was recorded at 1.9% in 2015. Inflation eased to 0.5% in 2015 and will remain low amid soft commodities prices.
External Trade
Singapore's exports dropped 7.2% in 2015. Major export items were machinery and transport equipment, petroleum products and chemical products. Major export markets included the Chinese mainland, Malaysia, Hong Kong, Indonesia, the EU and US.
Singapore's imports decreased by 12.1% in 2015 due to the drop in oil, electronics and non-electronics imports. Major import items included electronics components & parts, chemicals and crude oil. Major sources of imports included the Chinese mainland, the EU, Malaysia, the US, and Taiwan.
Investment Policy
As a financial hub in the South East Asia region and one of the major electronics and biomedical manufacturing bases, Singapore welcomes foreign direct investment (FDI) into various industries and provides a number of investment incentives such as development and expensing incentives and corporate income tax exemptions. For more details on investment regulations and incentives in Singapore, please refer to the website of Singapore Economic Development Board.
Foreign investment
Based on official statistics, Singapore's cumulative FDI reached US$753 billion as at end 2014, up 18% from US$638 billion from the year earlier. Top five FDI sources included the US, the Netherlands, British Virgin Islands, Japan and the UK. The cumulative FDI of Hong Kong and the Chinese mainland in Singapore reached, respectively, US$31.6billion and US$12.2 billion as at end-2014, showing respective growth of 24.8% and 0.9% over the year.
With unsettling global economic conditions, Singapore's Economic Development Board (EDB) expected in February 2016 that the level of FDI would remain moderate at about US$5.6 billion, down about 20% from 2015. The EDB noted that the US accounted for 61% of the country's FDI in 2015.

Trade Policy
Singapore adopts a liberal trade policy. Very few goods are dutiable or under control. High tariffs are imposed only on liquor, tobacco, petroleum products and motor vehicles.
The country imposes no quota restrictions. Most goods can be imported freely without licences. However, import licences are required for pharmaceuticals, hazardous chemicals, films and videos, arms and ammunition.
Free trade agreements
Singapore has been active in establishing strategic relationship with its trading partners, typically through concluding free trade agreements (FTAs). Bilateral FTAs that have been effective or concluded include those with China, India, Japan, Korea, New Zealand, Panama Peru, Australia, Costa Rica, Jordan, the US, and Turkey, with ongoing FTA negotiations with Canada, Mexico, Pakistan and Ukraine.
ASEAN FTAs
At the regional level, Singapore together with other ASEAN members have concluded agreements with Australia and New Zealand (AANZFTA), China (ACFTA), India (AIFTA), Japan (AJCEP), Korea (AKFTA).
Singapore is Hong Kong's fifth largest trading partner, yet ranking first among ASEAN countries in its trade with Hong Kong. Hong Kong started to negotiate an FTA with ASEAN in July 2014 with a view of concluding the trade pact in 2016.
Other FTAs
China and Singapore signed the China-Singapore Free Trade Agreement (CSFTA) in October 2008 after two years of negotiations. CSFTA is a comprehensive bilateral FTA with trade-in-goods and trade-in-services elements. Under CSFTA, which took effect from January 2009, more than 85% of Singapore exports to China are granted zero-tariff access. Key exports benefitting from the zero-tariff arrangement include petrochemicals, processed foods, and electronics and electrical products.
In September 2013, Singapore became the first non-Middle East Country to have an FTA with the Gulf Cooperation Council (GCC), which consists of six countries, namely, Bahrain, Kuwait, Oman, Qatar, Saudi Arabia and UAE. The agreement, known as Gulf Cooperation Council – Singapore Free Trade Agreement (GSFTA), aimed to strengthen Singapore's growing economic relations and allow 95% of all GCC tariff lines to qualify for tariff-free concessions. The sectors that will be benefited from GSFTA are telecommunications, electrical and electronic equipment, petrochemicals, jewellery, machinery and iron and steel-related industries.
Singapore also signed the FTA with the Europea Free Trade Association (EFTA) which covers Iceland, Liechtenstein, Norway and Switzerland. Under this FTA 99.8% of tariff on Singapore's domestic exports to EFTA is eliminated.
The Trans-Pacific Partnership (TPP), a trade agreement among 12 Pacific Rim countries, was signed in February 2016, now pending ratification by individual signatory members. Singapore is among the four ASEAN member countries that signed this agreement.
Singapore also participates in the negotiations of the Regional Comprehensive Economic Partnership (RCEP), which is expected to be concluded in 2016.
Singapore's network of FTAs had covered over 21 bilateral and regional FTAs as of end-2015. These FTAs have eliminated trade barriers so as to facilitate trading between Singapore and other countries.
Hong Kong's Trade with Singapore
Singapore is the eighth largest export market for Hong Kong. Singapore remains the largest trading partner of Hong Kong in ASEAN, though Vietnam replaces Singapore to be Hong Kong's largest export market in the trade bloc.
In 2015, Hong Kong's exports to Singapore rose 2.3% to US$7.49 billion. Major export items during this period included semi-conductors, electronic valves & tubes (16.9% share), telecom equipment & parts (15.3%), computers (6.4%), non-electric engines & motors, & parts (6.3%) and jewellery (5.1%).
On the other hand, Singapore is the fourth largest import source for Hong Kong. Imports from Singapore dropped by 5.7% to US$31.52 billion in 2015. Major import items included semi-conductors, electronic valves & tubes (62.6% share), petroleum oils (other than crude) (8%), telecom equipment & parts (4.3%), computers (2.9%) and parts & accessories of office machines /computers (2.8%).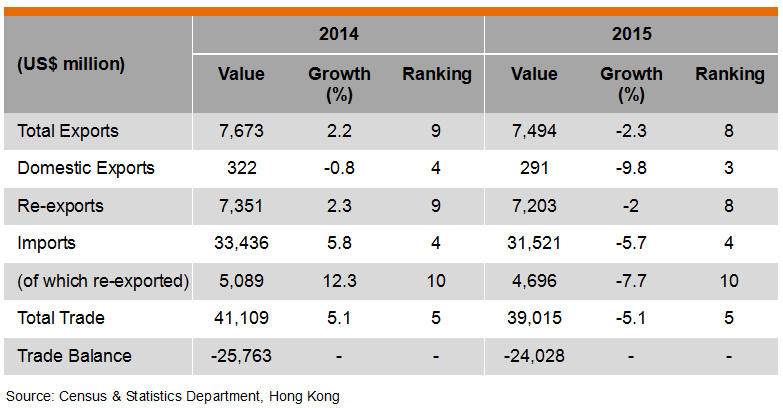 Singapore's Involvement in the Hong Kong Economy
Singapore is well represented in the finance, logistics, electronics and information communications technologies and other services sectors of the Hong Kong economy. Prominent examples include the DBS, Oversea-Chinese Banking Corporation (OCBC), United Overseas Bank (UOB), Keppel Logistics, Singapore Airlines, Pacific International Lines, Singapore and Technologies Electronics Limited (ST Electronics).
Singapore's companies are widely involved in Hong Kong's economy. As at end 2015, Singaporean companies had established 42 regional headquarters, 93 regional offices and 222 local offices in Hong Kong.
More Information
More information on the Belt and Road countries' economic and investment environment, tax and other subjects that are important in considering investment and doing business are available in The Belt and Road Initiative: Country Business Guides.