Bahrain
Bahrain: Market Profile
Major Economic Indicators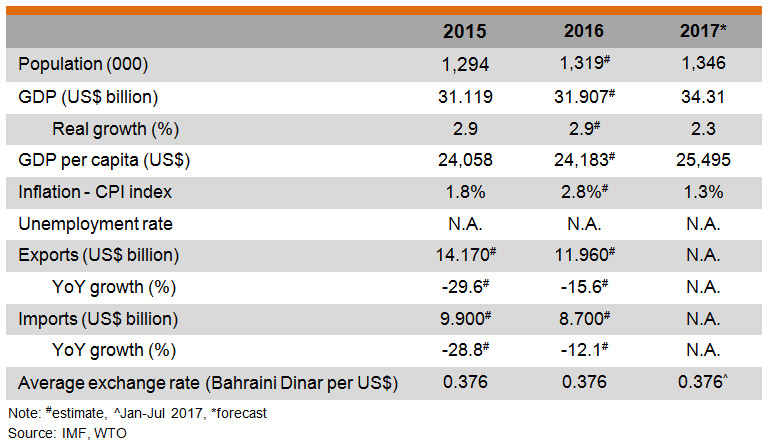 Bahrain is an island state in the Persian Gulf connected to Saudi Arabia by the 25-km-long King Fahd Causeway and is the smallest country among the six-member Gulf Co-operation Council (GCC). More than 50% of Bahraini dwellers are expatriates, typically Indians, Pakistanis, Bangladeshis and Filipinos.
Bahrain extracts oil from the offshore Abu Safah oil fields (jointly owned with Saudi Arabia), and imports the crude oil for further processing. The oil sector accounts for about 50% of Bahrain's exports and more than 80% of its government revenue. Bahrain's trade surplus results from its exports of oil products, which are tumbling amid lower oil prices. Bahrain is expected to continue running big fiscal deficits in coming years. Major imports into Bahrain are crude oil and machinery, while its key trading partners are Saudi Arabia, the US, China, India and the UAE.
In preparation for the post-oil era, Bahrain embarked on a programme of serious economic diversification in the 1990s. At present, the oil sector remains the largest GDP contributor (19%), closely followed by finance (17%), manufacturing (14%), and transport and communication (7%). Under Bahrain's Government Action Plan 2015-2018, the government is committed to continued economic diversification through infrastructure and urban development.
Bahrain levies an import tariff of 5% on most imported goods, except for alcohol and tobacco where higher rates apply, while food, capital goods and raw materials for development projects are exempt. Bahrain is a member of the Greater Arab Free Trade Area (GAFTA), allowing duty-free access among GAFTA states. Along with other states of the GCC, Bahrain will introduce a value-added tax (VAT) at 5% from January 2018.
Bahrain has signed free trade agreements with the US, Singapore and the European Free Trade Association, as well as a double taxation agreement with China. Bahrain has concluded an investment promotion and protection agreement with Hong Kong, with the negotiation on a comprehensive double taxation agreement underway.
Many Chinese enterprises have set up operations in Bahrain, including the Bank of China, the China Harbour Engineering Company and Huawei, with the latter opening its first Middle East IT competence centre in 2012. Mainland enterprise Chinamex partnered with Bahrain's Diyar Al Muharraq to build Dragon City, a retail-cum-wholesale mall development modelled on the UAE's successful Dragon Mart. Dragon City was inaugurated in December 2015.
The Bahrain Economic Development Board (EDB) is the primary agency responsible for promoting investment in the country, which maintains an open regulatory framework for foreign investors seeking a gateway to the Gulf markets. The EDB focuses on six key investment sectors, namely financial services, logistics, manufacturing, information and communications technology, tourism and leisure and startups.
Inward FDI stock in Bahrain reached US$28.3 billion in 2015. In the same year, China's cumulative FDI totalled US$3.9 million.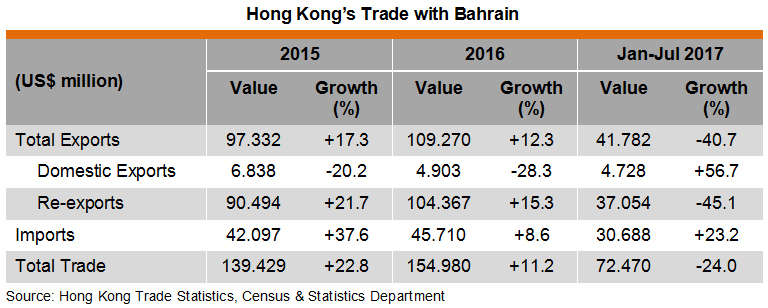 More Information
More information on the Belt and Road countries' economic and investment environment, tax and other subjects that are important in considering investment and doing business are available in The Belt and Road Initiative: Country Business Guides.
Location: Saudi Arabia, Bahrain
Sectors: Transport & Logistics Infrastructure, Railways
Looking for: Open for Negotiation