Bahrain
Bahrain: Market Profile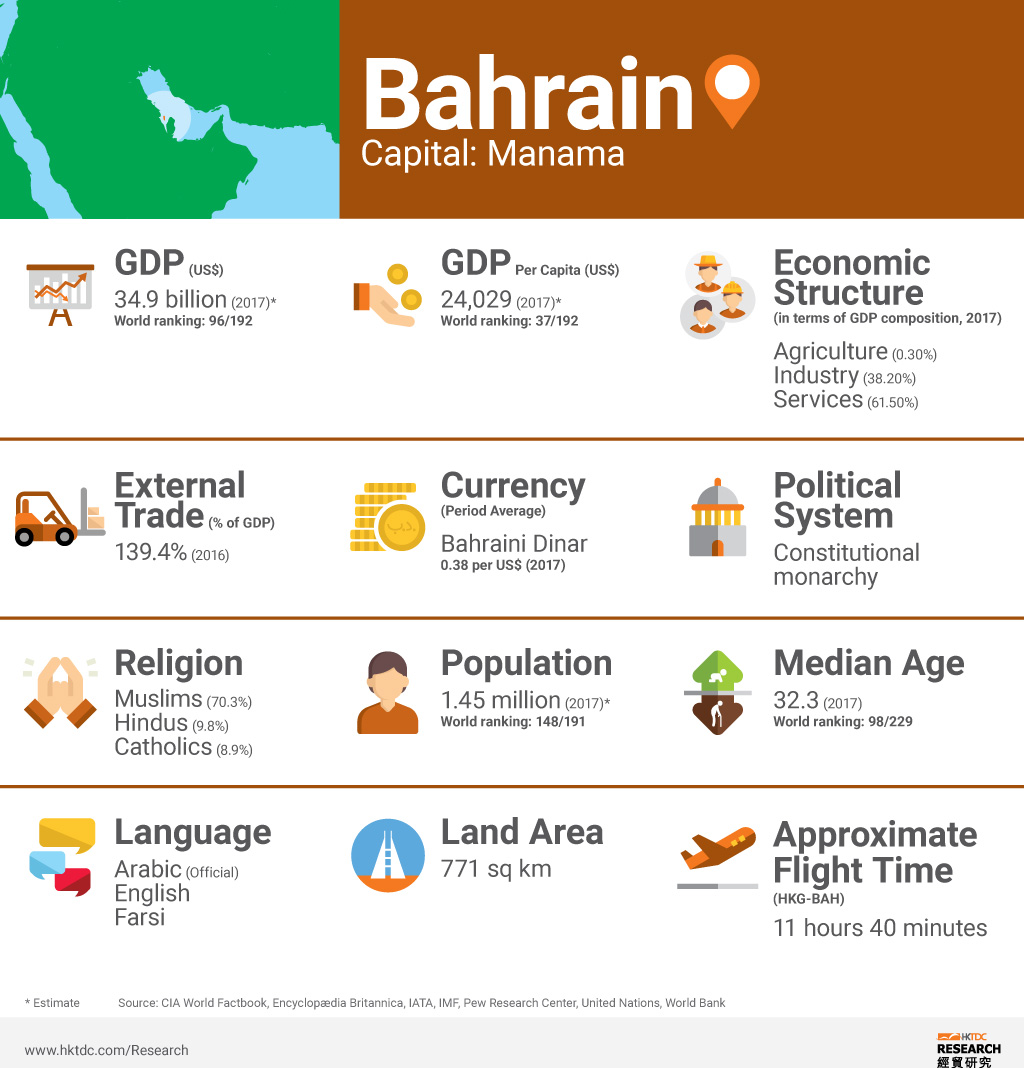 1. Overview
The dominant factors of production in Bahrain are the petroleum industry, continuing transit trade, and industrial diversification. Bahrain's economic and social infrastructure is also well developed. Oil has been the predominant force behind economic growth, accounting for 70% of GDP and 80% of government revenue. Trade is the second source of income. Agriculture and fishing constitute only about 2% of the GNP, but fish resources could be exploited. Non-oil industry is still at an early stage, but the new aluminium smelter may provide a base for other manufacturers. There are promising prospects in establishing light industries, and the abundance of gas provides considerable scope for development. The overall balance of payments has recorded a steadily rising surplus and Bahrain's external debt is negligible. Prospects of economic diversification seem promising.
Sources: World Bank, BMI Research
2. Major Economic/Political Events and Upcoming Elections
January 2017
Bahrain executed three Shi'a activists convicted of killing three policemen in a bomb attack in 2014 – the country's first execution in six years.
May 2017
The country's most prominent Shi'a cleric – Isa Qassim – was found guilty of illegal fundraising and money laundering and given a suspended sentence.
April 2018
Bahrain reported discovery of the kingdom's largest oilfield in more than 80 years.
Source: BBC country profile – Timeline
3. Major Economic Indicators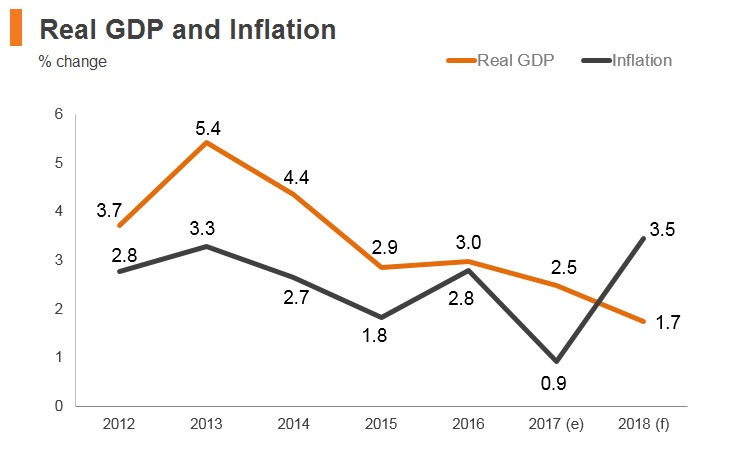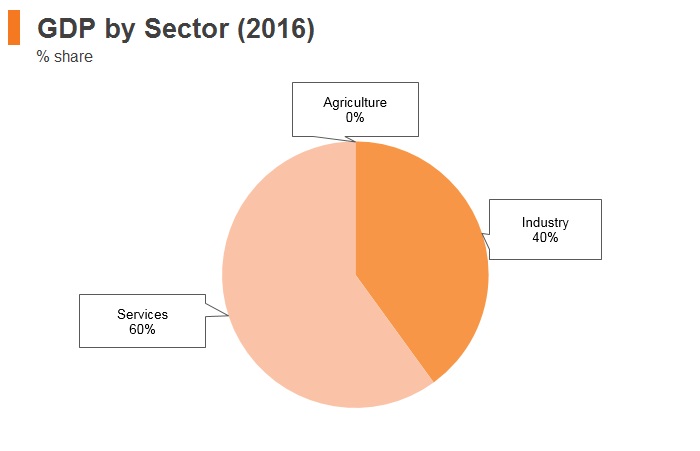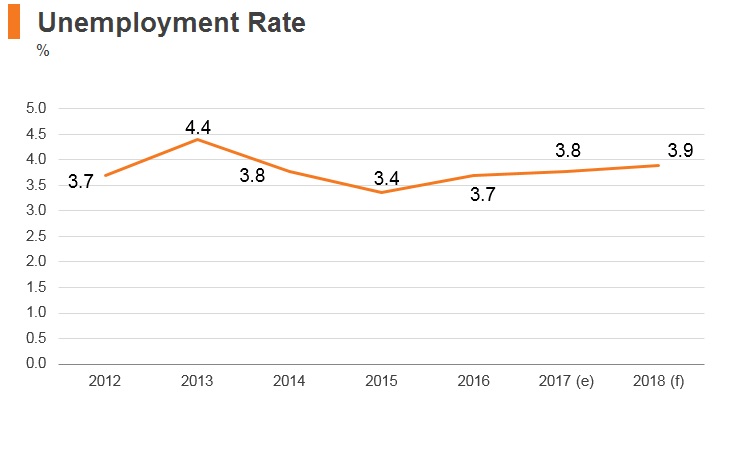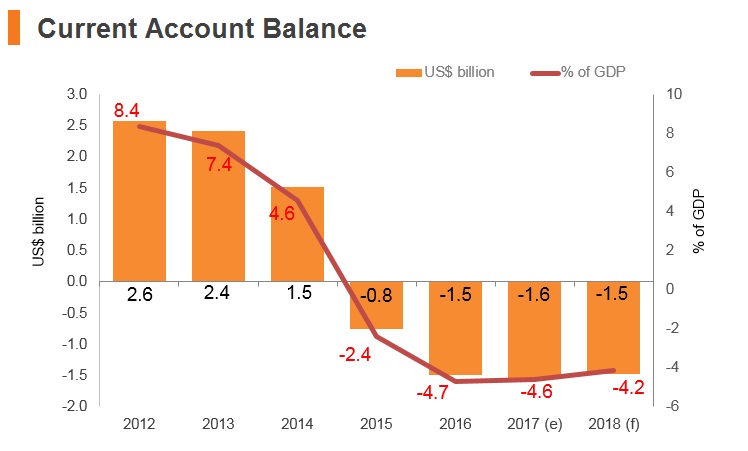 e = estimate, f = forecast
Sources: IMF, World Bank
4. External Trade
4.1 Merchandise Trade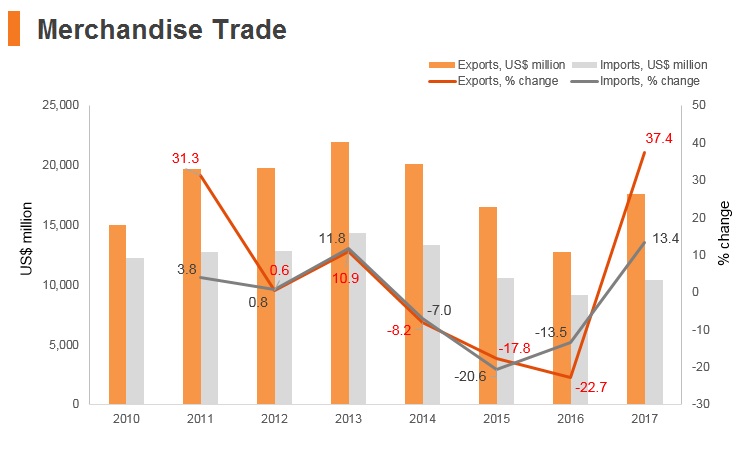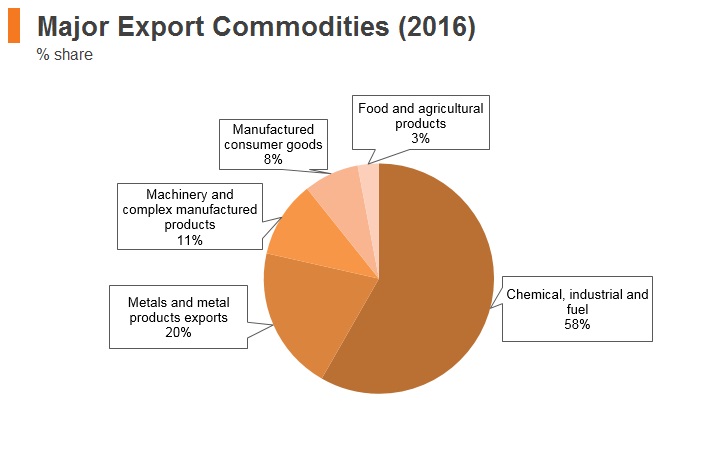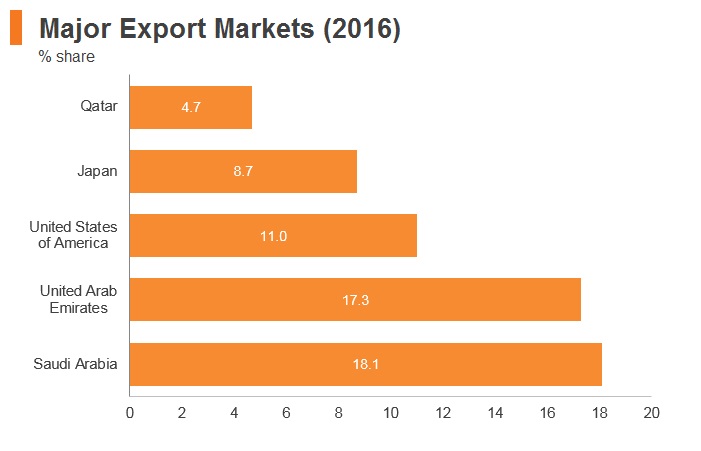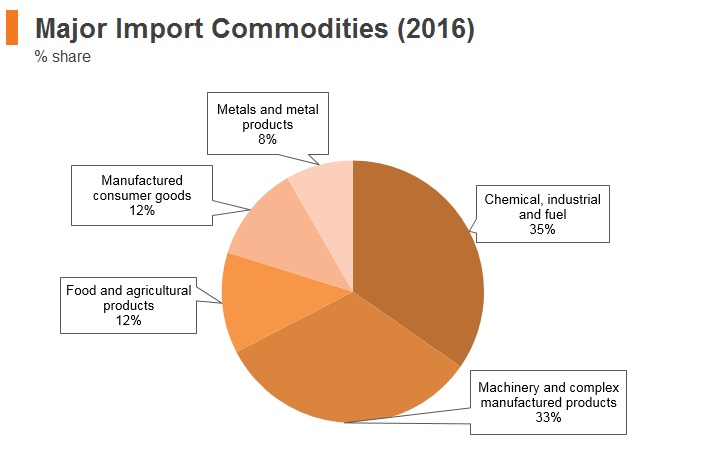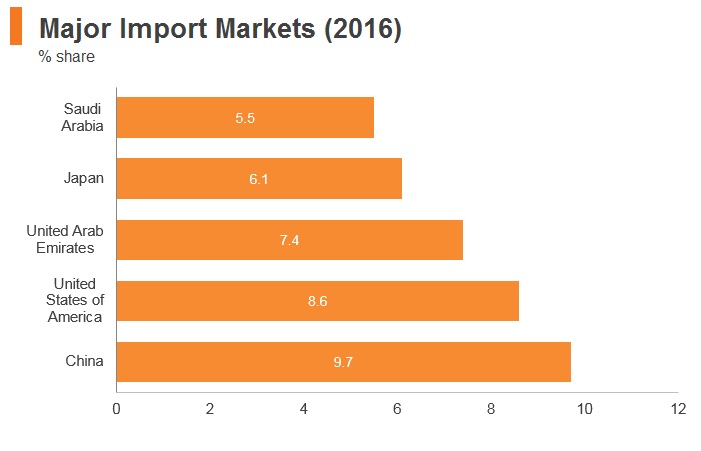 Sources: WTO, Trade Map, BMI Research
4.2 Trade in Services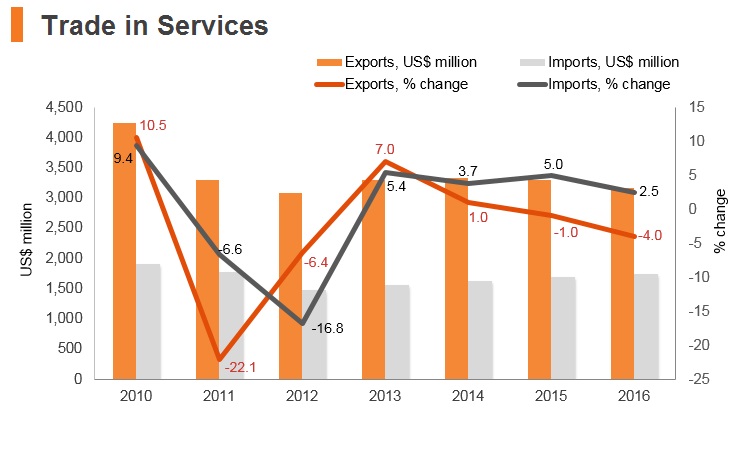 Source: WTO
5. Trade Policies
The Kingdom of Bahrain has been a WTO member since January 1, 1995 and a member of GATT since December 13, 1993. It is signed up to the WTO Rule of Origin Agreement, WTO Trade Facilitation Agreement and the WTO Protocol Amending the Marrakesh Agreement. Furthermore, Bahrain is a signatory to the Istanbul Temporary Admission Convention, Harmonized System Convention and the International Convention On The Simplification and Harmonization of Customs Procedures (as amended).


Bahrain has a relaxed international trade regime which poses minimal tariff and non-tariff trade barriers for the majority of its trading partners.


In light of the global slump in crude prices, Bahrain's trade balance has been shielded by the kingdom's growing export revenues from services. For example, between 2014 and 2016, when Bahrain's total export revenue decreased by about 20.2% between 2014 and 2015 and decreased by another 7.4% between 2015 and 2016, export revenue derived from services actually increased by 6.3% between 2014 and 2015 and by around 20% between 2015 and 2016. In 2017, revenues derived from services' exports amounted to around USD11.6 billion. In 2014 (latest available data), the main services which Bahrain derived export revenue from were tourism, transport and ICT and telecommunications services. Secondary sector industries such as refined fuel production, metal product manufacturing (mainly aluminium) and construction, however, play the most significant role in terms of the country's export and imports goods' baskets.


Bahrain is a member of the GCC, along with Saudi Arabia, the UAE, Oman, Kuwait and Qatar. The GCC is a political and economic organisation which was created in the 1980s, but since 2015, a customs union and FTA has also been launched between the six member states. Therefore, the country's GCC membership means that it is part of a single market and customs union with a common external tariff. A tariff of only 5.0% is imposed on the majority of items imported to Bahrain from non-GCC countries and there is a single point of entry where tariffs are collected once imports enter the GCC. Only imports on certain sensitive goods from GCC countries will face tariffs, and there is freedom of movement between GCC countries without customs or non-customs restrictions.


Trade defence measure (AD, CVD, safeguard): Investigation into whether increased imports of flat-rolled products of iron or non-alloy steel are causing harm to domestic industries launched by GCC in June 2016. Bahrain is a major importer of iron-ore for its own metal product manufacturing, and is not a major importer of the finished products.


Import tariffs on alcohol and tobacco: For cultural and religious reasons alcohol and tobacco have import tariffs of 125% and 200% respectively. US tobacco importers are exempt as per the FTA between the two countries.
Sources: WTO – Trade Policy Review, BMI Research
6. Trade Agreement
6.1 Multinational Trade Agreements
Active
Member of Greater Arab Free Trade Area (GAFTA): GAFTA saw tariffs between 17 Arab states rapidly decline from an average 15% in 2002 to 6% in 2009. Four out of five of Bahrain's top export markets are all members of GAFTA, as well as many of its smaller trading partners.


Member of Gulf Co-operation Council (GCC): As four out of five of Bahrain's top export partners (and one of five of its top importing partners) of the GCC are all members, this means that all of Bahrain's trade with these countries is tariff-free. There is freedom of movement between GCC countries for the vast majority of goods without customs or non-customs restrictions. This reduces overall time and cost burdens for supply chains.


GCC (member state) and European Free Trade Association (EFTA): While EFTA member states (Norway, Switzerland, Iceland and Lichtenstein) are far removed from Bahrain and there is no considerable trade between the countries, it may promote further trade in the future.


GCC (member state) and Singapore: Singapore is one of Bahrain's smaller import suppliers and, therefore, Bahrain has benefitted from tariff eliminations on 99% of Singaporean domestic exports to the GCC.


Bahrain/US: The US is one of Bahrain's top five exporting partners, and one of its top five import suppliers. The removal of tariffs on all bilateral trade between the countries in terms of industrial and consumer products, with the exception of a few agricultural items, has been highly beneficial.


Cooperation Agreement between the European Economic Community, of the one part, and the countries parties to the Charter of the Cooperation Council for the Arab States of the Gulf, of the other part.


Agreement on Promotion, Protection and Guarantee of Investments among the Member States of the Organization of the Islamic Conference.


Unified Agreement for the Investment of Arab Capital in the Arab States.


Agreement on Investment and Free Movement of Arab Capital among Arab Countries.


Bilateral Investment Treaties (BITs) between Bahrain and the following countries and regions: Algeria, Belarus, BLEU (Belgium-Luxembourg Economic Union), Brunei Darussalam, Bulgaria, China, Czech Republic, Egypt, France, Germany, India, Iran, Islamic Republic of, Italy, Jordan, Lebanon, Lebanon, Malaysia, Mexico, Morocco, Netherlands, Pakistan, Russian Federation, Singapore, Spain, Sudan, Syrian Arab Republic, Thailand, Turkey, Turkmenistan, United Kingdom, United States of America, Uzbekistan and Yemen.
Signed
Framework Agreement on Trade, Economic, Technical and Investment Cooperation between Peru and the GCC countries.


Framework Agreement for Trade, Economic, Investment and Technical Cooperation between the Cooperation Council for the Arab States of the Gulf and the Government of the United States of America.


Framework Agreement on Economic Cooperation Agreement between the Gulf Cooperation Council (GCC) and India.


Agreement for the Establishment of a Free Trade Area between the Gulf Cooperation Council and Lebanon.
Sources: WTO Regional Trade Agreements database, BMI Research
7. Investment Policy
7.1 Foreign Direct Investment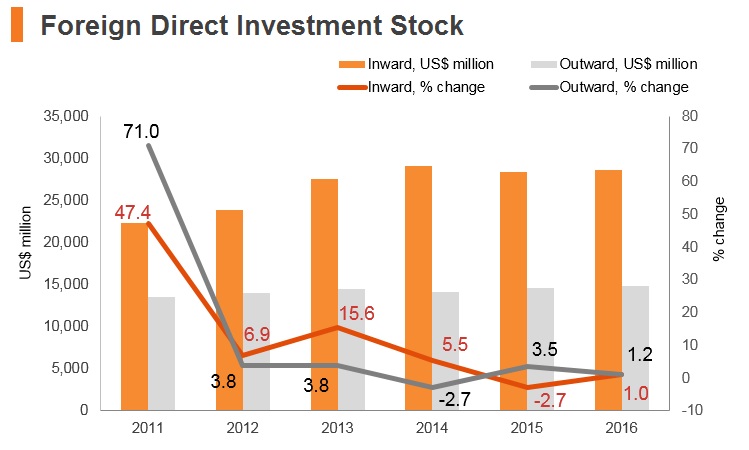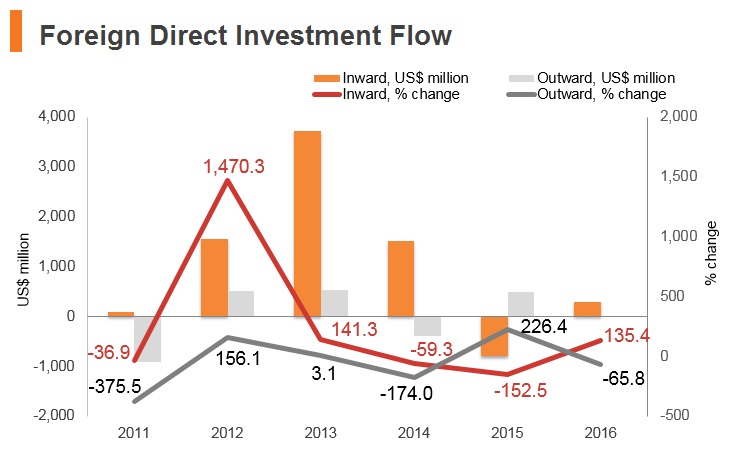 7.2 Foreign Direct Investment Policy
The government actively encourages investment in sectors that are export-oriented and do not compete with established local companies. Since 2001, the kingdom has been heavily bent towards increasing privatisation across all sectors, with the state holding company being mandated to reduce its shares in any company to less than 50%.


In terms of foreign ownership of businesses, Bahrain's investment environment remains highly favourable as 100% foreign ownership of new companies is allowed for the vast majority of sectors. If an international company wishes to establish a branch office in Bahrain, no local sponsor or partner is required.


Foreigners and nationals of other GCC states are permitted to own land and real estate in areas designated by the Bahraini government. Areas designated are all located within significant commercial or manufacturing or residential districts, specialised industrial zones or near key transport hubs.


The Bahraini government prohibits foreign business ownership in press and publications, Islamic Pilgrimage, clearance offices, and workforce agencies. The business impact is low as most FDI is located within areas such as manufacturing and financial services.


The Bahraini government maintains complete ownership over all oil reserves, refineries and related services. Private investment is allowed and encouraged in other state dominated industries such as transportation, aluminium manufacturing, telecommunications and construction.


Tax rates in Bahrain, as in the rest of the GCC, continue to be highly favourable as the country does not charge any corporate tax for companies in non-oil sectors, there is no personal income tax for residents and non-residents in Bahrain, and there are no capital gains or estate duty taxes.
Sources: WTO – Trade Policy Review, The International Trade Administration (ITA), US Department of Commerce, BMI Research
7.3 Free Trade Zones and Investment Incentives
Free Trade Zone/Incentive Programme
Main Incentives Available
Bahrain International Investment Park (located five minutes from both Bahrain International Airport and Khalifa Bin Salman Port)
– 100% foreign ownership 0% corporate tax (with a 10 year guarantee)

– Exemption from import duties on raw materials and equipment

– Duty free access to all GCC markets (as the Bahrain International Investment Park is not a free zone but rather an integral part of the GCC, products manufactured in Bahrain and sold into GCC and other Arab markets are free of import duties)

– 100% repatriation of capital

– No recruitment restrictions

– No minimum capital required
Bahrain Logistics Zone (BLZ)
This is designed to offer local, regional and international companies a base to operate in a bonded area in order to take advantage of Bahrain's highly advantageous position to cater to the Northern Gulf market and to access GCC markets via various means of transportation.
Sources: US Department of Commerce, BMI Research
8. Taxation – 2018

Value Added Tax: 5%
Corporate Income Tax: 0%
Source: PwC Taxes at a Glance 2018
8.1 Important Updates to Taxation Information
The Kingdom of Bahrain will be officially implementing VAT in early October of 2018.
A 5% VAT will be implemented on many types of goods and services in the Kingdom. However, health sector, education and transportation will be exempt from VAT. VAT will be imposed on the following sectors: Telecommunications, water and electricity, traffic and licensing department, real estate, construction and oil, which will be applied to fuels, including gasoline, diesel, electricity, and gas, modern cars from the agencies, car rentals, luxury goods, mobile phones, clothes and watches, restaurants, movement of sales and purchase in the markets.
8.2 Business Taxes
Type of Tax
Tax Rate and Base
Resident company: Corporate Tax rates
There is no base Corporate Tax applicable in Bahrain.

Only oil and gas companies pay a Corporate Tax of 46% on profits from sales of oil, gas and secondary products.
Social security contributions payable by employers (payable on compensation of up to BHD4,000 per month for each employee)
Pension fund contributions which are applicable to base salaries of Bahraini nationals (of which 9% is payable by the employer).

Insurance against employment injuries which are applicable to base salaries of Bahraini nationals and expatriates (of which 3% is payable by the employer).

Unemployment insurance which is applicable to both Bahraini nationals and expatriates (of which 1% is payable by the employer).

Foreign workers levy which is payable monthly by all private and public companies with respect to each employed expatriate (BHD5 for the first five expatriate employees and BHD10 for each additional expatriate employee).
VAT/GST (standard)
The GCC unified VAT and Excise Treaties have outlined that a uniform VAT standard rate of 5% with some limited exceptions will be applicable, when each GCC member state implements VAT.

We expect VAT to be implemented in Bahrain from around mid-2018.
Municipal Tax
10% Municipality Tax payable by expatriates on the rental of all commercial and residential properties.
9. Foreign Worker Requirements
9.1 Localisation Requirements
Like many other of the Gulf states in light of subdued global crude prices, the Bahraini government is attempting to increase the employment of its citizens in the private sector. This is known as the 'Bahrainisation' policy and companies must pay a fee of BHD5 (USD13.34) for the first five foreign workers they hire and a fee of BHD10 (USD26.7) for every employee over that limit.
Businesses are expected to give priority to the employment of Bahraini nationals and some sectors have various ratios of local to foreign worker numbers which they must comply with.
The Bahraini public sector has been one of the larger employers of Bahraini nationals in the past, but with state revenue significantly decreased, the government is enforcing stronger compliance of its 'Bahrainisation' policy in order to account for the shortfall. This is demonstrated by the warning issued by the government in May 2016, which stated that businesses that were found to be contravening the 'Bahrainisation' policies (the hiring of one Bahraini national for every four foreigners hired) would be fined USD800 per foreign worker who did not comply or could lose their business permits.
9.2 Foreign Worker Permits
All foreign workers (except GCC nationals) require a work permit to work in Bahrain. In general, if all the paper work is in hand and the foreign worker has a company willing to sponsor them and pay additional fees then this process is not exceptionally time or cost burdensome. The LMRA is the authority which regulates the granting of work visas to foreign nationals wanting to work in Bahrain. A work permit may only be obtained once the applicant has a formal letter of an offer of employment from an employer in Bahrain - which must be submitted with the work permit application.
9.3 Visa/Travel Restrictions
All business visitors to Bahrain who are not nationals of other GCC states need to obtain a visa to visit the country. This can be done on arrival or in advance. While visitors to the country who have stamps in their passports from Israel will experience less trouble when attempting to enter Bahrain that other Gulf states, it is up to Bahraini officials to determine whether that visitor is permitted to enter the country or not.
9.4 Religious/Cultural Barriers
While Bahrain is one of the more liberal GCC states with regard to women's rights, for various cultural and religious reasons, female workforce participation rates remain below the global average in the country, and are the third lowest out of the six GCC member states. Female participation in the workplace is still quite heavily regulated by Bahraini labour authorities. For example, there are certain examples where women are not allowed to work at night (determined on a case by case basis) and the labour authority is allowed to prohibit certain types of work for women.
9.5 Kafala Sponsorship System
While the 'Kafala' system has provided ease of access to inexpensive foreign labour imports for many businesses in Bahrain for years, this has also limited Bahraini employers from employing foreign labour who are already in the country.
Bahrain announced in 2009 that it would begin dismantling the Kafala system by adopting new legislation which permitted migrant workers in Bahrain to change employers without their employer's consent and in the absence of allegations of non-payment or abuse, as well as establishing the public authority of the LMRA. However, while the system has been improved, it is still difficult for migrant workers to change employers. For example, amendments were made in 2011 that a worker needs to wait one year before legally being able to change employer, in response to recruitment agencies lobbying against the changes.
This means that it may be easier for employers to recruit foreign workers from outside Bahrain rather than recruit from the country's large pool of immigrant labour.
Sources: Government websites, BMI Research
10. Risks
10.1 Sovereign Credit Ratings
| | | |
| --- | --- | --- |
| | Rating (Outlook) | Rating Date |
| Moody's | B1 (Negative) | 28/07/2017 |
| Standard & Poor's | B+ (Stable) | 01/12/2017 |
| Fitch Ratings | BB- (Stable) | 01/03/2018 |
Sources: Moody's, Standard & Poor's, Fitch Ratings
10.2 Competitiveness and Efficiency Indicators


World Ranking

2016
2017
2018
Ease of Doing Business Index

66/189
63/190
66/190
Ease of Paying Taxes Index

8/189
4/189
5/190
Logistics Performance Index

44/160
N/A
N/A
Corruption Perception Index

70/176
133/180
N/A
IMD World Competitiveness
N/A
N/A
N/A
Sources: World Bank, IMD, Transparency International
10.3 BMI Risk Indices


World ranking
2016
2017
2018
Economic Risk Index Rank
106/202
Short-Term Economic Risk Score
41.0
41.0
44.2
Long-Term Economic Risk Score
50.9
50.7
50.8
Political Risk Index Rank
125/201
Short-Term Political Risk Score
67.7
67.7
68.5
Long-Term Political Risk Score
57.6
57.5
57.5
Operational Risk Index Rank
40/201
Operational Risk Score
63.3
63.2
64.1
Source: BMI Research
10.4 BMI Risk Summary
ECONOMIC RISK
Given ongoing political stability in the UAE and Qatar, there is a significant risk that Manama begins losing business in key sectors, such as tourism, to its neighbours. The ongoing slump in oil prices is another major source of uncertainty, given the government's heavy reliance on oil for its revenues. That said, financial aid and investment from the rest of the GCC should support growth in the coming years.
OPERATIONAL RISK
Bahrain suffers from a lack of skilled and suitable labour, due to poor educational standards and a small population. The country's significant levels of public unrest contribute to a considerable risk of violence and conflict, while its cybersecurity infrastructure remains underdeveloped. However, with strong availability and low costs of utilities, and a highly receptive trade and investment environment, Bahrain is one of the cheapest places in the world to set up certain business ventures.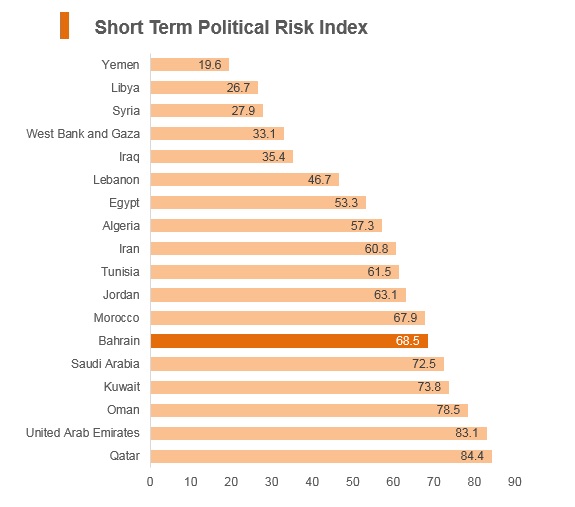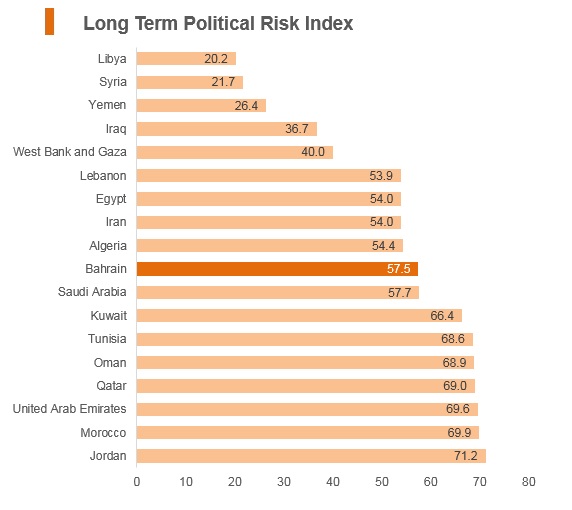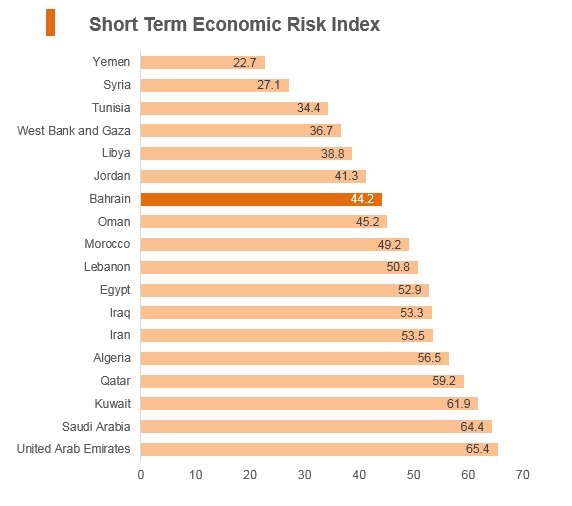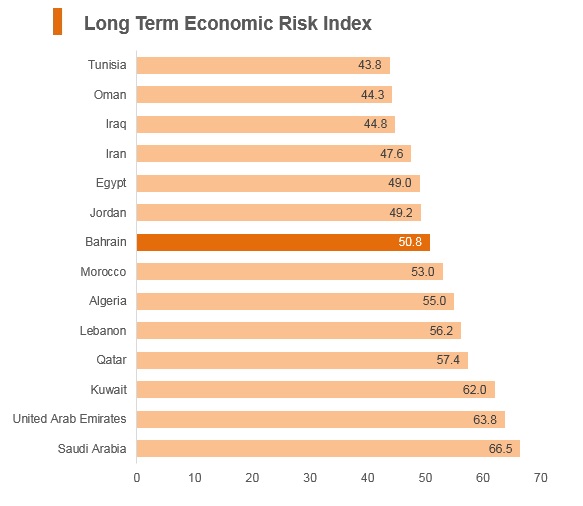 100= Lowest risk, 0= Highest risk
Source: BMI Research Economic and Political Risk Indices
10.5 BMI Operational Risk Index
| | | | | | |
| --- | --- | --- | --- | --- | --- |
| | Operational Risk | Labour Market Risk | Trade and Investment Risk | Logistics Risk | Crime and Security Risk |
| Bahrain Score | 64.1 | 58.4 | 68.5 | 71.1 | 58.5 |
| MENA Average | 47.4 | 49.3 | 48.1 | 48.4 | 43.9 |
| MENA Position (out of 18) | 3 | 4 | 2 | 2 | 6 |
| MENA Average | 47.4 | 49.3 | 48.1 | 48.4 | 43.9 |
| MENA Position (out of 18) | 3 | 4 | 2 | 2 | 6 |
| Global Average | 49.7 | 49.7 | 49.9 | 49.2 | 49.8 |
| Global Position (out of 201) | 40 | 44 | 33 | 29 | 74 |
100 = Lowest risk, 0 = Highest risk
Source: BMI Operational Risk Index

| | | | | | |
| --- | --- | --- | --- | --- | --- |
| Country | Operational Risk | Labour Market Risk | Trade and Investment Risk | Logistics Risk | Crime and Secruity Risk |
| UAE | 73.8 | 67.8 | 79.6 | 72.5 | 75.1 |
| Qatar | 66.3 | 63.9 | 63.1 | 67.8 | 70.5 |
| Bahrain | 64.1 | 58.4 | 68.5 | 71.1 | 58.5 |
| Oman | 63.2 | 51.0 | 59.8 | 66.4 | 75.4 |
| Saudi Arabia | 61.8 | 63.0 | 61.8 | 63.2 | 59.2 |
| Jordan | 58.0 | 54.9 | 59.1 | 59.7 | 58.3 |
| Kuwait | 55.3 | 52.3 | 51.7 | 51.1 | 66.2 |
| Morocco | 53.6 | 39.8 | 62.0 | 55.2 | 57.2 |
| Tunisia | 47.1 | 42.3 | 52.4 | 46.9 | 46.7 |
| Egypt | 45.8 | 46.0 | 46.4 | 53.5 | 37.4 |
| Lebanon | 43.0 | 47.9 | 50.0 | 40.6 | 33.6 |
| Iran | 42.9 | 48.7 | 38.3 | 51.2 | 33.3 |
| Algeria | 39.9 | 44.0 | 31.7 | 39.8 | 44.2 |
| West Bank And Gaza | 33.7 | 46.4 | 36.8 | 30.2 | 21.5 |
| Libya | 28.3 | 44.4 | 26.0 | 29.3 | 13.5 |
| Syria | 28.1 | 42.9 | 30.0 | 26.4 | 12.9 |
| Iraq | 27.3 | 43.7 | 25.2 | 28.8 | 11.5 |
| Yemen | 21.6 | 30.6 | 23.0 | 17.3 | 15.6 |
| Regional Averages | 47.4 | 49.3 | 48.1 | 48.4 | 43.9 |
| Emerging Markets Averages | 46.8 | 48.0 | 47.5 | 45.8 | 46.1 |
| Global Markets Averages | 49.8 | 49.8 | 50.0 | 49.3 | 49.9 |
100 = Lowest risk, 0 = Highest risk
Source: BMI Research Operational Risk Index
11. Hong Kong Connection
11.1 Hong Kong's Trade with Bahrain
| | | |
| --- | --- | --- |
| | 2017 | Growth rate (%) |
| Number of Bahraini residents visiting Hong Kong | 1,433 | -25.3 |
| Number of Bahrainis residing in Hong Kong | N/A | N/A |
Sources: Hong Kong Tourism Board, BMI Research
| | | |
| --- | --- | --- |
| | 2017 | Growth rate (%) |
| Number of Middle Eastern residents visiting Hong Kong | 129,816 | -0.2 |
Sources: Hong Kong Tourism Board, BMI Research
11.2 Commercial Presence in Hong Kong


2016

Growth rate (%)

Number of Bahraini companies in Hong Kong
N/A
N/A
- Regional headquarters
- Regional offices
- Local offices
Source: Hong Kong Census & Statistics Department
11.3 Treaties and Agreements between Hong Kong and Bahrain
China-Bahrain Bilateral Investment Treaty (BIT)
Source: UNCTAD
11.4 Chamber of Commerce (or Related Organisations) in Hong Kong
Bahrain Consulate in Hong Kong
Address: 22/F, Chevalier Commercial Centre, 8 Wang Hoi Road, Kowloon Bay, Kowloon
Email: info@bahrainconsulate.org.hk
Hours of Business: Monday to Friday 9:00 a.m. - 12:30 p.m., 2:00 p.m. - 4:00 p.m.
Honorary Consul: Oscar Chow Vee-tsung
Tel: (852) 3171 1199
Fax: (852) 2368 2399
Source: Protocol Division Government Secretariat
11.5 Visa Requirements for Hong Kong Residents
Hong Kong residents may travel to Bahrain without a visa for stays less than 14 days. To stay for more than 14 days (but less than 1 month) Hong Kong residents can apply for a "Visit eVisa". The Visit eVisa allows you to stay in Bahrain for 1 month. An extension can be obtained for another 2 weeks by visiting NPRA in Bahrain. The Visit eVisa is able to be used for multiple entry.
The Visit eVisa is issued with the following conditions:
The applicant must be outside Bahrain. (Visas cannot be applied for by those travellers already in the Kingdom).
The applicant must have a passport (not any another type of travel document) and it should be valid for 6 months from arrival in Bahrain.
The applicant must have a valid confirmed onward travel ticket to leave Bahrain.
The applicant must be capable of supporting themself (and their dependents if they are to accompany them) during the visit.
The applicant's entry must not violate the security and national welfare of Bahrain.
Once approved, the applicant must use the Visit eVisa within 30 days of approval. Applicants must have used their visa, or it should have expired, before they can apply for another visa. (It is not possible to have more than one visa issued for a passport at a time). To obtain an eVisa, one needs to complete the online application form and pay with their credit/debit card BD 29 (approximately USD 77). Approval of an application is not given immediately. Processing applications takes approximately 3-5 working days and the NPRA will advise the applicant by email when a decision has been made.
Source: Bahrain e-Visa Portal
Location: Saudi Arabia, Bahrain
Sectors: Transport & Logistics Infrastructure, Railways
Looking for: Open for Negotiation