Ethiopia
Ethiopia: Market Profile
Major Economic Indicators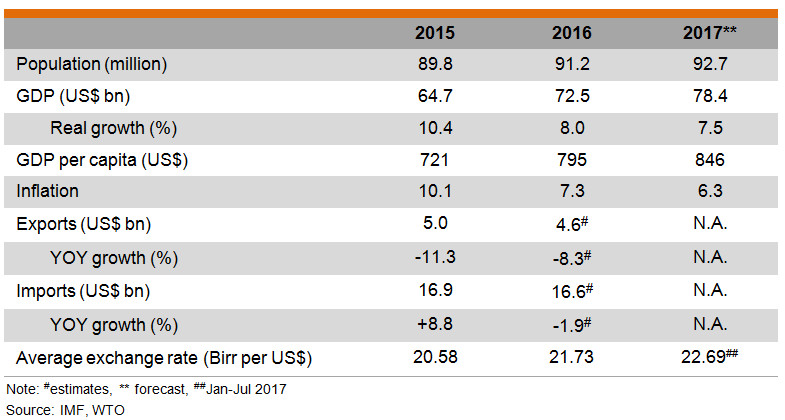 Ethiopia is a north-eastern African country landlocked in the Horn of Africa, bordering Eritrea to the north, Djibouti and Somalia to the east, Sudan and South Sudan to the west, and Kenya to the south. With a population of over 100 million, Ethiopia is the second-most populous African country after Nigeria. Addis Ababa is Ethiopia's capital and largest city.
Ethiopia is classified by the UN as one of the least developed countries in view of its per capita income, human assets and economic vulnerability. However, the country has recently experienced strong GDP growth, about 11% between 2003 and 2015, attributed mainly to a construction boom and increased agricultural productivity. The IMF expects Ethiopia to be the fifth-fastest growing economy in 2017. The Ethiopian government is striving to achieve middle-income country status[1] over the next decade.
The Ethiopian economy is mainly supported by agriculture and services, which comprise 36% and 47% of GDP respectively. Coffee is the most important agricultural produce, which accounts for one-fourth of total exports. Oilseeds, gold, pulses, potatoes and flowers are other major exports. While industry accounts for only 17% of GDP, which is lower than most Sub Saharan African countries, rapid industrialisation is in evidence.
The second five-year Growth and Transformation Plan (GTP II) was adopted in 2015, striving to achieve a minimum average real GDP growth rate of 11.2% through 2020 with enabling economic policy and social development. Apart from increasing export earnings of the footwear and apparel industries, the government is keen to develop some low-tech industries including agro-processing, meat processing, leather and leather products.
Landlocked Ethiopia relies on the ports in Djibouti for overseas trade. Asia and Europe are the largest export markets of Ethiopia, each accounting for one-third of the exports. About one-third of Ethiopian exports to Asia are destined for China. The Addis Ababa–Djibouti Railway, opened in 2017, runs to the Port of Doraleh, an extension of the Port of Djibouti.
Owing to under-development of industry, Ethiopia relies heavily on imported capital and consumer goods. Over 60% of Ethiopia's imports come from Asia, half of which are from China. Ethiopia is keen to make use of its abundant supply of low-cost labour to develop manufacturing. Textile and garments, leather shoes and leather products and horticulture are the strategic sectors.
The country has also adopted the industrial park development model to attract FDI, with "plug and play" facilities to attract foreign investors. The Ethiopian Investment Commission is the official agency promoting inward investment to Ethiopia.  Over the past year Ethiopia has successfully attracted FDI into the country. In 2016, FDI stock of Ethiopia amounted to US$13.7 billion, more than doubled from US$4.2 billion in 2010. 
China is Ethiopia's largest trade partner, with bilateral relations flourishing over the past decade. Cumulative FDI from China increased more than tenfold from US$109 million in 2007 to US$1,130 million in 2015. Chinese FDI is pivotal in infrastructure development, telecommunications, energy and manufacturing.
Ethiopia completed its first expressway in 2014 thanks to Chinese assistance. The Addis Ababa rail project with substantial Chinese funding is another showcase. Chinese enterprises are also active in developing industrial parks in Ethiopia – construction of several industrial parks in Addis Ababa and Jimma were awarded to Chinese construction firms in early 2017.

More Information
More information on the Belt and Road countries' economic and investment environment, tax and other subjects that are important in considering investment and doing business are available in The Belt and Road Initiative: Country Business Guides.
---
[1]  Under the World Bank's classification, lower middle-income economies are those with a gross national income (GNI) per capita between US$1,026 and US$4,035.