Timor-Leste
Timor-Leste: Market Profile
Major Economic Indicators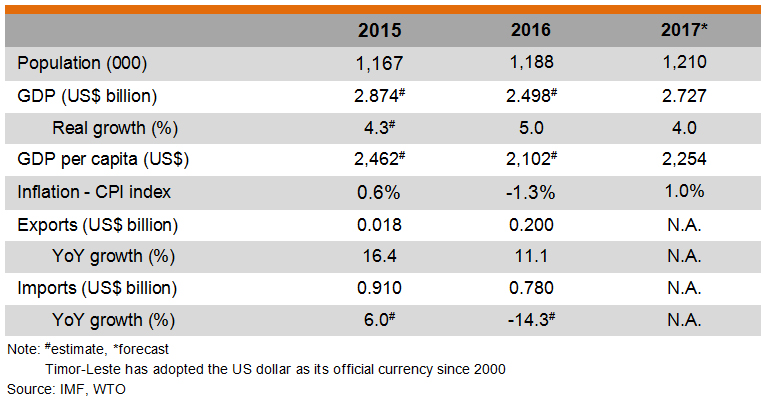 Located on the eastern half of Timor Island in Southeast Asia, Timor-Leste lies close to Indonesia and about 600 km away from Australia. The country achieved independence in 2002, after a long period of colonisation and occupation that destroyed most of the nation's infrastructure. A presidential election was orderly and peacefully held in March 2017, the first without international assistance since the UN departed in 2012.
GDP growth is expected to moderate in 2017 before reaccelerating in 2018 on rising public and private investment, according to the Asian Development Bank (ADB). The country's 2011-2030 Strategic Development Plan is focused on infrastructure development and economic diversification, the latter of which highlights tourism and agriculture for further development. Although it is the major employer of the nation's workforce, Timor-Leste's agricultural sector remains underdeveloped.
Timor-Leste's economy is heavily dependent on its offshore oil and gas resources, which generate more than 90% of state revenue. The government set up a Petroleum Fund in 2005 as the primary source of funding for infrastructure and social projects. A public-private partnership to build a new seaport west of the capital Dili, with an expected investment of about US$490 million, commenced construction in June 2017.
Heavy dependence on imported food and machinery and sharp oil price declines have led to Timor-Leste's widening trade deficits in recent years. The country's key trading partners include Indonesia, Australia, China, Singapore, Malaysia and Portugal. Imports from China are mostly garments, machinery and construction materials.
Timor-Leste's newly elected president remarked in May 2017 that his country supports and actively participates in the construction of China's Belt and Road Initiative. Chinese companies have shown clear interest in Timor-Leste's infrastructure and utility markets. The IMF noted that participation in the Community of Portuguese Language Countries, as well as its links with Australia and the EU, would allow Timor-Leste to take advantage of global and regional integration trends. 
Timor-Leste has expressed interest in WTO accession, and its application for ASEAN membership is under review. Meanwhile, most imported goods are subject to a 2.5% tariff and 2.5% sales tax, while alcohol, tobacco or vehicles are levied with additional excise tax.
According to UNCTAD, FDI stock in Timor-Leste totalled US$346 million in 2016, a decrease of 1.1% from the previous year. China's investment in the country has been growing, with cumulative FDI between 2010 and 2015 soaring from US$7.5 million to US$100.3 million based on statistics of China's Ministry of Commerce.
The oil and gas sector attracts most of Timor-Leste's FDI while investment in agriculture (e.g. coffee), infrastructure and tourism are also encouraged.

The Specialised Investment Agency

(AEI) is responsible for reviewing FDI applications as well as providing one-stop-services for investment and export promotion. 
More Information
More information on the Belt and Road countries' economic and investment environment, tax and other subjects that are important in considering investment and doing business are available in The Belt and Road Initiative: Country Business Guides.