Republic of Korea
Republic of Korea: Market Profile
Major Economic Indicators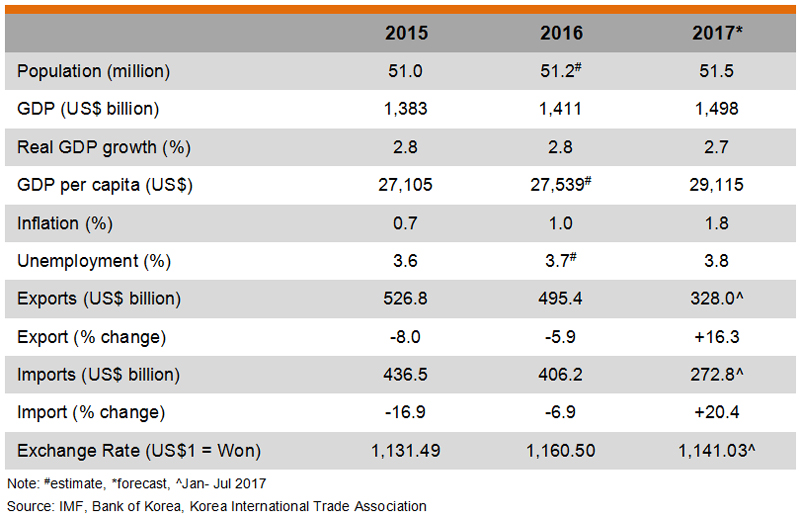 Recent Developments
The Korean economy grew by 0.6% QOQ in Q2 2017 following a 1.1% gain in Q1 2017. Real GDP is expected by the IMF to expand by 2.7% in 2017 on firmer private consumption.
In the first seven months of 2017, Korea's exports increased by 16.3% YOY to US$328 billion, while imports also rose by 20.4% to US$272.8 billion.
China and Korea implemented their bilateral free trade agreement (FTA) in December 2015 after almost three years of talks. The FTA aim to eliminate about 70% to 90% of import tariffs within the next 10 to 20 years.
Hong Kong's total exports to Korea increased by 6% YOY to US$4.1 billion in the first seven months of 2017, while imports from Korea grew by 32.2% YOY to US$17.1 billion.
Current Economic Situation
Economy
The Korean economy grew by 0.6% quarter-on-quarter (QOQ) in the second quarter of 2017, following a 1.1% expansion in the previous quarter. Q2 growth was led by private consumption given the higher spending on electrical appliances and mobile phones. Yet, a decline in shipments of transportation equipment, petrochemicals and chemical products drove down overall exports. In addition, rising Sino-Korean tensions as a result of China's opposition to the US deployment of a missile defense system on Korean soil also negatively affect inbound tourism, entertainment and retail sales.  Real GDP is expected by the IMF to expand by 2.7% in 2017 on firmer private consumption.
Following the impeachment of former President Park, Korea's political situation has largely stabilised with President Moon taking office in May 2017. In a bid to tackle youth unemployment and boost economic growth, Korea's parliament in July 2017 approved an extra budget spending of nearly US$10 billion to fund the new president's job creation and welfare policies, which he marked as a complete paradigm shift. The stimulation package is expected to add 71,000 jobs to the public sector and another 15,000 job to the private sector. As such, the Korean government raised its GDP growth forecast to 3% in July 2017.
Korea's consumer price inflation (CPI) rose 2.2% year-on-year (YOY) in July 2017, up from 1.9% in the previous month, according to Statistics Korea. This was marginally above the BOK's 2% CPI target, largely driven by increased fresh vegetables and electricity prices. For 2017, the BOK maintains its inflation forecast of 1.9%. 
In response to weak economic growth, the Korean government has strengthened its efforts to develop the country's services sector, putting more emphasis on the creative industry to transform the country from a manufacturing powerhouse to a technology-driven creative economy. In supporting this initiative, Manufacturing Innovation 3.0 was launched in 2014 to upgrade industry through manufacturing innovation. The government also lent its support to businesses with an eye on high-tech fields including 5G telecommunications, cloud computing, and biotechnology. In 2017, Korea's combined budget for R&D will reach 19.5 trillion won (US$17 billion), with a large portion allocated to securing new growth engines in the "fourth industrial revolution", characterised by a fusion of cutting-edge technologies such as big data and Internet of Things (IoT).
External Trade
Korea is one of the Asian economies with high trade dependency, with total foreign trade accounting for about 80% of the country's GDP. In the first seven months of 2017, Korea's exports increased by 16.3% YOY to US$328.0 billion thanks to a recovery in global trade. China was Korea's largest export partner and accounted for about 23% of total exports. Other major export destinations of Korea included the US (12% of share), Vietnam (8%), Hong Kong (6%), and Australia (5%). Meanwhile, Korea's imports also rose by 20.4% YOY to US$272.8 billion during the same period. Major sources of imports to Korea were China (20%), Japan (12%) and the US (11%).
To support the export sector, the Korean government in 2016 announced plans to offer 4.8 trillion won (US$4 billion) in trade-related financing, lower export insurance premiums and expand tax incentives for SME exporters. It is reported that Korean government has set aside 372.9 billion won (US$330 million) of funding in 2017 for oversea marketing events and trade missions.
To bolster less-developed regions outside Seoul through private investment, the Korean government announced a series of pro-investment measures in 2014, which included deregulations and tax incentives. For example, development restrictions will be lifted to allow the construction of commercial facilities in green-belt areas. In 2015, the BOK enlarged the Bank Intermediated Lending Support Facility by 5 trillion won (US$4.5 billion), providing additional financial support, such as trade financing and credit loans to SMEs and tech start-ups. In 2017, a new set of measures were introduced to spur investment, which include creating a tourism brand in the Southern coastal area, allowing the distribution of draft beer made by microbreweries and using apartment complexes' parking lots for paid parking space during daytime.  
Investment Policy
Invest Korea (IK) is Korea's national investment promotion agency, established as part of the Korea Trade-Investment Promotion Agency (KOTRA) to support the entry and establishment of foreign businesses in Korea. To promote inward foreign direct investment (FDI), the Korean government offers various incentives including cash grants and tax breaks. In 2015, the government set a goal to increase FDI by 60% to US$30 billion by 2017 from US$19 billion in 2014 through such measures as easing regulations and focusing support on five industry sectors including cosmetics, pharmaceuticals, industrial materials, petroleum products and food processing.
In 2016, the Financial Services Commission (FSC) announced its plan to introduce an Omnibus Account in 2017, an integrated and simplified registration system for foreigners to make it easier for foreign investors to trade locally-listed stocks in the Korean stock market. In the past, foreign investors had to open an account not only in Korean banks but also in Korean securities companies to make an investment in Korean stocks and they had to handle all financial transactions themselves.
Moreover, there are two types of Foreign Investment Zones (FIZs) designated for foreign-invested SMEs and large foreign-invested companies respectively. Land purchase, rent subsidies and tax incentives are offered in those FIZs. Foreign investment on service industries including tourism, logistics and other business services are also encouraged. Besides, qualified foreign investment can be exempted from customs duties, VAT, and special excise tax on imported capital goods for the first three years.
In the first half of 2017, Korea's inward FDI flow reached US$5 billion, down 4.4% from a year earlier, according to Korea's Ministry of Trade, Industry and Energy. Major sources of FDI included the US, China, the EU and Japan.
Trade Policy
In the past, Korea's trade policy placed heavy emphasis on import control and export growth promotion. The Korean government has revised its trade policy to a more neutral stance in recent years, which includes, among other things, forging free trade agreements (FTAs) with other countries. Korea has entered into FTAs with over 50 economies including the EU, the US, ASEAN, Singapore and China. The Korea-China FTA, implemented in December 2015, has significant implications for both sides, as it aims to eliminate more than 70% and 90% of import tariffs within the next 10 and 20 years respectively. Korea's bilateral trade with China reached US$211 billion in 2016. In comparison, bilateral trade with the US and EU in the same year were, respectively, US$110 billion and US$91 billion. A Closer Economic Partnership Agreement between Korea and India was implemented in 2010.
On the other hand, Korea is negotiating FTAs with economies including Japan, Mexico and the GCC (Gulf Cooperation Council). The trilateral free trade agreement between Korea, Japan and China has been under negotiations since 2012, and the 12th round of negotiations was held in April 2017. In addition, Korea is engaged in negotiations on Regional Comprehensive Economic Partnership (RCEP), a proposed FTA among 16 countries including 10 ASEAN countries, Australia, China, India, Japan and New Zealand. RCEP countries account for some 29% of the world's GDP and 28% of global trade, with an aim to conclude negotiations in 2017.
In 1997, following the amendment of the Customs Act and its Enforcement Decree, Korea simplified import procedures and required documentation. Most goods can now be imported without licences, except items restricted for health or security reasons. All of Hong Kong's leading export products can be freely imported into Korea.
Most duties are assessed on an ad valorem basis. For non-agricultural products, about 90% of goods are charged at tariff rates from 0% to 10%. Tariff rates for leading import items (e.g. electrical machinery) from Hong Kong range between 0% and 13%.
In addition to tariffs, imports are also subject to other taxes, including a value-added tax (VAT). The VAT rate on imports is 10% of the CIF value plus customs levies. In addition, a special excise tax, which ranges from 2% to 20%, is levied on certain luxury and durable consumer items.
The Korean government still maintains a safeguard mechanism, in which high tariffs are imposed on certain products, protecting local industries which are vulnerable to global competition. For example, certain agricultural products are subjected to duties above 100%. Meanwhile, some non-agricultural products, such as leather and footwear are taxed up to 16%.
Hong Kong's Trade with Korea
Korea was the tenth largest export market and the fifth largest import source of Hong Kong in the first seven months of 2017. In the same period, Hong Kong's total exports to Korea increased by 6% year-on-year (YOY) to US$4.1 billion, while Hong Kong imports from Korea grew by 32.2% YOY to US$17.1 billion. As such, Hong Kong ran a trade deficit against Korea amounting to US$13 billion. Major Hong Kong exports to Korea included semiconductors, electronic valves and tubes (US$1.2 billion, 30.2% of total, +4.4% YOY), telecom equipment and parts (US$675 million, 16.4% of total, +11.1% YOY), computers (US$340 million, 8.3% of total, +55.4% YOY).
In the same period, Hong Kong major imported items from Korea included semiconductors, electronic valves and tubes (US$11.0 billion, 64.3% of total, +42.1% YOY), telecom equipment and parts (US$886 million, 5.2% of total, +31.0% YOY) and petroleum oils (other than crude) (US$703 million, 4.1% of total, +11.1% YOY).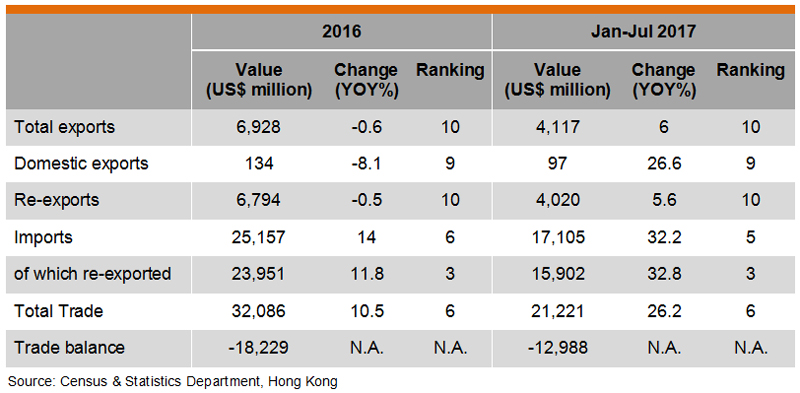 Korea's Economic Involvement in Hong Kong
Korea is actively involved in the Hong Kong economy. According to the Hong Kong Census & Statistics Department, there were 135 Korean companies which had established regional headquarters, regional or local offices in Hong Kong as of June 2016.
In 2015, Korea was Hong Kong's 19th largest FDI contributor. Korea's cumulative FDI investment in Hong Kong amounted to US$3.3 billion, according to the latest available figures from the Census and Statistics Department. Korean companies in Hong Kong are involved in financial services (e.g. Korea Exchange Bank, Daewoo Securities, Woori Bank and Hana Bank), logistics and transportations (e.g. Hyundai Merchant Marine and Korea Travel Service), as well as cosmetics (Laneige, Etude House and Sulwhasoo, etc.). 
In the first half of 2017, Korean visitors to Hong Kong increased 9.9% to 755,402, accounting for 2.7% of total visitors.