Bangladesh
Bangladesh: Market Profile
Major Economic Indicators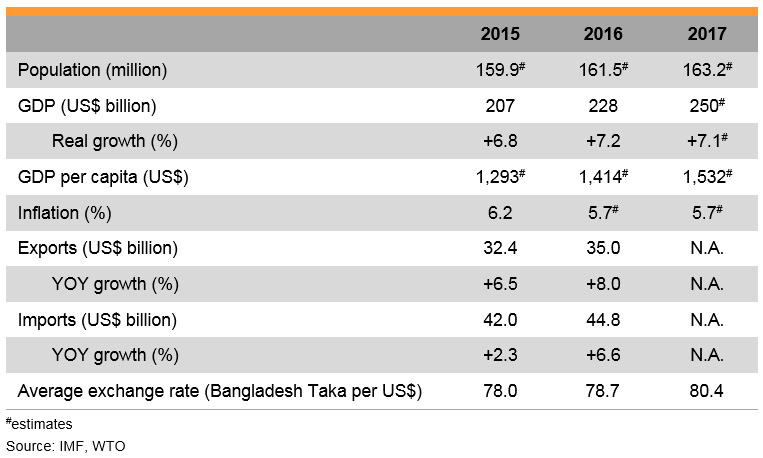 Bangladesh is the third most-populated country in South Asia (after India and Pakistan). It shares borders with India to the north, west and east, and overlooks the Bay of Bengal to the south. Since gaining independence in 1971, the country has faced a number of challenges, including poverty reduction, confrontational politics and an inefficient public sector, while also setting out to undertake ambitious economic and social reforms. Bangladesh has maintained macroeconomic stability and rapid GDP growth despite dysfunctional politics. It has also witnessed a rise in foreign direct investment, particularly in the energy, telecoms and export processing sectors.
An abundant supply of labour has made Bangladesh the world's second largest exporter of ready-made garments (RMG) after China. Garment exports and hefty remittances from Bangladeshi migrant workers abroad (about 55% are from the Middle East) are key economic drivers. Another contributor to economic growth is the expanding microfinance sector, which covers millions of rural borrowers, agro entrepreneurs, cottage industries and small businesses. People living in extreme poverty have plummeted to about 13% of the population from over 40% in the early 1990s.
Bangladesh's textiles and garments sector is vital to its economy, providing almost four million jobs and accounting for over 80% of its exports. Garment products are shipped mostly to the US and EU. Bangladesh mainly imports machinery, textiles and petroleum products from China and India. Since the Rana Plaza factory collapsed in 2013, Bangladesh has adopted some measures to improve workplace safety and has raised the minimum wage. Export of RMG products has picked up since 2017 thanks to the economic recovery in the advanced economies. 
Under the Belt and Road Initiative, China intends to set up economic corridors in alliance with other countries – with one covering Bangladesh, India and Myanmar (i.e. the BCIM Economic Corridor). The Corridor will link India's Kolkata with China's Kunming, with Myanmar's Mandalay and Bangladesh's Dhaka among the key points. To this end, the Chinese government has pledged to finance multi-billion infrastructure projects in Bangladesh, including the construction of a 220-km oil pipeline in Bangladesh, which will reduce the time and costs of transferring and unloading imported crude oil to onshore facilities in the country. 
Chinese enterprises are also keen to invest in number of sectors, including telecoms, agriculture, power and energy in Bangladesh. For instance, the two countries have formed the joint venture Bangladesh-China Power Company Limited to invest US$1.56 billion to build a coal-fired electricity plant near a proposed sea port south of Dhaka.
Bangladesh joined the WTO in 1995 and is a founding member of the South Asian Free Trade Area (SAFTA), Asia-Pacific Trade Agreement (APTA), and the Bay of Bengal Initiative for Multi-sectoral Technical and Economic Corporation. Bangladesh has signed bilateral investment treaties with 28 countries, including China, Japan, Korea, US and India.
The Bangladesh Investment Development Authority (BIDA), formerly Bangladesh Board of Investment, is the principal investment promotion agency, which aims to accelerate economic development with FDI. While the textile and garment sector is a major FDI recipient, leather and leather goods, pharmaceutical, automobile and food processing are sectors encouraged by the BIDA.
The Bangladeshi government is keen to attract more FDI and has set out an ambitious plan to build 100 special economic zones (SEZs) by 2030. The SEZs are areas with more business-friendly laws and aligned infrastructure provision. In January 2017, the Bangladesh Economic Zones Authority had approved construction of four SEZs in the districts of Madaripur, Faridpur, Noakhali and Kishoreganj.
Bangladesh's cumulative FDI was US$14.5 billion at end-2016, with a year-on-year change of 12.6%. Based on statistics from China's Ministry of Commerce, China's cumulative FDI in Bangladesh was US$225.2 million as at end-2016.
Hong Kong concluded an air services agreement with Bangladesh in 2000, with the negotiation on a double taxation agreement in progress.