Bhutan
Bhutan: Market Profile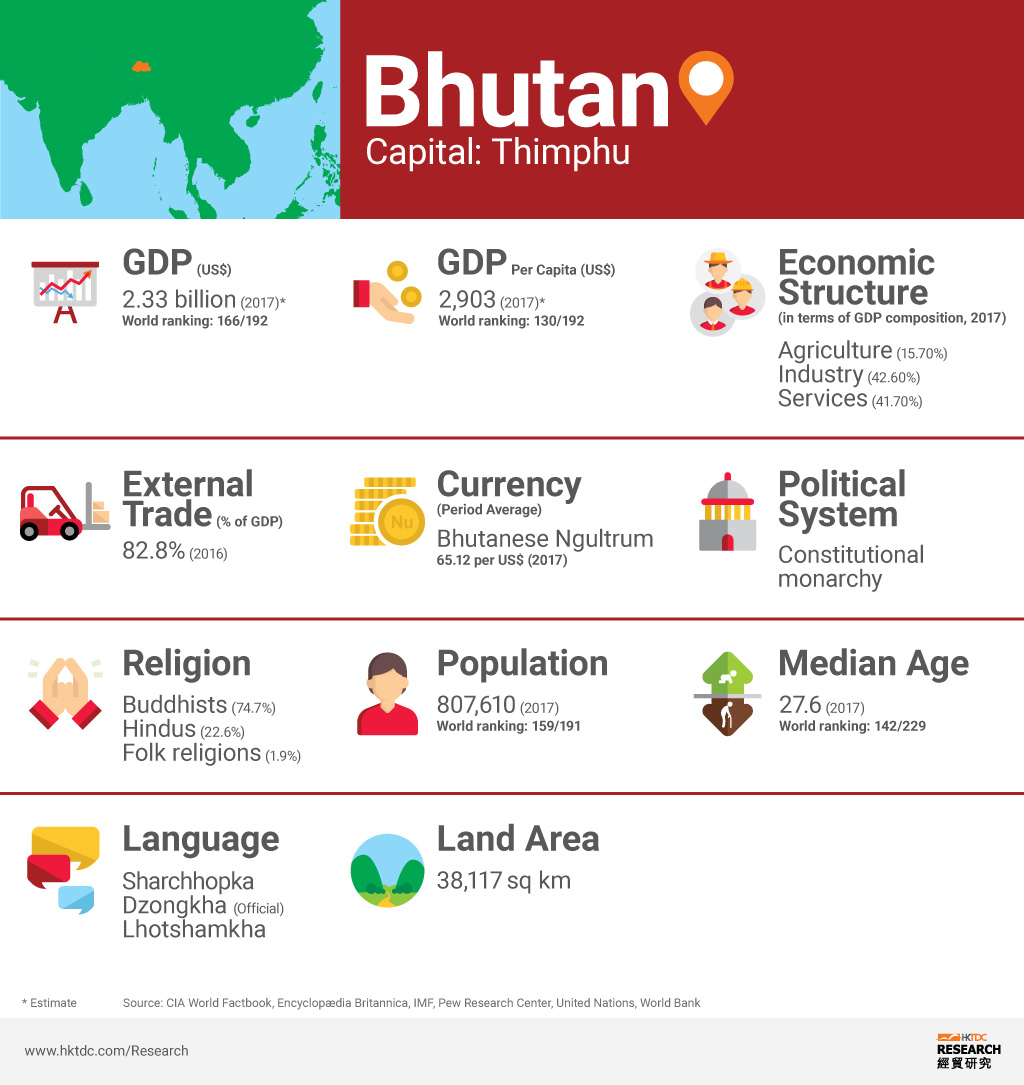 Bhutan, with the smallest population in South Asia, is a small, landlocked Himalayan kingdom set in between China to the north and India to the south. The country changed from an absolute to constitutional monarchy in 2008. It is largely an agrarian economy and hydropower assumes a key economic role in terms of the country's GDP (about 20%), exports (30%) and fiscal receipts (40%). The tourism industry, however, has in recent years become an important contributor of the economy. In 2016, total visitor arrivals in Bhutan increased 35% to 209,000, with India, China, Bangladesh and the US being the major sources.
Bhutan has forged a close relationship with India, with its robust GDP growth driven primarily by selling hydropower to India in recent years. Indeed, about 90% of Bhutan's exports go to India, which mainly composed of hydropower and base metals. As to imports, about 80% are sourced from India, including fuel and machinery. Other import sources include France, Japan, Singapore and China.
Based on an agreement with India, Bhutan ambitiously planned some new hydro projects to produce an additional 10,000MW – more than six times its generating capacity in 2013 – by 2020. Bhutan's currency, the Ngultrum, is pegged to the Indian rupee, which is also accepted as legal tender. The IMF notes that given the country's close economic ties with India, Bhutanese economy is susceptible to a growth slowdown in India.
Bhutan is an observer in the WTO, and a member of the South Asian Free Trade Area (SAFTA) and the Bay of Bengal Initiative for Multi-Sectoral Technical and Economic Co-operation. It signed a free trade agreement with India in 2008, stipulating that India would not levy tariffs on Bhutanese goods that are re-exported or transhipped through India to third party markets. Bhutan has also signed a bilateral trade agreement with Bangladesh – Bangladesh provides duty free access for 18 products from Bhutan, while 90 products from Bangladesh enjoy duty free access to Bhutan. In recent years, China has become more active in seeking a diplomatic relationship with Bhutan, despite their unresolved border disputes.
The Foreign Direct Investment Division of the Department of Industry is responsible for FDI promotion. More information on investment opportunities and guidelines can also be found on the website of iGuide Bhutan, an online platform jointly developed by the UNCTAD and the government of Bhutan. Bhutan also encourages investment in the agricultural, tourism and ICT sectors. The government is also keen to improve ease of doing business in Bhutan and exchange ideas with the private sector by setting up the Better Business Council.
Bhutan's cumulative FDI was US$171 million as at end-2016 compared with US$167 million as at end-2015.