Cambodia
Cambodia: Market Profile
Major Economic Indicators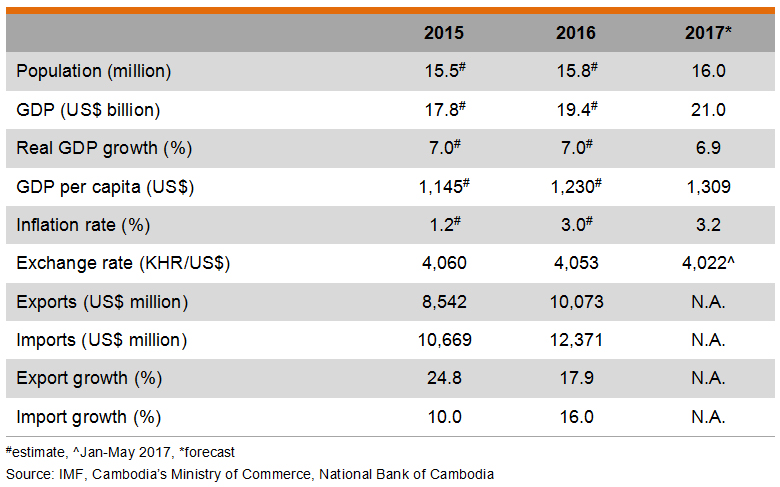 Latest Development
Cambodia's economy grew by 7% in 2016, same as the previous year, supported by strong growth in garment export, construction and tourism. 
To incentivise greater compliance with tax payments, the Cambodian government had introduced an amnesty for underpaid or undeclared taxes, which ended in April 2017.  
Cambodia is part of the China-ASEAN Free Trade Area (CAFTA). It entered into double tax agreements with Singapore and China respectively in 2016.
Inward FDI stock to Cambodia reached US$16.7 billion in 2016, with projects mainly in the sectors of banking and finance, manufacturing, real estate, agriculture, tourism, energy, transport and telecom.
In the first seven months of 2017, Hong Kong's total exports to Cambodia rose by 0.5% YOY to US$533 million. In the same period, Hong Kong's imports from Cambodia reached US$165 million.
Current Economic Situation
Economy
Cambodia is the second smallest economy in the 10-country ASEAN and one of the least developed countries (LDC) in Asia. Services is the largest sector and contributes to 44% of GDP, while the industry sector represents 30% of the economy (with garment, tourism, and construction being the main industries). The remaining GDP share is attributed to agriculture, which employs nearly half of the country's labour force.
In 2016, Cambodia's economy grew by 7%, same as the previous year, thanks to strong growth in garment exports, construction and tourism. Industrial growth was recorded at a stunning pace of 10.5% in the same period, while services also expanded by more than 7%. With the garment and construction industries remaining strong, the IMF expects Cambodia to grow by 6.9% in 2017. Yet, the external sector poses considerable risks to the country's exports, including an appreciating US dollar, weaker growth in Europe and increased uncertainty arising from the Brexit referendum as well as the spillover impact of a slowing Chinese economy.
Cambodia's agriculture sector, after experiencing remarkable growth driven by an once bountiful crop production lasting many years, has eased amid falling commodity prices and low yields caused by a prolonged drought. To support the agricultural sector, the Cambodian government announced in April 2016 to exempt unprocessed agricultural products from the Value-added Tax (VAT). Tourism, which accounts for nearly 20% of the Cambodian economy, enjoyed decent growth, with tourist arrivals growing by 5% to reach 5 million in 2016 and visitors spending hitting US$3.2 billion. 
The Consumer Price Index (CPI) increased by 2.7% year-on-year (YOY) in May 2017, according to the National Bank of Cambodia, a considerable rebound from the lows in 2015 when commodity prices were soft.
Thanks to relatively low labour costs and costs of the land use, Cambodia has become a preferred production base for light manufacturing such as garment. However, labour cost has been on the rise along with statutory minimum wages amid recurrent strikes. In August 2017, the Cambodian government indicated that garment workers' monthly minimum wage would be increased by 9.8% from US$153 to US$168, with no formal date for the implementation of the measure. In an additional change, as of 1 January 2018, workers will no longer have 1.3% of their monthly salary deducted as a contribution to the National Social Security Fund. Their share will, instead, be paid by their employers, whose current contribution matches that of their employees.
In an attempt to promote greater compliance with tax payments, the General Department of Tax had introduced an amnesty for underpaid or undeclared taxes in January 2017, with the incentive scheme ending in April 2017. Cambodia has a system of severe penalty for tax evasion.
External Trade
Cambodia's merchandise exports expanded by 17.9% to reach US$10.1 billion in 2016, according to data from the Ministry of Commerce. Despite soaring costs driven in part by US dollar appreciation and competition from other regional low-wage countries such as Myanmar and Bangladesh, Cambodia's garment exports continued to expand by 8% in 2016, with the value of exports accounting for more than 70% of the country total.
Cambodia's major trading partners are the EU, the US, China, Korea, Japan, Thailand, Vietnam, Singapore and Malaysia. The EU and the US combine to absorb about 70% of Cambodian garment and footwear exports. Since 2011, exports to the EU have grown rapidly due to the latter's simplified GSP rules, under which Cambodia as an LDC enjoys duty- and quota-free access to the EU bloc. 
Investment Policy
Cambodia has a liberal foreign investment regime, with sectors including agriculture, transportation, telecommunication, energy, labour-intensive and export-oriented processing, tourism and human resource development highlighted as priority areas of investment.
Foreign investment falling under the scheme of Qualified Investment Project (QIP) is approved by the Council for the Development of Cambodia (CDC), which grants incentives including 100% foreign ownership, corporate tax holidays of up to eight years, 20% corporate income tax (CIT) rate after the incentive period, duty-free import of capital goods and no restrictions on capital repatriation. More information on Cambodia's investment environment and regulations can be found at the CDC website.
Special economic zones (SEZs) were first introduced in Cambodia in 2005. Projects within the SEZs are offered with incentives such as tax holidays, zero rate VAT and import duty exemption for raw materials, machinery, and equipment. As of December 2016, there were 11 SEZs reported operating in the country, providing one-stop import services, employment and regulatory matters. The primary authority responsible for SEZs is the Cambodia Special Economic Zone Board (CSEZB).
To make the economy more competitive, the Cambodia government announced in April 2016 to remove the estimated tax regime under which the tax was based on negotiations with the tax authorities, replacing it with a self-assessment tax regime that is more transparent.
Foreign Investment
According to UNCTAD, inward FDI stock to Cambodia reached US$16.7 billion in 2016, with FDI flow in the same year standing at US$1.9 billion.
The Chinese Mainland, Hong Kong, Vietnam, Singapore and Japan are Cambodia's largest investors. Projects are mainly invested in the sectors of garment and other manufacturing, banking and finance, agriculture, tourism, energy, mining, real estate, transport and telecom.
Based on statistics from China's Ministry of Commerce, China's cumulative FDI in Cambodia increased from US$1.1 billion in 2010 to US$3.7 billion in 2015.
During Chinese President Xi's visit to Cambodia in October 2016, a total of 31 agreements and Memorandum of Understanding (MoUs) were reached to engage in joint projects in industry, infrastructure and maritime business. Notable Chinese investment in Cambodia includes the construction of a highway from Phnom Penh to Sihanoukville and the Se San River Secondary Hydropower Plant. According to the Cambodian transport minister, about 70% of roads and bridges in the country had been funded by China as of July 2017, with loans for their financing adding up to about US$2 billion, including more than 2,000km of roads and seven major bridges.
Trade Policy
Most goods can be freely imported to Cambodia without licences, except for items covered by the List of Restricted Goods (e.g. certain chemical products and animals). Besides applying a 10% flat rate of Value Added Tax (VAT) on all imported goods, imports are also subject to two other types of duties and taxes, namely Customs Import Duties (an ad-valorem rate) and Special Tax for certain goods.
In 2001, Cambodia simplified its tariff structure by reducing the number of tariff bands from 12 to four and lowering the maximum rate from 120% to 35% (i.e. 0%, 7%, 15%, and 35%). Currently, the four tariff bands are zero-rated for exempt goods such as medical and educational materials (covering 5% of tariff lines), 7% for primary products and raw materials, 15% for capital goods, machinery and equipment, locally available raw materials and 35% for finished products, alcohol, petroleum products, vehicles, precious metals and stones.
Free Trade Agreements
As a member of ASEAN since 1997, Cambodia together with the trade bloc has concluded a number of free trade agreements (FTAs), including the ASEAN-China Free Trade Agreement (ACFTA), ASEAN-Korea Free Trade Agreement (AKFTA), ASEAN-Australia-New Zealand FTA (AANZFTA), ASEAN-Japan Comprehensive Economic Partnership Agreement (AJCEPA) and ASEAN-India Free Trade Agreement (AIFTA). In November 2015, China and ASEAN concluded an upgraded FTA that covers further liberalisation of trade as well as economic, investment and regulatory co-operation, which is seen as helping to scale up bilateral trade to US$1 trillion by 2020 from US$480 billion in 2014. Beside, ASEAN has embarked on FTA negotiations with other economies, including the EU, Pakistan and Hong Kong.
Being part of ACFTA, the world's largest free trade area by population, Cambodia will reduce about 86% of its tariff lines on China-origin products to zero in 2018 from a simple average of 14.4% in 2005. For example, the average tariff on Chinese shirts and T-shirts will be lowered to zero from 7% in 2005.
In 2016, Cambodia entered into double taxation agreements (DTAs) with Singapore and China respectively. However, as both DTAs will take time for ratification, Cambodia does not have any DTA currently in force. 
Hong Kong's Trade with Cambodia
In the first seven months of 2017, Hong Kong's total exports to Cambodia rose 0.5% YOY to US$533 million. Major export items included knitted or crocheted fabrics (32.1% share), telecom equipment & parts (8.2%) and tulles, lace, embroidery, ribbons, trimmings and other small wares (5.7%). 
Hong Kong's imports from Cambodia reached US$165 million in the same period. Major import items included telecom equipment & parts (31.5% share), furskins, tanned or dressed (18.3%) and other articles of apparel of textile fabrics (7.6%).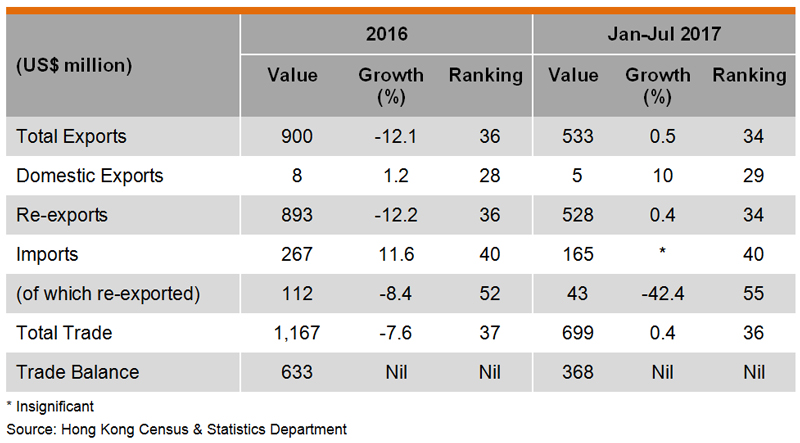 More Information
More information on the Belt and Road countries' economic and investment environment, tax and other subjects that are important in considering investment and doing business are available in The Belt and Road Initiative: Country Business Guides.
Related information: Cambodia business guide
Location: Argentina, Armenia, Azerbaijan, …
Sectors: Fintech
Looking for: Joint Venture, Minority Shareholdings