Egypt
Egypt: Market Profile
Major Economic Indicators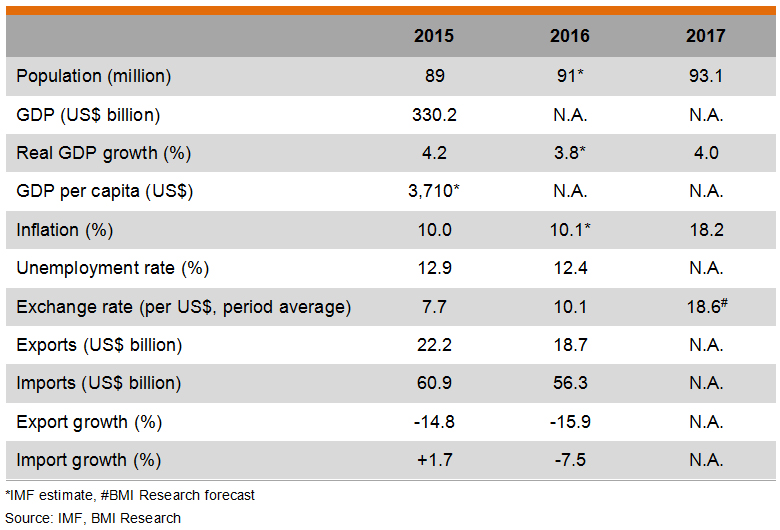 Latest Developments
Egypt's economic growth decelerated to 3.8% in 2016, from 4.2% in 2015. A similar growth level of 4% is projected for 2017.
Consumer price inflation hit a high at 10.1% in 2016 and is expected to further accelerate to 18.2% in 2017.
In November 2016 the Central Bank of Egypt floated the Egyptian pound to quality for IMF loan. As of December 2016, the currency dropped around 60% against US dollar year-or-year (YOY), reaching historic lows.
Egypt's net FDI inflow reached US$6.9 billion in the fiscal year ending June 2016, at the similar level of the previous fiscal year.
Egypt's exports fell 15.9% in 2016 to US$18.7 billion while imports fell 7.5% to US$56.3 billion during the same period.
Hong Kong's exports to Egypt rose 2.4% to US$539 million in 2016, while imports from Egypt tumbled by 22.9% to US$45 million.
Current Economic Situation
Economy
Egypt is one of the most developed and diversified economies in the Middle East. Service contributes about 45% of the Egyptian GDP, with finance and insurance, wholesale and retail trade sectors being the key service industries. Agriculture contributes another 15% of GDP while industry including the manufacturing and extractive sectors takes up the rest of GDP.
While Egypt has rebuilt order after the Arab Spring under military rule, the country's underlying structural weaknesses and prolonged political transition have led to the build-up of macroeconomic imbalances, marked by spiking inflation and high unemployment.
After four years of negotiation, the Egyptian government reached a preliminary agreement with the IMF on a loan of US$12 billion loan in November 2016. To qualify for IMF financial assistance, the Central Bank of Egypt (CBE) gave up the pegged currency regime in favour of a floating Egyptian pound on 3 November 2016, which will help Egypt's external competitiveness, support exports and tourism, and attract foreign investment. The currency had dropped by about 60% against the US dollar to hit historic lows of to 19.7 Egyptian pound per US dollar in December 2016. The IMF indicated in January 2017 that the Egyptian pound was trading at genuine equilibrium exchange rate after the November float. 
In gaining access to IMF loans, Egypt has undertaken to adopt economic reform and structural adjustment programme to restore investors' confidence and revive Egypt's economy. Major measures include liberalising Egypt's exchange rate system, reducing energy subsidies, improving ease of doing business, supporting SMEs, introducing the value-added tax (VAT) and strengthening social security. More consumption and investment is needed to drive GDP growth. Egypt's economy expanded by 3.8% in 2016, with the IMF projecting a similar GDP growth of 4% for 2017 following the implementation of reform programmes.
In November 2016, the Egyptian government announced to further delay the introduction of capital gains tax on equity for three more years to attract foreign investors. A five-year income tax relief for new agricultural and manufacturing investments in Upper Egypt and discounts on land prices in new urban centres were also introduced.
Currency depreciation and removal of subsidy on fuel drove inflation to a year-on-year gain of 24.3% in December 2016, with the full year figure recorded at 10.1%. Inflationary pressure is expected to accelerate in 2017 due to subsidy cuts on food and energy and the introduction of VAT. The IMF projects inflation in Egypt to reach 18.2% in 2017.
Egypt is reliant on external financing and foreign aid to drive its economic development. In April 2015, France signed contracts worth US$1.5 billion with Egypt on various transport and electricity projects. Besides, President Sisi is actively courting aid and investment from Asia including China, Japan and Korea. In January 2016, China announced loans of US$1.7 billion to Egypt alongside US$15 billion of energy, infrastructure and construction projects in Egypt awarded to Chinese companies. In addition to seeking the IMF loan of US$12 billion, Egypt signed a currency swap deal with China for about US$2.6 billion in December 2016 to pop up its official reserves.
Tourism, an important economic pillar of Egypt, has been severely hit by political instability since the Arab Spring. The total number of visitors in 2016 plummeted to 5.3 million from 9.3 million in 2015. 
In 2015, Egyptian government announced the plan to develop a new capital city east of Cairo (of a size of 706 sq kilometres) to resolve the current over-crowding, pollution and rising house price problems in Cairo. Chinese capital is seen as an important funding source of this megaproject. The China Fortune Land Development Company has signed an agreement to provide US$20 billion for this development. In February 2017 the Egyptian government has started to invite construction companies and real-estate developers to bid for plots in the new capital city.
External trade
Egypt relies heavily on oil exports (about 40% of total exports), and the country's other major export items include cotton, textiles and agricultural products. Exports fell 15.9% in 2016 to US$18.7 billion amid the drop in oil exports. Egypt imports machinery, equipment and food mostly from China, Germany and the US. In 2016, imports fell 7.5% YOY to US$56.3 billion.
Investment Policy
While regaining political stability, Egypt welcomes FDI and provides various incentives such as tax exemptions. General Authority for Investment and Free Zones is the government body responsible for foreign investment.
The Suez Canal Corridor Area Project
The Suez Canal, which connects the Mediterranean Sea with the Red Sea, is the world's oldest artificial waterway. With a view to meeting increasing the canal's daily capacity from 49 vessels in 2014 to 97 in 2023, and spurring Egypt into an international trading and logistics hub, the Egyptian government rolled out a mega infrastructure project called the Suez Canal Corridor Area Project (SCCAP) in August 2014, which will include the development of industrial estates, technology parks, and infrastructure, aside from constructing a new 35-km canal section. The new canal is expected to increase the traffic revenue of the canal from US$ 5.3 billion in 2015 to US$15 billion in 2023, with the SCCAP expected to spur foreign investment and create jobs.
Foreign direct investment
Egypt's net FDI inflow reached US$6.9 billion in the fiscal year ending June 2016, at the similar level of previous fiscal year. Major FDI sources included the UK, the US, and the UAE. China's cumulative FDI in Egypt was US$663.1 million as at end-2015.

Trade Policy
Egypt has gradually moved towards a more liberal trade regime. It became a member of the World Trade Organisation (WTO) in 1995, and revamped its tariff regime in 2004 as agreed in its accession agreement. The changes in the tariff structure lowered the official tariff rate (weighted average) from 14.6% to 11.8%. According to the WTO, Egypt's MFN trade weighted average tariff was 11.8% in 2013. More than 88% of agricultural products and 86% of non-agricultural items on the tariff schedule are now charged at less than 15%.
As a measure designed to protect the local automotive industry, imported vehicles are subjected to a tariff ranging from 40%-135%, depending on the engine size. Vehicles with engines over 2,000cc are subject to an additional sales tax of up to 45%. The Presidential Decree 25 of 2016 also significantly increased import tariffs on a wide range of products such as household appliances, electronic devices, clothing, shoes, watches and some agricultural produce.
Egypt requires restrictive labeling for imports of food products. All food products should be packed in appropriate packages, which should be clean, intact, and odourless so as to preserve the products and not affect its characteristics. Imported products must be marked and labelled in Arabic. The language requirement is mandatory for all information, including the brand and type of the products, country of origin, date of production, expiry date, and instructions on handling products. For imported tools, machines and equipment, a user manual in Arabic has to be attached.
There are a total of ten free trade zones in Egypt – Cairo (Nasr City), Alexandria, Port Said, Suez, Ismailia, Damietta, Media, Shebin El-Kom, Qeft and Port Said East Port. Goods exported from or imported into the free zones are not subject to normal import/export customs procedures, duties or other taxes and fees. Likewise all instruments, machinery, equipment, and transportation equipment necessary for establishments authorised within the free zones are exempt from customs and duties.
The EU-Egypt Association Agreement entered into force in June 2004. The EU lifted all trade barriers to Egyptian industrial exports, while Egypt committed itself to removing all related trade barriers over a 12-15 year transitional period. In June 2013, the EU and Egypt began an exploratory dialogue on deepening the bilateral trade and investment relations through the possible negotiation of the Deep and Comprehensive Free Trade Agreement (DCFTA). It will extend largely beyond the existing Association Agreement.
Besides the Association Agreement with the EU, Egypt has signed a number of free trade agreements (FTAs) to help Egyptian exports gain preferential access to markets of the signatories. Such FTAs include the Pan Arab Free Trade Agreement (PAFTA, with 17 members including Egypt), the Common Market for Eastern and Southern Africa (COMESA, with 19 members including Egypt), the Agadir Agreement (with Egypt, Morocco, Tunisia, and Jordan as members), MERCOSUR-Egypt FTA (with Argentina, Brazil, Paraguay and Uruguay), EFTA – Egypt Free Trade Agreement (with Iceland, Liechtenstein, Norway and Switzerland) and the Egypt-Turkey FTA.
Egypt also enjoys Generalised System of Preferences (GSP) status provided by Australia, Canada, Japan, Kazakhstan, New Zealand, Russia, Turkey and the US. Preferential tariff and duty-free treatment on certain items are granted to Egypt by these countries. 
Hong Kong Trade with Egypt
Hong Kong's total exports to Egypt expanded 2.4% to US$539 million in 2016. Major exports in the period included telecom equipment and parts (US$394 million, 73% of total, +32.1% YOY), computers (US$34 million, 6.3% share, -32.6% YOY), and office machines (US$10 million, 1.9% share, -21.5% YOY).
Hong Kong's imports from Egypt decreased 22.9% to US$45 million in 2016. Major imports in that period were fruit and nuts (not including oil nuts), fresh or dried (US$18 million, 39% share, +16.5% YOY), leather (US$6 million, 14.1% share, -4.1% YOY), and glassware (US$5 million, 11% share, -54.9% YOY).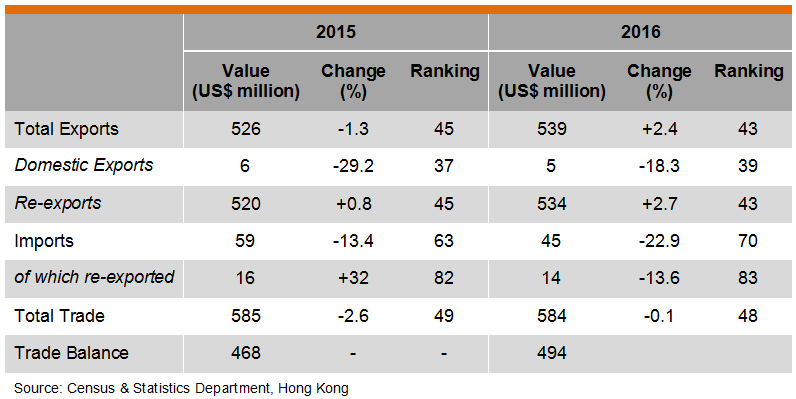 In 2016, a total of 17,380 Egyptian visitors came to Hong Kong, an increase of 4.1% from 2015.
More Information
More information on the Belt and Road countries' economic and investment environment, tax and other subjects that are important in considering investment and doing business are available in The Belt and Road Initiative: Country Business Guides.