Maldives
Maldives: Market Profile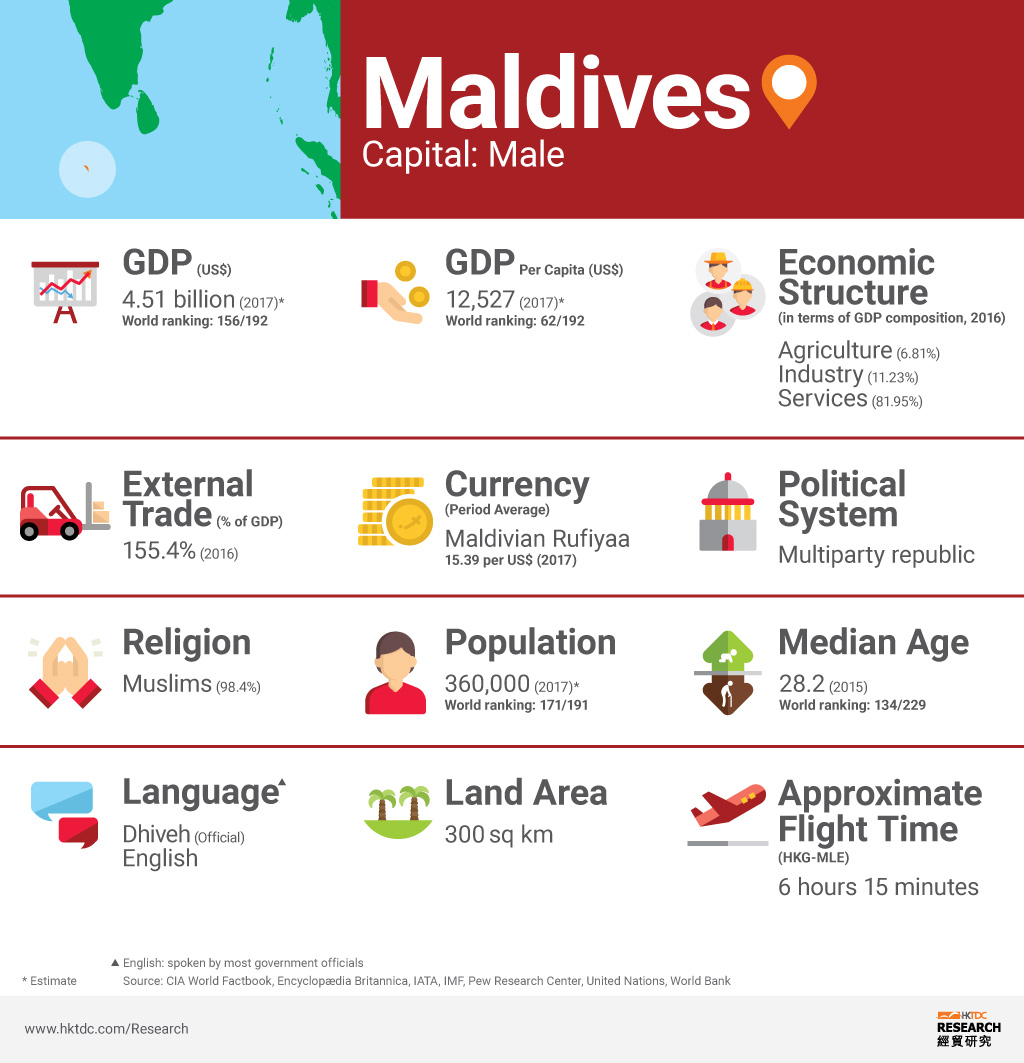 Maldives is a small island state in the Indian Ocean, about 1,000 km southwest of Sri Lanka. A middle-income country with a small population inhabiting some 200 of its 1,000 islands, Maldives relies on its tourism and fishery sectors for economic growth. Maldives gained full political independence from the UK in 1965, and became a republic rather than a constitutional monarchy in 1968.
With the country endowed with a unique natural environment, the tourism sector accounts for about 23% of Maldives GDP and 20% of its employment. Thanks to the improvement in the global economy and the government's promotion campaign, tourist arrivals in Maldives increased by 8% to 1.39 million in 2017, mainly driven by strong growth in visitor arrivals from Europe.  In order to diversify, the country is developing a Special Economic Zone (SEZ) to promote its off-port shipping, IT and financial services industries. Nevertheless, this low-lying country is already facing threats from rising sea levels and climate change amid continuing concerns over global warming.
Maldives' main exports comprise fish and related products (about 80% of total exports), which are dispatched primarily to Thailand, Sri Lanka, the US, France and Germany. Nearly all of Maldives' goods are imported, as it lacks arable land and large-scale manufacturing resources. Foods, petroleum products and machineries come mostly from the UAE, Singapore, China, India and Sri Lanka. Generally, Maldives retains a positive external account balance, as its service account surplus (due mostly to tourism) more than offsets its trade deficit.
Maldives acceded to the WTO in 1995, and it is also a member country of the regional South Asian Free Trade Agreement (SAFTA). Maldives signed the free trade agreement (FTA) with China in December 2017, which is Maldives's first bilateral trade agreement. The effectively applied simple average tariff rate of Maldives is about 11.4%.
Maldives is one of the countries along China's Maritime Silk Road under the Belt and Road Initiative (BRI). In 2014, China-Maldives Joint Committee on Trade and Economic Cooperation held its first meeting in a bid to deepen bilateral trade and investment as well as tourism cooperation. With financial aid from China, the construction of China-Maldives Friendship Bridge, which will increase connectivity between the islands in Maldives, started in 2015 and is scheduled to complete in August 2018. In addition to inviting Chinese airlines to land in Maldives, the government is building a new runway at the Velana International Airport with Chinese loans and infrastructural assistance, which is expected to be completed in mid-2018.
Invest Maldives is the government agency to promote and regulate FDI in Maldives. The government is pursuing FDI in a number of strategic projects involving light manufacturing, tourism and port development.
Maldives's cumulative FDI reached US$3.22 billion as at end-2016 compared to US$2.77 billion as at end-2015. According to China's Ministry of Commerce, China's cumulative FDI in Maldives surged from US$2.37 million as at end-2015 to US$35.8 million as at end-2016.
Hong Kong and Maldives concluded an air services agreement in 2009. The negotiation of an FTA between Hong Kong and Maldives was started in September 2016.