GDP (US$ Billion)
47.02 (2017)
World Ranking 86/193
GDP Per Capita (US$)
1,663 (2017)
World Ranking 149/192
Economic Structure
(in terms of GDP composition, 2017)
Services
(42.35%)
Industry
(30.78%)
Agriculture
(19.70%)
External Trade (% of GDP)
73.6 (2017)
Currency (Period Average)
Ghanaian Cedi
435 per US$ (2017)
Political System
Unitary multiparty republic
Overview
In the past two decades, Ghana has taken major strides towards democracy under a multi-party system, with its independent judiciary winning public trust. Ghana's economic performance improved significantly in 2017 after a difficult 2016. The government has started implementing some of its promises, such as planting for food and for jobs, and free secondary education. Domestic revenue mobilisation is a key priority for the government, and the World Bank supports these efforts through technical assistance to the Ghana Revenue Authority.
Sources: World Bank, Fitch Solutions
Major Economic/Political Events and Upcoming Elections
January 2017
Opposition candidate Nana Akufo-Addo was sworn in as president after beating incumbent John Mahama in the previous month's election.
October 2017
Ghana and Côte d'Ivoire set up a commission to implement an international ruling on a maritime border dispute involving oilfields.
September 2018
The Ghana Education Trust Fund secured a USD500 million loan to boost the country's educational infrastructure, according to President Nana Akufo-Addo.
November 2018
The African Development Bank's board had given provisional approval to a USD600 million loan package for Ghana's cocoa regulator, Cocobod. The regulator planned to use USD200 million for domestic processing and USD50 million to increase warehousing capacity. The financing will back initiatives planned by Ghana and neighbouring Ivory Coast aimed at giving them more control over global prices.
Sources: BBC Country Profile – Timeline, Fitch Solutions, Bloomberg
Major Economic Indicators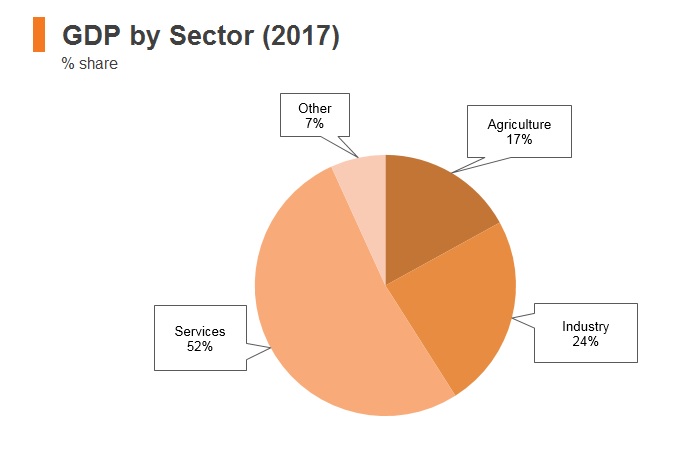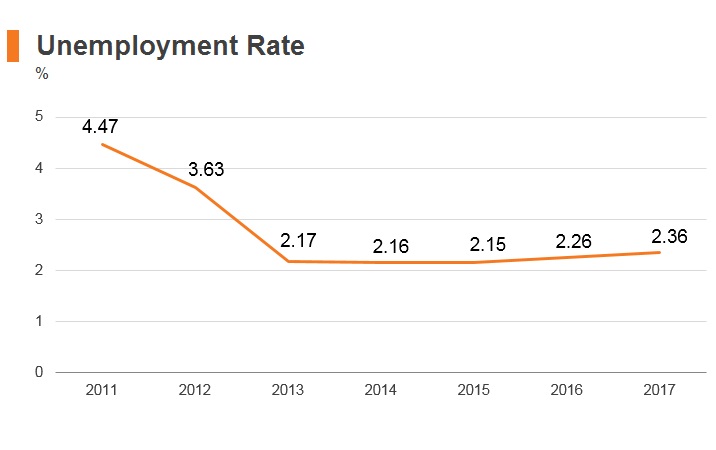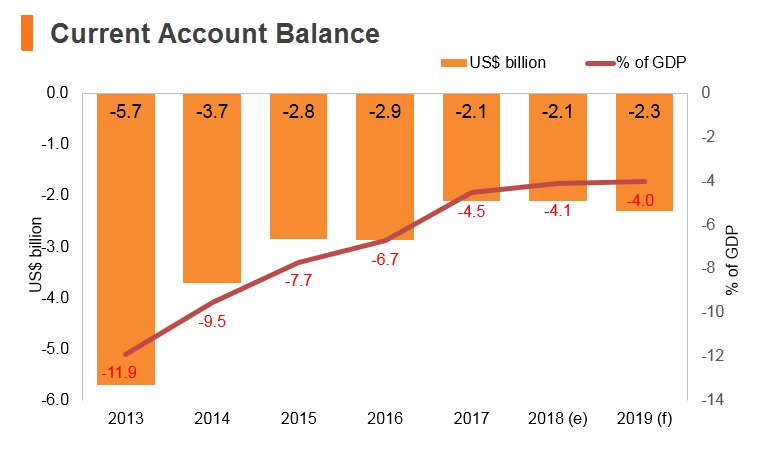 e = estimate, f = forecast
Sources: IMF, World Bank, Fitch Solutions
Date last reviewed: February 28, 2019
External Trade
Merchandise Trade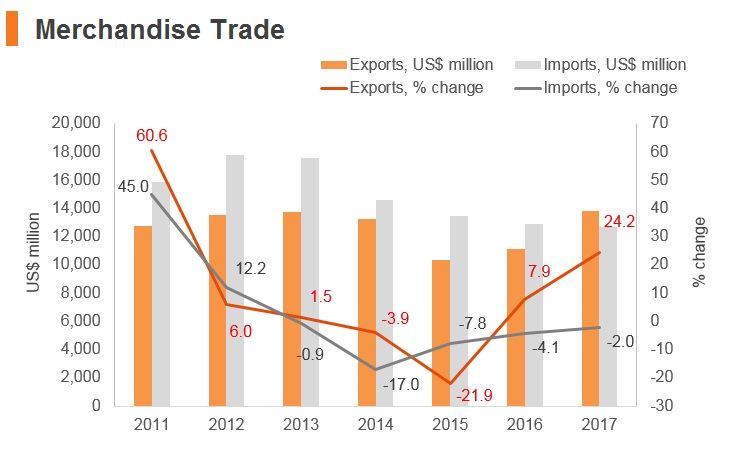 Source: WTO
Date last reviewed: February 28, 2019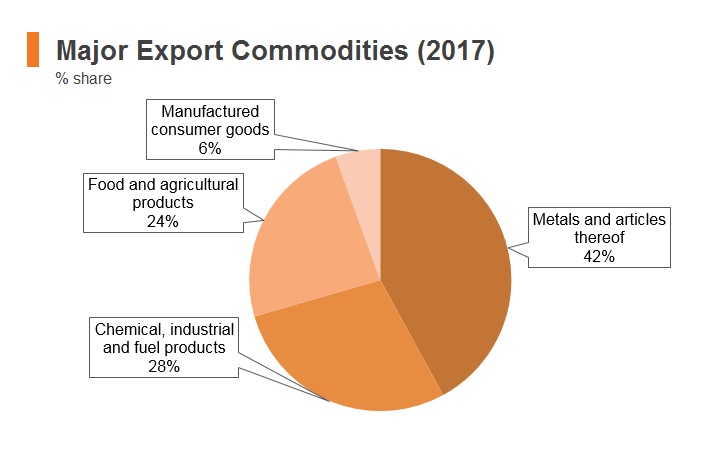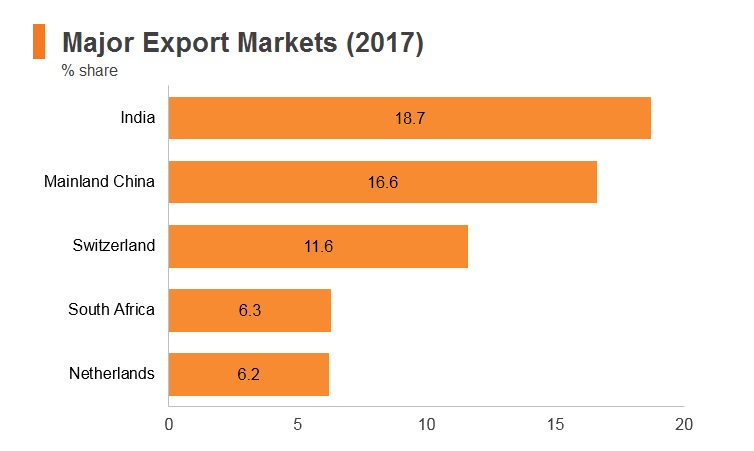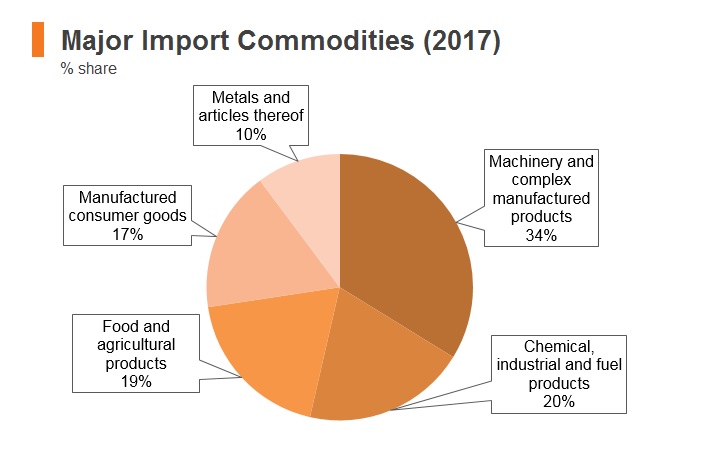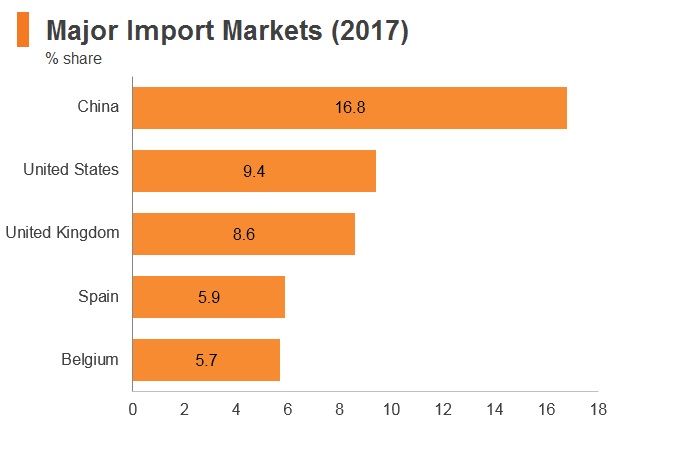 Sources: Trade Map, Fitch Solutions
Date last reviewed: February 28, 2019
Trade in Services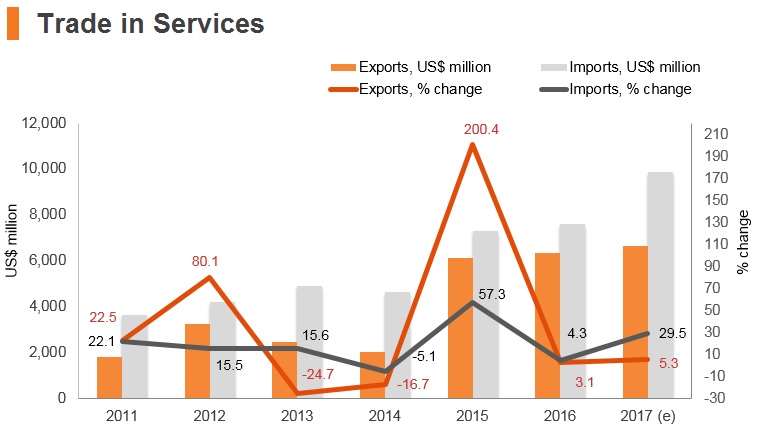 e = estimate
Source: WTO
Date last reviewed: February 28, 2019
Trade Policies
Ghana has been a World Trade Organization (WTO) member since January 1995.


Ghana issues its own standards for most products under the auspices of the Ghana Standards Authority (GSA).


The Ghanaian Food and Drugs Authority is responsible for enforcing standards for food, drugs, cosmetics, and health items.


Ghana notifies all draft technical regulations to the WTO Committee on Technical Barriers to Trade (TBT).


Foreign firms engaged in trade with Ghana should expect significant tariffs which will raise the cost of their products. Importers are confronted with a variety of fees, delays and charges in addition to tariffs, which has contributed to the high inflation in the country. There has been a recent push for local content requirements in a number of industry sectors and legislation was passed in late 2013 to regulate local participation in the petroleum sector.


Ghana is a member of Economic Community of West African States (ECOWAS), a customs union of 15 member states. In general, ECOWAS adopts a five-band tariff regime, with the first four bands ranging from 0% to 20%, and the fifth subjecting some sensitive items to a 35% tariff.


Destination inspection companies (DICs) are licensed by the Ghanaian government, and manual inspection by the DICs accounts for the longest delays in import clearance. This presents supply chain delays and disruption, exposing businesses to increased market risk and costs associated with obsolete and damaged goods.


Businesses in the food and drink sector are exposed to more supply chain and trade risks due to the fact that between May and October each year there is a temporary ban on the importation of fish, except on imports of canned fish, to protect local fishermen during their peak season.


Certificates are required for imports of food, cosmetics, and agricultural and pharmaceutical goods. Permits are required for poultry and poultry product imports. At the time the permit is issued, a quantity limit is imposed.


In 2013, Ghana introduced regulations on the importation of textiles, by limiting the entry points for imports. Only three checkpoints remain open for cotton imports, namely Kotoka Airport and the ports of Tema and Takoradi.


According to the World Bank, it takes 10 procedures and 72 days to establish a foreign-owned limited liability company that wants to engage in international trade in Ghana. Foreign investors must obtain a certificate of capital importation, which can take 14 days. The local authorised dealer must confirm the import of capital with the Bank of Ghana, which will then confirm the transaction to the Ghana Investment Promotion Centre (GIPC) for investment registration purposes.


Ghana levies a 15% value added tax (VAT) plus a 2.5% National Health Insurance levy on the duty-inclusive value of all imports as well as on locally produced goods, with a few exemptions. The average tariff in Ghana is 10%, which is relatively close to the average (9.6%) in the West Africa region. The highest tariff is around the 20% mark and applies to products mainly in the agricultural and textiles industries as well as mobile phones. In addition, Ghana imposes a 0.5% ECOWAS surcharge on all goods originating in non-ECOWAS countries and charges 0.4% of the fee on board value of goods (including VAT) for the use of the automated clearing system, the Ghana Community Network.


Under the Export Development and Agricultural Investment Fund Act, Ghana imposes a 0.5% duty on all non-petroleum products imported in commercial quantities, a 1% processing fee on all duty-free imports and an inspection fee of 1% of the landed value of the goods. The local automotive sector enjoys some protection from cheap imports as a separate examination fee is applied to imported vehicles.


Since 2014, the harvesting and exportation of Rosewood timber is banned. The country also prohibits the exportation of scrap metal in order to support the operations of local steel manufacturing companies.
Sources: WTO – Trade Policy Review, Fitch Solutions
Trade Agreement
Multinational Trade Agreements
Active
EU-West Africa Economic Partnership Agreement (EPA): The EPA is a preferential trade agreement that seeks to offer Ghana and other West African states the opportunity to benefit and increase trade and exchange with the European Union (EU) by agreeing to waive or reduce tariffs on goods. Per the agreement, Ghana is allowed to have 100% access to the EU market with its goods, except for rice and sugar, while EU countries have around 75% access to the Ghanaian market duty free and quota free. The agreement was initiated on June 30, 2014 with 16 West African states. However, currently only 13 countries, including Ghana, have signed, leaving Nigeria, Gambia and Mauritania yet to join.


ECOWAS: Ghana is a key member of ECOWAS which seeks to foster regional cooperation in several areas, including the removal of barriers to the movement of peoples and trade, harmonisation of agricultural policies, improvements in infrastructure and renewed commitment to democratic political processes and non-aggression against member states. Trade between members has been below 10% of total regional trade volumes. Despite having a combined population of over 300 million, ECOWAS members tend to trade more with other countries than among themselves. Negotiations on a regional EPA with the EU for ECOWAS stalled in 2012 when some member countries expressed concern that the agreement would damage their weaker, but still labour-intensive industries. Another challenge was that many ECOWAS countries are less developed countries, meaning they already benefit from the EU's Everything but Arms programme, thus providing little incentive to sign.


United States African Growth and Opportunity Act (AGOA): Ghana is also one of the beneficiaries of the AGOA quota and duty free status. In addition, many United States companies operate freely in the country which may provide numerous trade opportunities in the long run. This, however, does not involve total tariff free access.
Under Negotiation
Ghana-Kenya Free Trade Agreement: Ghana and Kenya are in the process of negotiating a bilateral agreement that can enable the two nations to cooperate in key economic areas, such as trade, energy and mineral exploitation, as well as in agriculture and livestock development. The pact also has components on cooperation in education, health, tourism and culture; science and technology; security and military as well as foreign affairs, legal and judicial matters.


Ghana-South Africa: South Africa is one of Ghana's largest export markets in Africa. Ghana and South Africa are in the process of negotiating a bilateral agreement that can enable the two nations to cooperate in key economic areas.
Source: WTO Regional Trade Agreements database
Investment Policy
Foreign Direct Investment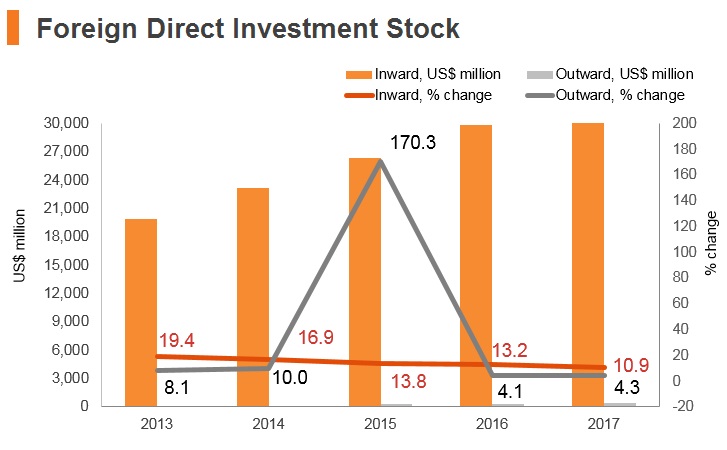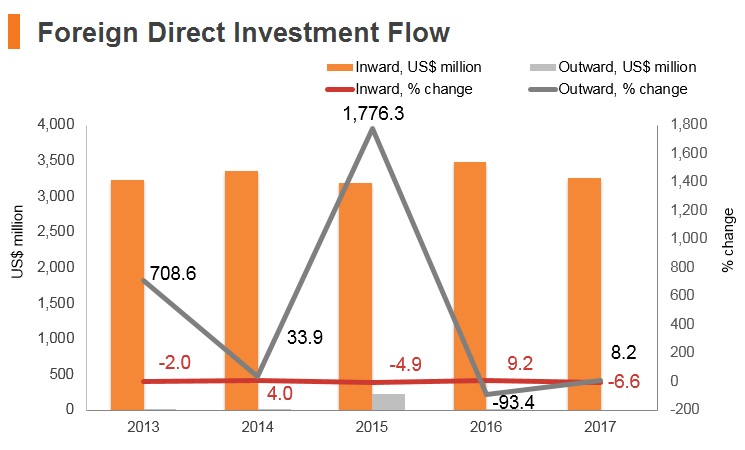 Source: UNCTAD
Date last reviewed: February 28, 2019
Foreign Direct Investment Policy
The GIPC coordinates and monitors all investment activities (except minerals and mining, oil and gas, and the free trade zones). The Act also specifies sectors that are reserved for Ghanaians; however, these are relatively small sectors and the restrictions pose limited risks to mainstream businesses and investors.


Sectors where foreign investors are allowed limited market access include telecommunications, banking, fishing, mining, petroleum and real estate. Unlike foreign direct investment (FDI), foreign portfolio investments (FPI) are not subject to minimum capital requirements. The GIPC does, however, regulate all portfolio investment in stocks, bonds and other securities traded on the Ghana Stock Exchange. The GIPC Act also specifies areas of investment reserved for locals, which include small-scale trading, operation of taxi and car rental services with fleets of fewer than 25 vehicles, lotteries (excluding soccer pools), operation of beauty salons and barber shops, printing of recharge scratch cards for subscribers of telecommunication services, production of exercise books and stationery, retail of finished pharmaceutical products and the production, supply, and retail of sachet water.


There are tax incentives to encourage investment outside of the Accra and Tema area. There are also no major import substitution restrictions. Investment incentives differ slightly depending on the law under which an investor operates. Tax incentives vary depending on the sector in which the investor is operating.


Ghana operates several free trade zones and special economic zones which offer a range of incentives for investment.


Investors are not currently required to purchase from local sources or employ prescribed levels of local content, except in the oil and gas, mining and power sectors, which are all subject to substantial local content requirements. In the case of banks, the opening of branches requires approval from the central bank. While the only local employment requirement is that any investment in a trading enterprise must employ a minimum of 20 Ghanaians, the issuance of work permits for expatriate staff is tied to the size of the investment.


There are a few areas where the government imposes performance requirements, including the mining, oil and gas, insurance and telecommunications sectors. The passage of more stringent local content regulations in the petroleum sector could serve as a signal of future efforts to legislate restrictions on how international capital can be used within Ghana. Generally, investors are not required to export a specified percentage of their output, except for free zone enterprises which, in accordance with the Free Zone Act, must export 70% of their products.


In terms of minimum capital requirements (sectoral), Ghana restricts the issuance of mining licences based on the size of the mining operation. Foreign investors are restricted from obtaining a small scale mining licence for mining operations that equal an area less than 25 acres. Non-Ghanaians may only apply for industrial mineral rights if the proposed investment is USD10.0 million or more.


The Minerals and Mining Act (2006) mandates compulsory local participation, whereby the government acquires 10% equity in ventures at no cost. In order to qualify for a licence, a non-Ghanaian company must be registered in Ghana, either as a branch office or a subsidiary that is incorporated under the Ghana Companies Code or Incorporated Private Partnership Act. The Minerals and Mining Act provides for a stability agreement, which protects the holder of a mining lease for a period of 15 years from future changes in law that may impose a financial burden on the licence holder. When investment exceeds USD500.0 million, lease holders can negotiate a development agreement which contains elements of a stability agreement and more favourable fiscal terms.


GIPC requires foreign investors to satisfy a minimum capital requirement. The minimum capital required for foreign investors is USD200,000 if they do a joint venture with local partners or USD500,000 for enterprises that are wholly owned by foreign investors. Trading companies either entirely or partly-owned by foreigners require a minimum capital contribution of USD1.0 million and are required to employ at minimum of 20 skilled locals.


Specific local ownership requirements affect sectors such as oil and gas, mining, financial services, telecommunications and agriculture. Foreign ownership is permitted with the exception of some sectors designated as strategic in defence-related industries and farmland. Foreign firms are able to participate in government-financed and/or research and development programmes on a national treatment basis. Foreigners are allowed to enter into long-term leases of up to 50 years and the lease may be bought, sold, or renewed for consecutive terms. Ghanaians are allowed to enter into a maximum of 99-year leases.


An indigenous company is defined as one that is incorporated in Ghana with at least 51% Ghanaian equity ownership and has at least 80% of its senior leadership positions held by Ghanaians.


The National Communications Authority (NCA) restricts licences in the 800 MHz band of spectrum to entities registered to operate in Ghana. Foreign investors seeking to operate in Ghana must create a joint venture or consortium that includes a minimum of 35% indigenous Ghanaian ownership in order to obtain a licence. Applicants without the minimum 35% Ghanaian ownership in place within 13 months from the effective date of the licence risk severe penalties.


The oil and gas sector is subject to a variety of state ownership and local content requirements. All entities seeking petroleum exploration licences in Ghana must create a consortium in which the state-owned Ghana National Petroleum Corporation (GNPC) holds a minimum 10% stake. The Petroleum Commission issues all licences, but exploration licences must be approved by parliament. Furthermore, local content regulations specify in-country sourcing requirements with respect to the full range of goods, services, hiring and training associated with petroleum operations. The regulations also require mandatory local equity participation for all suppliers and contractors. The Minister of Energy must approve all contracts, sub-contracts and purchase orders above USD100,000. The Petroleum Commission applies registration fees and annual renewal fees on foreign oil and gas service providers which, depending on a company's annual revenues, range from USD70,000 to USD150,000, compared to fees of between USD5,000 and USD30,000 for local companies.


The National Insurance Commission (NIC) imposes nationality requirements with respect to the board and senior management of locally-incorporated insurance and reinsurance companies. At least two board members must be Ghanaians and either the chairman of the board or chief executive officer (CEO) must be Ghanaian. In situations where the CEO is not a Ghanaian, the NIC requires that the chief financial officer to be Ghanaian. Minimum initial capital investment in the insurance sector is around USD4.0 million.
Sources: WTO – Trade Policy Review, ITA, US Department of Commerce
Free Trade Zones and Investment Incentives
Free Trade Zone/Incentive Programme
Main Incentives Available
There are free zones located across Greater Accra, Tema, Takoradi, Kotoka International Airport and surrounding areas
- Foreign investors can hold 100% ownership in any Ghanaian free zone enterprise.

- In strategic sectors, such as mining, they can hold 90%, and in the oil and gas sector they can hold up to 95%.

- Exemption from paying income tax on profits for the first 10 years, followed by a period in which companies are eligible to pay up to 15% tax on proceeds from exported goods and 25% from domestic sales.

- A tax credit for employers that take on local graduates as part of their workforce.

- There are no restrictions on the repatriation of dividends or profits, foreign loan servicing, payment of fees related to technology transfer agreements and the remittance of proceeds from the sale of a portion of a free zone investment.

- Businesses can claim a foreign tax credit for taxes imposed on their income in countries that have a ratified tax treaty with Ghana.

- A five-year tax exemption for real estate companies, with some limitations.

- Industries can be licensed as single-factory zones – effectively, bonded warehouses.

- Free zone investments are guaranteed against nationalisation and expropriation.

- Sales by a domestic enterprise to single-factory zones are considered to be exports that can benefit from export incentives.

- With the objective of making the investment process easier, the Ghana Free Zones Board has established a 'one-stop approval service' to assist in the completion of all licensing and formalities.

- Relief from double taxation for foreign investors and employees.

- No import licensing requirements.

- Manufacturing businesses in regional capitals (excluding Accra and Tema) are eligible to pay only 75% of the corporate tax rate.

- Manufacturing businesses outside of regional capitals are eligible to pay only 50% of the corporate tax rate.
Tax incentives by sector
- Rural banks and cattle ranching are exempt from income tax for 10 years and pay 8% thereafter.

- Cocoa farmers are exempt from tax on income derived from cocoa. Income derived from tree crops, such as coffee, oil palm, shea nut, rubber and coconut, is subject to tax at a rate of 1% for 10 years following the first harvest.

- For a company's first five years of operations, income derived from livestock (other than cattle), fishing and cash crops, such as maize, rice, pineapple, cassava and yam, is subject to tax at a rate of 1%.

- Income of a company from an agro-processing business conducted wholly in Ghana is subject to tax at a rate of 1% for a period of five tax years. The period begins with the tax year in which the company begins commercial production. The income of a company whose principal activity is the processing of waste, including recycling of plastic and polythene material for agricultural or commercial purposes, is subject to tax at a rate of 1% for a period of seven tax years.
Tax incentives by location
- Manufacturing enterprises, other than those operating in free zones or engaged in the export of non-traditional goods, located in regional capitals, are entitled to a 25% income tax rebate, while manufacturing enterprises located outside regional capitals, are entitled to a 50% tax rebate.

- A capital allowance in the form of accelerated depreciation is applicable in all sectors, except banking, finance, commerce, insurance, mining and petroleum.
Other incentives
- Rental income from commercial and residential property is exempt from tax for the first five years after construction.

- Income from a company selling or leasing out premises is income tax exempt for the first five years of operation.

- The income of a venture capital financing company is subject to tax at a rate of 1% for five years if the company satisfies the eligibility requirements for funding under the Venture Capital Trust Fund Act. The tax-incentive period begins with the tax year in which the company satisfies the eligibility requirements.
Source: Fitch Solutions
Taxation – 2019
Value Added Tax: 12.5%
Corporate Income Tax: 25%
Source: Ghana Revenue Authority
Important Updates to Taxation Information
The National Health Insurance Levy (NHIL) and the Ghana Education Trust Fund Levy (GETFL) have been made legally separate from VAT by the The National Health Insurance (Amendment) Act, 2018. As a result, individuals and firms can no longer deduct the 2.5% previously afforded to them by NHIL and GETFL on taxable supplies (which has been predetermined by the relevant authority).


VAT has been reduced to 12.5%, effective August 1, 2018.


Direct Taxes


Changes in direct taxes have been outlined in the Ghanaian budget for 2019. First off, the tax collection point of small scale mining operators has been recategorised as viable at the point of export, and not as a withholding tax.
Existing rules concerning the capitalisation of tax exemptions applicable to mining companies have been altered in order to enable the government to secure additional equity holdings in such companies.



Indirect Taxes


Support and incentives to local textile manufacturers have been introduced with the intention of improving these businesses' competitiveness and attractiveness. The measures have been implemented via tax stamps and zero-rating supplies for VAT purposes.
The 'One District One Factory' has received an additional policy boost via the introduction of tax incentives relating to the initiative.
ECOWAS Common External Tariff has been implemented in order to address cross-border smuggling, combat dumping and bring economic benefits to the sub-region.
Tax incentives for 100% electric vehicles have been introduced as part of the government's sustainable development goals.



Tax Administration Measures


The government has implemented the Fiscal Electronic Device Act and excise tax stamp policy.
The tax exemption regime has been amended so as to maximise benefits to the economy without enduring additional loss.
Business Taxes
| | |
| --- | --- |
| Type of Tax | Tax Rate and Base |
| Corporate Income Tax | 25% on operating profits |
| Corporate Income Tax on business involved in the minerals and petroleum industries | 35% on operating profits |
| Capital Gains Tax | 25% |
| Income derived by a financial institution from loan granted to participants in the commercial agricultural sector or a leasing company to fund acquisition of asset for lease | 20% on operating profits |
| Corporate Income Tax on businesses involved in the hotel industry | 22% on operating profits |
| Social security contributions | 13% on taxable earnings (an additional 5.5% on gross salaries is paid jointly) |
| VAT | 12.5% on value of the products |
| NHIL | 2.5% imposed on all supplies of goods and services made in or imported into Ghana, except for supplies that are specifically exempt; services imported for the person's own consumption are subject to a reverse a NHIL charge |
| GETFL | 2.5% imposed on all supply of goods and services in Ghana, as well as any goods and servies imported into the country |
| Dividends paid to resident and non-resident shareholders and interest | 8% on account |
Source: Ghana Revenue Authority
Date last reviewed: February 28, 2019
Foreign Worker Requirements
Foreign Labour Restrictions
The Ghanaian government encourages investments in sectors that create employment, generate foreign exchange and create forward and backward linkages with rural areas. However, labour regulations continue to restrict the employment of foreign nationals, particularly in low-skilled sectors.Work permits are required for all foreign nationals. A foreign national may invest or start a business in Ghana by registering the company with the Registrar of Companies and then by applying to the Ghana Investment Promotion Centre, indicating his or her field of investments. Foreign nationals may manage subsidiary companies in Ghana.
Visa Requirements
Visitors' visas that are valid for 60 days are issued on arrival to visitors who have acquired entry permits or visas (either single- or multiple-entry). Visitors' visas may be extended up to six months by submitting an application to the Immigration Service at Accra or to regional headquarters. To obtain an entry visa, individuals must prove that they can sustain themselves financially while in Ghana, except foreign nationals who own assets in Ghana. Ghana requires visitors to obtain entry visas, except visitors from countries that have visa abolition treaties with Ghana. Nationals of British Commonwealth countries in Africa, notably Botswana, Kenya, Malawi, Tanzania, Uganda, Zambia and Zimbabwe, nationals of the 16 member countries of the ECOWAS and nationals of Malaysia, Singapore and Thailand do not need entry visas.
Work Permits
Work permits must be renewed annually. However, long-term (two or more years) work permits are issued if the applicant has worked consistently in Ghana for at least three years. Work permits are generally granted by the Ministry of the Interior to expatriate employees or to individuals who have already been issued residence permits to enable them to take up specified employment for remuneration. Work permits may also be granted to foreign nationals engaged on a short-term basis for certain specific services and, in these cases, are not counted against a company's immigrant quota. It is an offense for a foreign national to change employers after he or she receives a work permit. If it is necessary to change employers, the Immigration Service should be notified within one week after the applicant knows he or she is changing jobs.
Drivers Permits
In general, it is illegal for foreign nationals to drive in Ghana without a Ghanaian driver's licence. However, an international driver's licence may be used for a brief period. Foreign nationals must take a road test to obtain a Ghanaian driver's licence.
Sources: Government websites, Fitch Solutions
Risks
Sovereign Credit Ratings
| | | |
| --- | --- | --- |
| | Rating (Outlook) | Rating Date |
| Moody's | B3 (Stable) | 16/02/2018 |
| Standard & Poor's | B (Stable) | 14/09/2018 |
| Fitch Ratings | B (Stable) | 31/08/2018 |
Sources: Moody's, Standard & Poor's, Fitch Ratings
Competitiveness and Efficiency Indicators
World Ranking
2017
2018
2019
Ease of Doing Business Index
108/190
120/190
114/190
Ease of Paying Taxes Index
109/190
116/190
115/190
Logistics Performance Index
N/A
106/176
N/A
Corruption Perception Index
81/180
78/10
N/A
IMD World Competitiveness
N/A
N/A
N/A
Sources: World Bank, Transparency International
Fitch Solutions Risk Indices
World Ranking
2017
2018
2019
Economic Risk Index Rank
N/A
110/202
98/202
Short-Term Economic Risk Score
49.4
52.5
52.1
Long-Term Economic Risk Score
47.2
50.7
52.6
Political Risk Index Rank
N/A
50/202
51/202
Short-Term Political Risk Score
71.7
71.0
71.7
Long-Term Political Risk Score
73.5
73.5
73.5
Operational Risk Index Rank
N/A
113/201
118/201
Operational Risk Score
47.5
46.4
45.8
Source: Fitch Solutions
Date last reviewed: February 28, 2019
Fitch Solutions Risk Summary
ECONOMIC RISK
Ghana is seeing major changes to its current account, which will see a shrinking of the deficit due to its strong growth in oil exports and other commodities, such as gold and cocoa. While the economy has some structural weaknesses, the new oil sector – with associated export and fiscal revenues – should reduce the risks of macroeconomic instability and provide a substantial boost to growth over the long term.
OPERATIONAL RISK
Ghana's wealth of natural resources as well as its stable political and business environments, supported by limited security risks compared with neighbouring states, are key attractions for foreign investors. The government's support for trade and FDI is robust, and businesses will face lower risks with regard to staffing their operations given the country's large, albeit predominantly low-skilled, labour pool. That said, weak access to competitive financing mechanisms, underscored by the high cost of capital and limited development of the financial sector, encumber consumer spending and the development of small- to medium-sized enterprises.
Source: Fitch Solutions
Date last reviewed: February 28, 2019
Fitch Solutions Political and Economic Risk Indices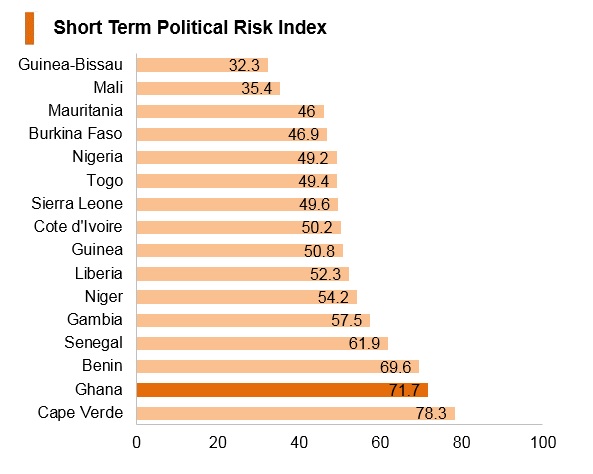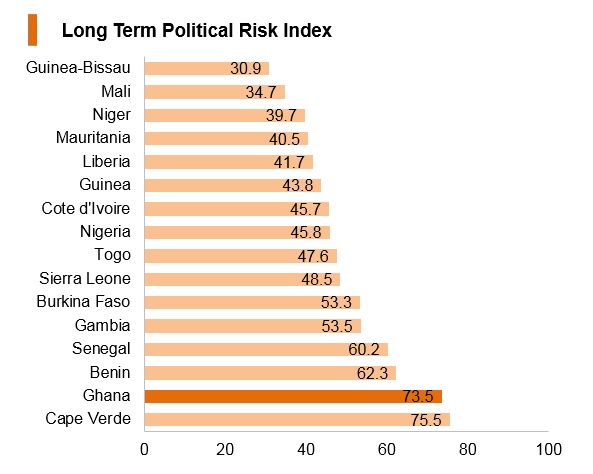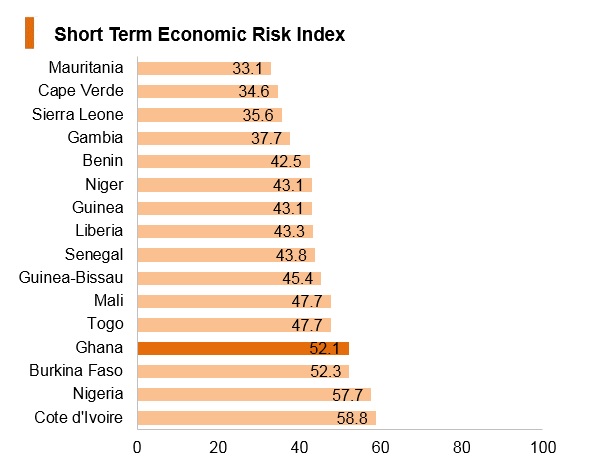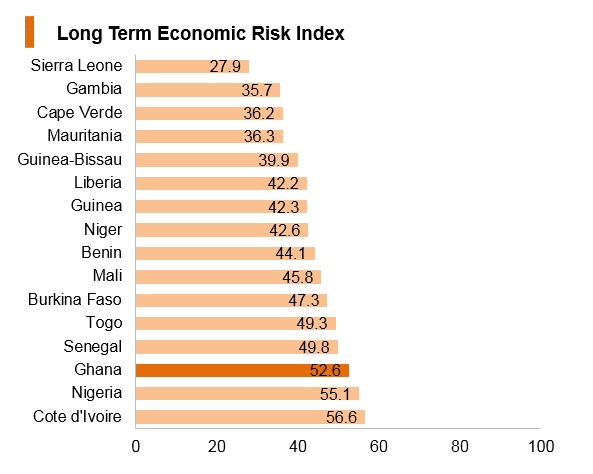 100 = Lowest risk, 0 = Highest risk
Source: Fitch Solutions Political and Economic Risk Indices
Date last reviewed: February 28, 2019
Fitch Solutions Operational Risk Index
| | | | | | |
| --- | --- | --- | --- | --- | --- |
| | Operational Risk | Labour Market Risk | Trade and Investment Risk | Logistics Risk | Crime and Security Risk |
| Ghana Score | 45.8 | 50.1 | 48.5 | 35.5 | 49.0 |
| West Africa Average | 33.7 | 36.7 | 35.0 | 32.0 | 31.1 |
| West Africa Position (out of 16) | 1 | 2 | 2 | 6 | 1 |
| SSA Average | 34.5 | 38.3 | 34.4 | 33.3 | 32.0 |
| SSA Position (out of 48) | 7 | 5 | 6 | 16 | 5 |
| Global Average | 49.6 | 49.7 | 49.9 | 49.0 | 49.8 |
| Global Position (out of 201) | 118 | 101 | 109 | 146 | 99 |
100 = Lowest risk, 0 = Highest risk
Source: Fitch Solutions Operational Risk Index

| | | | | | |
| --- | --- | --- | --- | --- | --- |
| Country | Operational Risk Index | Labour Market Risk Index | Trade and Investment Risk Index | Logistics Risk Index | Crime and Security Risk Index |
| Ghana | 45.8 | 50.1 | 48.5 | 35.5 | 49.0 |
| Cape Verde | 43.7 | 38.9 | 50.1 | 39.3 | 46.5 |
| Gambia | 37.6 | 37.1 | 32.9 | 36.5 | 43.8 |
| Cote D'Ivoire | 37.5 | 36.9 | 40.1 | 45.9 | 27.0 |
| Benin | 36.7 | 44.1 | 33.0 | 31.8 | 37.8 |
| Nigeria | 36.2 | 55.4 | 32.4 | 31.6 | 25.3 |
| Senegal | 36.0 | 29.4 | 35.9 | 36.0 | 42.9 |
| Togo | 34.5 | 34.8 | 33.6 | 40.9 | 28.7 |
| Burkina Faso | 34.3 | 37.4 | 34.4 | 30.0 | 35.5 |
| Guinea | 31.5 | 38.0 | 36.8 | 32.5 | 19.0 |
| Mauritania | 30.6 | 31.6 | 40.1 | 22.2 | 28.5 |
| Liberia | 29.7 | 33.3 | 30.3 | 24.4 | 30.7 |
| Sierra Leone | 27.5 | 25.3 | 29.3 | 23.8 | 31.6 |
| Mali | 27.4 | 33.4 | 29.7 | 28.4 | 18.1 |
| Niger | 26.6 | 28.4 | 34.1 | 27.5 | 16.3 |
| Guinea-Bissau | 23.6 | 33.3 | 18.4 | 25.9 | 16.8 |
| Regional Averages | 33.7 | 36.7 | 35.0 | 32.0 | 31.1 |
| Emerging Markets Averages | 46.7 | 48.1 | 45.5 | 47.4 | 46.0 |
| Global Markets Averages | 49.6 | 49.7 | 49.9 | 49.0 | 49.8 |
100 = Lowest risk, 0 = Highest risk
Source: Fitch Solutions Operational Risk Index
Date last reviewed: February 28, 2019
Hong Kong Connection
Hong Kong's Trade with Ghana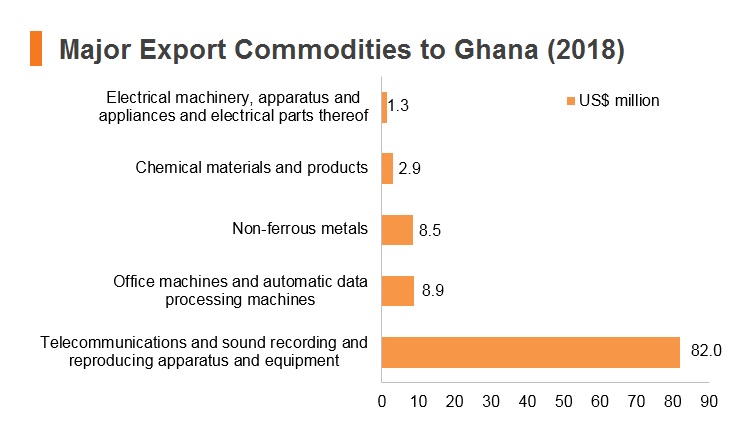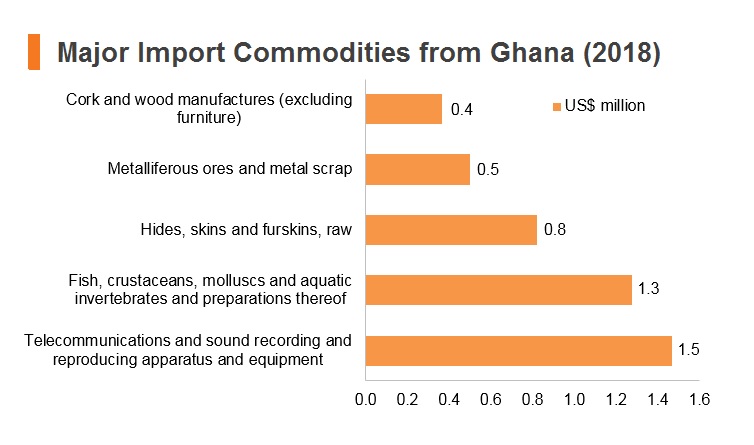 Note: Graph shows the main Hong Kong exports to/imports from Ghana (by consignment)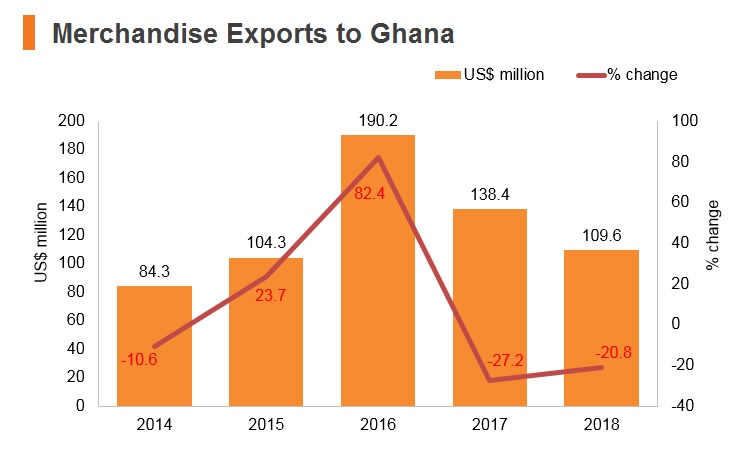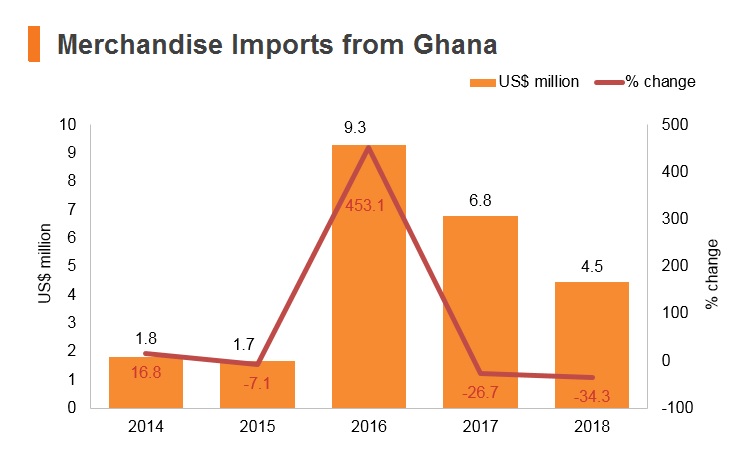 Note: Graph shows Hong Kong exports to/imports from Ghana (by consignment)
Exchange Rate HK$/US$, average
7.75 (2014)
7.75 (2015)
7.76 (2016)
7.79 (2017)
7.83 (2018)
Sources: Hong Kong Census and Statistics Department, Fitch Solutions
Date last reviewed: February 28, 2019
| | | |
| --- | --- | --- |
| | 2017 | Growth rate (%) |
| Number of Ghanaian residents visiting Hong Kong | 329 | 3.5 |
Source: Hong Kong Tourism Board
| | | |
| --- | --- | --- |
| | 2017 | Growth rate (%) |
| Number of Africans visiting Hong Kong | 142,512 | -11.6 |
Source: Hong Kong Tourism Board
Date last reviewed: February 28, 2019
Commercial Presence in Hong Kong
2016
Growth rate (%)
Number of Ghanaian companies in Hong Kong
N/A
N/A
- Regional headquarters
- Regional offices
- Local offices
Chamber of Commerce (or Related Organisations) in Hong Kong
Ghanaian Consulate in Hong Kong

Address: Room 610, Wing On House, 71 Des Voeux Road, Central, Hong Kong

Email: ghana@ghana.org.hk

Tel: (852) 2530 3448

Fax: (852) 2521 1029
Sources: Ghana Embassy in mainland China, Fitch Solutions
Visa Requirements for Hong Kong Residents
A Ghana tourist visa is required for ordinary Hong Kong residents. This must be applied for in person at the consulate, with the nearest base being in mainland China. Under Section 3 (Exemptions) of the Ghana Visa Regulations, Hong Kong residents with Diplomatic and Service passports are exempted from entry visas to Ghana.
Source: Ghana Embassy in mainland China

Date last reviewed: February 28, 2019