With funding for phase one finally agreed, the development of the Kyaukphyu Port no longer seems remote prospect.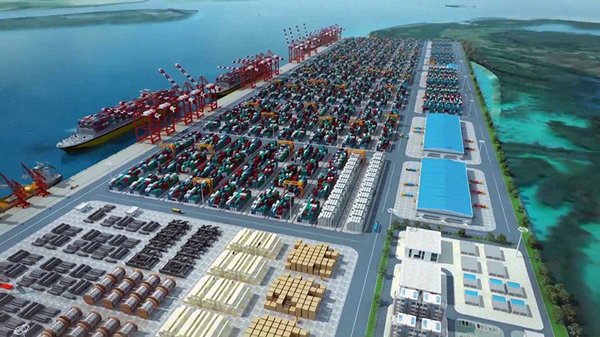 After two long years of negotiations, one of the key Myanmar Belt and Road Initiative (BRI) projects reached a significant approval milestone early last month. This saw CITIC, the Beijing-headquartered investment group, commit to underwriting the US$1.3 billion cost of developing phase one of the Kyaukphyu Deep-Sea Port project.
The deal, agreed with representatives of the Kyaukphyu SEZ Management Committee (KSMC), represents a major leap forward in terms of clearing the way for work to begin on the port, a vital component of the BRI, China's ambitious infrastructure development and trade facilitation programme. Perhaps just as significantly for CITIC, it also marks the company's first substantial venture into China's relatively undeveloped neighbour.
One completed, the Kyaukphyu Deep-Water Port, set in the western coastal state of Rakhine, will join Pakistan's Gwadar, Bangladesh's Chittagong and Sri Lanka's Hambantota as one of the region's four primary, BRI-backed marine cargo-handling facilities. Its geographical advantages see it ideally positioned to connect to western China, while it could also function as an effective interchange hub for goods in transit to and from Bangladesh, India, the Middle East and East Africa.
In another plus, it will substantially cut the volume of shipping obliged to round the Malay Peninsula in order to service China's Southern and Eastern ports via the South China Sea. With China already operating two oil and gas pipelines between Kyaukphyu and Kunming, the capital of the southwestern Yunnan Province, the logistical significance of the new facility is more than apparent.
From Myanmar's point of view, the port should prove to be a further boon to its already booming economy. With its year-on-year growth expected to hit 6.8% for 2018, the country – albeit from a relatively low base – is now home to one of the fastest-expanding economies in Asia. Even before it comes on line, the port is expected to make a considerable contribution to the country's ongoing success story, with 100,000 new local jobs in the offing, while CITIC has also promised that 90% of managerial roles will be filled by Myanmarese staff.
Given the clear win-win nature of the project, it is perhaps surprising that it has taken so long to come to fruition. In truth, though, it is a proposal that has been dogged with problems, with a number of them yet to be resolved.
To date, the most obvious issue has been cost. As originally envisioned, the total bill for redeveloping the site would be somewhere in the region of $7.5 billion, a figure that the would-be Chinese investors understandably baulked at. To circumvent this particularly thorny problem, the project has now been broken down into four more easily-fundable chunks.
Similarly, rather than committing to develop the whole site simultaneously, a more sequential approach has been agreed. This will see one, somewhat scaled-down, terminal completed first, while plans for two further terminals – on Made and Ramree, two nearby islands – have been put on indefinite hold.
Aside from budgets, the other hugely-divisive issue was ownership. As originally envisaged, CITIC would have had an 85% stake in the completed project, with only the remaining 15% state owned. A subsequent change of government saw it politically expedient for CITIC to cut its expected stake to 70%. This will give the Myanmar government the facility to sell on 15% of the project to local, privately owned businesses – some 50 of which are said to have already expressed an interest – while still retaining 15%.
Despite the progress made on both of these former sticking points, there are still a number of contractual issues that need to be resolved before CITIC breaks ground. The issues relate both to the port proper and to the adjacent industrial park that forms part of the overall development scheme. In each instance, separate investment, shareholder and leasing agreements need to be signed, while the port also requires a mutually acceptable concession agreement putting in place. Given the structure of the deal, nothing can be finalised until everything is finalised, meaning it may be a while before the first Chinese supertanker drops anchor in Kyaukphyu.
Geoff de Freitas, Special Correspondent, Naypyidaw