HKTDC Research | 29 Feb 2016
Xinjiang: A Core Component of Belt and Road
The Belt and Road Initiative is China's development strategy for promoting coordination of economic policies, efficient allocation of resources and deep integration of markets among all countries involved. Besides the 60-plus countries along the Belt and Road routes, many Chinese provinces and cities are also actively involved in supporting this initiative. The Vision and Actions on Jointly Building the Silk Road Economic Belt and the 21st-Century Maritime Silk Road (hereafter referred to as Vision and Actions) published by the National Development and Reform Commission in March 2015 also points out that, in advancing the initiative, China will fully leverage the advantages of its various regions. That includes making "good use of Xinjiang's geographical advantages and its role as an important window of westward opening up, making it a key transportation, trade, logistics, culture, science and education centre and a core area on the Silk Road Economic Belt".
Xinjiang's Crucial Geographical Position
The Silk Road Economic Belt described in Vision and Actions mainly focuses on ways of bringing together China, Central Asia, Russia and the Baltic region of Europe – or, to frame it differently, of linking China with the Persian Gulf and the Mediterranean Sea through Central Asia and West Asia. Either description indicates the importance of Central Asia in the development of the Silk Road Economic Belt, with Xinjiang occupying a crucial geographical position as a land transport link to Central Asia.
Xinjiang is bounded by a number of countries, including Russia, Kazakhstan, Kyrgyzstan, Tajikistan and Mongolia. With its total land frontiers extending 5,600 km in length, its boundaries with neighbouring countries are the longest of any Chinese province. In geographical and transport terms, Xinjiang offers a corridor to many countries along the Belt and Road. It has direct connectivity with neighbouring countries and is the gateway for the exchange of resources, services and more.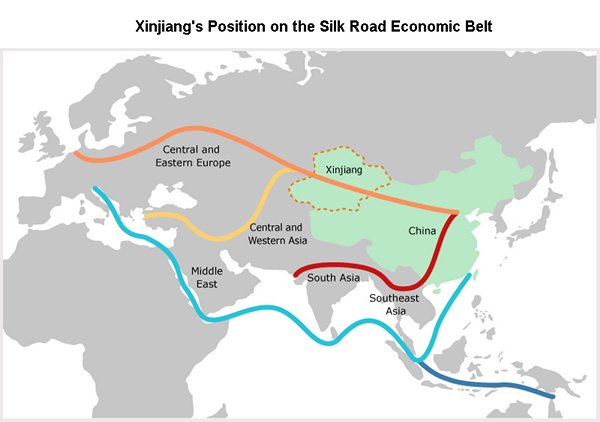 Xinjiang Supports the Belt and Road Development Plan
An official from the Xinjiang Development and Reform Commission told HKTDC Research that Xinjiang had started making far-reaching plans in accordance with the Belt and Road Initiative. Although concrete implementation details are still being worked out and examined, a general strategy of developing five centres and three corridors has been adopted.
The five centres refer to a transportation hub, a trade and logistics centre, a financial centre, a culture, science and education centre, and a medical services centre. The last of these will provide medical services to Central Asian countries. According to a Xinjiang official, medical standards in Xinjiang are higher than in Central Asia and over 1,500 people from neighbouring countries received medical treatment in Xinjiang in 2015. As well as Urumqi, hospitals in the border regions also received patients from these countries. The combination of medical services and a tourism offering is a possible area for future development.
The transportation hub and trade and logistics centre are actually interrelated developments. Xinjiang mainly trades with Central Asia. Xinjiang's total import and export value dropped to US$19.68 billion in 2015 due to falling demand in that region. The fact that import/export trade with Kazakhstan and Kyrgyzstan accounted for 46% of Xinjiang's total trade value and Xinjiang's trade with the Central Asian countries made up a big share of China's trade with these countries indicates that China's trade with Central Asia is mainly conducted through Xinjiang, although many of the export goods originate from coastal and inland provinces.
Aside from trading, Xinjiang also functions as a transportation corridor. Some of the goods imported or exported are not handled by local trading companies but shipped to Central Asia or imported from Central Asia through Xinjiang. According to Xinjiang's customs statistics, the volume of cargoes handled by Xinjiang's ports in recent years increased from 20.93 million tonnes in 2009 to 46.65 million tonnes in 2014, while the total value of imports and exports increased from US$22.29 billion to US$46.14 billion in the same period, exceeding the import and export figures of local trading firms.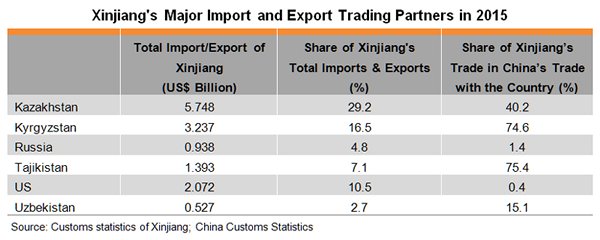 Xinjiang to Become A Regional Transportation Hub
Although Xinjiang faces challenges from weakening demand in its foreign trade in recent years, it still has the geographical advantage of being the corridor for transportation and logistics between the Chinese mainland and Central Asia. For this reason, Xinjiang aspires to become a regional transportation hub under the Belt and Road Initiative. The main priority is to develop three transportation routes across Xinjiang to cities in Central Asia, West Asia, South Asia, Russia and other countries.
The northern route originates from the Bohai Rim. Starting from Beijing-Tianjin-Tanggu, it runs across Shanxi province and Inner Mongolia before reaching Xinjiang, where it runs westwards to Kazakhstan and Russia via Yiwu, Burqin and other counties. The middle route starts from the Yangtze River Delta region and runs across the Central Plain via the second Eurasian land bridge before entering Hami, Turpan and Urumqi in Xinjiang, from where it proceeds to Central Asia and Europe via Alataw Pass and Khorgas respectively. The southern route starts from the Pearl River Delta region and runs across Hunan, Chongqing, Sichuan and Qinghai before entering Xinjiang, where it leads to Tajikistan via Ruoqiang, Hotan and Kashgar and extends southwards to the Indian Ocean coast. According to the Xinjiang Development and Reform Commission, the middle route is already open to traffic and is undergoing further upgrades. As for the other routes, the portions in Xinjiang are expected to be opened to traffic during the 13th Five-Year Plan period (2016-2020).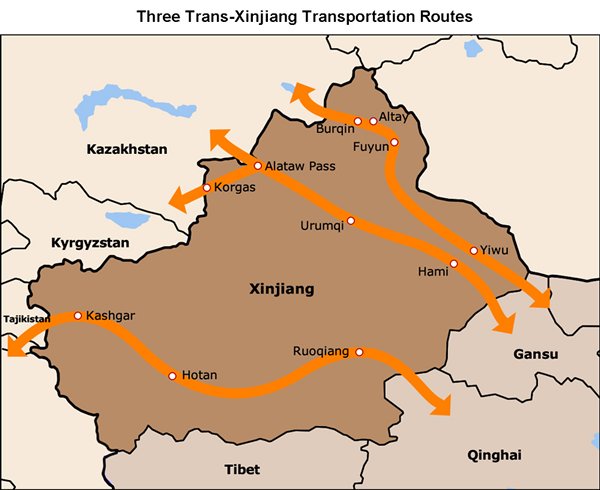 An Entrepôt and Distribution Centre
Relying on its transportation links, Xinjiang aspires to become an entrepôt and distribution centre for goods flowing between Central Asia and the Chinese mainland. In particular, smaller cargoes can be consolidated here and loaded on containers. The railway container centre now under construction in Urumqi is a major project and it is hoped it will speed up the integration of China-Europe train services, build the city into a westbound container shipping centre and spur the building of logistics parks in neighbouring areas. Xinjiang is striving to open more freight train services and reshuffle train schedules in order to enhance its function as a distribution centre. It will also build national highway transport hubs and more than 30 logistics parks in Urumqi, Yining and other cities in the next five years.
Yining also plans to renovate and expand the existing terminal at its airport during the 13th Five-Year Plan period. It will open an international immigration checkpoint at the airport, establish international air routes to Kazakhstan and other Central Asian cities, begin freight transport targeting Central Asia and build an international logistics centre. At this stage, whether the entrepôt and distribution centre project will materialise depends on whether there is a steady supply of cargoes. According to the Xinjiang Development and Reform Commission, Xinjiang will have to rely on its integrated bonded areas, free trade areas, railways and air transport and also strengthen its function as a distribution centre to attract high cargo volumes.
International Logistics Potential Merits Attention
Xinjiang's development as a transport logistics and distribution centre linking the Chinese mainland and Central Asia, even Europe, is worthy of note. From the perspective of international logistics, infrastructure developments will likely change the present reliance on maritime transport for shipments to Europe. Xinjiang's unique geographical advantage as a buffer between China and Central Asia/Europe and the fact that its ethnic minorities have close cultural ties with people in Central Asia will only enhance its prospects in this area.
Overland transport between Central Asia and Europe has started to develop in the last two years. When cargo volumes increase, demand for transshipment, consolidation and distribution will also increase, thus allowing Xinjiang to further strengthen its hand by providing such services. Providing a gateway for the export of goods to Central Asia and Europe will increase the demand for relevant logistics services, while enhancing its function as a consolidation and distribution centre will also stimulate demand for service management systems in Xinjiang. Moreover, with the development of cross-border e-commerce, it will also have a chance to become a warehousing and distribution centre for coastal manufacturers supplying goods for Central Asia's e-commerce markets.
Local Processing Industry To Serve Central Asian Markets
In addition to handling goods manufactured in the coastal and inland provinces, Xinjiang also plans to encourage the development of local processing. Besides serving as a base for the production, processing and storage of oil and gas, as a base for the coal power and coal chemistry industry, and as a base for wind power, Xinjiang plans to develop processing industries, with local resources or semi-finished materials made elsewhere being used to produce goods for markets in Central Asia. Resources such as timber, cotton and corn from Central Asia might also be used to produce timber, furniture and other products for re-export to Central Asia or other parts of China.
According to the authorities concerned, the automobile equipment industry is a key one for the Urumqi Economic and Technological Development Zone. Mainland manufacturers have set up business there mainly due to its proximity to Central Asian markets. Export convenience was cited as a key consideration in deciding to set up in Xinjiang by one Guangdong motorcycle plant. Increased transport links between Xinjiang and the central and coastal cities have greatly improved its logistics and connectedness with other regions, making it possible for processing industry manufacturers in Xinjiang to obtain materials and other support from other regions at a lower cost.
To encourage the use of local cotton resources, Xinjiang has introduced policies to support the development of textile and garment industries in recent years. Besides building textile and garment bases in Aksu and Korla in southern Xinjiang and Shihezi in northern Xinjiang, it has also supported the development of printing and dyeing. A special fund for the development of textile and garment industries has been set up to subsidise transportation expenses, staff training, social insurance payments and sewage treatment. In view of the relative weakness of the local supporting industries, Xinjiang plans to develop textile sectors with a short industry chain, such as knitting, carpet-making and home textiles.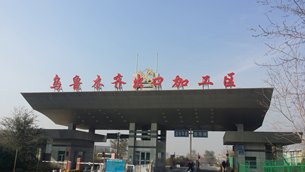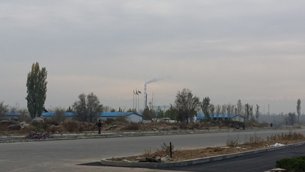 Food processing company Tsinfood chose to set up a factory in the Urumqi Export Processing Zone to produce tomato sauce, fruit jam, canned vegetables, seasoning and other products. Locally grown fresh tomatoes are used to produce tomato sauce. Besides having its own plantations, Tsinfood also outsources to local farmers to produce the ingredients needed.
Tsinfood mainly exports its products to Kazakhstan. It has established an R&D base to develop products catering to people in Central Asia. For example, Kazakh consumers have a sweet tooth. Because of the relatively backward manufacturing techniques in Kazakhstan, Tsinfood's recyclable jam bottles are welcomed by local consumers. Today Tsinfood products have a market share of 25-30% in Kazakhstan. The company has even found its way to Uzbekistan and Russia through Kazakh agents.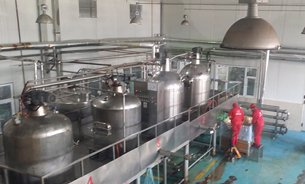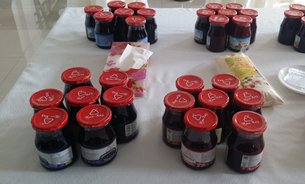 Tsinfood also has a factory in Almaty, Kazakhstan. The two factories produce similar products. The raw materials (such as tomato sauce) and other supplies needed in the Kazakh plant are shipped from Xinjiang. The company in Almaty is mainly responsible for receiving orders. Although most of the products made at this tomato processing plant are for export, it has begun to sell some of its products to the mainland market in recent years.
According to local authorities, land costs and electricity tariffs are relatively low in Xinjiang. Despite the availability of workers locally, training is needed, while wage levels are not significantly lower than in other mainland cities. The Urumqi Economic Development Zone admitted there is a shortage of skilled labour but said it was cooperating with local vocational and technical colleges to train the necessary personnel. It is understood that ordinary workers are paid about RMB3,000 a month.
Some development zones are offering preferential policies. For example, the Yining Industrial Park of the Khorgas Economic Development Zone, kick-started in 2013, is currently focusing on infrastructure construction. It aims to become a regional commercial logistics centre, develop processing industries and export the products to Central Asia. According to the authorities, if enterprises setting up business in the park are engaged in industries prioritised by the state, they are eligible for exemption on enterprise income tax in their first five years and for exemption on the local retention portion of it for a further five years. Tariffs are waived for the import of equipment that is not produced in China. Discount interest loans are available for fixed assets/working capital and subsidies are offered for staff training (especially for the labour-intensive textile and garment industries). The approved land price is RMB150,000/mu.
The State Council issued its Opinions on Several Policy Measures in Support of the Development and Opening-up of Key Border Regions in January 2016. The document called for efforts to promote dominant industries with regional characteristics in the border areas. It also supported giving priority to projects for the processing, transformation and utilisation of imported energy resources and resources in key border areas in an effort to develop outward-oriented industry clusters in these areas. Moreover, the document proposed setting up a special fund for the development of industries in key border areas. These policies show the importance given by the central and local governments to the promotion of industrial development in the border areas. Xinjiang may not be the most suitable destination for the relocation of most processing industries because of its geographical location and other factors. However, for processing industries that make use of local resources and ones imported from Central Asia, and enterprises targeting the Central Asian and South Asian markets, Xinjiang merits consideration, particularly in light of Belt and Road Initiative developments.
| | |
| --- | --- |
| Content provided by | |