HKTDC Research | 26 Feb 2016
Enhanced Border Trade and New BRI Privileges Set to Boost Guangxi
With the mainland government highlighting the role a number of key border regions will play in the ongoing development of the Belt and Road Initiative, several such regions have been granted special privileges, most notably Guangxi.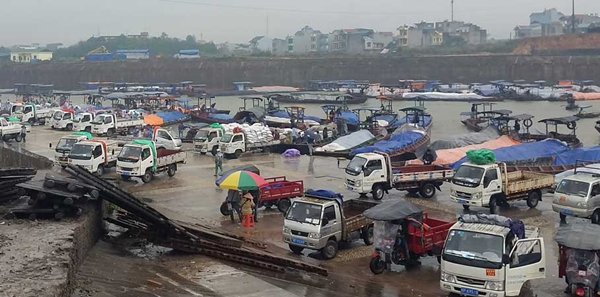 In January this year, the State Council issued its Opinions on Several Policy Measures in Support of the Development and Opening-up of Key Border Regions (Guofa No.72 [2015]). It outlined official support for the development of a number of key border regions, including several pilot zones for development and opening-up, national-level border ports, border cities, border economic co-operation zones, and cross-border economic co-operation zones. The policy specified that these designated regions would all have a leading role in China's Belt and Road Initiative (BRI).
One of these designated areas is Guangxi, an autonomous region in South China bordering Vietnam and one with a long trading history with its neighbour. In order to determine just how Guangxi will benefit from the new policy measures and to get a greater understanding of the potential for small-scale cross-border business in the region, representatives of the HKTDC's Guangzhou Office recently visited two cities – Dongxing and Pingxiang – located along the Vietnam border.
I. Guangxi-Vietnam Border Trade: A Flourishing Sector
In light of Guangxi's advantage in bordering an ASEAN country by land and by sea, the Central Government has designated the region as an important staging post in the development of the BRI. This decision reflects both the region's geographical advantage and its trading history with Vietnam and a number of other ASEAN nations.
In 2015, according to the Guangxi Statistics Bureau, the total value of trade in the region was Rmb319 billion, an increase of 15% year-on-year. Of this, the total value of small-scale border trade was Rmb106 billion – up 17.1% year-on-year – accounting for 33% of total trade. In terms of trading partners, the value of imports/exports between Guangxi and ASEAN was Rmb181 billion – up 19.6% year-on-year, accounting for over half of total trade. Further afield, the US import/export value was Rmb16.4 billion – up 8.0% – while the EU import/export value was Rmb10.1 billion, up 16.2%.
The term "small-scale border trade" refers to all trading activities (including such things as barter trade and spot trade) between designated enterprises in China and enterprises or other trading entities in the border regions of neighbouring countries, as conducted through land ports specified by the Central Government. These designated enterprises are those businesses granted small-scale border trade rights by border counties or border city districts along China's land border, which have been approved by the Central Government to conduct external trade.
Pingxiang, a county level city in Guangxi, is China's largest border trade port. Dongxing, another major port, lies just 100 metres away from Vietnam's Mong Cai port and is the only Class 1 port in China bordering Vietnam by both land and by sea. A total of 6.15 million border crossings were recorded at the Dongxing port in 2015.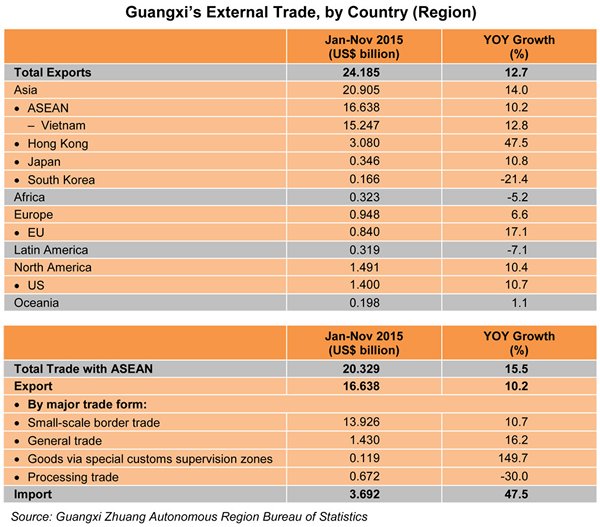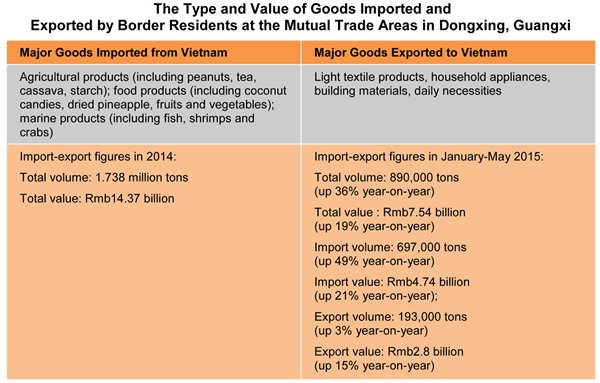 Mutual trade among border inhabitants refers to goods exchanged between border area inhabitants within 20 kilometres of China's land border. Trade can only be conducted at government-approved open zones or designated markets and at a level that does not exceed the prescribed amount or quantity. For daily goods imported by way of mutual trade among border inhabitants (excluding those mutual trade import goods not on the tax exemption list), and with a value of under Rmb8,000 per person per day, import tariffs and import-related taxes are waived. For daily goods exceeding the value of Rmb8,000, import tariffs and import-related taxes will be levied on the portion exceeding the prescribed limit.
II. Special Policies for Key Border Regions in Guangxi
The Central Government divides key border regions into five distinct categories: key experimental zones for development and opening-up; national-level border ports; border cities; border economic co-operation zones; and cross-border economic co-operation zones (for further details, please see Guangxi-Vietnam Border Trade: List of Key Border Regions). Outlined below are the policy advantages of the Dongxing Key Experimental Zone for Development and Opening-up, the Pingxiang Comprehensive Bonded Zone, and the Cross-Border Economic Co-operation Zone (currently under construction in Guangxi).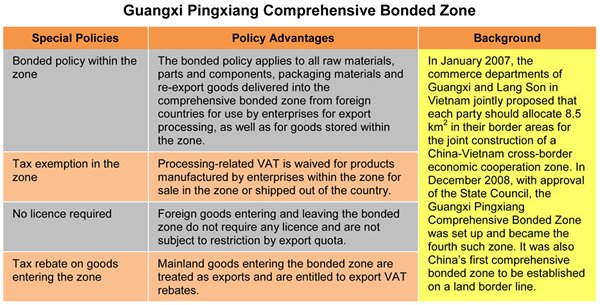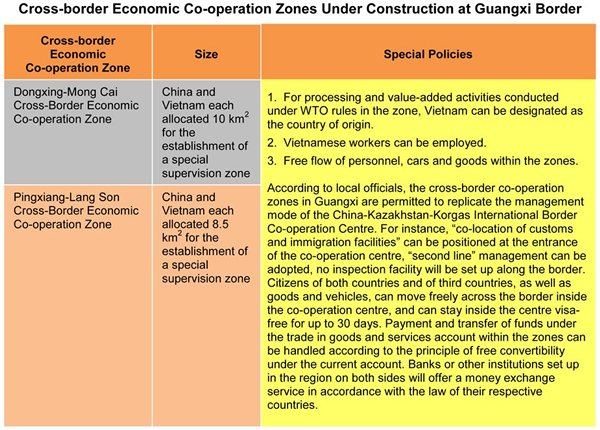 Cross-border economic co-operation zone refers to a special area set up in the vicinity of the border between two countries. The zone is granted special financial, taxation, investment, trade and industrial dispensations. Certain regions within the zone are subject to cross-border special customs supervision. These regions are sub-regional economic co-operation zones entitled to the preferential policies applicable to export processing zones, bonded zones and free trade zones.
In an article published in the People's Daily on 10 December 2015, Gao Hucheng, China's Minister of Commerce, stated that China had already set up 17 border economic co-operation zones in its border regions. In addition to the China-Kazakhstan-Korgas International Border Cooperation Centre, which was established jointly with Kazakhstan, China is currently negotiating with Laos, Vietnam and Mongolia with regard to establishing further cross-border economic co-operation zones.
III. China-Vietnam Small-Scale Border Trade: Big Opportunities
1. Dongxing: Bright Prospects for Cold Chain Logistics
Vietnam produces a vast variety of marine products, with the Dongxing Experimental Zone an important trading port for the import of such items into China. According to official figures, more than 100 containers of marine products are exported from Vietnam into the Dongxing Experimental Zone every day, representing an annual transaction volume of more than 200,000 tons. In 2013, Dongxing exported about 2,355 tons of processed marine products, with an export value in excess of US$11.6 million.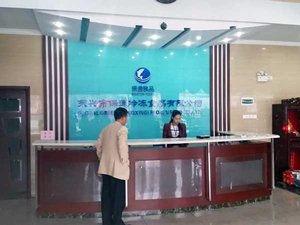 According to Chen Zhenghao, deputy general manager of Global Green (Dongxing) Frozen Food, a company engaged in the processing of marine products in Dongxing, the city has a number of advantages with regards to this sector. Capitalising on the local policy governing mutual trade among border inhabitants, marine products imported from Vietnam are exempt from import tariffs and import-related taxes. Additionally, local companies can employ Vietnamese workers in Dongxing without having to make social insurance payments on their behalf, a considerable saving on labour costs. Finally, with the marine products processing industry in the nearby port city of Zhanjiang approaching saturation point, excess requirements are being passed on to Dongxing and boosting its growth.
Unfortunately, however, Dongxing's cold chain logistics resources are somewhat underdeveloped, with a lack of storage resources and space pushing up the costs of such facilities. According to Chen, the cold storage fee in Dongxing is Rmb7 per ton a day (for cold storage under -18°C), while in Zhanjiang the fee is only Rmb3.5 per ton. Similarly, the wharf loading and unloading fee in Dongxing is Rmb50 per ton and the warehousing management fee is Rmb200 for each use, all of which translates into a higher total cost. In view of this, Chen believes there are now huge business opportunities in the local cold chain logistics industry.
2. Industrial Relocation Spurs New Logistics Routes
The Friendship Gate in Pingxian is China's major land port for exports to ASEAN and has a throughput of more than 700,000 tons of import/export goods and more than 80,000 cross-border vehicles a year. Puzhai, a sub-district of Pingxiang, is home to China's largest fruit market for trade with ASEAN. According to official figures, a total of 1.623 million tons of fruit were imported and exported via Pingxiang in 2014, most of which was transported by road. Every day, more than 600 container trucks pass through Puzhai.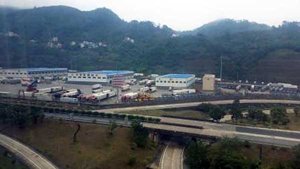 In light of the rising labour and production costs in China over recent years, many multinational corporations – including Samsung, Nokia, LG, Foxconn and Canon – have established factories in areas close to Hanoi, the Vietnamese capital. As a result, a number of ancillary companies also have relocated to the border areas between Guangxi and Vietnam in order to take advantage of the Pingxiang Comprehensive Bonded Zone, which allows them to conduct bonded processing as well as to employ Vietnamese workers as part of a move to lower labour costs. As a consequence, a logistics land route running from Hanoi to Pingxiang, and then on to Hong Kong, has now been established.
According to Li Chuanren, General Manager of Jiedi, a Guangxi-based supply chain company, it currently takes about 14 hours (1,200 kilometres) to travel by road from Hanoi to Hong Kong, with the transportation fee for a 45-foot container being around Rmb30,000. Given the rapid economic development of the Southeast Asian countries and the construction progress of the cross-border economic co-operation zones, local demand for transit warehouses, cold chain logistics, supply chain management and related supporting facilities will inevitably increase.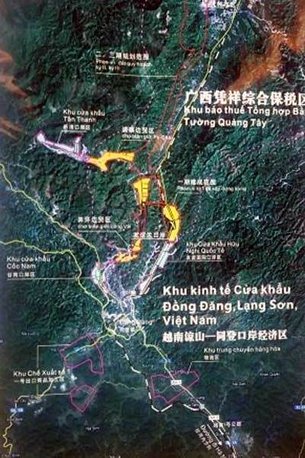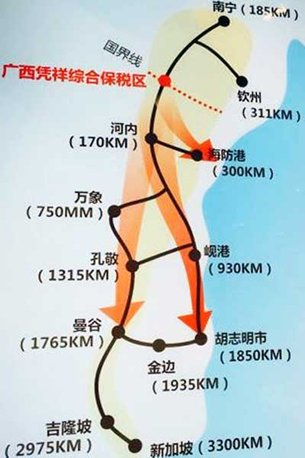 3. Hong Kong's Tourism Industry and China-Vietnam Cross-border Tour Opportunities
As part of an update to the Closer Economic Partnership Arrangement (CEPA) agreement – signed between the Ministry of Commerce and Hong Kong in November 2015 and due to be implemented as of 1 June 2016 – Guangxi will become the second CEPA pilot region (after Guangdong) in the country.
Guangxi is well-known for its abundance of tourist spots and historical sites. As border trade has become increasingly buoyant in recent years, approval has now been given by both the Chinese and Vietnamese governments for cross-border self-drive tours. According to official figures, Dongxing welcomed a total of 6.711 million tourists in 2015, while the number of tourists received by Mong Cai – the Vietnamese city just across the river – was in excess of one million. During the same year, 22,000 tour groups, representing a total of 150,000 tourists, applied to the Dongxing national border tourism office for entry-exit permits, of which 115,000 were out-of-province tourists.
The new CEPA agreement is widely seen as good news for those Hong Kong service providers looking to access the Guangxi tourism market. Under the agreement, Hong Kong companies in the tourism and hospitality sector can establish a presence in Guangxi and play a key role in integrating the tourist resources of Southeast Asia and the mainland in order to develop new tourist routes and services.
Crystal Ho and Edison Lian, Guangzhou Office
Related article: "State Council Reveals List of Key Border Regions for BRI Development", 26 February 2016.
| | |
| --- | --- |
| Content provided by | |