Sitting at the crossroads of Europe, Asia, Middle East and Africa, Turkey has long been regarded as a highly important strategic hub for global trade, logistics and manufacturing. That status has been enhanced by its customs union with the EU and extensive array of free trade agreements (FTAs) with nearly 30 countries, which have given it free or preferential access to a pool of some 900 million consumers.
Coupled with the linking together of the country's Middle Corridor Initiative (MCI) and China's Belt and Road Initiative (BRI), and a clutch of generous investment incentives, Turkey has become increasingly attractive to Hong Kong companies eager to trade and invest there. This is particularly true for those which are looking for business and relocation opportunities as a hedge against the problems caused by the lingering Sino-US trade spat.
China's recent import tariff cuts – part of its shift towards a consumption-driven economy – are also creating Turkish-related opportunities for Hong Kong firms. As Turkish traders look to take advantage of the import control relaxations and enter further into the Chinese mainland market, Hong Kong's service providers will expect to use their extensive knowledge and experience of the market to play a pivotal role in helping them do so.
Regional Connection
The link-up between Turkey's MCI and China's BRI is already bearing fruit. An early example of this is the Trans-Caspian International Transport Route (TITR), which forms the shortest land route between China and Europe, via South-east Asia, Central Asia and the Caspian Sea.
At its heart is the Baku-Tbilisi-Kars (BTK) railway route, which opened in October 2017. It starts at the Caspian Sea in Azerbaijan and runs through Georgia and eastern Turkey before merging with the Turkish and European railway systems.
The TITR is not just a shorter land route for Asian products to reach European, African and Middle Eastern consumers, but also a safer and cheaper one. The corridor is 1,500km shorter than the China-Mongolia-Russia Economic Corridor and is less exposed to extreme winter weather conditions. Cargo trains from North-West China now take as little as 8 to 14 days to reach the Black Sea coast and Turkey, whereas sea voyages between the destinations can take up to 60 days.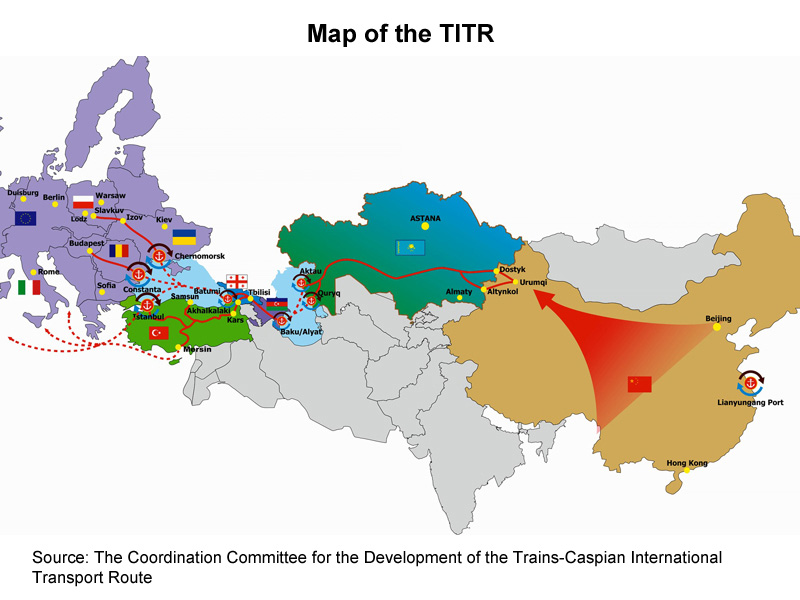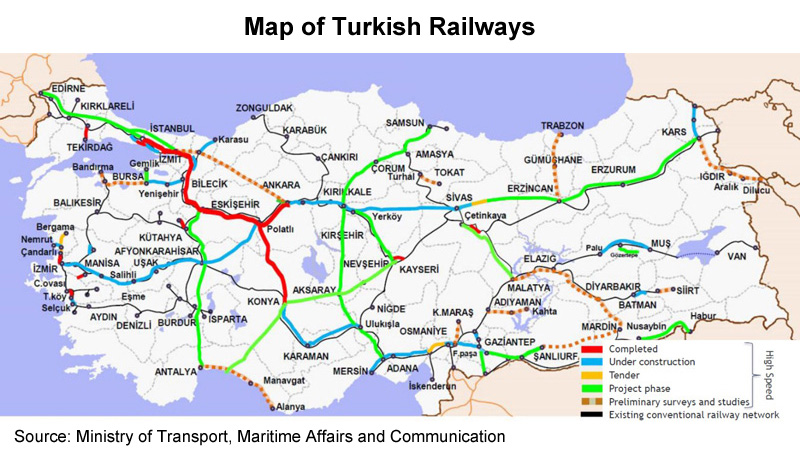 Turkey has also been upgrading and developing new maritime logistic infrastructure, most notably in İzmir. Dubbed the Pearl of the Aegean, Izmir is the nation's third most populated city and home to the North Aegean Çandarlı Port, which when completed will rank as one of the top ten seaports in the world. With an additional annual capacity of up to 12 million 20ft shipping containers or TEUs, the port is expected to increase Turkey's cargo handling capacity by 70%.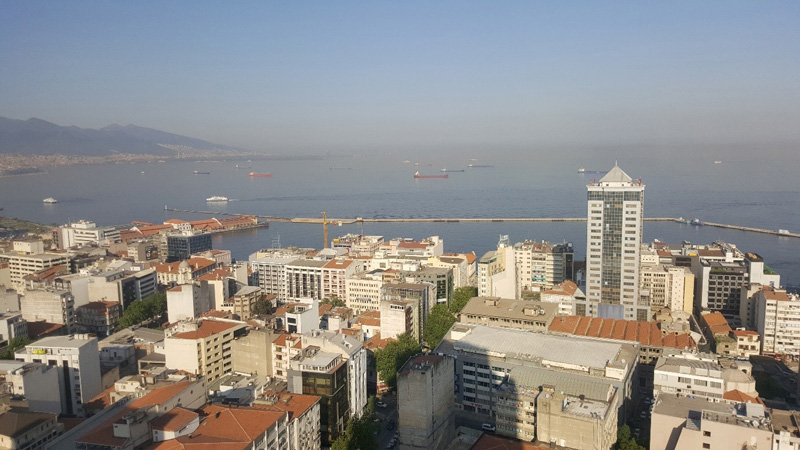 Infrastructure Boom
In line with its ambitious vision to develop Turkey into a US$2 trillion economy by 2023, the Turkish government has been overseeing a spending spree on the country's infrastructure. The aim is to lay a sound foundation for more dynamic economic development. Among the long list of projects is Istanbul's new airport, which will replace the 93-year-old Ataturk Airport when it opens on 31 December 2018. It is projected to become the busiest air hub in the world with a planned yearly capacity of 200 million passengers – nearly double that of the current world leader, Hartsfield-Jackson Atlanta International Airport.
The Turkish government also aims to complete 11,700 km of high-speed railway lines linking 41 domestic cities by 2023, which would put Turkey behind only China in terms of the amount of railway construction. Other key projects among the 3,500 reportedly under development or in the planning stage include the Kanal Istanbul (an alternative waterway to the Bosphorus River, linking the Black Sea with the Marmara Sea), the Yavuz Sultan Selim Bridge (the world's longest, highest and widest suspension bridge with a two-lane railway and eight-lane highway on the same deck), the Eurasia Tunnel, the Istanbul Finance Centre, and the Gebze-Izmir Motorway Project linking Istanbul with Izmir. All this is taking place alongside more than US$200 billion worth of building work and urban renewal across many Turkish cities.
To help finance this, the Turkish government hopes to secure US$350 billion foreign investment on a Public-Private Partnership (PPP) basis. So far, the country has completed a total of 225 PPP projects worth some US$135 billion. These include the İstanbul New Airport, built by the Limak-Kolin-Cengiz-MaPa-Kalyon Consortium, the Yavuz Sultan Selim Bridge and Northern Marmara Highway by the IC İÇTAŞ – Astaldi Consortium ICA and the Eurasia Tunnel by the Turkish-Korean joint venture registered as Eurasian Tunnel Operation Construction and Investment, or ATAŞ.
Manufacturing Powerhouse
Turkey's growing economy and its rapidly improving transport connections have made the country attractive to international manufacturers looking to relocate. In order to ride this wave, the Turkish government has been trying to entice foreign export-oriented companies to move their production to the nation's 19 Free Zones, 322 Organised Industrial Zones and 56 Technology Development Zones (TDZs).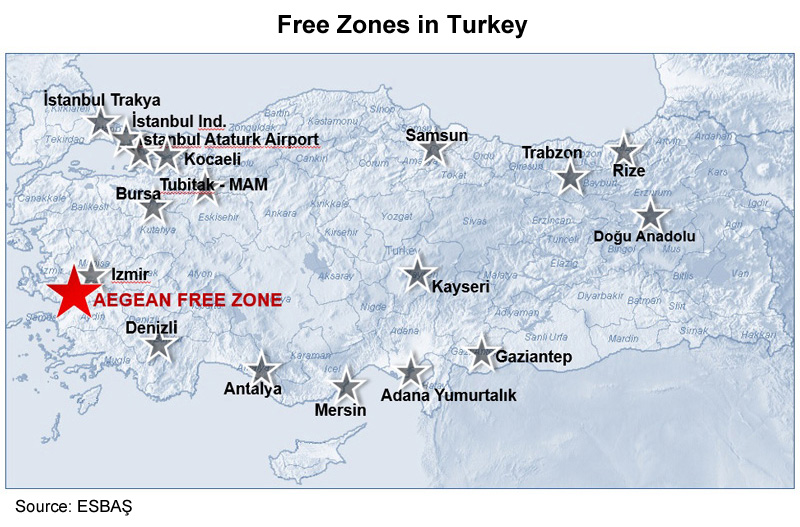 The Aegean Free Zone (ESBAŞ) in İzmir, with its advantageous location and tax, legal and customs incentives, is becoming increasingly popular as a destination for international manufacturers looking to do business in Turkey and the surrounding region. ESBAŞ is home to nearly 180 investors and tenants, mainly in industries such as food processing and packaging, automotive, machinery, IT, medical devices, textiles, electronics and electrical, aviation, avionics and aerospace. These include world-class manufacturers such as US-based Delphi Diesel, which makes injector nozzles, valves and pump parts for diesel motors, France's FTB Lisi Aerospace, luxury German fashion house Hugo Boss, Eldor Electronics from Italy, Ukrainian manufacturer DEZEGA, which specialises in respiratory protective equipment, and Lasinoch, a subsidiary of Japan's Pigeon Corporation which produces breast milk feeding pumps, feeding bottles and pacifiers.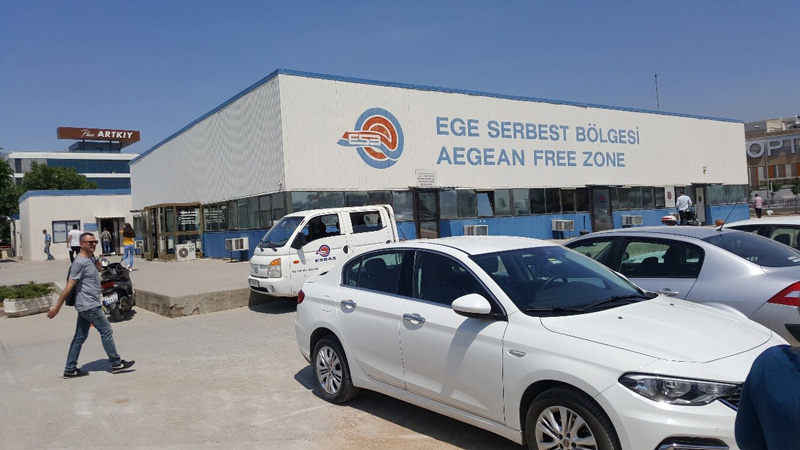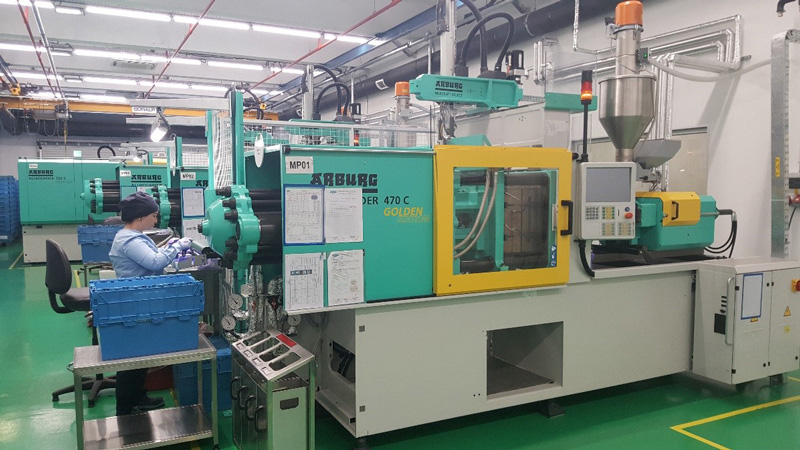 Sino-Turkish Co-operation
As a key part of the ancient Silk Road, Turkey is naturally an important partner in today's Silk Road Economic Belt and Maritime Silk Road, or the BRI. Even before the development of the BRI, there had been a growing collaboration between Turkey and China. In 2010, China was a strategic partner in the financing and construction of Turkey's national high-speed railway between the cities of Edirne and Kars, providing loans of US$28 billion, while the China Railway Construction Corporation and China National Machinery Import and Export Corporation are members of a Turkish-Chinese consortium (along with Turkey's Cengiz Construction and Ibrahim Cecen Ictas Construction) which was behind the construction of the İstanbul-Ankara high-speed Railway.
The İstanbul-Ankara High-speed Railway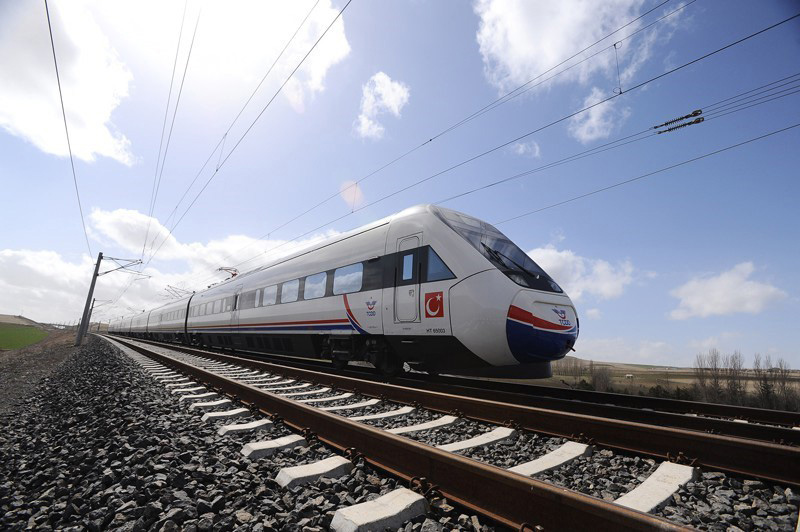 In 2015, the Chinese joint venture Euro-Asia Oceangate, controlled by Cosco Pacific, China Merchants Holdings (International) (CMHI) and CIC Capital, acquired the majority share of Kumport, the third-largest container terminal in Turkey. The port is close to İstanbul, Turkey's biggest city and its key trading hub which accounts for over half of the nation's total trade and serves as a transhipment hub for goods being transported via the Black and Mediterranean Seas. This investment also creates a natural synergy with the Chinese shipper's investment and expansion plans in Piraeus – Greece's largest port.
This growing Sino-Turkish collaboration should ensure better co-ordination among the connecting nodes of the TITR and the Maritime Silk Road, while further strengthening the position of Turkey and its surrounding region as Asia's maritime gateway to Central and Eastern Europe (CEE).
Investment Incentives
On the way to the 100th Anniversary of the Republic[1], Turkey is expected to continue its plans to develop and upgrade its infrastructure and – to make good use of the improved logistics and strengthen its role as a regional manufacturing powerhouse – expand its network of industrial parks in an attempt to grow local production capacity alongside rising domestic and external demand. This is good news for Hong Kong manufacturers who are considering relocation amid the fallout from the Sino-US trade dispute.
Turkey's keenness to attract foreign investment means that it now boasts one of the most competitive investment incentive packages of any emerging economy. This includes a Project-Based Incentive Scheme, under which projects involving at least US$100 million worth of investment that ensure sufficient supply levels of strategic goods and services, and boost technological capacity, research and development (R&D) efforts, competitiveness and added value in production, qualify for a pool of support measures that the investor can use to create whatever incentive package to make the investment most feasible and profitable.
A host of different schemes offering various support measures are available to suit investment size, region, sector and product. Measures include value-added tax (VAT) exemption, customs duty exemption, tax deductions, social security premium support for the employer's share, interest rate support, land allocation and VAT refunds. For investments in the least developed regions of Turkey, income tax withholding support and social security premium support for the employee's share are also available.
Hong Kong businesses looking to take advantages of these opportunities should also be helped by the presence in Turkey of major Chinese banks such as Industrial and Commercial Bank of China (ICBC), which has been operating there since May 2015, and Bank of China (BOC), which received its banking licence on 1 December 2017.
Turkey Trade
Hong Kong's trade with Turkey is rising rapidly. In the first nine months of 2018, Hong Kong's sales to Turkey grew by 15% year-on-year to US$775 million, which compares favourably with the 9% growth in Hong Kong's total exports over the same period. Electronics and electrical goods such as telecommunication equipment and parts, computers, electrical apparatus for electrical circuits and semi-conductors, electronic valves and tubes, watches and clocks, toys, games and sporting goods, jewellery and pearls, precious and semi-precious stones are selling well in Turkey.
When it comes to Turkey's exports, the country is becoming a leading global supplier in the field of agribusiness and is now the world's seventh-largest agricultural producer. In 2017, Turkey sold more than 75% of the world's total market of hazelnuts and exported nuts, figs and olive oil to as many as 140 countries. Other popular food and beverage products include high-quality tea, wine, honey, dairy products and seafood.
Turkey is also the world's fourth largest home textile supplier, famous for its towels, furnishing and curtain fabrics bed linens, and Europe's leading TV and white good producer, selling, for example, refrigerators to some 160 countries.
Online Potential
Online sales in Turkey make up a relatively low share of total retail sales at just 3.5%. This means that the potential in the online market is there to be tapped by global e-commerce players. Alibaba has already made a move, recently announcing its acquisition of Trendyol (Turkey's largest online fashion retailer, with 90 million monthly visits and 16 million registered users) from the European Bank for Reconstruction and Development (EBRD) and several US investment funds. It hopes to expand and optimise its reach among the country's growing pool of young, high-income, tech-savvy consumers.
There are also plenty of potential opportunities in Turkey for the provision of the sort of professional services and innovative business models at which Hong Kong excels. Given Turkey's ambitious list of massive infrastructure projects, high demand is expected not only for project funding and financing, but other professional services such as project evaluation and consultancy, engineering, architecture, logistics, information and communication technology (ICT) and marketing.
However, these opportunities are not limited to those available in Turkey. Turkish businesses are especially keen to make inroads into the Chinese mainland market amid China's recent import tariff cuts, as evidenced by their presence at the inaugural China International Import Expo (CIIE). This was the world's first import-only-themed national-level expo, which kicked off on 5 November 2018 at the National Exhibition and Convention Centre in Shanghai, bringing together more than 3,600 exhibitors and over 400,000 buyers.
Turkey's Showcases at CIIE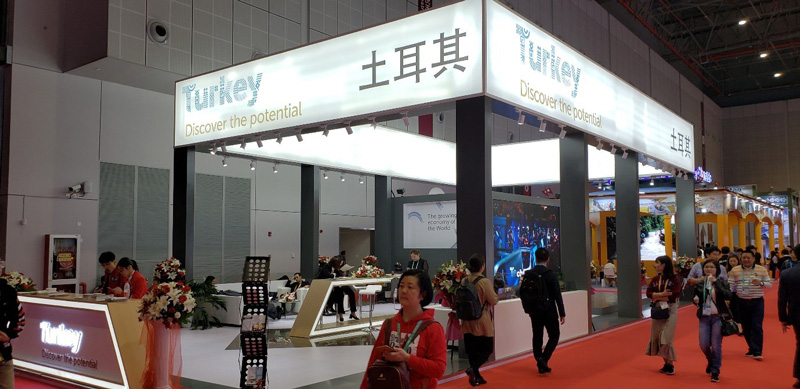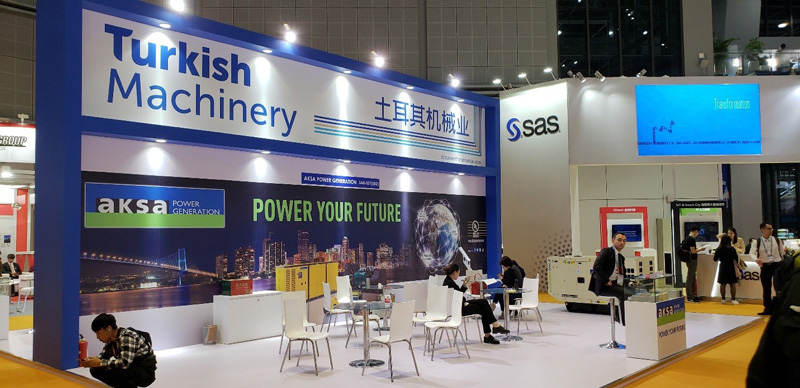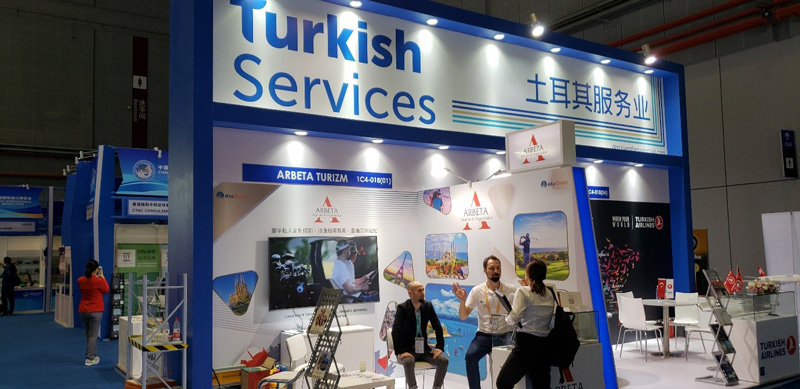 Displays of Turkish exports spanning agricultural and food and beverage products to machinery and services received a very warm welcome from Chinese buyers at the expo. However, while Turkish exporters and service providers seemed convinced that the Chinese market was ready for their products, most admitted that they were unfamiliar with mainland China's laws and regulations, not to mention the market dynamics in terms of consumer preferences and distribution channels.
Given their language advantages, their extensive knowledge of the Chinese market and regulatory environment and their proximity to the mainland market, Hong Kong companies can play a pivotal role in helping prospective Turkish companies bring their products to the Chinese mainland market.
Hong Kong can also serve as a tailor-made business hub for Turkish enterprises looking to establish headquarters in Asia, offering them an extensive web of the value-added services from finance to branding and research and development (R&D) they will need.
---
[1] Turkey will celebrate the 100th anniversary of the foundation of the Republic in 2023.