China's ambitious infrastructure development and trade facilitation programme set to hit new heights in Africa.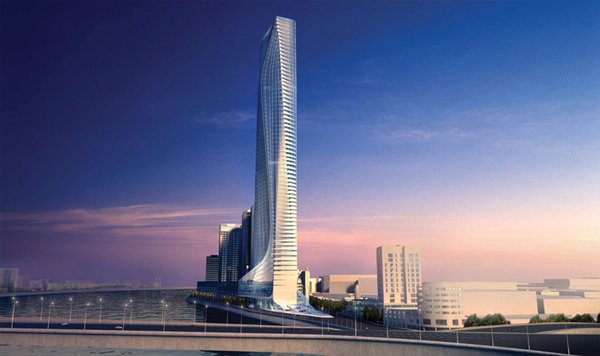 Should all go according to plan, in about two years' time, Egypt will once again be home to Africa's tallest building – after an interval of almost half a century. The 385-metre, 80-storey Iconic Tower should dominate the skyline of the country's administrative capital, as development work is completed on one of the landmark properties in the new city's central business district (CBD).
It is actually set to break more than one record. The development – with the China State Construction Engineering Corporation (CSCEC) as its lead contractor – is China's biggest Belt and Road Initiative (BRI) property project to date. Once completed, it will form an integral part of Egypt's massive new US$58 billion – as yet unnamed – administrative capital, which is currently under construction some 50km east of Cairo.
Egypt, of course, is no stranger to ambitious construction projects. For nearly 4,000 years, the Great Pyramid of Giza, set just on the outskirts of contemporary Cairo, was the world's tallest building, until out-spiered by Lincoln Cathedral in central England in 1311AD. It did, however, remain the continent's tallest building for a further 662 years until, in 1973, it was overshadowed by Johannesburg's Carlton Centre.
The scale of the new capital project, though, would no doubt impress even the great pyramid builders of antiquity as it is, in many ways, one of the most ambitious urban projects ever undertaken. With a construction area spanning some 714 sq km – about the same size as Birmingham, the UK's second largest city – every government function will be relocated to the purpose-built administrative capital, including at least 29 ministries, the cabinet offices and the country's Parliament.
It will have 20 residential neighbourhoods, with living space for some 6.5 million Egyptian citizens. To service their needs, as well as those of the political and business communities, it will also have its own international airport, 1,250 mosques and churches, a 5,000-seat conference center, numerous hotels, nearly 2,000 schools and colleges, more than 600 medical facilities and a park that has been designed to be the world's largest – all of which will be connected by a new 650km road network.
It is not only the size of the CBD project that has proven to be impressive, but also the speed of its anticipated implementation. Although the $3 billion contract relating to the initial phase of the project was only signed in October 2017 – between CSCEC and the Egyptian Housing Ministry – and work only commenced in May 2018, completion is still scheduled for mid-2022. In terms of meeting the budget, China has provided the first tranche of the finance via a 10-year interest-free loan.
In September last year, both parties signed an additional contract with regard to the second phase of the project. To be built adjacent to phase one, this will extend across a floor space of 1.8 million sq m and comprise 20 commercial and residential buildings. According to local media reports, this second phase comes with a price tag of $3.2 billion. At present, the China Development Bank, the Industrial and Commercial Bank of China, and China's EXIM Bank are thought to be close to agreeing a deal to provide $2 billion in syndicated loans for this second phase.
To date, the project has pretty much run to schedule. This is almost certainly down, at least in part, to the fact that one of the key sub-contractors – China State Construction First Building, a division of CSCEC – has a huge amount of experience in delivering mega-buildings on time. It is, after all, said to have constructed some 50% of the world's ultra-tall buildings, including 85% of the skyscrapers that dominate many of China's fast-growing urban spaces.
Geoff de Freitas, Special Correspondent, Cairo