A 25-year development plan for new 250-square-kilometre city set to include world's tallest building.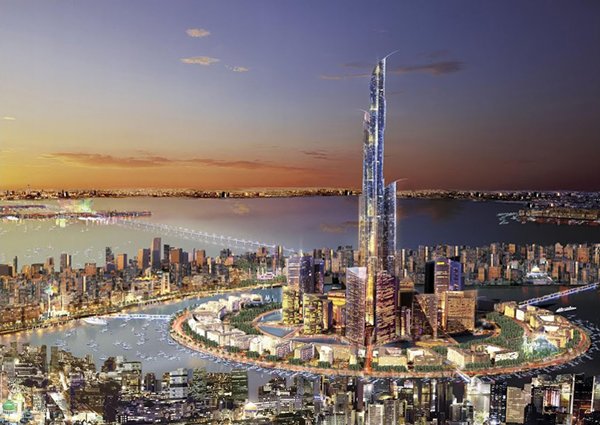 The first phase of a massive US$130 billion, 25-year Belt and Road Initiative (BRI) project has opened in Kuwait. Last month, the 36-kilometre, $3.6 billion Sheikh Jaber Al Ahmed Al Sabah Causeway began operation, connecting Kuwait's capital to its northern shores, cutting the previous three-hour car journey to just 30 minutes.
The long-term strategic importance of the new route lies in the fact that it creates a key logistics connection to Kuwait's northern area and the five nearby islands, which are collectively being reengineered into a new 250-square-kilometre city. The development, Silk City, is the cornerstone project of the New Kuwait 2035 programme, an initiative designed to help the country diversify its economy beyond its traditional reliance on oil, while creating a huge economic free zone linking the Arabian Gulf to Central Asia and Europe.
There are few illusions, however, as to just how long the development will take to complete, with China and Kuwait having originally partnered to deliver on the project in 2014. In July last year, both parties entered into a strategic partnership followed five months later by the signing of a Memorandum of Understanding in Beijing.
The grand scale of the project encompasses the strategically-sited Kuwaiti port of Mubarak Al Kabir, which is currently under construction on the nearby Al Bubiyan Island. With the $9 billion project scheduled for completion later this year, it is one of the most expensive port developments ever undertaken in the region. Located across the sea from Iraq's densely populated Al Faw peninsula, it is just a short distance from the Iraqi port of Um Qasr, from which – much to the annoyance of the local authorities – it is expected to divert substantial business.
Once complete, the project will also include an international airport, a duty-free trade zone, an Olympic-standard stadium, housing, workplaces, retail outlets and entertainment facilities for about 700,000 people – as well as Burj Mubarak al-Kabir, a one-kilometre-tall skyscraper set to succeed Dubai's Burj Khalifa as the world's tallest structure. According to Sheikh Nasser Sabah Al-Ahmad Al-Sabah, Kuwait's First Deputy Prime Minister and Defence Minister, it is hoped that the development will ultimately attract some $450 billion in overseas investment.
In February this year, Ning Jizhe, Vice Chairman of the Chinese National Development and Reform Commission, led a 35-person delegation to Kuwait. During this visit details of the development's next phase, estimated to cost $86 billion, were discussed. At present, it is envisaged that this phase will focus on construction of the airport, the rail network and the Mubarak Al-Kabeer Port trade zone. Chinese construction firms will be heavily involved in the project, with the delegation including representatives of the China Communications Construction Company and the China Development Bank.
The first stage of construction will also see a tradable goods logistics zone built within Silk City, as well as an industrial hub dedicated to supporting small- and medium-sized enterprises. Plans are also in place to develop a procurement strategy for attracting investment to the Mubarak Al-Kabeer Port under a public-private partnership model.
Jonathan Fulton, Assistant Professor at Abu Dhabi's Zayed University and a recognised expert on both China and the Gulf, sees the project as a prime example of China's ambitions in the Middle East. Expanding on this, he said: "This all fits into the maritime component of the BRI. China is already involved in the Khalifa Port in Abu Dhabi, Duqm Port in Oman, Jizan in Saudi Arabia, Djibouti and Port Said in Egypt.
"A close partnership will also be established with Gwadar Port in the China-Pakistan Economic Corridor, which will enhance the Mubarak Port's integration with greater Eurasia, while providing links to the land-based Silk Road Economic Belt."
Geoff de Freitas, Special Correspondent, Kuwait City