As a champion of Chinese investment in Central and Eastern Europe (CEE), Hungary has long been an important partner for China in the latter's "going-out" strategy. Hungary is home to the first renminbi (RMB) clearing centre in CEE – a fact that, along with the launch of the first Chinese RMB and Hungarian forint debit card in Europe, serves to highlight the country's preeminent role in RMB internationalisation.
Hungary was also the first European country to sign a memorandum of understanding (MoU) on Belt and Road co-operation with the Chinese mainland, an indicator of the strong Asian orientation of its policies on trade and international affairs. The hallmark project of China's Belt and Road Initiative (BRI) – a 350-km high-speed railway linking the capital cities of Hungary and Serbia – will improve Hungary's land-sea connectivity; while the increasing number of direct air cargo connections between Hungary and Belt and Road economies like Hong Kong, Qatar and Turkey is likely to enhance the country's status as a popular trans-shipment hub in the region.
Hungary is also active in promoting inter-cultural and people-to-people exchanges with China in fields such as tourism and the arts. The inauguration of the China-CEEC (CEE Countries) Tourism Coordination Center in the Hungarian capital Budapest in 2014, and the opening of China National Tourism Administration (CNTA)'s first CEE tourism office in the city last year, are examples of the success of Sino-Hungarian co-operation. On the cultural front, the funding opportunities made possible by the Hungarian National Film Fund (MNF) are an effective booster for cinematic co-production projects.
Close Economic Partnership with China
Hungary is by far the largest recipient of Chinese outbound direct investment (ODI) among the CEE members of the "16+1" co-operation framework, accounting for nearly 30% of China's total stock of such investment in 2015. The "Opening to the East Strategy" initiated in 2010 by the Hungarian Prime Minister Viktor Orbán as a way of opening new markets in Asia after the European financial crisis coincided rather fortuitously with China's "going-out" strategy. China's economic and cultural exchanges with Hungary have been considerably enhanced ever since the official launch of the "16+1" framework in 2012 and the BRI in 2013.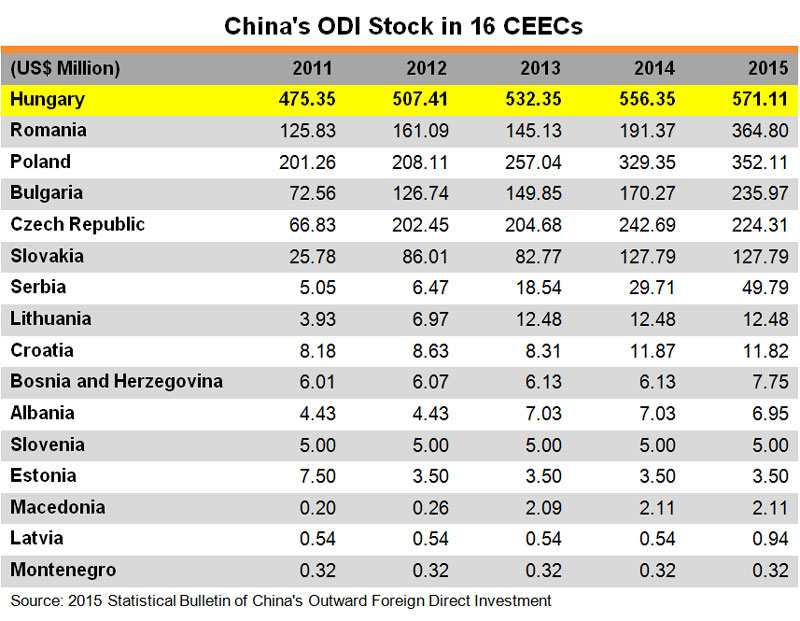 Hungary has long been one of China's key trading partners in the CEE. In 2016, Hungary accounted for a larger share of China's imports than any other CEE country (US$3.5bn, some 23% of the region's total) and was behind only Poland and the Czech Republic as a CEE destination for Chinese exports (importing US$5.4bn of Chinese goods and services, 12% of the total for the region).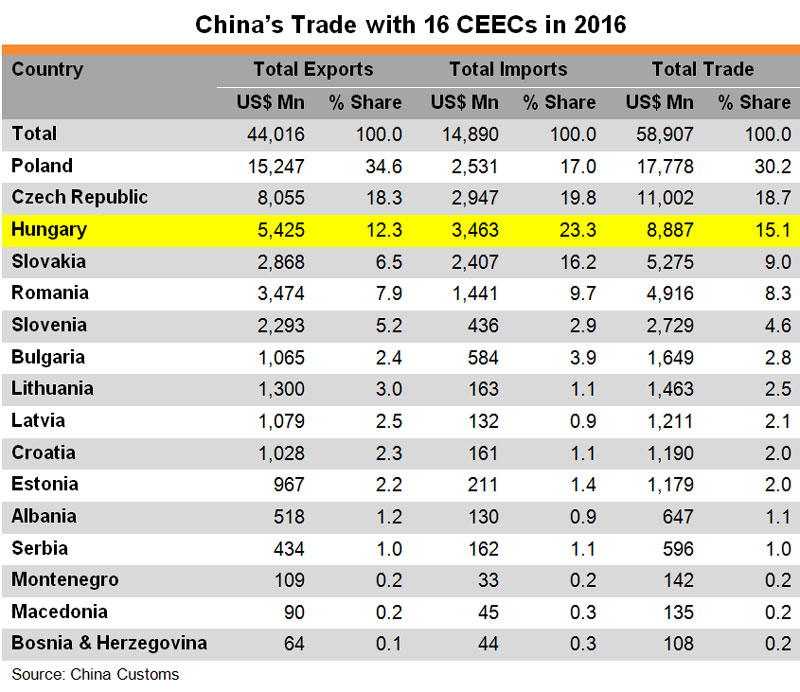 The ready flows of RMB liquidity from both bilateral investment and foreign trade settlements have underpinned the country's success in promoting RMB internationalisation across Europe. In 2013, Hungary was the first CEE country to sign a currency swap agreement with the People's Bank of China (PBoC), and in 2015 the Central Bank of Hungary (Magyar Nemzeti Bank, MNB) launched the Budapest Renminbi Initiative in conjunction with its Renminbi Programme (JRP) to foster Chinese-Hungarian economic partnerships related to the RMB-HUF (Hungarian forint) market.
Hungary is home to the regional headquarters of the Bank of China (BOC), which has operated a subsidiary in the country since 2003 and maintained a full-fledged branch there since 2014. In October 2015, Hungary was selected by BOC to launch its first RMB clearing centre in CEE, and in January 2017 the bank launched its first Chinese RMB and Hungarian forint debit card in Europe. In another significant development, Hungary became the first CEE country to issue an RMB-denominated sovereign bond in April 2016.
These multifaceted Sino-Hungarian economic ties led to Hungary becoming the first European country to sign a memorandum of understanding (MoU) on Belt and Road co-operation with the Chinese mainland in 2015. One of the first fruits of such co-operation is the flagship project of a 350-km high-speed railway between Budapest and the Serbian capital Belgrade, which will reduce the travel time between the two cities from the current eight hours to about three.
Hungary's active participation in the BRI has been welcomed by investors such as China's leading electric automaker BYD, which opened its first fully-owned bus plant in Europe in the northern Hungarian city of Komárom in April this year. At the same time, well-known Hungarian companies such as the world-leading Building Information Modeling (BIM) [1] software developer Graphisoft have chosen Hong Kong as their partner to grow their businesses along the Belt and Road.
With HKSARG proposing that it be a mandatory requirement for consultants and contractors to use BIM technology in their design of major government capital works projects from 2018 onwards, Graphisoft is expecting to register more clients not only from the local Hong Kong market, but also among the city's cluster of international architecture and interior design companies that are significant players in the vibrant Asian property development market.
An Important Node on the New Silk Route
Hungary's location has played a major part in its economic development. It is on the eastern border of the EU/EFTA Schengen Area and can therefore play a pivotal role in the regional distribution channels of CEE countries. It has close economic relationships with many of its neighbours and near-neighbours, including Austria, Bosnia and Herzegovina, Croatia, the Czech Republic, Italy, Montenegro, Poland, Romania, Serbia, Slovakia, Slovenia and Ukraine, which has made the country a popular transit point for East-West intermodal freight forwarding in the CEE region. It has also become a manufacturing outsourcing hot spot for the electronics, automotive and ICT-related industries.
Although Hungary is landlocked, it has overcome this disadvantage by developing major inland ports along the Danube River at Győr-Gönyü, Budapest, Dunaújváros and Baja, which boast an advanced infrastructure and access to the Black Sea. Furthermore, the country is at the crossroads of two Trans-European Transport Network (TEN-T) corridors and has the third-highest road density in Europe, enabling easy access not only to all parts of Hungary but also to its neighbouring countries.
Together with the increasing number of direct air cargo connections with Belt and Road economies such as Hong Kong, Qatar and Turkey, Hungary's excellent transport links are enhancing its status as a popular trans-shipment hub in CEE. The amount of cargo being handled by Budapest Airport increased in 2016 by 23% from the year before to a total of more than 112,000 tonnes, and the airport is expanding to meet the increased demand. An additional cargo terminal is set to open in 2018 to cater for the rapidly growing Asia-Europe air cargo traffic, including the thrice-weekly direct cargo flights from Hong Kong operated by Luxembourg-based company Cargolux.
As part of its HUF50bn (€160mn) "BUD:2020" development programme, Budapest Airport has begun construction of a new logistics base next to Terminal 1. Preparatory works for a new major warehouse and office complex called "Cargo City", which will handle air cargo freighters as well as belly cargo from passenger flights near Terminal 2, are expected to add an extra handling capacity of up to 200,000 tonnes per year to the airport upon completion.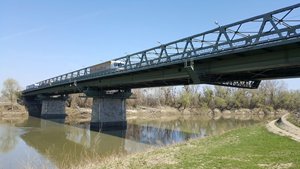 The Hungarian rail network is also undergoing expansion and re-organisation as it focuses on further modernisation. Despite an ongoing EU probe into its financing, the hallmark BRI project – the Budapest-Belgrade rail link – is scheduled for completion by 2018. It is designed to improve Hungary's connections with seaports in the Adriatic and Mediterranean Seas, including the Greek Port of Piraeus operated by China's COSCO Shipping.
Although Eurasian rail traffic to Hungary has been somewhat disrupted by the ongoing Russian-Ukrainian conflict, Hungary's infrastructure is considered to be very well prepared for East-West rail transport. This is especially so at the Záhony Trans-shipping Area in Szabolcs-Szatmár-Bereg County – once home to the largest dry port in Europe when its main responsibility was handling the commercial exchange of goods between Hungary and the former Soviet Union.
Today, Záhony is regarded as a major railway junction on the Trieste-Budapest-Kiev-Moscow-Khorgas transport corridor, trans-shipping cargo arriving from the Commonwealth of Independent States (CIS) countries and beyond in carriages on broad-gauge (1,520mm) railway onto standard-gauge (1,435mm) railways.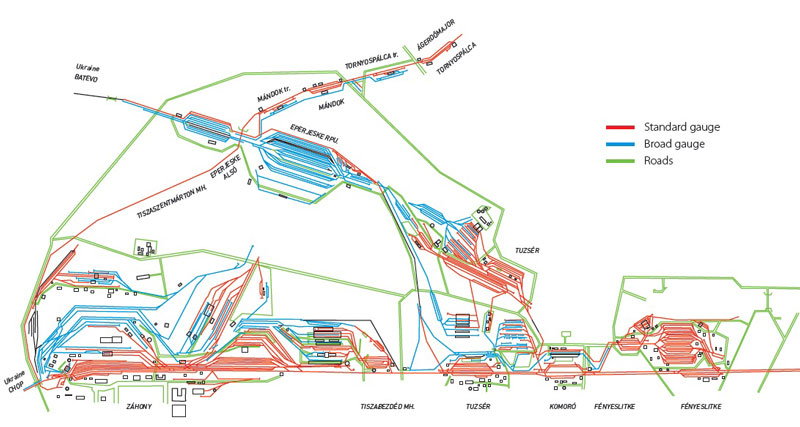 While products trans-shipped at Záhony nowadays are mainly bulk cargos and non-containerised goods such as metals, coals, minerals, industrial chemicals, agricultural products and raw materials for steel, tyre and plastic production, the new industrial parks being built across Szabolcs-Szatmár-Bereg County have already attracted a wide range of investment from multinational corporations in fields like vodka bottling, woodworking, cosmetics and LED manufacturing, creating a pool of potential users of cargo trains.
Pioneering on the Cultural Front
Hungary is also active in promoting inter-cultural and people-to-people exchanges with China in fields such as tourism and the arts. The inauguration of the China-CEEC (CEE Countries) Tourism Coordination Centre in Budapest in 2014 and the opening of China National Tourism Administration (CNTA)'s first CEE-based tourism office in the city last year are examples of the success of this Sino-Hungarian co-operation.
From the first Chinese Film Festival in Hungary in 1953 to the official premiere of Kung Fu Yoga, a Sino-Indian co-production featuring Hong Kong action star Jackie Chan at the city's Urania National Film Theatre in April 2017, films have proved to be an important way for China to connect with the Hungarian people. The first Sino-Hungarian co-production film, China, Hungary and the Soccer, made a successful debut at the opening ceremony of the Beijing Hungarian Cultural Institute in Budapest in 2013. This, along with the funding opportunities made possible by the Hungarian National Film Fund (Magyar Nemzeti Filmalap, MNF), have boosted the co-operation between the two countries in the film industry.
The MNF, which replaced the former Motion Picture Public Foundation (MMKA), has not only revitalised the local film industry, but triggered a large influx of international film productions being shot throughout Hungary. The MNF provides financial support in the form of a post-financing cash refund of up to 25% of the eligible production expense, subject to a cultural test. It also provides professional support for the script development, project development, and production of full-length feature films, documentaries and animated films for theatrical release, as well as international marketing of completed films ready for cinema release.
As of December 2016, the MNF had granted production funding for more than 80 projects, including 18 international co-productions. Recent successful MNF-supported films include Son of Saul, which won the Cannes Grand Jury Prize in 2015 and the Best Foreign Language Film Oscar in 2016, and Sing by Kristóf Deák and Anna Udvardy, which won the Best Short Film Oscar in 2017.
As a long-term participant at the Hong Kong International Film & TV Market (FILMART), MNF's International Sales and Distribution Department has found Hong Kong a highly effective platform for promoting Hungarian movies to Asian cinemagoers across the Chinese mainland, Japanese and South Korean markets. In this regard, it is second only to the European Film Market (EFM), which takes place every February in Berlin.
Another indication of Hong Kong's long history of working with Hungarian filmmakers when it comes to accessing the global markets is the fact Vajna András György, the renowned Hungarian Film Commissioner started his film career in Hong Kong back in the 1970s. It was here that he founded Panasia Films (which was acquired by Golden Harvest in 1976, ultimately becoming its foreign film distribution arm).
---
[1] BIM is an innovative technology for bridging communications between the architecture, engineering and construction industries. It is an automated process of generating three-dimensional (3D), digital representation of building data throughout its life cycle. Apart from 3D images, BIM can potentially provide more speedy and effective analysis in respect of time and cost impacts of the design and the changes thereto, resulting in better cost control and estimation of the project.