US$1.7 billion, 30km-long structure set to deliver on long-term commitment to link national capital and Temburong.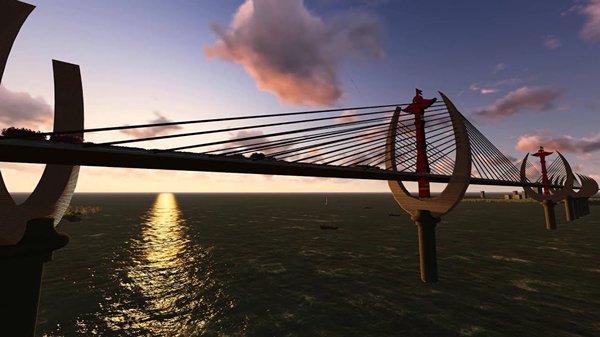 Work on a major section of Brunei's US$1.7 billion Belt and Road Initiative (BRI)-backed Temburong Bridge was completed late last month. Once fully constructed, the bridge will link Bandar Seri Begawan, the national capital, with Temburong, an enclave separated from the rest of Brunei by Malaysia and Brunei Bay.
The largest infrastructure project in Brunei's history, the 30km-long structure is set to become Southeast Asia's longest ocean-span bridge, easily outreaching the current record-holder – Malaysia's 24km Second Penang Bridge. Work on the project began in 2014, with construction said to be 97% complete. If all goes to plan, the bridge should open to road traffic later this year.
Brunei has high hopes that the project will deliver long-term economic benefits. Essentially, it represents the fulfilment of a long-term commitment to create a customs-free road link between the capital and Temburong, an increasingly popular tourism destination.
With a land area of just 5,765 sq km, Brunei comprises two territories – Brunei-Muara and Temburong – separated by the Malaysian state of Sarawak. Until the bridge opens, commuters travelling between the two must negotiate their way through four frequently congested Malaysia-Brunei immigration checkpoints.
Commissioned in 2014 by Brunei's Ministry of Development as part of efforts to stimulate the country's economic development, the bridge was always visualised as two distinct construction projects – a 11.6km land viaduct crossing the Labu Forest Reserve and the 18km bridge proper extending out across Brunei Bay. China State Construction Engineering Corporation (CSCEC) was appointed to oversee the viaduct, while Seoul-headquartered Daelim – South Korea's longest-established construction company – won the contract to build the bridge.
When CSCEC first began work on the project in October 2015, oppressive heat and humidity, combined with intermittent access to power and fresh water, hampered construction. An added challenge came from the statutory requirement to protect the region's rare mangrove vegetation and wildlife. To overcome this particular difficulty, CSCEC installed major sections of the viaduct using "fishing technology," an innovative construction process that keeps heavyweight equipment from impacting the ground and potentially harming local flora and fauna.
Once the bridge is open, the key beneficiary is expected to be the country's nascent tourism industry. The focus of this will be Temburong's prized, yet relatively unknown, Ulu Temburong National Park. A 50,000-hectare tract of tropical rainforest, it has been described by the Brunei Tourism Bureau as "without a doubt, the crown jewel of Brunei's green landscapes".
An engaging blend of lowland and mountain forests, the park's diverse ecosystem is home to a huge variety of unique species, as well as many of the country's traditional longhouse communities. Once officially opened, the bridge is expected to spur investment across the whole of the region's hospitality sector.
In line with this, work is already underway on Temburong's first luxury eco-resort – 30 riverside villas in the Kampung Perdayan district – which is due for completion later this year. In addition, a new river centre is being developed to service cruise boats heading into the Ulu Temburong National Park.
In preparation for this, Brunei is already actively engaged in moves to attract a higher number of Chinese tourists. In order to facilitate this, Royal Brunei Airlines, the national carrier, is launching direct flights to the new Beijing Daxing International Airport.
Chinese visitors accounted for 23.6% of Brunei's 278,000 inbound air passengers in 2018, a figure it is now hoping to boost to 450,000 in the near term. In a further move, 2020 has been officially announced as Brunei-China Year of Tourism by representatives of the two countries' governments.
Geoff de Freitas, Special Correspondent, Bandar Seri Begawan