GDP (US$ Billion)
34.28 (2018)
World Ranking 100/193
GDP Per Capita (US$)
817 (2018)
World Ranking 175/192
Economic Structure
(in terms of GDP composition, 2019)
Services
(32.34%)
Industry
(30.77%)
Agriculture
(28.41%)
External Trade (% of GDP)
26.7 (2019)
Currency (Period Average)
Sudanese Pound
24.33per US$ (2018)
Political System
Transitional government
Sources: CIA World Factbook, Encyclopædia Britannica, IMF, Pew Research Center, United Nations, World Bank
Overview
Although mostly desert, Sudan has fertile land, mountains, and livestock, as well as a large youthful labour market which are key factors that provide ample investment opportunities on the long term horizon. Sudan sits in a strategic geographical position at the crossroads of Sub-Saharan Africa and the Middle East, and is bordered by seven countries, with the Red Sea to the North East. Its capital, Khartoum, lies at the confluence of the White and Blue Niles, and its main port on the Red Sea. Armed conflict in Sudan's westernmost region of Darfur has subsided, but many parts of the region face significant security challenges. Comprehensive United States sanctions on Sudan, levied in 1997 and expanded in 2006, were lifted in October 2017. This drew initial optimism, however foreign investors and commercial banks have been slow to reengage. Sudan's economy is still significantly reliant on hydrocarbons exports and, following the global oil price slump in 2015/2016, Sudan and South Sudan agreed to lower oil transit fees for South Sudanese oil via Sudan's pipeline.
Sources: World Bank, Fitch Solutions
Major Economic/Political Events and Upcoming Elections
October 2017
The United States announced the partial lifting of sanctions.
April 2019
On April 11, former President Omar al-Bashir was removed from office by Sudanese security forces.
July 2019
On July 5, the Transitional Military Council (TMC) of Sudan and the opposition pro-democracy alliance announced that they had agreed a power-sharing arrangement. The deal would involve the formation of a sovereign council – the chairmanship of which would rotate between the military and civilians – and a civilian-led council of ministers. The arrangement was set to continue for at least three years, with the military in charge for the first 18-21 months and civilians for a subsequent 18 months.
September 2019
A new government took office under Prime Minister Abdalla Hamdok as part of a three-year power-sharing agreement between the military, civilian representatives and protest groups.
October 2019
The African Development Bank (AfDB) approved USD31.3 million in grants for the upgrading of water and sanitation facilities in Sudan's North and South Kordofan states. The financing comprises USD30 million from the African Development Fund and the rest USD1.3 million from the Rural Water Supply and Sanitation Initiative Trust Fund. When complete, the project was expected to benefit nearly 435,000 people in the states by providing access to better water and sanitation services.
January 2020
Sudan opened up its gold market to allow private traders to export gold. The new regulation stipulates that companies would be allowed to export 70% of their gold production, provided they deposit their proceeds into local banks. The remaining 30% was to be sold to the central bank.
Sources: BBC country profile – Timeline, Fitch Solutions
Major Economic Indicators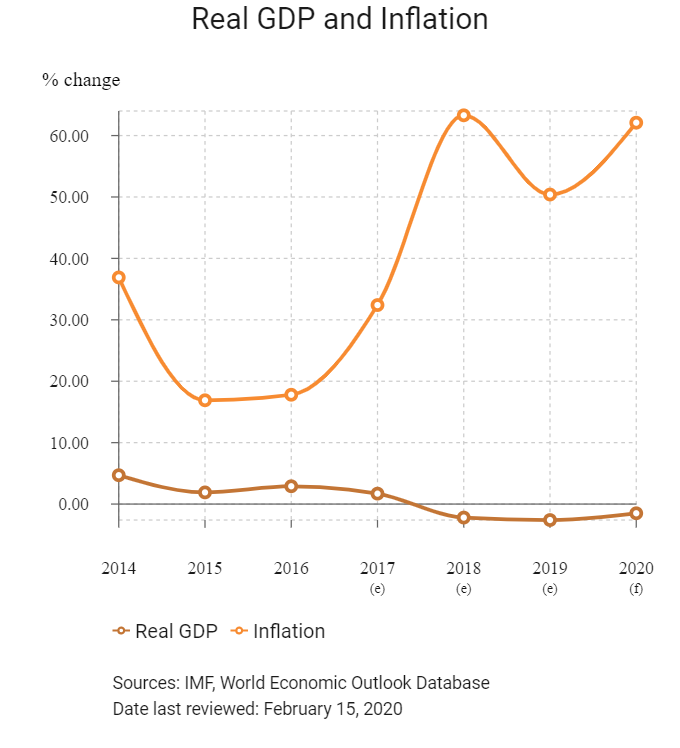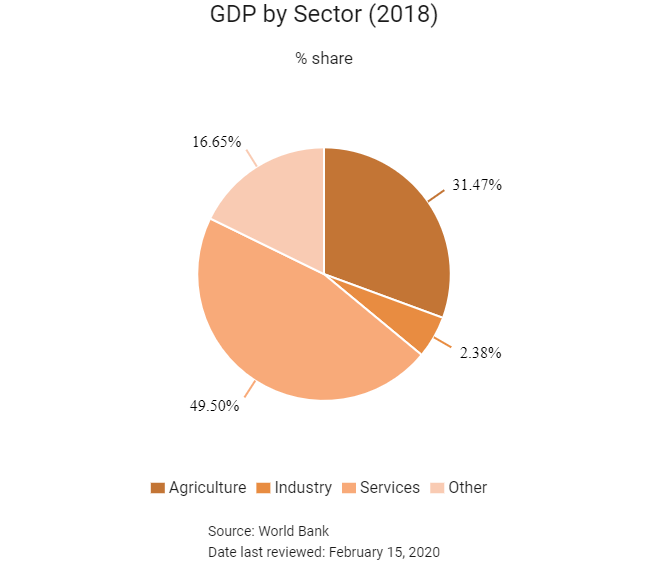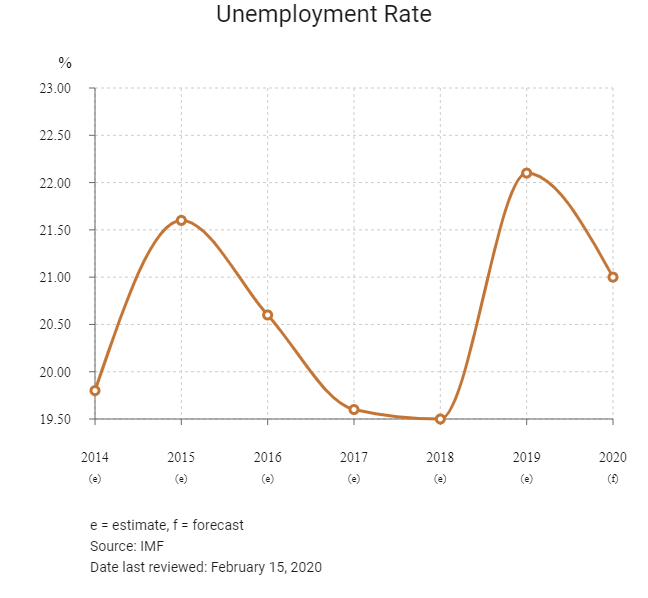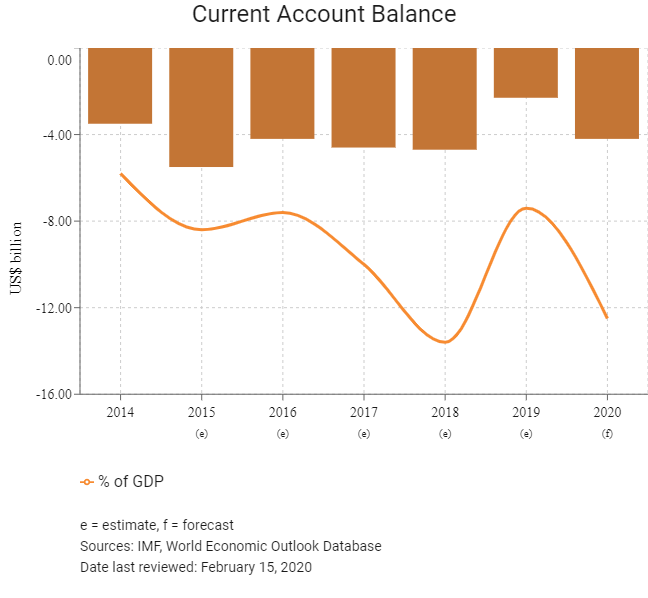 External Trade
Merchandise Trade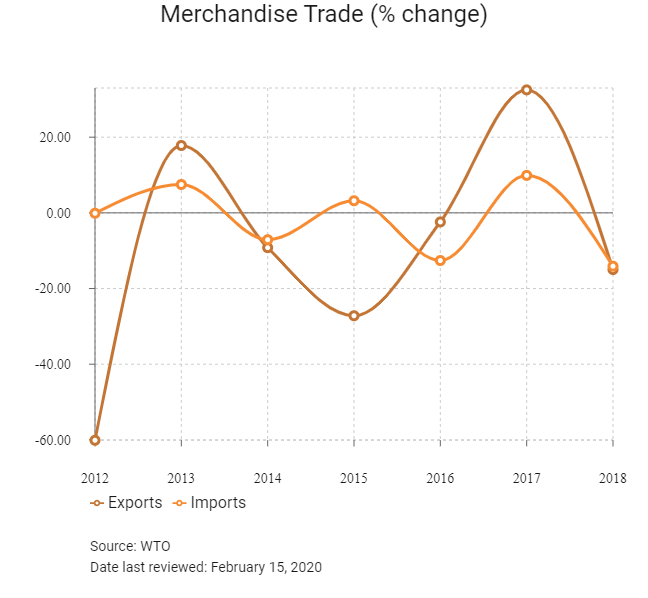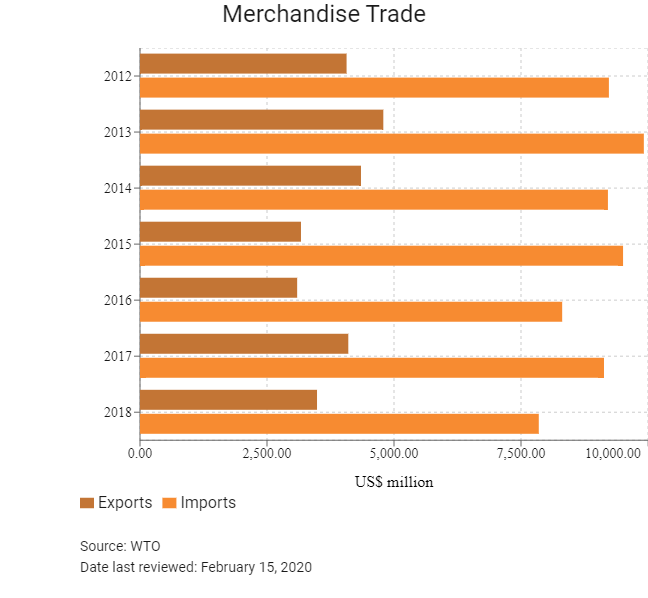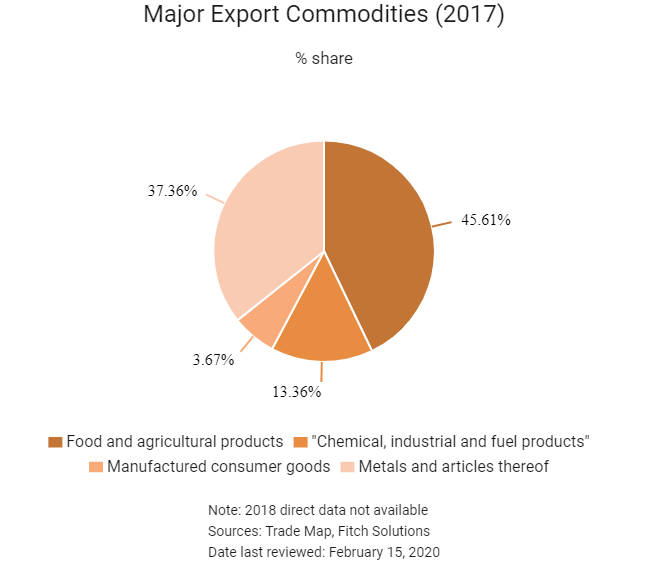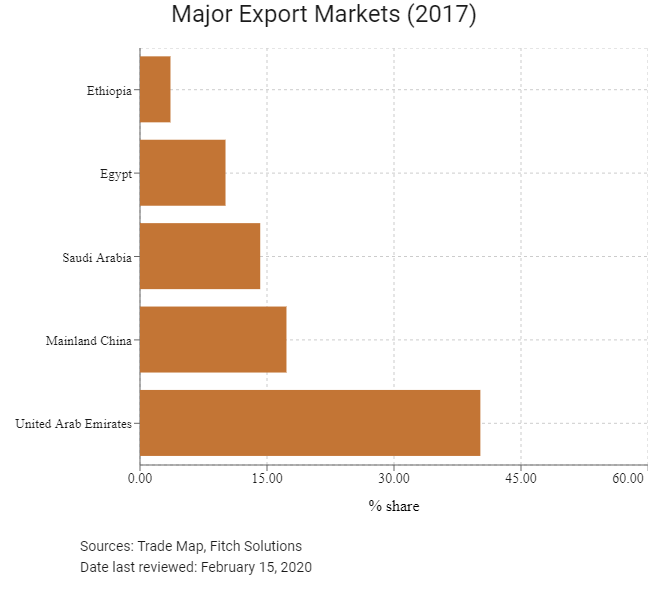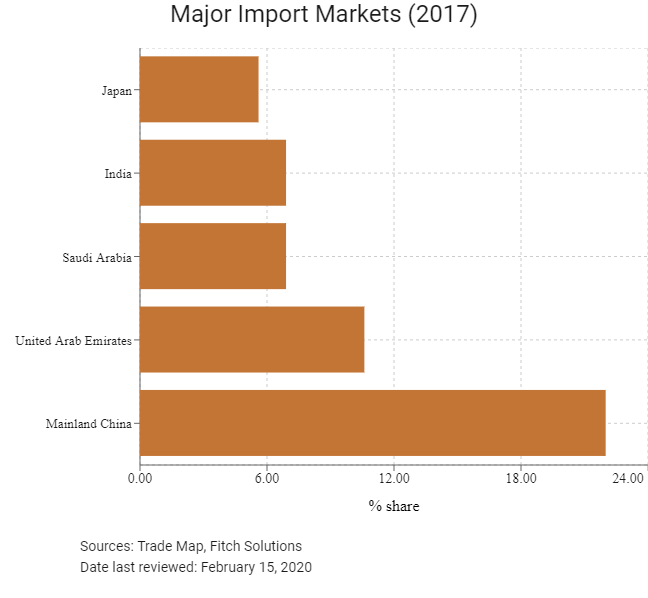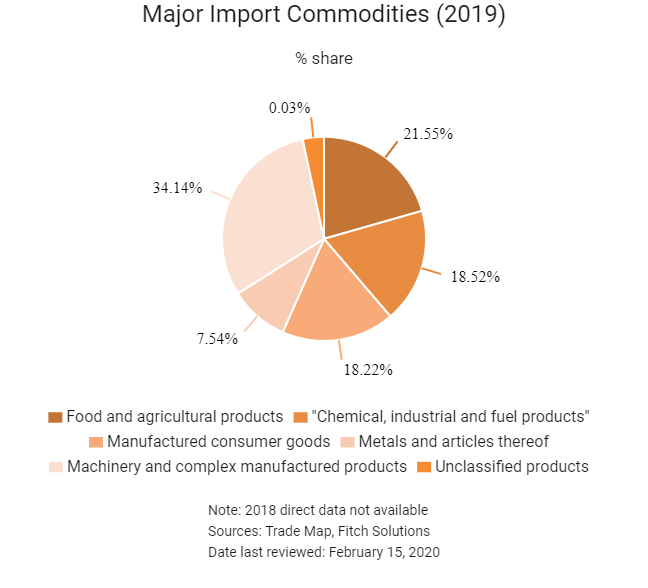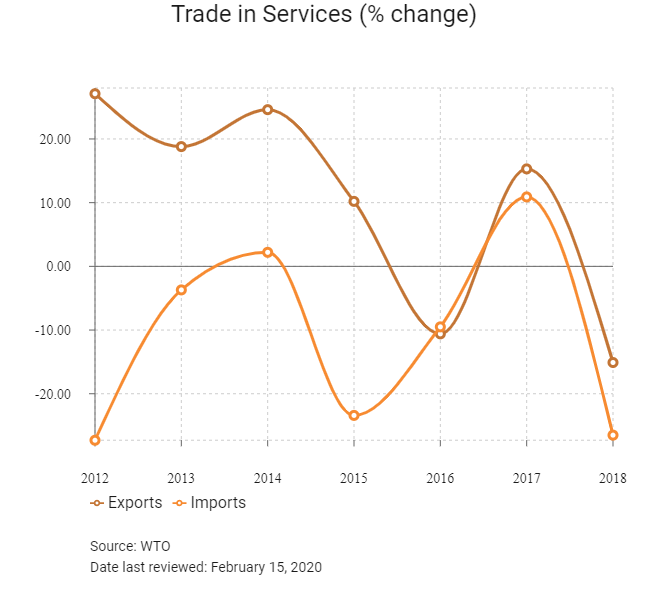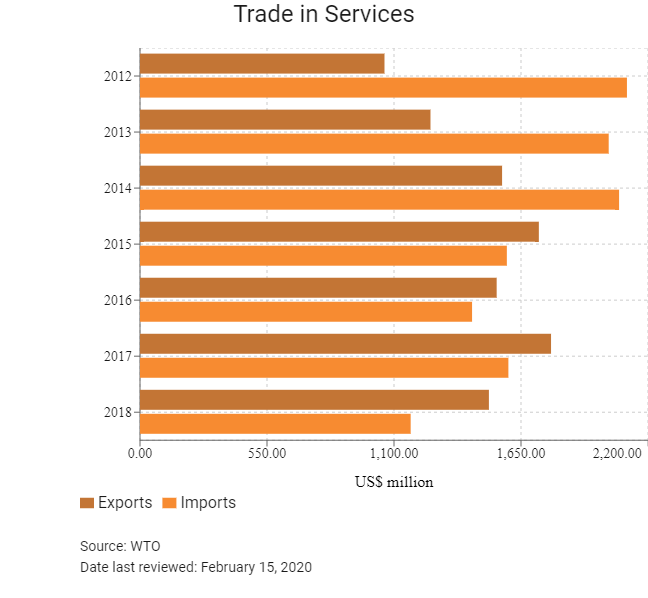 Trade Policies
Sudan is not a member of any customs unions, however, in March 2018, it was one out of the African countries to sign a framework establishing the African Continental Free Trade Area (AfCFTA). ACFTA aims to create a single continental market for goods and services, with free movement of businesspersons and investments. It is expected that the continent-wide trade deal will unlock more market access, and drive intra-regional trade, which in turn would drive the structural transformation of economies and boost productivity and employment, leading to poverty reduction.




In November 2019, Sudan's Ministry of Industry and Trade issued a decision to prevent non-Sudanese from export and import operations, except for in accordance with the investment law or special government agreements. It further prevented foreigners from doing business in local markets and making sale and purchase operations, whether directly or through a mediator.




In January 2011, the Sudanese Ministry of Foreign Trade banned the importation of products such as live animals and birds, raw and manufactured leather, and silk and its products.




In 2017, Sudan's Trade Ministry banned non-Sudanese from engaging in trade activities and prevented individuals and companies from working at crops markets for trade purposes unless they have agricultural investment projects registered at the Ministry of Investment.




In January 2011, the Sudanese Ministry of Foreign Trade banned the importation of products such as live animals and birds, raw and manufactured leather, and silk and its products.




The country has close geographical proximity to its key trade partners and is part of free trade agreements (FTAs) with some of them – Sudan is a member of the Greater Arab Free Trade Area (GAFTA) and the Common Market For Eastern And Southern Africa (COMESA), where trade flows have been enhanced through decreased tariffs. Sudan is also considering joining the Arab-Mediterranean Free Trade Agreement (Agadir), as it hopes to enter the European market.
Sources: WTO – Trade Policy Review, Fitch Solutions
Trade Agreement
Multinational Trade Agreements
Active
GAFTA: GAFTA is a pan-Arab free trade zone that came into existence in 1997. This agreement saw tariffs between member states rapidly decline from an average 15% in 2002 to 6% in 2009. Many of Sudan's main trading partners (United Arab Emirates, Saudi Arabia and Egypt) are members of GAFTA, which, paired with close geographical proximity, has enhanced trade flows between these countries.

COMESA: COMESA was formed in December 1994 to replace the former Preferential Trade Area (PTA) from the early 1980s in Eastern and Southern Africa. COMESA was created to serve as an organisation of free independent sovereign States that have agreed to cooperate in developing their natural and human resources for the good of all their people. In this context, the main focus of COMESA has been on the formation of a large economic and trading unit to overcome trade barriers faced by individual States. The member States of COMESA are: Burundi, the Comoros, the Democratic Republic of Congo, Djibouti, Egypt, Eritrea, Ethiopia, Kenya, Libya, Madagascar, Malawi, Mauritius, Rwanda, Sudan, eSwatini, Seychelles, Uganda, Zambia and Zimbabwe.
Ratified But Not Yet In Effect
The AfCFTA: AfCFTA is a trade agreement between African Union member states with the goal of creating a single market, followed by free movement and a single currency union. The AfCFTA was signed in Kigali, Rwanda on March 21, 2018. The agreement was ratified in Q119 by the pre-requisite 22 states. The implementation of the agreement came into effect on May 30, 2019, 30 days after the documentation regarding the ratification of the agreement was submitted to the African Union (AU). Negotiations continued in 2019, including negotiations surrounding the relevant competition policy, investment and intellectual property rights. It has been indicated that the start of trading under the AfCFTA Agreement will begin on July 1, 2020.
Investment Policy
Foreign Direct Investment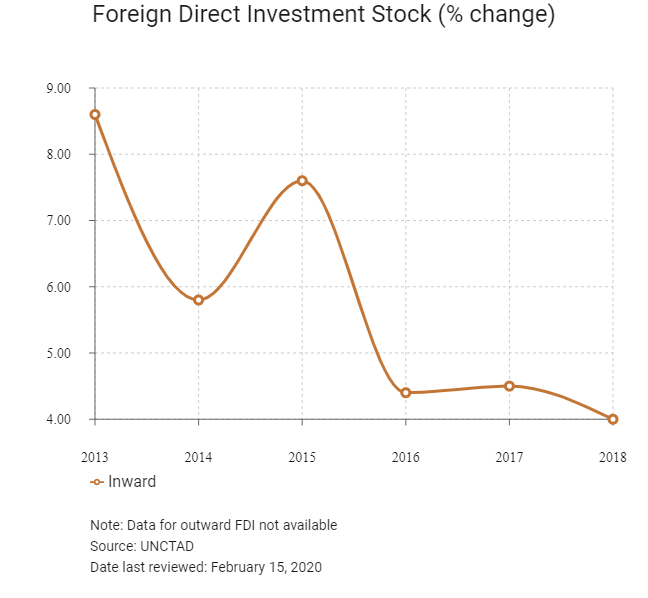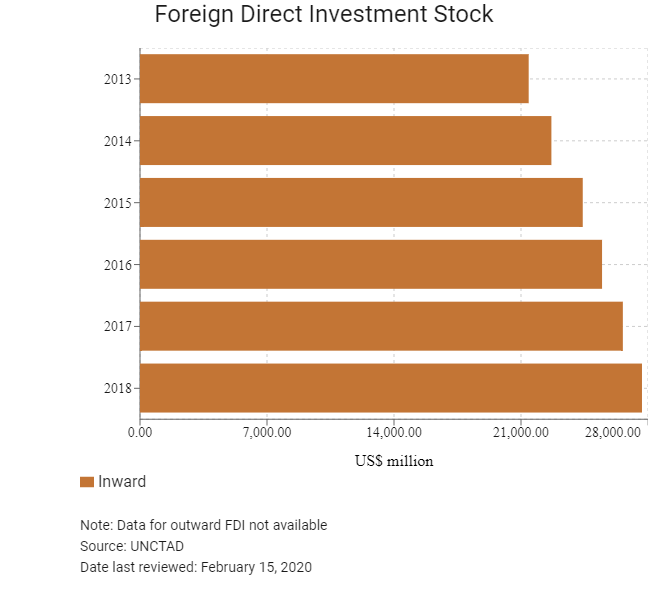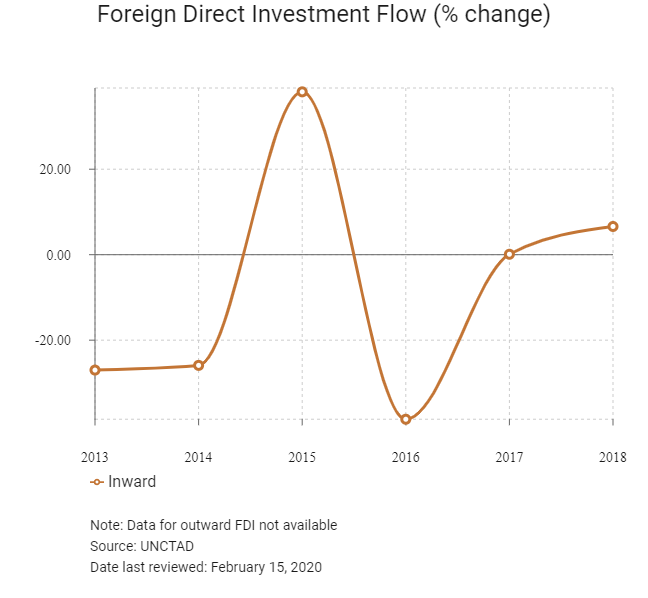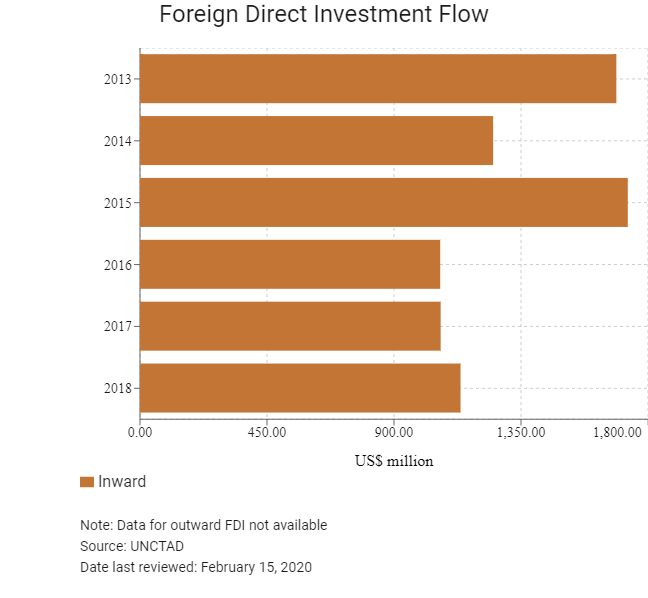 Foreign Direct Investment Policy
The Ministry of Investment is the authority on doing business in Sudan. There is also an umbrella federation of all Sudanese businesses. In January 2013, the Economic Development Sector of the Council of Ministers passed the National Investment Encouragement Act of 2013, later adopted by the National Assembly. This act ensures that foreign investors enjoy the same protections as Sudanese nationals.




Despite the legal protections guaranteed under the National Investment Encouragement Act of 2013, there are foreign investment restrictions in the transportation sector, specifically in railway, freight transportation, inland waterways barge service, and airport operations. Most telecommunications and media, including television broadcasting and newspaper publishing, are closed to foreign capital participation. Foreign ownership is also restricted in the electrical power generation and financial services sectors. In addition to those overt statutory ownership restrictions, a comparatively large number of sectors are dominated by large state-run entities, including, but not limited to, those mentioned above.

The number of state-owned enterprises is not known. While Sudan has a privatisation program, it is unclear how many entities are owned by the Government of Sudan. There are more than a reported 178 domestic and international companies operating in Sudan.




Sudan has a formal private sector, led by several business associations. These business groups are dominated by a number of large, often family-owned industrial, agricultural, and consumer products conglomerates.




In response to the loss of oil production and revenue following the secession of South Sudan in 2011, the Sudanese government is attempting to recover revenues by expanding existing oil and gas production, increasing mining operations (particularly gold mining), and expanding the agricultural and livestock sectors that had been the mainstay of the Sudanese economy prior to the advent of crude oil exports in 2000.




Following intense bilateral engagement, the United States lifted most economic sanctions on Sudan in October 2017 except for those on selected persons or entities. While Sudan has the potential to improve its investment environment in the long run and attract increased foreign direct investment, legal risks, gaps in infrastructure development – including air transportation – security challenges, and economic fragility continue to undermine commercial activity.




Sudan has been more vigorous in promoting foreign direct investment since the lifting of sanctions holding a number of well-attended conferences on banking, agriculture, and mining. Sudanese officials promised to make significant investment reforms, but its corporate tax rate is at an historical high of 35%. Other plans in the pipeline include: lowering the corporate tax rate and capital gains tax, and improving the timeliness of customs clearances, although challenges remain with associated costs.




In 2018, Sudan made starting a business easier by removing the requirement to have a site inspection to obtain the certificate of incorporation. Sudan also strengthened minority investor protections by easing access to evidence in shareholder litigation and increasing the rights and role of shareholders in private companies.




Trade missions, mainly from Saudi Arabia, Mainland China, Qatar, Kuwait, and the United Arab Emirates, visit Khartoum on a regular basis, often accompanied by public announcements of signed agreements and purported deals. Most foreign investment to date is related to natural resources, particularly in petroleum and gas exploration and extraction, and agriculture.




The Gulf nations are becoming more involved with infrastructure and real estate projects. Mainland China, Malaysia, Brazil, and India have made major investments in the oil sector, and Arab Gulf states, Brazil, and Egypt invested mainly in Sudan's agricultural sector primarily in animal fodder. Gulf States have reportedly acquired large areas of agricultural land to grow feed for livestock. Sudan gave Saudi Arabia permission to use one million acres to cultivate agriculture in North-eastern Sudan in July 2016. The government of Sudan has also signed agreements with Chinese companies in August 2016 that allowed the companies to grow cotton on one million feddan (420,000 acres) of agricultural land (1 feddan = 0.42 acres).




Due to its strategic position and natural resource endowments, Sudan has potential to emerge as an attractive market for industrial and agricultural machinery and inputs. Sudan's major dairies began purchasing thousands of dairy cattle in the past few years. Medicine and medical equipment as well as a variety of academic services remain in high demand; however, activities in these areas are minimal due to the difficulty in executing financial transactions with Sudan.




Sudanese investment law states that "just compensation" must be offered in the case of nationalisation or confiscation of all, or part of any investment, for "the public interest." No mechanism exists for determining compensation or defining specific public interests.




The state has control of most of the agricultural land in Sudan and has appropriated millions of acres to Saudi Arabia and other countries.




Since 2016, there have been announcements in the media of major deals, land leases, and initiatives that promised to improve exports and to grow the agro-industries as the ticket to overcoming the country's economic woes; but with few public details about the agreements.




Sudan is a member of the Convention on the Settlement of Investment Disputes between State and National of Other States (ICSID). It signed ICSID on March 15, 1967, ratified on April 9, 1973 and entered into force on May 9, 1973. Sudan is now the 159th contracting state to the New York Convention on the Recognition and Enforcement of Foreign Arbitral Awards.




Sudan has signed bilateral investment agreements with Germany, Netherlands, Switzerland, Egypt, France, Romania, Mainland China, Indonesia, Malaysia, Qatar, Morocco, Oman, Turkey, Yemen, Bahrain, Ethiopia, Jordan, Syrian Arab Republic, United Arab Emirates, Libya, Tunisia, Algeria, Kuwait, Lebanon, Chad, Republic of Djibouti, India, Vietnam, Bulgaria, and Italy.




Sudan has bilateral taxation treaties with Egypt, United Kingdom, Malaysia, South Africa, Turkey, and Syria. Sudan and the United States do not have a bilateral investment agreement or a bilateral taxation treaty.
Sources: WTO – Trade Policy Review, Fitch Solutions, US Department of Commerce, Fitch Solutions
Free Trade Zones and Investment Incentives
Free Trade Zone/Incentive Programme

Main Incentives Available

Two free trade zones: Suakin on the Red Sea near Port Sudan and Aljaily near Khartoum

- Exemptions of the projects from tax on profits for 15 years, renewable for an extra period dependent on the decision made by the concerned minister.

- Salaries of expatriates working in projects within the free trade zones are exempted from personal income tax.

- Products imported into the free trade zone or exported abroad are exempted from all customs fees and taxes except service fees and any other fees imposed by the board of the Sudan Free Zones Company.

- Real estate inside the free zones area is exempted from all taxes and fees.

- Invested capital and profits are transferable from Sudan to abroad through any bank licensed to operate in the free zone.

- Money invested in the free zones may not be confiscated or frozen.

General investment incentives

- Non-discriminatory treatment of the capital of investment, whether it be public, private, cooperative or multi-sector capital.

- Guarantees not to be nationalised, confiscated or ex-appropriated except through a law and against indemnity.

- The money of the project shall not be confiscated or frozen, except through a judicial order.

- The investor has the right to transfer his money, in case the project was not implemented, and is entitled to transfer the profits, financing cost to import raw materials and to export products.

- The project of investment is also exempted from tax of business profits for a term of not less than 10 years and will be given a free piece of land for the project or at an incentive price, beside custom privileges for cars.
Sources: US Department of Commerce, Fitch Solutions, national sources
Taxation – 2020
Value Added Tax: 17%

Corporate Income Tax: 15% (variable depending on sector)
Sources: national sources, World Bank
Business Taxes
Type of Tax

Tax Rate and Base

Corporate Tax

Resident companies:
Taxed on worldwide income; 10% for industrial companies; 15% for trading, service, insurance and fund management companies; 30% for banks; 35% for companies engaged in the exploration, extraction and distribution of oil and gas, and their subcontractors; and 5% minimum tax on annual turnover for telecommunication companies.

Non-resident companies:
10% for industrial companies; 15% for trading, service, insurance and fund management companies; 30% for banks; 35% for companies engaged in the exploration, extraction and distribution of oil and gas, and their sub-contractors; and 2.5% minimum tax on annual turnover for telecommunication companies.

Capital Gains Tax

Resident companies:
5%

Non-resident companies:
Capital gains on sale of shares in resident companies are 2%

Employer paid - Social security contributions

17% of gross salaries

VAT/GST (standard)

17%

Transfer Tax

None
Sources: National sources, World Bank
Date last reviewed: February 15, 2020
Foreign Worker Requirements
General Visa Requirements
Entering Sudan is usually straightforward for visitors carrying a passport with a validity of at least one year. Visas are available on arrival for most nationalities, provided visitors have an entry permit arranged via a local tour operator or a hotel. Travellers are obliged to register with the relevant authorities within three days of arrival in Khartoum, Port Sudan, Gallabat or Wadi Halfa.
Travellers must apply for a visa, which takes approximately up to six weeks to process and costs around USD100 to USD150. Approvals for tourist and business visas require a letter of invitation from a friend or business partner based in Sudan.
Visitors must register at the Ministry of Interior within three days after arriving in Sudan. All foreigners travelling more than 25km outside of Khartoum must obtain a travel permit from the Ministry of Humanitarian Affairs in Khartoum. Travellers without these permits may be detained by Sudanese authorities. This requirement applies to travel for any purpose, including private, commercial, and humanitarian activities. Travellers must register again with the police within 24 hours of arriving at a destination outside Khartoum. A separate travel permit is required for travel to Darfur. These regulations are strictly enforced, and even travellers with proper documentation may expect delays or temporary detention by security forces, especially outside the capital. Authorities expect travellers to strictly respect roadblocks and other checkpoints.
Foreign Worker Requirements
Work permits are available through local sponsors, or companies, while umbrella companies exist to give work permits to independent contractors. Foreign workers must have valid residency and work permits or face imprisonment and deportation.
Customs Regulations and Other Requirements
It's strictly forbidden to take alcohol into Sudan. Mandatory Police Registration for all nationalities is required within 24 hours of arrival. Note that if there is evidence of travel to Israel in the traveller's passport they will be denied a visa. Israeli nationals are not permitted.
If a traveller intends to bring electronic items they should inquire about entry requirements when they apply for a visa; restrictions apply to many devices including video cameras, satellite phones, facsimile machines, televisions, and telephones. These items may be held for inspection for periods of days and/or weeks following arrival. The traveller will not be allowed to depart Sudan with ivory, certain other animal products, or large quantities of gold.
Cultural Considerations
Sudan is a conservative society, particularly in the capital and other areas where the Muslim population is the majority. Modest dress and behaviour is expected for both men and women. Loose, long-sleeved shirts and full-length skirts or slacks are recommended attire for female visitors. Women who are not Muslim are not expected or required to cover their heads. Men may wear short-sleeved shirts, but short pants are not acceptable in public.
Sources: National sources, Fitch Solutions
Risks
Sovereign Credit Ratings
| | | |
| --- | --- | --- |
| | Rating (Outlook) | Rating Date |
| Moody's | Not Rated | N/A |
| Standard & Poor's | Not Rated | N/A |
| Fitch Ratings | Not Rated | N/A |
Sources: Moody's, Standard & Poor's, Fitch Ratings
Competitiveness and Efficiency Indicators
World Ranking

2018

2019

2020

Ease of Doing Business Index

170/190

162/190

171/190

Ease of Paying Taxes Index

163/190

163/190

164/190

Logistics Performance Index

121/160

N/A

N/A

Corruption Perception Index

172/180

173/180

N/A

IMD World Competitiveness

N/A

N/A

N/A
Sources: World Bank, IMD, Transparency International, Fitch Solutions
Fitch Solutions Risk Indices
World Ranking

2018

2019

2020

Economic Risk Index

181/202

186/201

193/201

Short-Term Economic Risk Score

22.3

24.6

19.0

Long-Term Economic Risk Score

35.3

35.8

31.3

Political Risk Index

193/202

192/202

192/201

Short-Term Political Risk Score

36.3

21.3

28.3

Long-Term Political Risk Score

30.4

30.4

30.4

Operational Risk Index

192/201

191/201

183/201

Operational Risk Score

25.7

25.7

28.1
Source: Fitch Solutions
Date last reviewed: February 15, 2020
Fitch Solutions Risk Summary
ECONOMIC RISK
A shifting political environment and disrupted policy implementation will act as a constraint on GDP growth over the coming quarters. Consumer spending will remain weak given high inflation and downbeat economic activity. Government consumption is likely to rise once a planned sovereign council is established, as the authorities will seek to minimise public discontent by increasing subsidies and social spending, but fixed investment will remain weak given significant market volatility in the near term. The country will continue to be heavily reliant on oil for the foreseeable future, exposing the country to fluctuations in global energy markets.
OPERATIONAL RISK
Sudan is home to one of the most difficult operating environments globally. Particular areas of weakness are its security and trade and investment environments. Privatisation efforts have been slow and the state is dominant in the economy. Overall economic conditions remain challenging, underpinned by foreign exchange shortages and high inflation. While there has been some traction in the transport infrastructure pipeline following the announcement of several rail, port and airport projects in recent years, these are only expected to improve the country's logistics profile over the long term, contingent on an improvement in the security environment in the near term. On the upside, the country's young and large population and regionally competitive educational attainment levels, particularly in Khartoum, bode well for the labour market profile in the long term. The opportunity for economic reforms including prospects of renewed ability to use the services of international banks could also bolster exports and enable foreign investment more freely in the long run.
Source: Fitch Solutions
Date last reviewed: February 19, 2020
Fitch Solutions Political and Economic Risk Indices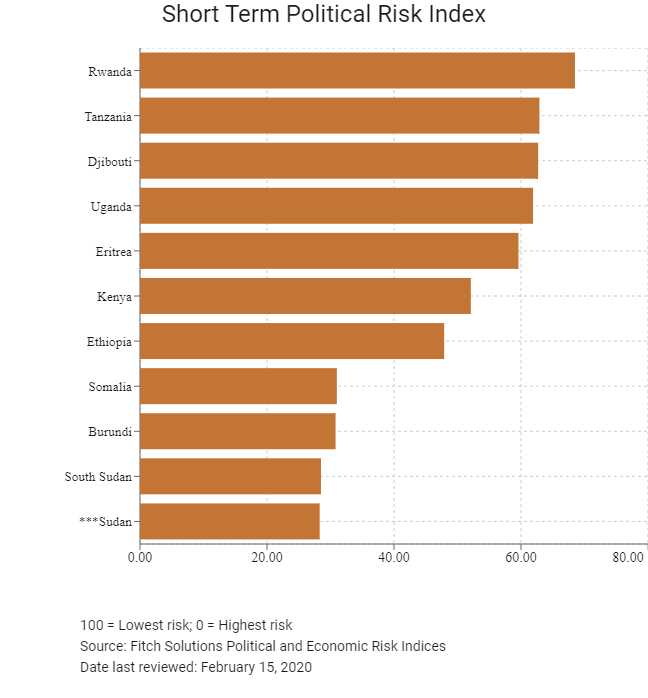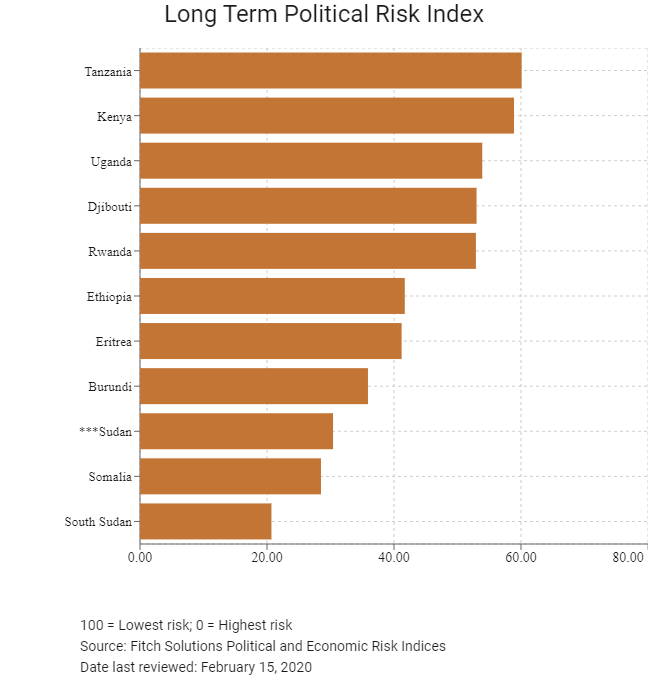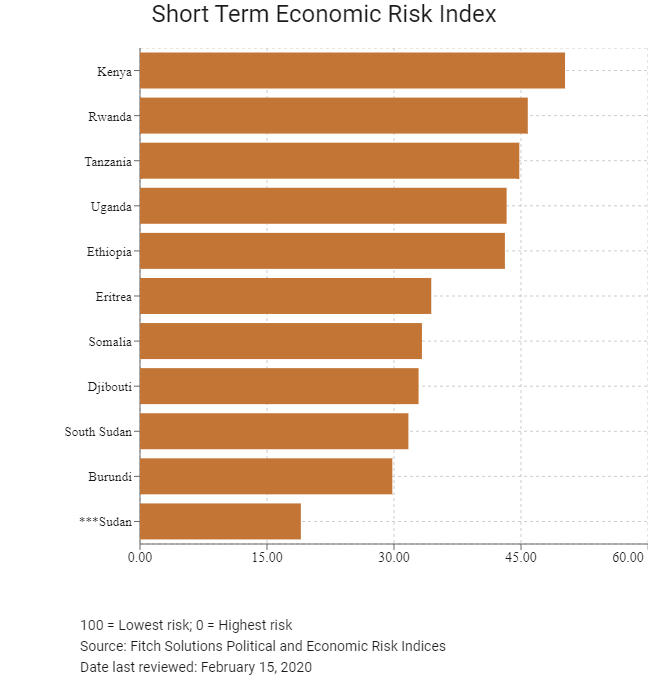 Fitch Solutions Operational Risk Index
| | | | | | |
| --- | --- | --- | --- | --- | --- |
| | Operational Risk | Labour Market Risk | Trade and Investment Risk | Logistics Risk | Crime and Security Risk |
| Sudan Score | 28.1 | 44.3 | 26.7 | 28.7 | 12.8 |
| East Africa Average | 32.0 | 40.4 | 33.0 | 31.1 | 23.5 |
| East Africa Position (out of 11) | 7 | 4 | 8 | 7 | 9 |
| SSA Average | 34.6 | 38.7 | 34.5 | 32.7 | 32.3 |
| SSA Position (out of 48) | 36 | 11 | 36 | 29 | 44 |
| Global Average | 49.7 | 50.2 | 49.8 | 49.3 | 49.2 |
| Global Position (out of 201) | 183 | 139 | 181 | 168 | 195 |
100 = Lowest risk, 0 = Highest risk
Source: Fitch Solutions Operational Risk Index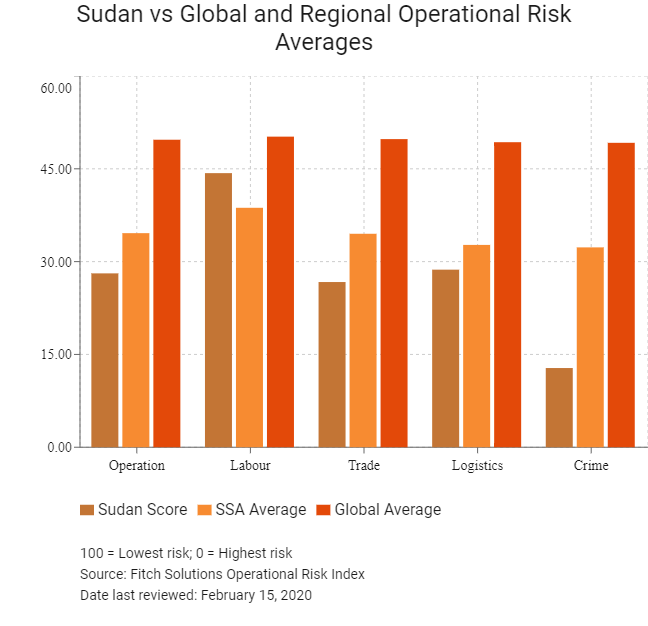 | | | | | | |
| --- | --- | --- | --- | --- | --- |
| Country/Region | Operational Risk Index | Labour Market Risk Index | Trade and Investment Risk Index | Logistics Risk Index | Crime and Security Risk Index |
| Rwanda | 49.1 | 49.5 | 52.7 | 44.3 | 50.1 |
| Kenya | 43.4 | 45.5 | 45.1 | 49.5 | 33.8 |
| Uganda | 36.7 | 46.9 | 39.2 | 31.1 | 29.7 |
| Tanzania | 35.5 | 42.3 | 37 | 30.2 | 32.4 |
| Ethiopia | 33.9 | 41.5 | 30.5 | 39.1 | 24.7 |
| Djibouti | 33.6 | 32.1 | 42.8 | 32.1 | 27.4 |
| Sudan | 28.1 | 44.3 | 26.7 | 28.7 | 12.8 |
| Burundi | 26.8 | 39.3 | 25.6 | 24.1 | 18 |
| Eritrea | 23.7 | 36.5 | 15.5 | 24 | 18.9 |
| Somalia | 22.9 | 33.8 | 28.7 | 22.6 | 6.4 |
| South Sudan | 18.5 | 33 | 19.3 | 16.9 | 4.8 |
| Regional Averages | 32 | 40.4 | 33 | 31.1 | 23.5 |
| Emerging Markets Averages | 46.2 | 48.2 | 46.5 | 45 | 44.9 |
| Global Markets Averages | 49.7 | 50.2 | 49.8 | 49.3 | 49.2 |
100 = Lowest risk, 0 = Highest risk
Source: Fitch Solutions Operational Risk Index
Date last reviewed: February 15, 2020
Hong Kong Connection
Hong Kong's Trade with Sudan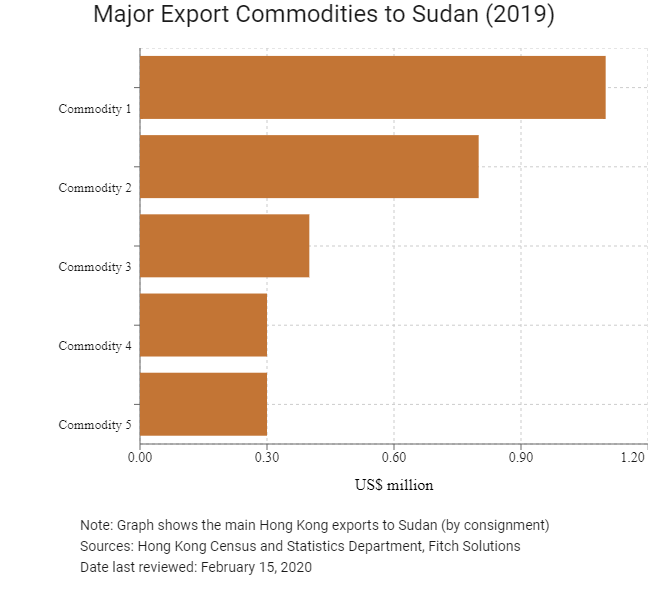 | | | |
| --- | --- | --- |
| Export Commodity | Commodity Detail | Value (US$ million) |
| Commodity 1 | Telecommunications and sound recording and reproducing apparatus and equipment | 1.1 |
| Commodity 2 | Professional, scientific and controlling instruments and apparatus | 0.8 |
| Commodity 3 | Electrical machinery, apparatus and appliances, and electrical parts thereof | 0.4 |
| Commodity 4 | General industrial machinery and equipment, and machine parts | 0.3 |
| Commodity 5 | Office machines and automatic data processing machines | 0.3 |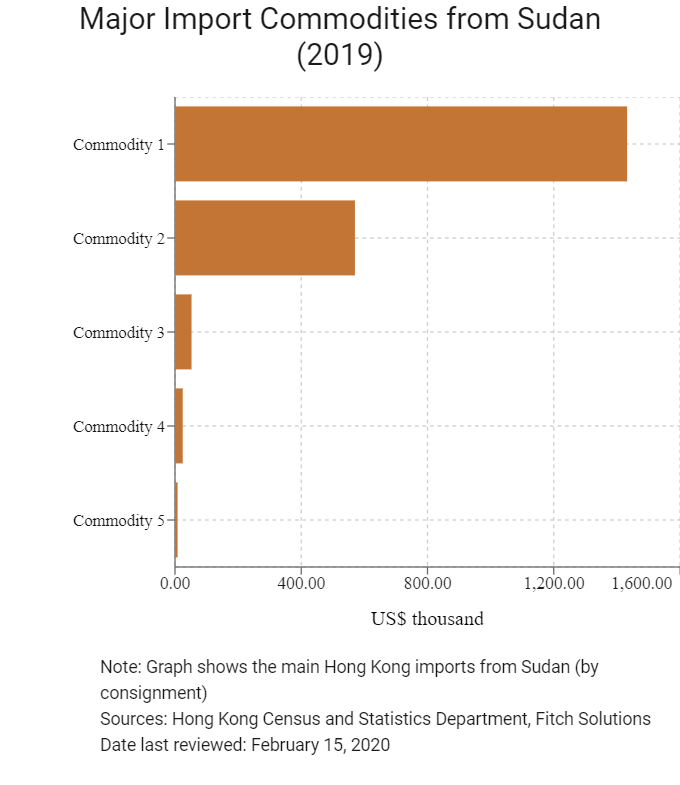 | | | |
| --- | --- | --- |
| Import Commodity | Commodity Detail | Value (US$ thousand) |
| Commodity 1 | Metalliferous ores and metal scrap | 1432.3 |
| Commodity 2 | Fish, crustaceans, molluscs and aquatic invertebrates, and preparations thereof | 570.1 |
| Commodity 3 | Professional, scientific and controlling instruments and apparatus, n.e.s. | 52.4 |
| Commodity 4 | General industrial machinery and equipment, n.e.s., and machine parts, n.e.s. | 24.5 |
| Commodity 5 | Telecommunications and sound recording and reproducing apparatus and equipment | 8.2 |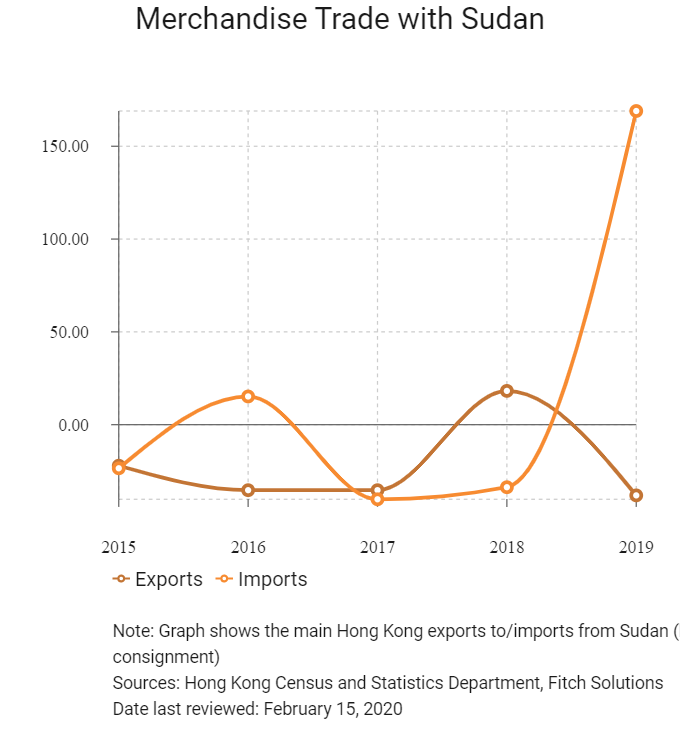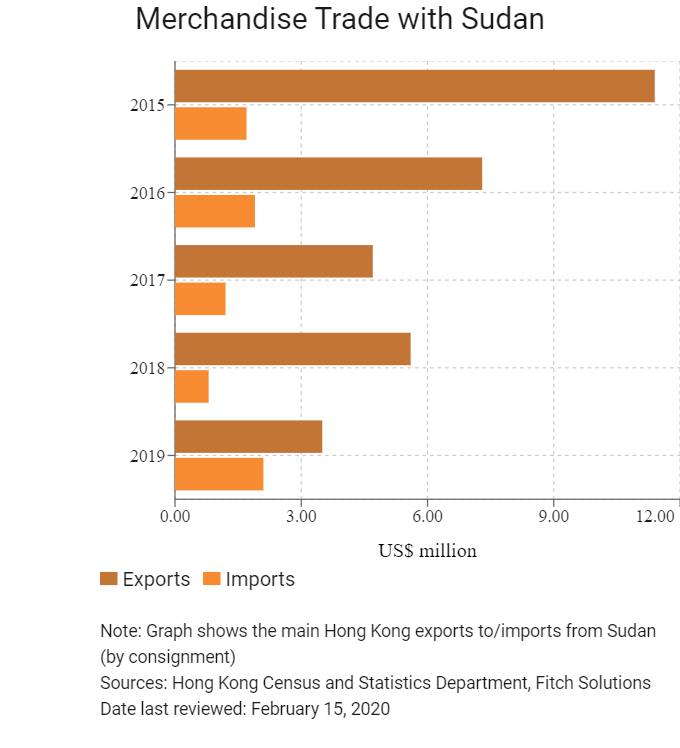 Exchange Rate HK$/US$, average
7.75 (2015)
7.76 (2016)
7.79 (2017)
7.83 (2018)
7.77 (2019)
| | | |
| --- | --- | --- |
| | 2019 | Growth rate (%) |
| Number of Sudanese residents visiting Hong Kong | 60 | 1.0 |
| Number of African residents visiting Hong Kong | 123,660 | -10.9 |
Note: Growth rate for resident data is from 2015 to 2019, no UN data available for intermediate years.
Sources: Hong Kong Tourism Board, United Nations Department of Economic and Social Affairs – Population Division, Fitch Solutions
Date last reviewed: February 15, 2020
Commercial Presence in Hong Kong
2020

Growth rate (%)

Number of Sudanese companies in Hong Kong

N/A


N/A

- Regional headquarters

- Regional offices

- Local offices

Treaties and Agreements between Hong Kong and Sudan
Mainland China and Sudan have a double taxation treaty that entered into force in May 1997.
Source: UNCTAD
Chamber of Commerce (or Related Organisations) in Hong Kong
Honorary Consulate of Sudan in Hong Kong
Address: 11/F, The Leader Commercial Building, 54-56 Hillwood Road, Tsim Sha Tsui, Kowloon, Hong Kong
Email: leepeter@eurosia.com
Tel: (852) 2366 9309
Fax: (852) 2721 5021
Source: Protocol Division Government Secretariat
Visa Requirements for Hong Kong Residents
A visa is required for Hong Kong residents.
Source: national sources
Date last reviewed: February 15, 2020