GDP (US$ Billion)
54.50 (2017)
World Ranking 79/192
GDP Per Capita (US$)
13,138 (2017)
World Ranking 60/192
Economic Structure
(in terms of GDP composition, 2017)
Services
(57.81%)
Industry
(21.65%)
Agriculture
(3.01%)
External Trade (% of GDP)
96.3 (2016)
Currency (Period Average)
Croatian Kuna
6.62 per US$ (2017)
Political System
Multiparty republic
Overview
After a six-year recession Croatia returned to growth in 2015 and is now entering its fifth year of recovery. Private consumption was the main driver of growth in Croatia in 2017 and 2018 and will continue in 2019, supporting demand for imports and ensuring they remain ahead of exports in annual growth terms over the coming years. Long-term growth projections suggest that improvements in Croatia's economy will be gradual rather than spectacular over the next decade. Access to the European Union (EU) internal market helped connect the economy to global value chains, and tourism is experiencing historic highs. However, the uptick in outward migration, the country's ageing population, the slow pace of structural reform implementation and the high level of public debt risk undermining Croatia's growth opportunities.
Sources: World Bank, Fitch Solutions
Major Economic/Political Events and Upcoming Elections
July 2013
Croatia joined the EU as its 28th member.

January 2015
Kolinda Grabar-Kiratovic was elected as Croatia's first female president.

November 2015
The general election failed to produce an outright winner. Following protracted talks, Tihomir Oreskovic became the Prime Minister in January 2016.

July 2016
Parliament was dissolved and fresh elections were called for in September.

September 2016
Elections were held and the Hrvatska Demokratska Zajednica (HDZ) party won the largest number of seats.

October 2016
A coalition government headed by HDZ leader Andrej Plenkovic, took office.

February 2019
Seven islands of the Cres-Losinj archipelago (Cres, Losinj, Unije, Ilovik, Susak, Vele Srakane and Male Srakane) plus the islands of Brac, Hvar and Korcula launched their clean energy transition programme as part of the European Commission (EC)'s Clean Energy for EU Islands Secretariat.

April 2019
Dubrovnik hosted the 8th Summit of Central and Eastern European Countries and Mainland China.

August 2019
The Croatian government announced that it had awarded licenses for gas and oil exploration on six blocks in its flat north-east region to two local and two foreign companies.

October 2019
Croatia backed down on changes to its pension system as parliament reinstated a retirement age of 65 after leading trade unions staged protests against increasing it to 67.

November 2019
The EC has approved EUR156.6 million financing from the EU Cohesion Fund to support two schemes relating to the modernisation of water and wastewater infrastructure in Croatia. About EUR105.6 million will be directed towards rehabilitating 350km of water supply and wastewater network in Kaštela-Trogir area in the Split-Dalmatia County. The financing will also cover extension of the Divulje wastewater treatment plant and construction of a similar plant on the island of Ciovo. The other scheme in Zapresic area, near Zagreb will receive the remainder of the allocation to improve access to better drinking water in the area. Under the initiative, more than 19,000 people in Zapresic will be connected to the wastewater network via 135km of new pipeline. Both the projects are expected to be completed in 2023.

November 2019
Croatia's Prime Minister announced that the country plans to join the Exchange Rate Mechanism (ERM II) in the second half of 2020 where they expect to spend two and a half to three years. Euro adoption could follow at the beginning of 2023 at the earliest or at the beginning of 2024.

November 2019
Design works were under way on the 160km gas pipeline connecting Zagvozd in Croatia with Posusje and Travnik in Bosnia and Herzegovina, with a branch to Mostar. The drafting of the project documentation, which is funded by a grant from the EC, is expected to be completed in Q320. The pipeline is likely to be completed by 2023/2024.

December 2019
Valamar Riviera's board approved an investment programme for 2020 with around EUR111 million to be spent on repositioning and upscaling company's portfolio, mainly in Croatia. Under a three-year project, the firm will complete repositioning of Istra Premium Camping Resort in Funtana into a five-star camping resort in 2020. The tourism company also will continue investing in its other Croatian properties including Padova Premium Camping Resort on Rab Island, Valamar Meteor Hotel in Makarska and Valamar staff residence in Dubrovnik.

Sources: BBC Country Profile – Timeline, Fitch Solutions, Croatia Week, European Commission, The Dubrovnik Times
Major Economic Indicators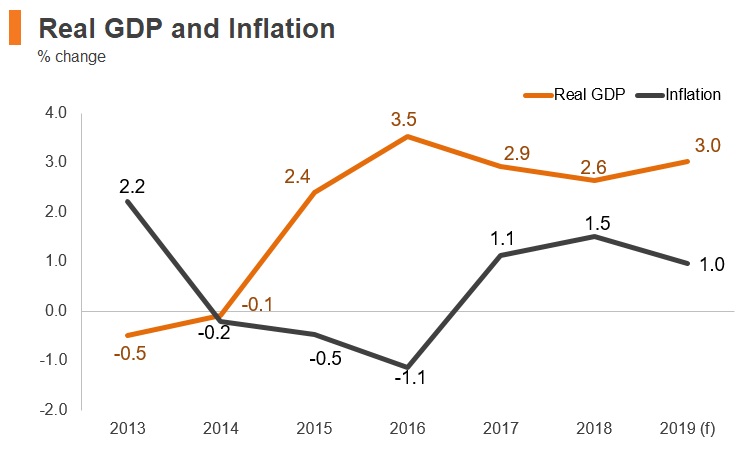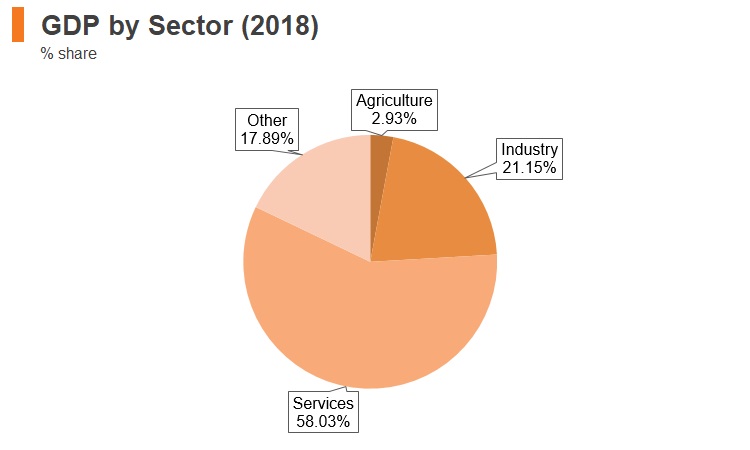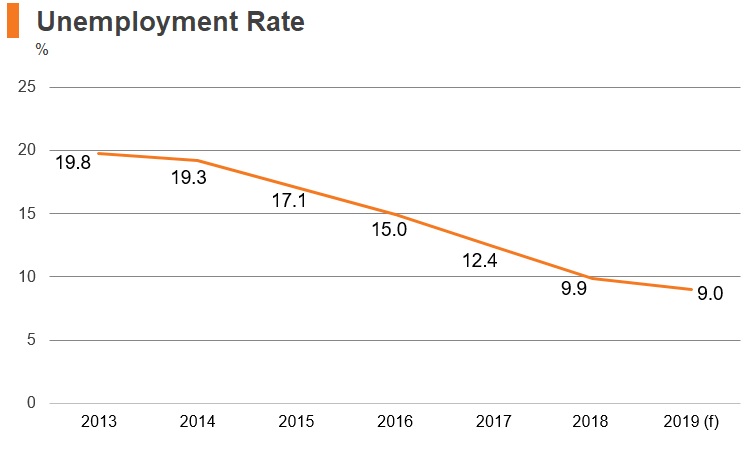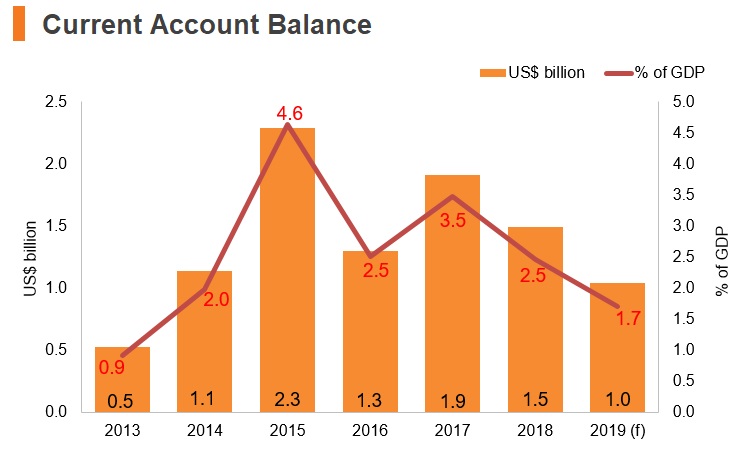 f = forecast
Sources: IMF, World Bank
Date last reviewed: November 19, 2019
External Trade
Merchandise Trade
Source: WTO
Date last reviewed: November 19, 2019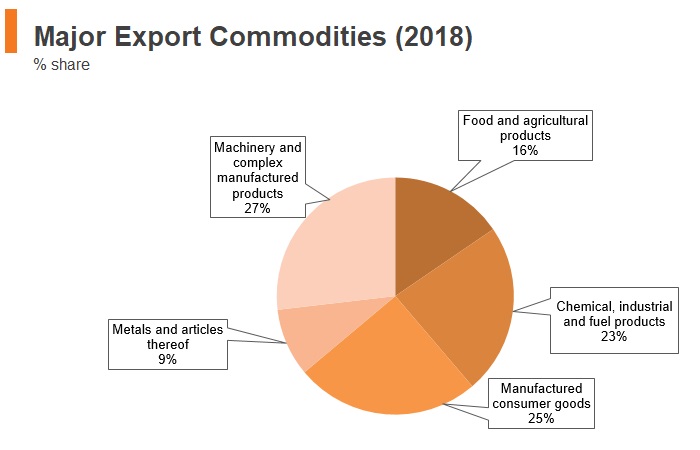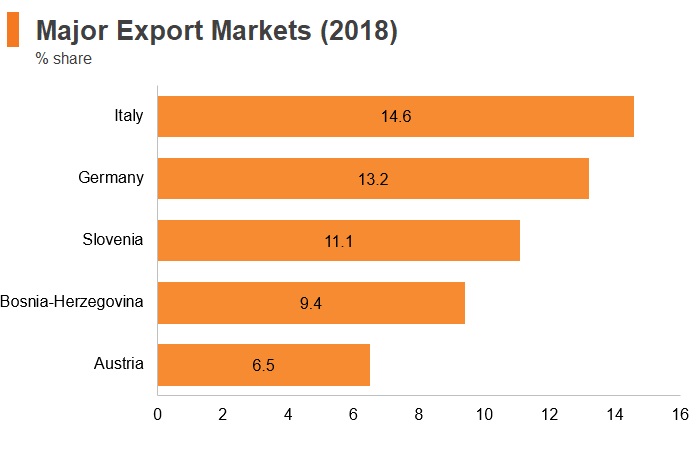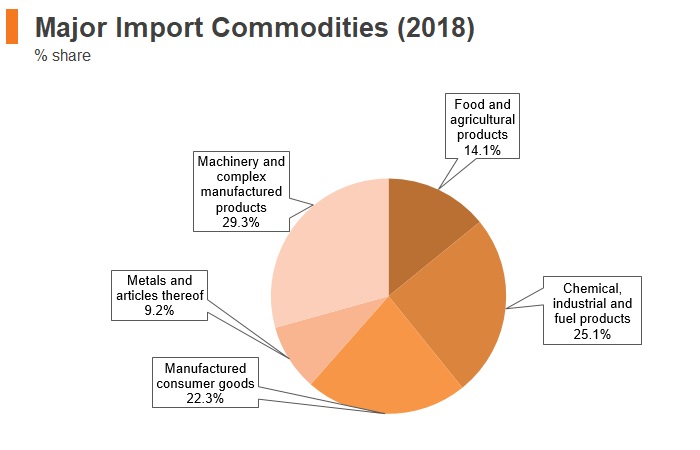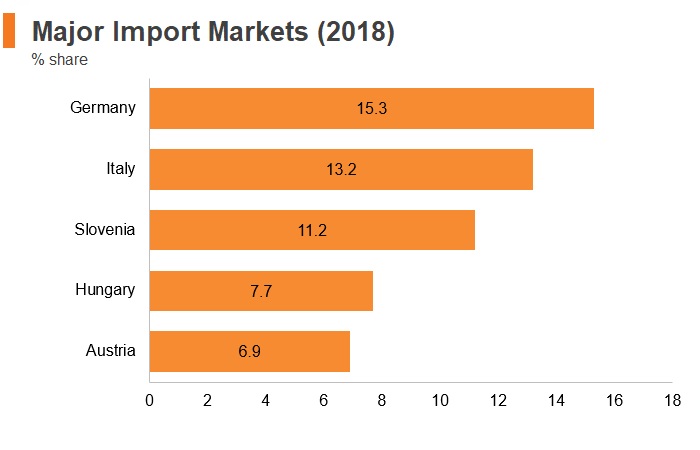 Sources: Trade Map, Fitch Solutions
Date last reviewed: November 19, 2019
Trade in Services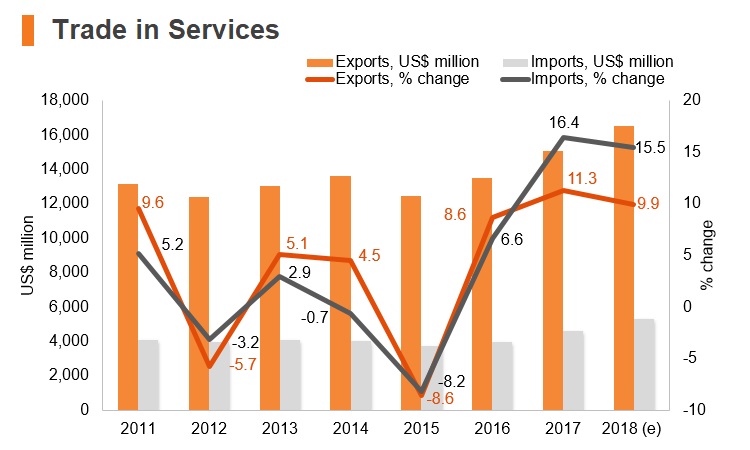 e = estimate
Source: WTO
Date last reviewed: November 19, 2019
Trade Policies
Croatia has been a member of the World Trade Organization (WTO) since November 30, 2000. As of July 1, 2013, Croatia became a member state of the EU.


The EU is party to some 50 free trade agreements (FTAs), and to other markets of the countries concerned is currently mediated through those agreements. The EU's Generalised Scheme of Preferences (GSP) entered into effect on January 1, 2014. Under the scheme, tariff preferences have been removed for imports into the EU from countries where per capita income has exceeded USD4,000 for four years in a row. Regarding Hong Kong, the territory has been fully excluded from the EU's GSP scheme since May 1, 1998.


Prior to Croatia's accession to the EU, the country had signed over 40 international trade or economic cooperation treaties, with further agreements in place regarding investment promotion and protection. As part of EU membership negotiations, these agreements were adjusted to ensure their validity continued once Croatia joined the EU or were voided as the EU agreement took precedence. Once goods are cleared by customs authorities upon entry into any EU member state, they can move freely among EU member states without any additional customs procedures.


Croatia applies the EU's Common External Tariff (CET), which means goods manufactured and imported from within the EU are not subject to customs charges. The average tariff rate for Croatia is just 1.3%, which is among the lowest globally, although goods imported from outside the EU incur duties of between 0%-48.5%.


Trade bureaucracy and customs delays are a significant hindrance to foreign investors, particularly those outside the EU. Although there are increasing efforts to reduce trade bureaucracy, paper-based procedures remain cumbersome, and cost and connectivity issues add to market barriers.


The EU has imposed various anti-dumping measures on a wide range of products - predominantly textiles, parts, steel, iron and machinery - on goods coming from Mainland China and a few other Asian nations to protect domestic industries. On November 13, 2016, the EC imposed a provisional antidumping duty on imports of some primary and semi-processed metals from Mainland China. The rate of duty is between 43.5%-81.1% of the net free-at-union-frontier price before duty, depending on the company. The rate of duty for similar goods from Belarus is 12.5% of the net free-at-union-frontier price before duty. In March 2016, EC imposed a definitive countervailing duty (8.7% or 9%) on imports consisting largely of textiles products originating in India.


In 2016, the EC introduced an import licensing regime for steel products exceeding 2.5 tonnes. The regulation will be active until May 15, 2020.


In Q215, the EC issued regulations on trade restrictions with Turkey, regarding cattle, beef, watermelons and prepared tomatoes. This will help to protect domestic agriculture and regional farming businesses.


In March 2016, the EC announced a new support package for European farmers, which involves mobilising an estimated EUR500 million within the next two years. The intervention ceilings for dairy and other farm products have been nearly doubled. This will limit the ability of foreign businesses to export products, such as milk, fruits and vegetables to Croatia.


Nine types of goods imported into the EU are subject to licensing. These goods are broadly:


Textiles
Various agricultural products
Iron and steel products
Ozone-depleting substances
Rough diamonds
Waste shipment
Harvested timber
Endangered species
Drug precursors



At present, no quotas are imposed on textiles and clothing exports or on non-textile product exports from Hong Kong and Mainland China.


The Croatian economy is dominated by the services industry (which accounts for almost 70% of GDP), of which tourism is an important element. Tourism accounted for 71% of services exports in 2016. Croatia's most valuable traded products are machines, technical equipment, medicine, and crude and refined petroleum. The country is a major manufacturer of passenger and cargo ships and is developing its automobile manufacturing capacity. It is also a textile manufacturing hub. Croatian product exports stood at USD11.6 billion in 2016, up from USD11.1 billion in 2012. Much of the import sector is dedicated to Croatia's manufacturing sector (for export products), with machinery, chemical products and base metals making up three of the top five imported products.
Sources: WTO – Trade Policy Review, Fitch Solutions
Trade Agreements
Trade Updates
On September 21, 2017, the Comprehensive Economic and Trade Agreement (CETA) between the EU and Canada provisionally entered into force. It will enter into force fully and definitively when all EU member states' parliaments have ratified the agreement.
Major Multinational Trade Agreements
Active
EU Common Market: The transfer of capital, goods, services and labour between member nations enjoy free movement. The common market extends to the 28 member nations of the EU, namely Austria, Belgium, Bulgaria, Croatia, Cyprus, the Czech Republic, Denmark, Estonia, Finland, France, Germany, Greece, Hungary, Ireland, Italy, Latvia, Lithuania, Luxembourg, Malta, the Netherlands, Poland, Portugal, Romania, Slovakia, Slovenia, Spain, Sweden and the United Kingdom.


European Economic Area (EEA)-European Free Trade Association (EFTA) (Iceland, Liechtenstein, Norway and Switzerland): While it enhances trade flows between these countries and the EU, only Switzerland is a fairly major trading partner.


EU-Turkey: The customs union within the EU provides tariff-free access to the European market for Turkey, benefitting both exporters and importers.


EU- CETA: CETA is expected to strengthen trade ties between the two regions, having come into effect in October 2016. Some 98% of trade between Canada and the EU is duty free under CETA. The agreement is expected to boost trade between partners by more than 20%. CETA also opens up government procurement. Canadian companies will be able to bid on opportunities at all levels of the EU government procurement market and vice versa. CETA means that Canadian provinces, territories and municipalities are opening their procurement to foreign entities for the first time, albeit with some limitations regarding energy utilities and public transport.


EU-Japan Economic Partnership Agreement (EPA): In July 2018, the EU and Japan signed a trade deal that promises to eliminate 99% of tariffs that cost businesses in the EU and Japan nearly EUR1 billion annually. According to the EC, the EU-Japan EPA will create a trade zone covering 600 million people and nearly a third of global GDP. The result of four years of negotiation, the EPA was finalised in late 2017 and came into force on February 1, 2019, after the European Parliament ratified the agreement in December 2018. The total trade volume of goods and services between the EU and Japan is an estimated EUR86 billion. The key parts of the agreement will cut duties on a wide range of agricultural products and it seeks to open up services markets, particularly financial services, e-commerce, telecommunications and transport. Japan is the EU's second biggest trading partner in Asia after Mainland China. EU exports to Japan are dominated by motor vehicles, machinery, pharmaceuticals, optical and medical instruments, and electrical machinery.


EU-Southern African Development Community (SADC) EPA (Botswana, Lesotho, Mozambique, Namibia, South Africa and Swaziland): An agreement between EU and SADC delegations was reached in 2016 and is fully operational for SADC members following the ratification of the agreement by Mozambique. The remaining six member of SADC not included in the deal (the Democratic Republic of the Congo, Madagascar, Malawi, Mauritius, Zambia and Zimbabwe) are seeking economic partnership agreements with the EU as part of other trading blocs, such as the East African Community and the Economic Community of Central African States.
Provisionally Active
CETA: CETA is an agreement between the EU and Canada. CETA was signed in October 2016 and ratified by the Canadian House of Commons and EU Parliament in February 2017. However, the agreement has not been ratified by every European state and has only provisionally entered into force. CETA is expected to strengthen trade ties between the two regions, having come into effect in 2016. Some 98% of trade between Canada and the EU will be duty free under CETA. The agreement is expected to boost trade between partners by more than 20%. CETA also opens up government procurement. Canadian companies will be able to bid on opportunities at all levels of the EU government procurement market and vice versa. CETA means that Canadian provinces, territories and municipalities are opening their procurement to foreign entities for the first time, albeit with some limitations regarding energy utilities and public transport.
Ratification Pending
EU-Central America Association Agreement (Guatemala, El Salvador, Honduras, Nicaragua, Costa Rica, Panama, Belize and the Dominican Republic): An agreement between the parties was reached in 2012 and is awaiting ratification (29 of the 34 parties have ratified the agreement as of October 2018). The agreement has been provisionally applied since 2013.


EU-Singapore FTA (EUSFTA): On February 13, 2019, the European Parliament passed the agreement which would see the creation of the EUSFTA. However, before the agreement is implemented, all the states involved will need to ratify the agreement through their individual legislatures. In this case, the FTA may become provisionally active along the lines of states which have already ratified the agreement.
Under Negotiation
EU-Australia: The EU, Australia's second largest trade partner, has launched negotiations for a comprehensive trade agreement with Australia. Bilateral trade in goods between the two partners has risen steadily in recent years, reaching almost EUR48 billion in 2017 and bilateral trade in services added an additional EUR27 billion. The negotiations aim to remove trade barriers, streamline standards and put European companies exporting to or doing business in Australia on equal footing with those from countries that have signed up to the Trans-Pacific Partnership or other trade agreements with Australia. The Council of the EU authorised opening negotiations for a trade agreement between the EU and Australia on May 22, 2018.


EU-United States Transatlantic Trade and Investment Partnership: This agreement was expected to increase trade and services, but it is unlikely to pass under the administration under United States President Donald Trump in the Untied States against a backdrop of rising global trade tensions.


EU-Vietnam FTA: In July 2018, the EU and Vietnam agreed on final texts for the EU-Vietnam FTA and the EU-Vietnam Investment Protection Agreement. As of March 2019, the final text of the agreement has been finalised and is awaiting signature and conclusion.
Sources: WTO Regional Trade Agreements database, Fitch Solutions
Investment Policy
Foreign Direct Investment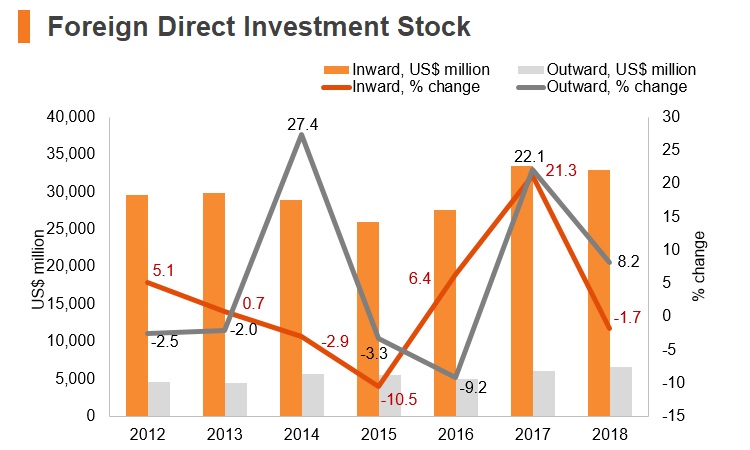 Source: UNCTAD
Date last reviewed: November 19, 2019
Foreign Direct Investment Policy
The government is supportive of foreign investment and, as well as undertaking regulatory reform, it has established the Investment Promotion and Competition Directorate, based in the Ministry of Economy, which is tasked with providing advice and strategies for investment promotion and the removal of investment barriers. There are no performance requirements for foreign companies, and few restrictions on foreign exchange.


With a highly supportive government and lack of restrictions on foreign investment, Croatia scores highly in terms of investment freedom. There have been no instances of government appropriation of foreign investment in recent years, and it is highly unlikely Croatia would do anything to jeopardise the flow of foreign direct investment (FDI). The government is working with the European Development Bank to attract further FDI flows.


Investment opportunities in Croatia were the focus of a United Nations (UN) Organization for Industrial Development International Solar Energy Center for Technology Promotion and Transfer (UNIDI-ISEC) investment forum (which took place on November 3, 2018, in Beijing. During the event, UNIDO-ISEC leaders pledged USD1.2 billion towards the reconstruction of war-torn areas.


Substantial tax incentives are provided, including up to 100% reduction in corporate profit tax for foreign investors, with the government having introduced real estate incentives to encourage investment in more rural areas of the country.


Foreign property ownership is restricted. Although EU member states can purchase property on the same basis as Croatian citizens, for those outside of the EU, property rights are based on reciprocity (dependent upon whether Croatian citizens can purchase property in the corresponding country). These restrictions do not apply for foreign investors incorporated as a Croatian legal entity. The Ministry of Economy, Entrepreneurship and Crafts has presented a programme of regional support for capital investment aimed at maintaining or increasing employment figures, valued at HRK90 million. He also pointed to a further HRK250 million which has been earmarked for projects designed to increase value and export shares.


Croatia is keen to establish itself as a centre for automotive manufacturing and, as such, has been developing the Croatian Automotive Cluster since 2007. The cluster has 50 members and is active in research and development as well as automotive parts production and assembly. Another four clusters have been established in shipbuilding, textile manufacturing, agricultural equipment and interiors, with around 140 member companies in total.


As of 2015 the Croatian Bank for Reconstruction and Development supports local manufacturers in the construction of ferries and tankers for the Turkmenistan and Norwegian governments. In 2014 the bank also signed a credit agreement worth USD84 million with Russian developers for the construction of a holiday resort in Russia on the condition that construction materials and services are sourced from Croatia, which would benefit more than 50 Croatian companies. This demonstrates that local manufacturers will receive funding priority, which may make it more challenging for foreign companies to receive financial support in certain heavy manufacturing industries.


There are currently 831 companies in full state ownership, and legislation provides that private entities can compete with state-owned enterprises (SOEs) under the same regarding access to markets, credit and other business operations. In practice, however, there have been instances where political influence in the SOEs had a negative effect on competition, as the supervisory boards of SOEs include political figures that report directly to the government.
Sources: WTO – Trade Policy Review, ITA, US Department of Commerce, Dubrovnik Times, Fitch Solutions
Free Trade Zones and Investment Incentives
Free Trade Zone/Incentive Programme
Main Incentives Available
There are 13 free trade zones located at the sea ports of Pula, Rijeka, Split and Ploče as well as other strategically located zones in Krapina-Zagorje, Kukuljanovo, Osijek, Ribnik, Slavonski Brod, Split-Dalmacija, Varaždin, Vukovar and Zagreb.
- Exemption from custom duties and VAT

- Expedited customs procedures

- Local logistics hubs

- For investment in development and innovation activities a non-refundable grant shall be approved for the purchase of plant/machinery amounting to 20% of the actual eligible costs for purchasing plant/machinery in the maximum amount of EUR500,000, provided that the purchased plant/machinery represents high-tech equipment.
General incentives
- An incentive can be granted for the investment project if the minimum investment in fixed assets is EUR5 million and 50 new jobs are created within a three-year period from the start of the project. The percentage of non-refundable subsidies depend on the unemployment rate of the county where investment is located. Those projects can benefit from additional non-refundable subsidies between 10% and 20% of the eligible costs of investments for:


Construction of a new factory, production facility, or tourist facility
Buying of new machines (i.e., production equipment)


- The non-refundable subsidies could be up to EUR1 million, depending on the applied percentage of the eligible costs, with the condition that the part of investment in the machines/equipment equals at least 40% of the investment and that at least 50% of those machines/equipment are high-tech.

- Labour-intensive investment projects in fixed assets are those with at least 100 new jobs created within a three-year period from the start of the project. Initial employment incentives can be increased by an additional 25% for up to 300 new jobs, 50% for a minimum of 300 new jobs and up to 100% for a minimum of 500 new jobs.
Sources: US Department of Commerce, Fitch Solutions
Taxation – 2019
Value Added Tax: 5%, 13%, 25% on sale of goods, services and imports
Corporate Income Tax: 18%
Source: Tax Administration, Republic of Croatia
Important Updates to Taxation Information
The headline corporate tax rate in Croatia is 18%. However, Croatia has so many corporate tax exemption schemes that the majority of businesses do not need to pay any corporate profit tax. Social Democratic Party leader Davor Bernardić has called for VAT rates in the hospitality and hotels sectors to be reduced to 13% and 10% respectively.
Source: Total Croatia News
Business Taxes
Type of Tax
Tax Rate and Base
Resident company: Corporate Tax

- Standard rate: 18%
- The corporate tax level is reduced to 7% for the first 10 years, if a company invests EUR1.5-4 million and employs at least 30 people. The corporate tax rate is reduced to only 3% if a business invests EUR4-8 million and the company employs at least 50 people. Full corporate tax exemption is granted, if the company invests more than EUR8 million and employs more than 75 people. Furthermore, companies gain tax holidays when they base themselves in certain areas, such as hill and mountain areas and free trade zones.
Resident company: Capital Gains Tax
Capital gains tax is due on interest from the disposal of property and intangible assets. The tax is withheld at source and the individual cannot claim expenses or personal allowances. A non-taxable threshold for dividends and profit shares of HKR12,000 per annum can be claimed.
Dividends (Withholding Tax)
12%
Interest, Royalties (Withholding Tax)
15%
Branch Tax Rate
20% on profits
Social Security Contributions (all employers)
17.2% on gross salaries paid by employer; 20% on gross salaries paid by employee
VAT/GST (standard)
- 25%
- Certain lower rates apply: 5%, 13% to select goods, services and imports
Real Estate Transfer Tax; levied on the acquisition of real estate
The real estate transfer tax shall be paid at a rate of 3%
Sources: Tax Administration, Republic of Croatia, Fitch Solutions
Date last reviewed: November 19, 2019
Foreign Worker Requirements
The Ministry of Labour announced in June 2018 that the country required 35,500 foreign workers, up from the 31,000 it had initially anticipated requiring. The workers are necessary to support Croatia's booming tourism industry. In November 2019, the Croatian government laid out a draft of its law on foreigners, which states that an employer from Croatia seeking to hire a foreign – (non-EU – worker will have to contact the Croatian Employment Services' regional office to verify whether or not there are any unemployed persons in their records who meet the employer's requirements.
Localisation Requirements
Owing to the high emigration levels of highly qualified individuals from Croatia, the country is flexible when it comes to importing labour to meet its market needs. Although the country is a part of the EU and is open to international migrants, the majority of migrants are unskilled workers from neighbouring countries. This is a cause of domestic tension, considering Croatia's high unemployment rates.
Foreign Worker Permits
In recent years, owing to EU membership, the Croatian government has been under pressure to increase annual work permit quotas by 40% for foreign workers. As an EU member Croatia can easily recruit for its skills shortages from within the union as citizens have freedom of mobility. Work permits for non-EU nationals are issued for a period of up to two years (EU Blue Card) and require the applicant to go through more bureaucratic procedures than citizens of the EU.
Visa/Travel Restrictions
As a member of the EU Croatia does not impose any travel restrictions upon any other European state. Countries such as the United States, Canada, Australia, Japan and South Korea, along with a number of Latin American states do not face any travel restrictions. However, African citizens, along with most Asian and Middle Eastern citizens, may not travel to Croatia without obtaining a visa in advance.
Sources: Government websites, Total Croatia News, Fitch Solutions
Risks
Sovereign Credit Ratings
| | | |
| --- | --- | --- |
| | Rating (Outlook) | Rating Date |
| Moody's | Ba2 (Positive) | 26/04/2019 |
| Standard & Poor's | BBB- (Stable) | 22/03/2019 |
| Fitch Ratings | BBB- (Positive) | 06/12/2019 |
Sources: Moody's, Standard & Poor's, Fitch Ratings
Competitiveness and Efficiency Indicators
World Ranking
2018
2019
2020
Ease of Doing Business Index
51/190
58/190
51/190
Ease of Paying Taxes Index
95/190
89/190
49/190
Logistics Performance Index
49/160
N/A
N/A
Corruption Perception Index
60/180
N/A
N/A
IMD World Competitiveness
61/63
60/63
N/A
Sources: World Bank, IMD, Transparency International
Fitch Solutions Risk Indices
World Ranking
2017
2018
2019
Economic Risk Index Rank
N/A
65/202
68/201
Short-Term Economic Risk Score
64.4
63.3
59.0
Long-Term Economic Risk Score
57.8
59.2
59.8
Political Risk Index Rank
N/A
60/202
60/201
Short-Term Political Risk Score
65.0
66.3
66.3
Long-Term Political Risk Score
71.4
71.4
71.4
Operational Risk Index Rank
N/A
43/201
50/201
Operational Risk Score
63.8
63.8
62.4
Source: Fitch Solutions
Date last reviewed: December 12, 2019
Fitch Solutions Risk Summary
ECONOMIC RISK

The economy is likely to slow in 2020; however, overall economic growth should remain healthy on the back of solid private consumption amid rising incomes supported by tax cuts and public-sector wage hikes. The tourism industry, which faces increased competition from other destinations in the Mediterranean, and subdued Eurozone demand could stifle exports. Croatia is not expected to adopt the euro in the next seven-to-eight years, as planned by the government. The country currently falls short of European Central Bank targets for government debt and completing two years in the European Exchange Rate Mechanism.

OPERATIONAL RISK

Croatia offers a relatively safe operating environment and is one of the most appealing destinations for investment in the South East Europe region. Foreign and local businesses alike face limited crime and security risks, and the country benefits from having a strong police force and from membership of various regional security initiatives. Key risks over the coming decade include the weakening demographic profile which is putting increasing pressure on overall labour market productivity and slowing regional growth.
Source: Fitch Solutions
Date last reviewed: November 19, 2019
Fitch Solutions Political and Economic Risk Indices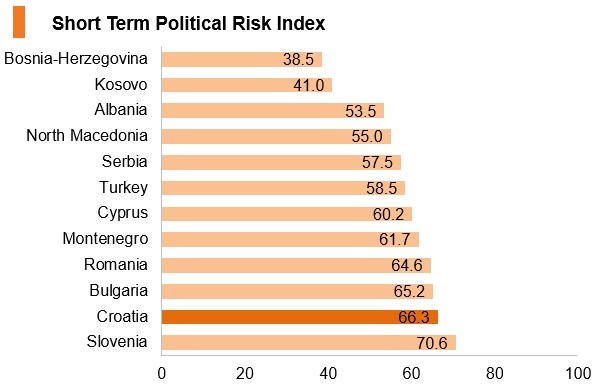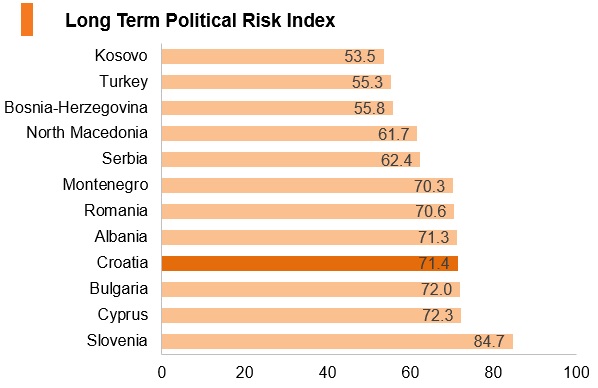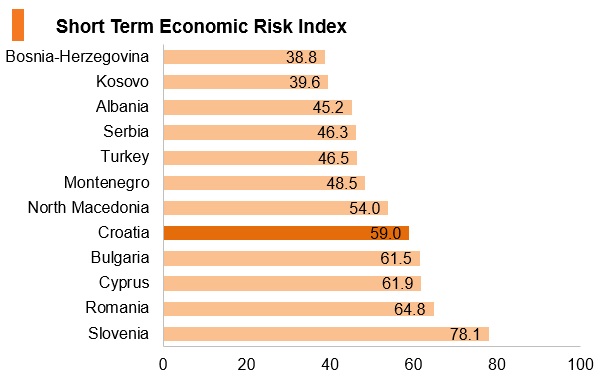 100 = Lowest risk; 0 = Highest risk
Source: Fitch Solutions Political and Economic Risk Indices
Date last reviewed: November 19, 2019
Fitch Solutions Operational Risk Index
| | | | | | |
| --- | --- | --- | --- | --- | --- |
| | Operational Risk | Labour Market Risk | Trade and Investment Risk | Logistics Risk | Crime and Security Risk |
| Croatia Score | 62.4 | 53.3 | 56.7 | 70.2 | 69.5 |
| Southeast Europe Average | 58.1 | 54.0 | 58.8 | 61.1 | 58.5 |
| Southeast Europe Position (out of 12) | 3 | 8 | 10 | 2 | 2 |
| Emerging Europe Average | 57.9 | 55.9 | 59.1 | 60.6 | 55.9 |
| Emerging Europe Position (out of 31) | 11 | 24 | 23 | 6 | 7 |
| Global Average | 49.7 | 50.3 | 49.8 | 49.3 | 49.2 |
| Global Position (out of 201) | 50 | 86 | 77 | 34 | 36 |
100 = Lowest risk; 0 = Highest risk
Source: Fitch Solutions Operational Risk Index
| | | | | | |
| --- | --- | --- | --- | --- | --- |
| Country/Region | Operational Risk Index | Labour Market Risk Index | Trade and Investment Risk Index | Logistics Risk Index | Crime and Security Risk Index |
| Slovenia | 68.9 | 56.8 | 63.3 | 74.0 | 81.4 |
| Romania | 63.5 | 59.1 | 61.2 | 65.9 | 67.8 |
| Croatia | 62.4 | 53.3 | 56.7 | 70.2 | 69.5 |
| Cyprus | 62.3 | 56.7 | 64.1 | 62.8 | 65.8 |
| Bulgaria | 61.8 | 58.7 | 63.9 | 60.7 | 64.1 |
| Serbia | 58.5 | 60.1 | 60.9 | 60.6 | 52.4 |
| Montenegro | 57.4 | 55.9 | 58.4 | 57.5 | 58.0 |
| North Macedonia | 56.7 | 45.3 | 64.2 | 59.7 | 57.8 |
| Turkey | 55.8 | 52.3 | 59.8 | 65.1 | 46.1 |
| Kosovo | 51.2 | 54.9 | 58.6 | 58.1 | 33.2 |
| Albania | 50.6 | 48.4 | 48.3 | 48.3 | 57.4 |
| Bosnia-Herzegovina | 48.1 | 46.3 | 46.4 | 50.5 | 49.0 |
| Regional Averages | 58.1 | 54.0 | 58.8 | 61.1 | 58.5 |
| Emerging Markets Averages | 46.9 | 48.5 | 47.4 | 45.8 | 45.9 |
| Global Markets Averages | 49.7 | 50.3 | 49.8 | 49.3 | 49.2 |
100 = Lowest risk; 0 = Highest risk
Source: Fitch Solutions Operational Risk Index
Date last reviewed: November 19, 2019
Hong Kong Connection
Hong Kong's Trade with Croatia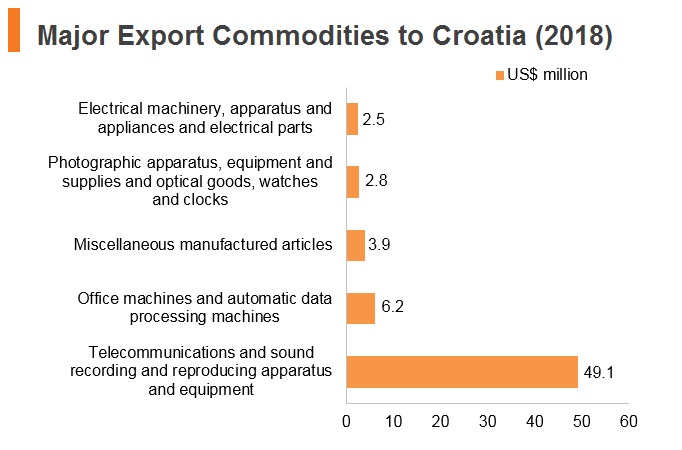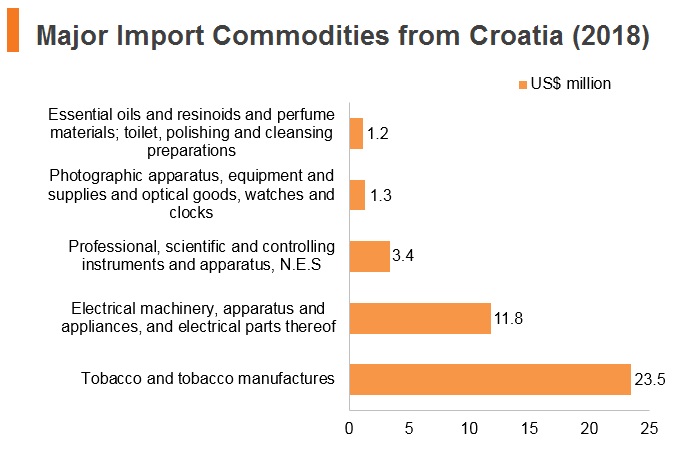 Note: Graph shows the main Hong Kong exports to/imports from Croatia (by consignment)
Date last reviewed: November 19, 2019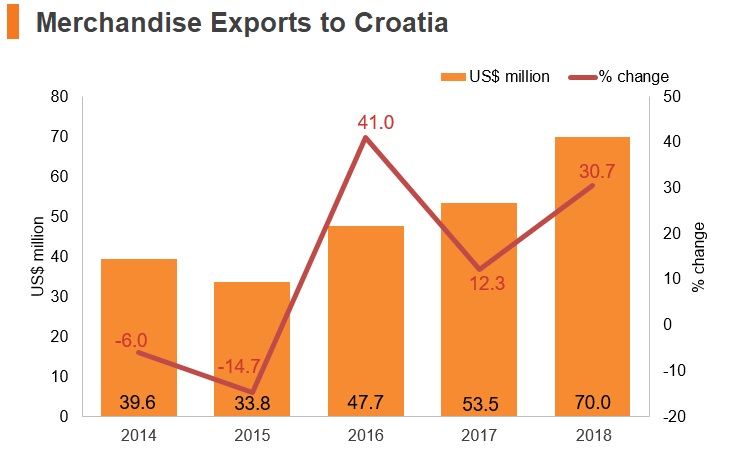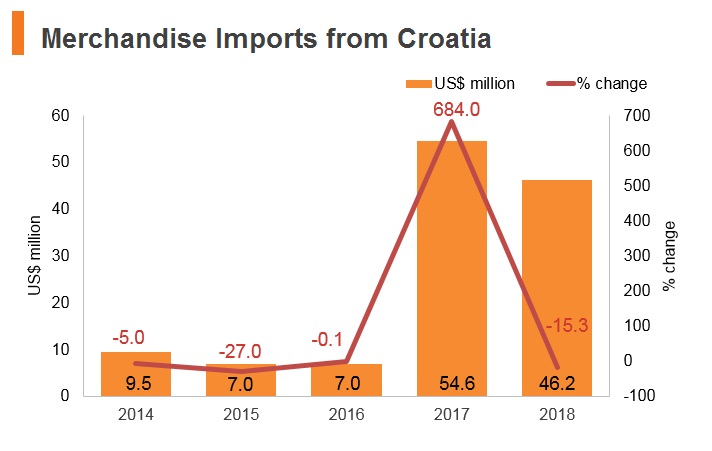 Note: Graph shows Hong Kong exports to/imports from Croatia (by consignment)
Exchange Rate HK$/US$, average
7.75 (2014)
7.75 (2015)
7.76 (2016)
7.79 (2017)
7.83 (2018)
Source: Hong Kong Census and Statistics Department
Date last reviewed: November 19, 2019
| | | |
| --- | --- | --- |
| | 2018 | Growth rate (%) |
| Number of Croatian residents visiting Hong Kong | 4,419 | 6.0 |
| Number of European residents visiting Hong Kong | 1,961,448 | 1.7 |
Sources: Hong Kong Tourism Board, Fitch Solutions
Date last reviewed: November 19, 2019
Commercial Presence in Hong Kong
2017
Growth rate (%)
Number of Croatian companies in Hong Kong
N/A

N/A
- Regional headquarters
- Regional offices
- Local offices
Treaties and Agreements between Hong Kong and Croatia
Mainland China-Croatia Bilateral Investment Treaty; the treaty has been in force since July 1, 1994.
Mainland China-EC Trade and Cooperation Agreement.
Mainland China-Croatia Taxation Treaty, signed on September 1, 1995, effective from January 1, 2002.
Sources: UNCTAD, ChinaTax.gov
Chamber of Commerce (or Related Organisations) in Hong Kong
Croatian Consulate in Hong kong
Address: 64/F, Hopewell Centre, 183 Queen's Road East, Wan Chai, Hong Kong
Email: croatia@hhlmail.com, heidiyeung@hhlmail.com
Tel: (852) 2528 4975
Fax: (852) 2865 6276
Source: Protocol Division Government Secretariat – Government of Hong Kong
Visa Requirements for Hong Kong Residents
HKSAR passport holders are entitled to a visa-free entry to Schengen countries lasting no more than 90 days in any six-month period from the date of first entry in the territory of the member states.


The Hong Kong Document of Identity is recognised by all Schengen countries. The holders of such documents, however, need to apply for a Schengen visa.


The Consulate General of Croatia accepts visa applications only if Croatia is the country of your main destination (if you are going for tourism, the main country of your destination is the one where you spend the longest time, not necessarily the country of your first entry).
Source: Hong Kong Immigration Department - Government of Hong Kong
Date last reviewed: November 19, 2019