GDP (US$ Billion)
12.43 (2018)
World Ranking 135/193
GDP Per Capita (US$)
4,188 (2018)
World Ranking 114/192
Economic Structure
(in terms of GDP composition, 2018)
Services
(52.62%)
Industry
(24.98%)
Agriculture
(13.7%)
External Trade (% of GDP)
91.3 (2018)
Currency (Period Average)
Armenian Dram
480.45per US$ (2019)
Political System
Unitary multiparty republic
Sources: CIA World Factbook, Encyclopædia Britannica, IMF, Pew Research Center, United Nations, World Bank
Overview
Armenia's economy has experienced a profound transformation since independence. Continued growth, ambitious reforms, as well as inflows of capital and remittances have created a market-oriented environment. However, the global financial crisis of 2007-2008 has had a considerable impact on its economy. Armenia's future economic development is promising; the Armenia-European Union (EU) Comprehensive and Enhanced Partnership Agreement has created a significant increase in trade flows, having opened the door to trade with EU member states. The successful December-2018 transition of government is likely to result in several political and economic reforms, boosting investment and consumption.
Sources: World Bank, Fitch Solutions
Major Economic/Political Events and Upcoming Elections
May 2018
Nikol Pashinyan, founder and member of the Civil Contract Party and leader of the Way Out alliance, was elected prime minister by a vote in parliament.
October 2018
The Armenian Cabinet approved ratification of an agreement between Armenia and Japan on liberalising, encouraging and protecting investments. Minister of Economic Development and Investments Tigran Khachatryan said that the agreement would boost the development of bilateral economic relations.
November 2018
Ural Airlines announced that it is restoring direct flights between Volgograd and Yerevan after an absence of three years.
In a meeting between Mainland China's ambassador to Armenia and Armenia's Minister of Transportation, Communication and Information, the possibility of direct air transportation between the two countries was discussed, as well as the creation of a business arena.
December 2018
After Prime Minister Pashinyan dissolved parliament, snap elections took place on December 9, 2018. Pashinyan won a convincing victory.
The Armenian Tourism Federation announced that the number of tourists who visited Armenia in the first nine months of 2018 had increased by nearly 9% compared with 2017.
December 2019
A United Arab Emirates energy firm, Masdar, signed a joint development agreement with the Armenian National Interests Fund (ANIF) to develop 400MW of solar power projects in Armenia. The projects will require an investment between USD300 million and USD320 million. Under the deal, a 200MW solar photovoltaic plant will initially be installed in western Armenia. The government of Armenia aims to have a 30% renewable share in its energy mix by 2025.
May 2020
As of May 21, the government released support measures in response to the Covid-19 outbreak in the country. The measures fall into three broad categories: to subsidized 2-3 year loans to provide short-term support to affected businesses and SMEs; direct subsidies to SMEs and businesses to help maintain their employees and lump-sum transfers to individuals who were unemployed after the Covid-19 outbreak including families with or expecting children, micro-businesses, general population who needed help with utility bills, and temporary part-time employment. Thus far, the authorities adopted 18 support packages and allocated over AMD73 billion (USD137.9 million) to support affected individuals and businesses.
Sources: BBC Country Profile – Timeline, Fitch Solutions, Al Jazeera, Select Armenia, ARKA News Agency, Reuters, ANIF, ArmenPress
Major Economic Indicators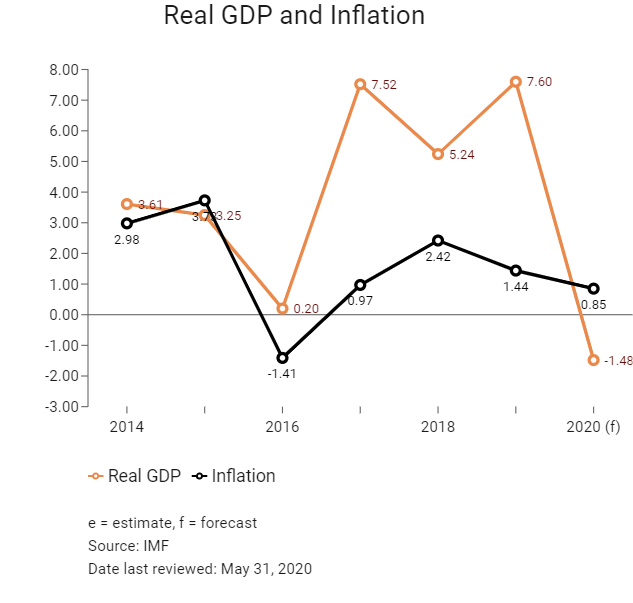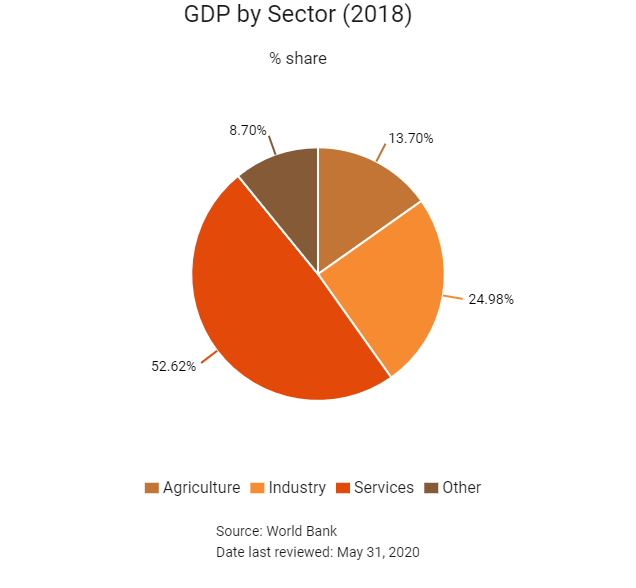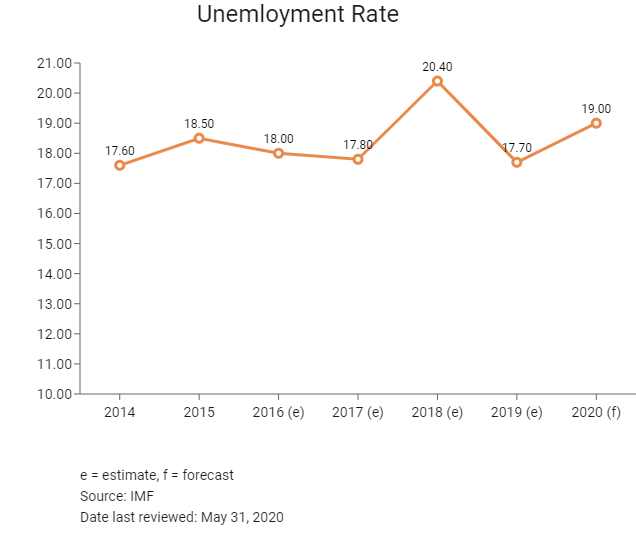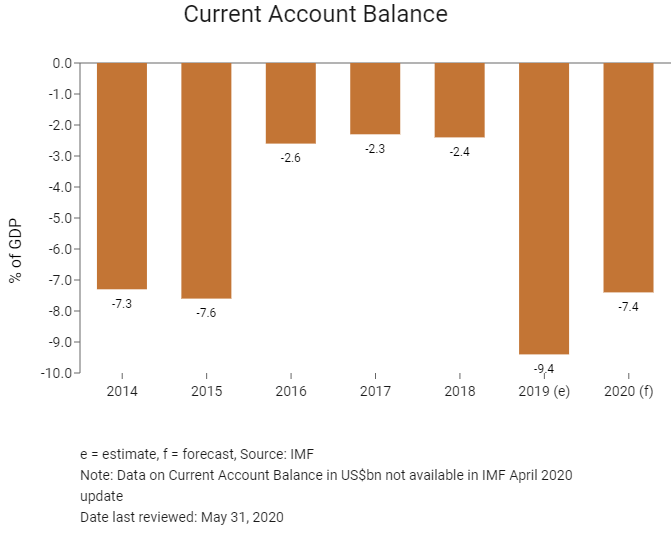 External Trade
Merchandise Trade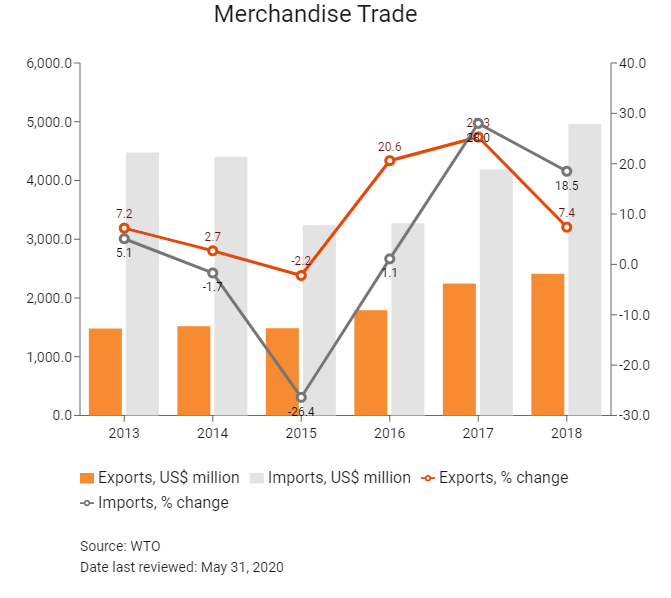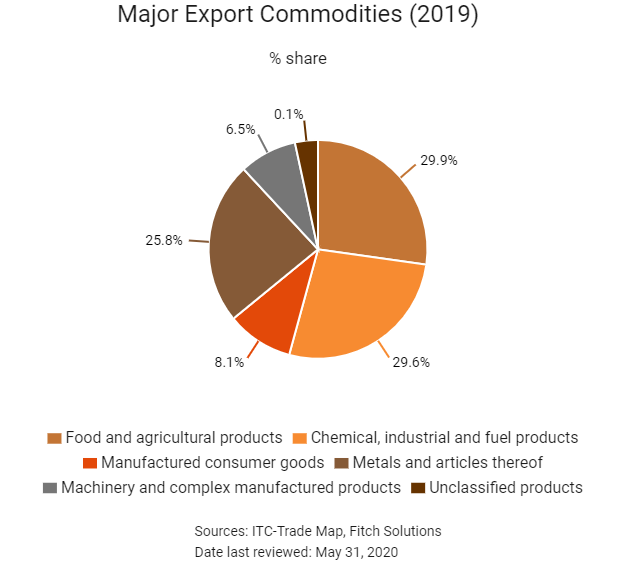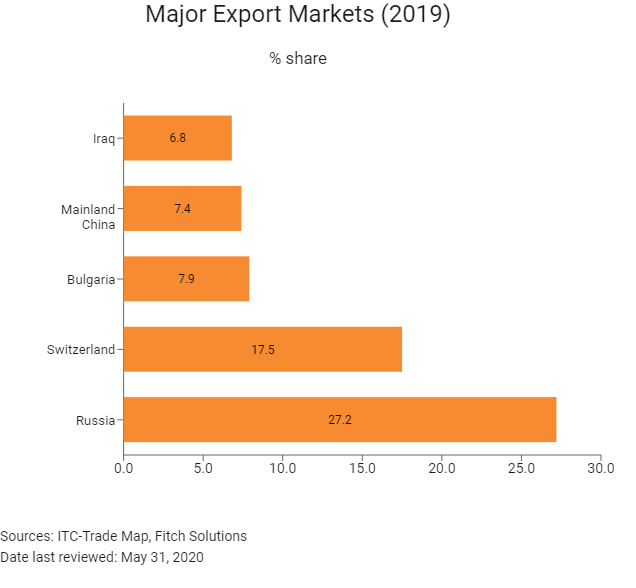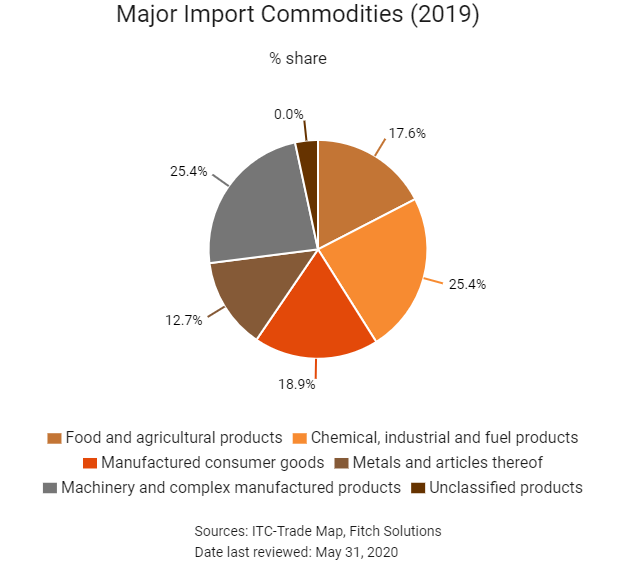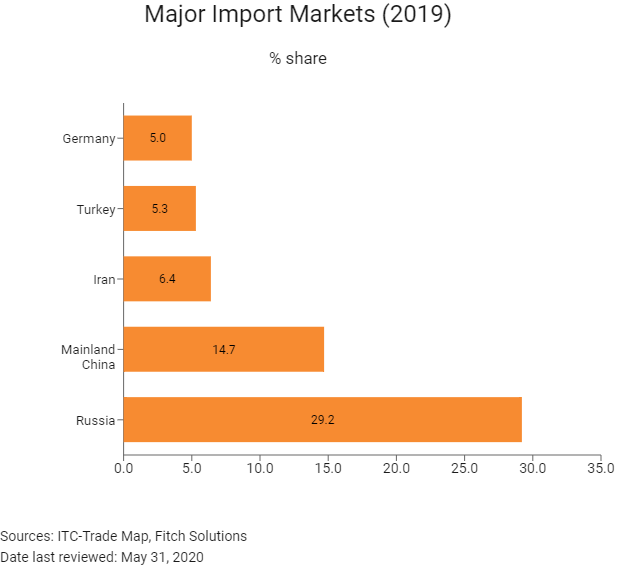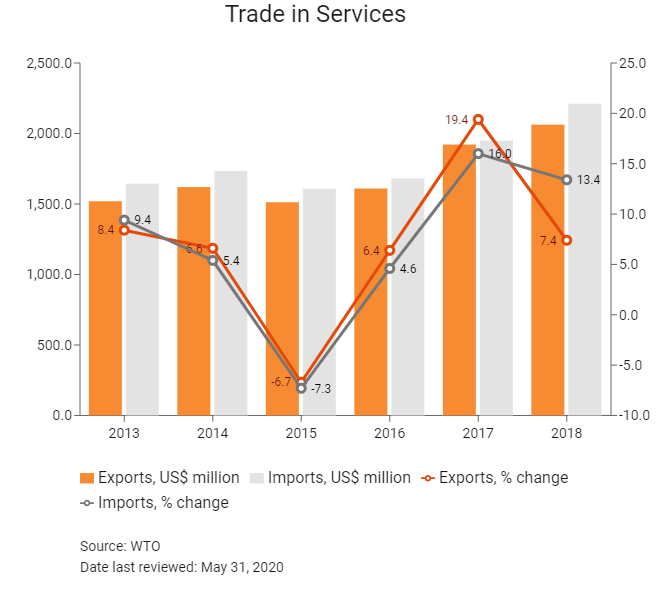 Trade Policies
Armenia joined the World Trade Organization (WTO) in February 2003. It has also been a member of the Eurasian Economic Union (EAEU) since January 2, 2015, which requires the Armenian Customs Code to be in line with WTO requirements.

As a member of the EAEU, Armenia is forced to apply stricter standardisation, sanitary, and phyto-sanitary requirements in line with Russia's requirements. As of January 2018, companies have to comply with EAEU technical regulations. For some products, such as wheeled vehicles, the new requirements will go into effect in 2022.

Improper implementation of the Customs Code remains a barrier to trade. There is still a lack of clarity in Armenia in many areas, such as import licensing, customs procedures and intellectual property rights enforcement, which now fall under the jurisdiction of the EAEU. Due to this, international firms may face several tariff and non-tariff trade barriers, including reference pricing on customs duties when exporting to Armenia. Another potential problem is the EAEU's complex system of standardisation. International businesses are encouraged to obtain appropriate legal advice or assistance from experienced distributors or consultants on all aspects of EAEU requirements.

Armenia has made trading easier by introducing self-declaration desks at customs houses and warehouses, investing in new equipment to improve border operations and introducing a risk-management system. The country has also reduced the time and cost for documentary and border compliance for trade with Russia by joining the EAEU. More recently, the country has also made exporting faster by allowing online submission of customs declarations. Almost all imports are subject to 20% value-added tax (VAT), while tobacco products, fuels and alcoholic beverages are also subject to excise duties. Exported goods are zero-rated for VAT purposes and are exempt from excise tax.

Some import restrictions exist for health, security and environmental reasons. Authorisation is required for pharmaceutical products and medicines, phyto-protection chemicals, weapons, components used in the production of weapons, explosives, nuclear materials, poison, drugs, strong psychotropic substances, devices for use in opium smoking, and pornographic materials.

In June 2017, the members of the EAEU suspended import tariffs on lead ores from September 2017 until May 2019.

The EAEU reduced import duties on certain types of paper and paperboard from March 2017.

Armenia's average tariff rate is 2.4%, the fourth lowest in the Caucasus and Central Asia region (out of eight countries). The common external tariff for the EAEU largely corresponds with Russian tariff rates.

The Customs Code facilitates export transactions with much less documentation than for customs clearance of imports, and most exporters report minor issues in the customs houses.
Sources: WTO – Trade Policy Review, Fitch Solutions, Ministry of Economy and Investments of the Republic of Armenia
Trade Agreements
Multinational Trade Agreements
Active
The EAEU: The EAEU is a Plurilateral Customs Union and Economic Integration Agreement for trade in goods and services, which entered into force in January 2015. Its member states are Armenia (which joined on January 2, 2015), Belarus, Kazakhstan, Kyrgyzstan and Russia. The Agreement covers over 180 million people and a combined GDP of about USD4 trillion. Between 2016 and 2017, intra-EAEU trade grew by over 30%. The implementation period ends in 2025. Russia is Armenia's largest single trade partner, purchasing 26.9% of exports and supplying 26.2% of imports in 2018.

Armenia-Kazakhstan FTA: The FTA entered into force on December 25, 2001 and covers trade in goods. As of 2018, Kazakhstan was Armenia's 20th-largest export partner, where Armenia exported 0.4% of its total exports to Kazakhstan, with the majority of products being beverages, spirits and vinegar.

Armenia-Turkmenistan FTA: The FTA entered into force on July 7, 1996 and covers trade in goods. As of 2018, Turkmenistan was Armenia's 29th-largest export partner, where Armenia exported 0.1% of its total exports to Turkmenistan, with the majority of products being natural or cultured pearls, precious or semi-precious stones and precious metals.

Armenia-Moldova FTA: The FTA entered into force on December 21, 1995 and covers trade in goods. As of 2018, Moldova was Armenia's 37th-largest export partner, with pharmaceutical products being the majority of products exported from Armenia to Moldova.

Armenia-Ukraine FTA: The FTA entered into force on December 18, 1996, and covers trade in goods. As of 2018, Ukraine was Armenia's seventh-largest import partner, where Armenia imported 3.2% of its total imports from the Ukraine, with the majority of products being tobacco and manufactured tobacco substitutes.
Signed But Not Yet In Effect
Mainland China-EAEU FTA: A non-preferential agreement on trade and economic cooperation was signed between Mainland China and the EAEU in May 2018 within the framework of the Astana Economic Forum. Emphasis has been placed on parties' cooperation in the sphere of e-commerce, as the digital economy era will create favourable conditions for future trade between Mainland China and the EAEU members. The FTA will make it easier to improve market access for goods between the EAEU and Mainland China in the future. In 2018, Mainland China was Armenia's seventh-largest export market, accounting for 4.5% of total exports and the country's second-largest import partner, supplying 13.8% of total imports.

Armenia-EU Comprehensive and Enhanced Partnership Agreement (CEPA): In April 2018, Armenia ratified the CEPA, which has been provisionally applied since June 2018, and in July 2018 the European Parliament voted overwhelmingly for its ratification. CEPA aims to strengthen cooperation between Armenia and the EU on matters of trade, politics and other areas of mutual interest. The EU is Armenia's largest trading partner. CEPA is expected to become fully effective by mid-2019.
Sources: WTO Regional Trade Agreements database, European Commission, Silk Road Briefing
Investment Policy
Foreign Direct Investment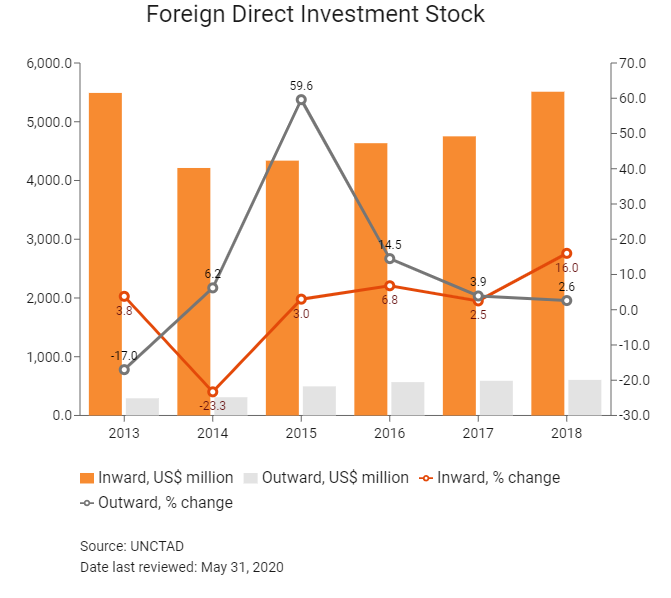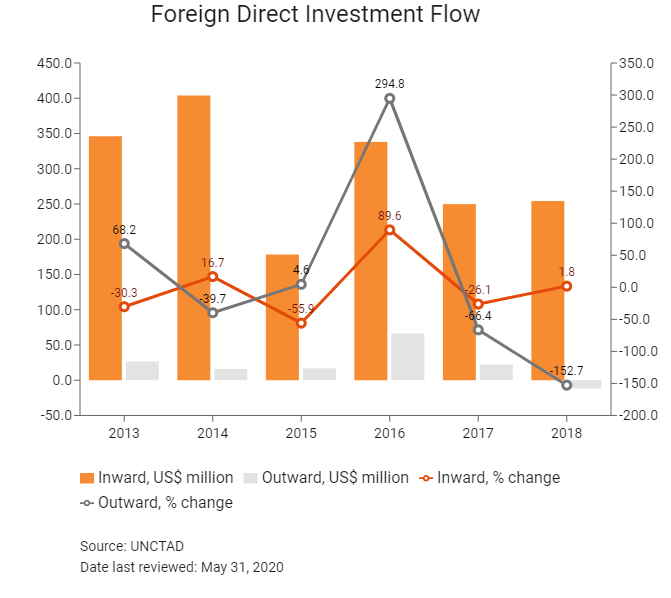 Foreign Direct Investment Policy
The Development Foundation of Armenia (DFA) is Armenia's national authority for investment, export and tourism promotion. The DFA provides services and information to foreign investors on business climate, investment opportunities and legislation, support for investors' visits, as well as liaison with governmental institutions.

Armenia officially welcomes foreign investment, and investment and trade policy is relatively open. Foreign companies are assured of a legal regime that entitles them to the same treatment under the law as Armenian companies. A stabilisation clause guarantees against changes of legislation on investments for five years. There are no restrictions on remittances or on any sector or geographic location. Foreign citizens can have long-term lease contracts, and companies registered by a foreigner in Armenia can buy land.

The high-tech and information technology sectors, in particular, have attracted foreign investment; many foreign firms have established branches or subsidiaries in Armenia to take advantage of the country's pool of qualified specialists.

Some barriers exist that prevent a level playing field for all investors. Foreign entities must frequently contend with non-transparent tax and customs procedures that increase costs, and there are frequent applications of reference prices and misclassification of imported goods during customs clearance.

Armenia has 38 bilateral investment treaties (BITs) in force, with three others signed but not yet in force. On May 7, 2015, a trade and investment framework agreement was signed with the United States. Armenia also has 46 international treaties on double taxation and the prevention of fiscal evasion.
Sources: WTO – Trade Policy Review, ITA, US Department of Commerce, Investment Policy Hub UNCTAD
Free Trade Zones and Investment Incentives
Free Trade Zone/Incentive Programme

Main Incentives Available

Armenia currently has three Free Economic Zones (FEZs): Alliance and Meridian in Yerevan and Meghri at the border with Iran. A fourth FEZ was approved in late August 2018, to be established in Hrazdan and organised by ECOS company, with a focus on innovative technology ventures, including products based on blockchain.

Armenia adopted a Law on FEZ on May 25, 2011, and developed several important regulations at the end of 2011 to attract foreign investments in FEZs: exemptions from VAT, corporate tax, customs duties and property tax.

Alliance FEZ opened in August 2013 and currently has nine businesses using its facilities. The focus of Alliance FEZ is on high-tech industries such as information and communication technologies, electronics, pharmaceuticals and biotechnology, architecture and engineering, industrial design and alternative energy. In 2014, the government expanded operations in the Alliance FEZ to include industrial production as long as there is no similar production already occurring in Armenia.

Meridian FEZ was launched in March 2015. The focus is on jewellery production, watchmaking and diamond-cutting, with six businesses operating in it.

Meghri FEZ was inaugurated in December 2017 in the southernmost city of Meghri on Armenia's border with Iran. The border location is intended to intensify trade relations with Iran, potentially providing an economic bridge to the EAEU and EU. Companies operating in the Meghri FEZ will be exempt from corporation tax, VAT, excise tax and customs fees, paying only income tax.
Sources: US Department of Commerce, Fitch Solutions, Armenia's Ministry of Economic Development and Investments, ARKA News Agency
Foreign Worker Requirements
Foreign Worker Permits
There are several work-related classes of visitor visas: V-5 for attending cultural, athletic, scientific or other events; V-6 for participating in humanitarian, charitable, technical assistance and similar programmes; V-7 for business, investment or work; and V-8 for crew members. These are not for the long term. Anyone needing to stay in Armenia for a longer period will need to obtain a residence permit: 1-year, 5-year and 10-year residence permits are available, and are only issued in Armenia. Armenia does not yet have a system of work permits. An employer will need to ensure that the employee has a proper residence permit. Investment, business ownership and work are all applicable circumstances for a residence permit.
Localisation Requirements
There are no performance requirements for foreign businesses in terms of mandating local employment. The processes for obtaining visas and residence or work permits are quite simple.
Visa/Travel Restrictions
Holders of all types of passports from 56 countries are not required to obtain a visa for entry to Armenia for up to 180 days a year. As of March 3, 2019, citizens of Hong Kong may visit Armenia without a visa for stays up to 180 days under the Belt and Road Initiative.
Sources: Ministry of Foreign Affairs of the Republic of Armenia, Government of Hong Kong, Fitch Solutions
Risks
Sovereign Credit Ratings
| | | |
| --- | --- | --- |
| | Rating (Outlook) | Rating Date |
| Moody's | Ba3 (Stable) | 27/08/2019 |
| Standard & Poor's | Not Rated | Not Rated |
| Fitch Ratings | BB- (Stable) | 22/11/2019 |
Sources: Moody's, Standard & Poor's, Fitch Ratings
Competitiveness and Efficiency Indicators
World Ranking

2018

2019

2020

Ease of Doing Business Index

47/190

41/190

47/190

Ease of Paying Taxes Index

87/190

82/190

52/190

Logistics Performance Index

92/160

N/A

N/A

Corruption Perception Index

105/180

77/180

N/A

IMD World Competitiveness

N/A

N/A

N/A
Sources: World Bank, Transparency International
Fitch Solutions Risk Indices
World Ranking

2018

2019

2020

Economic Risk Index Rank

175/202

153/201

142/201

Short-Term Economic Risk Score

40.0

44.0

41.5

Long-Term Economic Risk Score

38.2

43.9

45.1

Political Risk Index Rank

104/202

102/201

102/201

Short-Term Political Risk Score

47.7

59.0

59.0

Long-Term Political Risk Score

61.5

61.5

61.5

Operational Risk Index Rank

71/201

69/201

66/201

Operational Risk Score

55.1

56.2

56.9
Source: Fitch Solutions
Date last reviewed: May 31, 2020
Fitch Solutions Risk Summary
ECONOMIC RISK
Armenia's long-term growth outlook remains reliant on Russian support and external demand, especially in light of Armenia's accession to the EEU in 2015. This will likely deter Western foreign direct investment flows into Armenia, which are needed to update the country's crumbling infrastructure and outmoded manufacturing and mining sectors. Nevertheless, EEU membership will provide some benefit to Armenian exporters when Russian growth starts to accelerate on the back of higher oil prices. The economy will contract in 2020 as a result of the Covid-19 pandemic with weak household consumption and exports as the main contributors to the GDP contraction. Both monetary and fiscal policy will remain supportive of growth, with the central bank having more policy room to further stimulate the economy and the economy looks to rebound in 2021.
OPERATIONAL RISK
According to the World Bank's Doing Business 2020 Armenia ranks 47th out of 190 countries, well above even some members of the EU, such as Bulgaria and Croatia. The country remains very competitive when it comes to starting a business, in terms of the number of procedures, time, cost and paid-in minimum capital requirement for a small- to medium-sized limited liability company to start up and formally operate in the largest business city.
Source: Fitch Solutions
Date last reviewed: June 5, 2020
Fitch Solutions Political and Economic Risk Indicies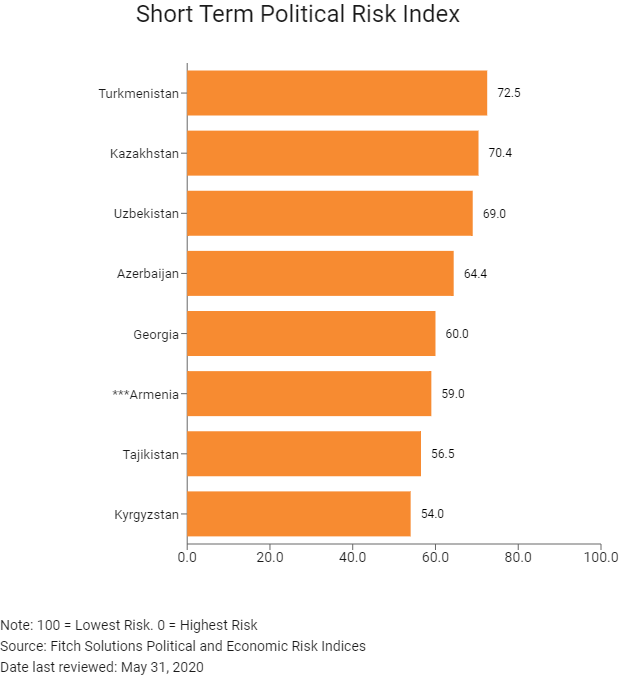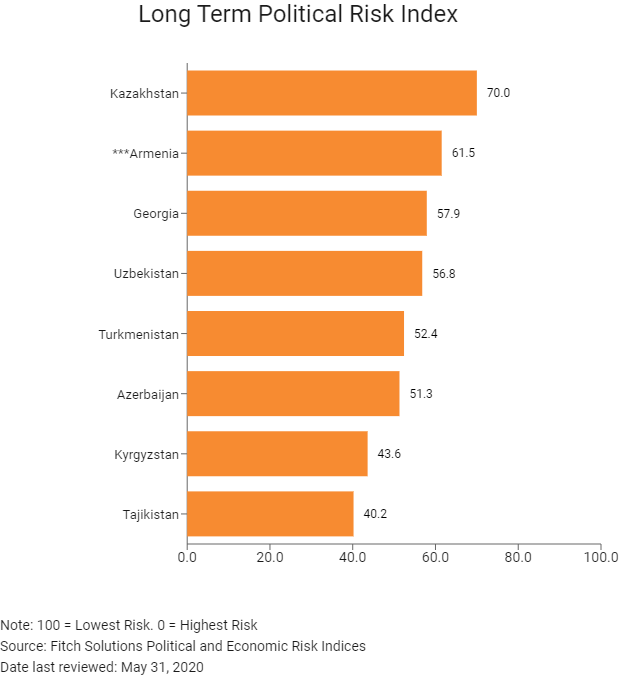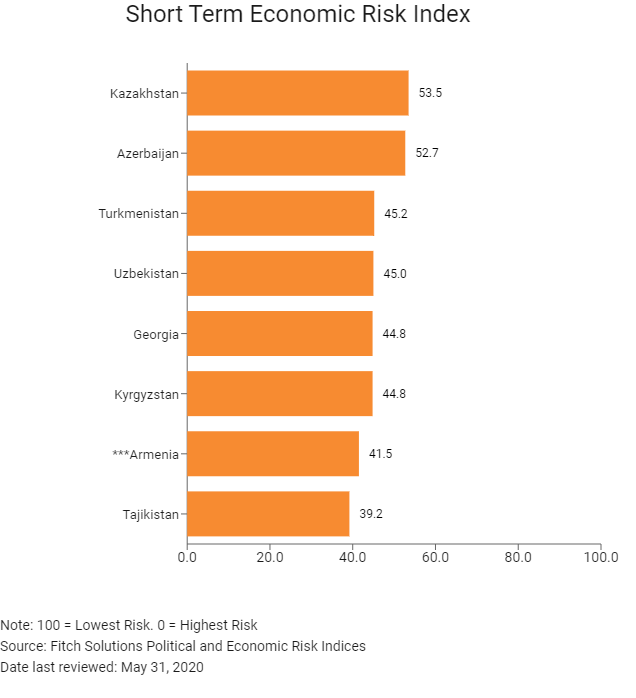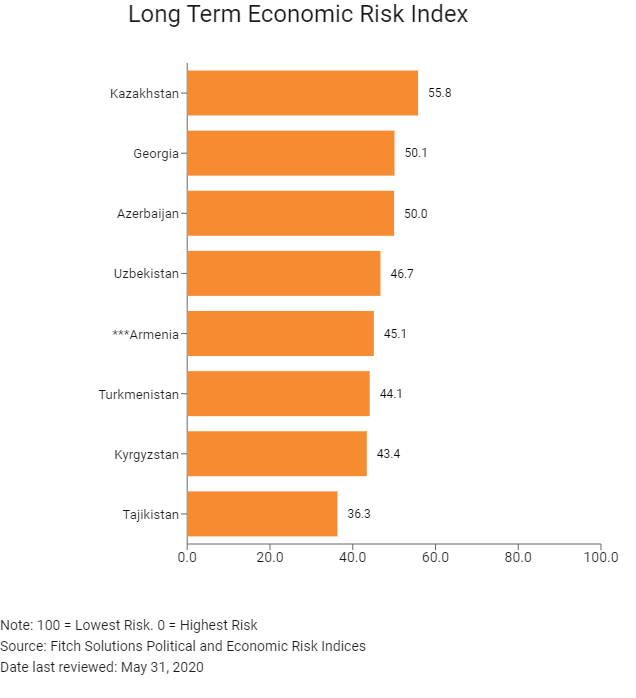 Fitch Solutions Operational Risk Index
| | | | | | |
| --- | --- | --- | --- | --- | --- |
| | Operational Risk | Labour Market Risk | Trade and Investment Risk | Logistics Risk | Crime and Security Risk |
| Armenia Score | 56.9 | 60.4 | 59.1 | 53.9 | 54.2 |
| Caucasus and Central Asia Average | 51.4 | 58.3 | 52.0 | 50.5 | 44.9 |
| Caucasus and Central Asia Position (out of 8) | 4 | 4 | 3 | 4 | 2 |
| Emerging Europe Average | 57.7 | 56.3 | 58.1 | 60.5 | 55.9 |
| Emerging Europe Position (out of 31) | 20 | 9 | 18 | 23 | 17 |
| Global Average | 49.6 | 50.2 | 49.5 | 49.3 | 49.2 |
| Global Position (out of 201) | 66 | 40 | 62 | 77 | 82 |
100 = Lowest risk; 0 = Highest risk
Source: Fitch Solutions Operational Risk Index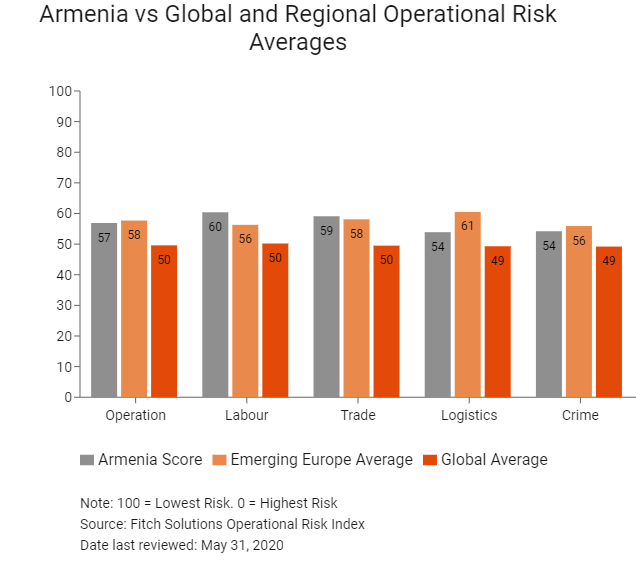 | | | | | | |
| --- | --- | --- | --- | --- | --- |
| Country/Region | Operational Risk Index | Labour Market Risk Index | Trade and Investment Risk Index | Logistics Risk Index | Crime and Security Risk Index |
| Georgia | 62.3 | 63.5 | 71.2 | 56.1 | 58.3 |
| Azerbaijan | 60.5 | 62.5 | 60.0 | 66.4 | 53.2 |
| Kazakhstan | 60.1 | 73.5 | 58.6 | 57.0 | 51.5 |
| Armenia | 56.9 | 60.4 | 59.1 | 53.9 | 54.2 |
| Tajikistan | 44.5 | 54.7 | 38.5 | 41.4 | 43.2 |
| Kyrgyzstan | 44.1 | 54.1 | 41.7 | 43.1 | 37.7 |
| Uzbekistan | 44.0 | 54.8 | 50.1 | 39.2 | 31.7 |
| Turkmenistan | 39.1 | 42.8 | 37.1 | 47.3 | 29.4 |
| Regional Averages | 51.4 | 58.3 | 52.0 | 50.5 | 44.9 |
| Emerging Markets Averages | 46.9 | 48.5 | 47.2 | 45.8 | 46.0 |
| Global Markets Averages | 49.6 | 50.2 | 49.5 | 49.3 | 49.2 |
100 = Lowest risk; 0 = Highest risk
Source: Fitch Solutions Operational Risk Index
Date last reviewed: May 31, 2020
Hong Kong Connection
Hong Kong's Trade with Armenia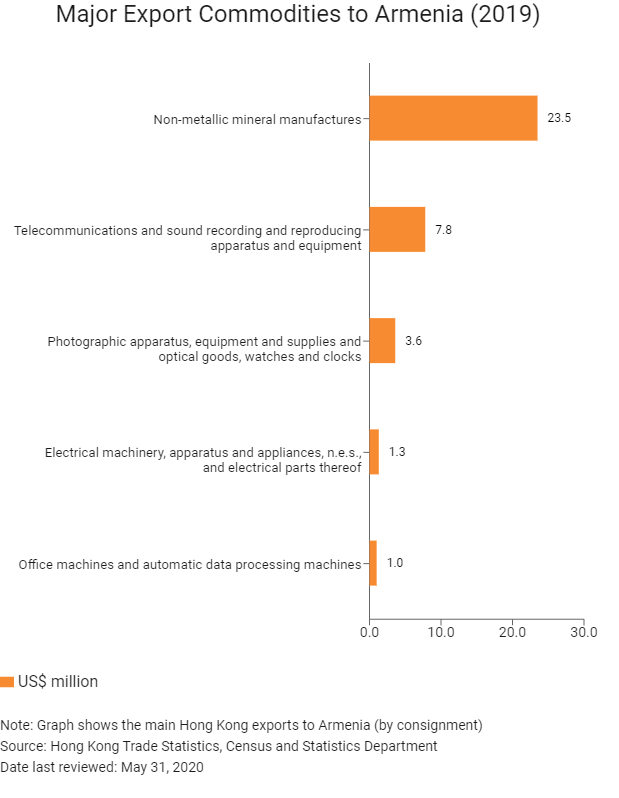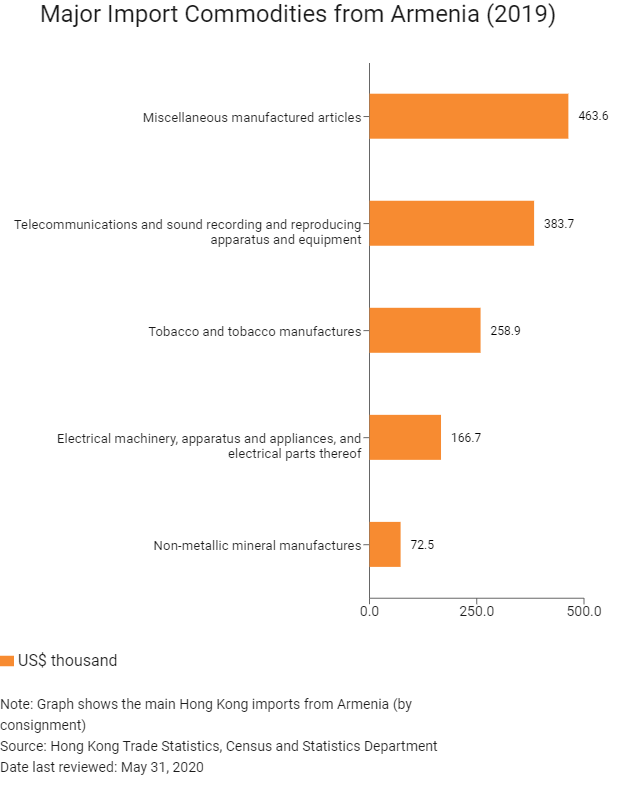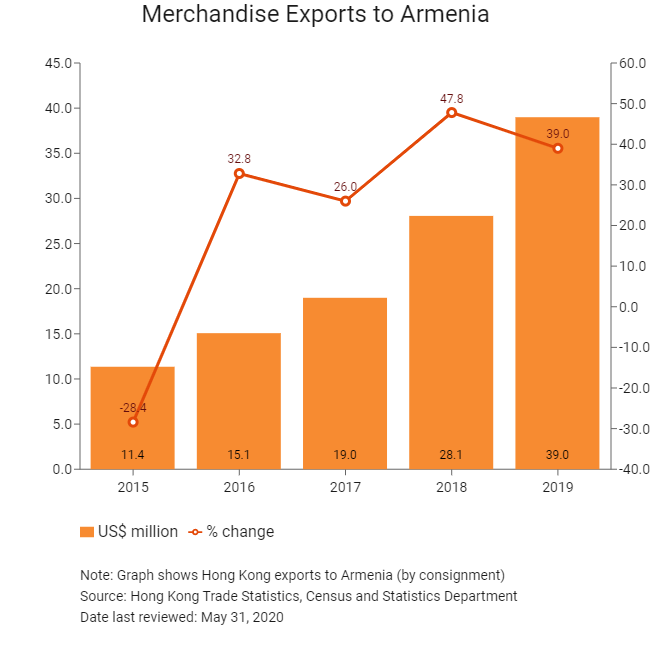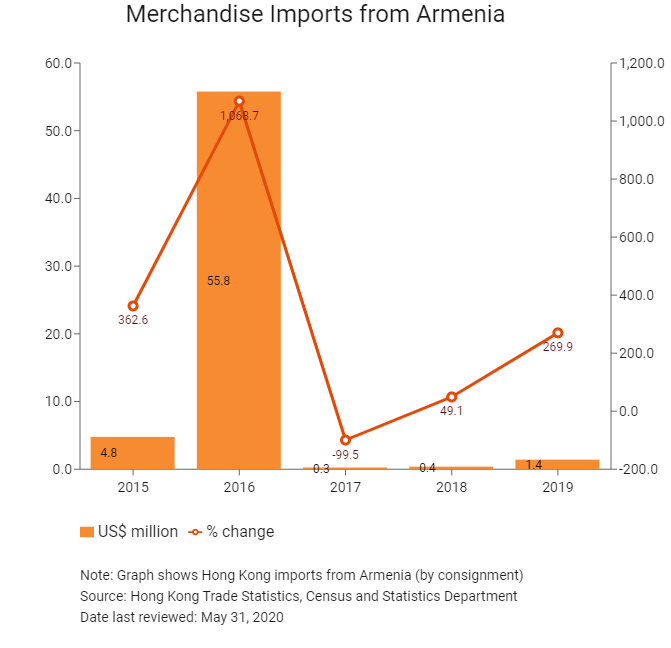 Exchange Rate HK$/US$, average
7.75 (2015)
7.76 (2016)
7.79 (2017)
7.83 (2018)
7.77 (2019)
| | | |
| --- | --- | --- |
| | 2019 | Growth rate (%) |
| Number of Armenian residents visiting Hong Kong | 1,340 | 140.6 |
| Number of European residents visiting Hong Kong | 1,747,763 | -10.9 |
Note: Growth rate is from 2015 to 2019. No UN data available for intermediate years.
Sources: Hong Kong Tourism Board, United Nations Department of Economic and Social Affairs – Population Division
Date last reviewed: May 31, 2020
Commercial Presence in Hong Kong
2019

Growth rate (%)

Number of Armenian companies in Hong Kong

N/A

N/A

- Regional headquarters

- Regional offices

- Local offices

Treaties and Agreements between Hong Kong and Armenia
Armenia has a BIT with Mainland China that entered into force on March 18, 1995.
A double taxation agreement between Armenia and Mainland China was signed on May 5, 1996 and has been in force since January 1, 1997.
Source: UNCTAD
Visa Requirements for Hong Kong Residents
Starting from March 3, 2019, HKSAR passport holders are not required to provide a visa when visiting the Republic of Armenia for a period up to 180 days. For a stay extending this period a residence permit card needs to be acquired.
Sources: Visa on Demand
Date last reviewed: May 31, 2020