GDP (US$ Billion)
29.04 (2018)
World Ranking 102/193
GDP Per Capita (US$)
1,034 (2018)
World Ranking 166/192
Economic Structure
(in terms of GDP composition, 2019)
Services
(50.61%)
Industry
(13.3%)
Agriculture
(24.26%)
External Trade (% of GDP)
54.9 (2019)
Currency (Period Average)
Nepalese Rupee
112.61per US$ (2019)
Political System
Federal multiparty republic
Sources: CIA World Factbook, Encyclopædia Britannica, IMF, Pew Research Center, United Nations, World Bank
Overview
Nepal is one of the poorest countries in the world, with a GDP per capita of only USD835. After years of transition, Nepal is headed for political stability following local, provincial and federal elections in 2017. Although economic activity rebounded strongly in Nepal in 2017, the country still faces increasing domestic and external risks. The Nepalese economy will benefit from infrastructure investment by both the Indian and Chinese governments.
Sources: World Bank, Fitch Solutions
Major Economic/Political Events and Upcoming Elections
June 2017
Pushpa Kamal Dahal was replaced as Prime Minister by the Congress leader Sher Bahadur Deuba under a rotation agreement reached the previous April and set to last until the elections in February 2018.
February 2018
The new cycle of legislative elections came to an end with the February 7 indirect election of the National Assembly. The names of members elected under the Proportional Representation system to the seven provincial assemblies were announced on January 17 and to the House of Representatives on February 14, 2018.
May 2018
The main group of Nepal's Maoist former rebels and the Communist UML party merged on May 17 to form Nepal's biggest left party. Officials said the two constituents of the ruling coalition had formed the Nepal Communist Party, which now headed the nation's first majority government in 19 years.
In the same month, Indian Prime Minister Narendra Modi and Nepal Prime Minister K P Sharma Oli jointly launched the building work of Nepal's biggest hydroelectric project. Costing USD1 billion, the 900MW hydropower project would be built by state-run Indian firm Satluj Jal Vidyut Nigam Limited.
August 2018
The Indian government stated that it would help the Nepalese government by building a rail link between Kathmandu and the Indian border town of Raxual in the eastern Bihar state, with the aim of facilitating passenger and cargo movement to the landlocked nation.
September 2018
Nepal's new government awarded Mainland China's Gezhouba Group Corporation a contract to build the USD2.5 billion Budhi Gandaki hydroelectric project. In addition, there would be a Mainland China-Nepal railway, connecting the Tibetan City of Shigatse with Kathmandu. The railway will cover a distance of more than 660km.
The Asia Development Bank agreed to provide USD150 million in development assistance to Nepal. The funds would be channelled towards two projects: a USD130 million concessional loan for the Urban Water Supply and Sanitation Project and a USD20 million additional loan for the SASEC Power System Expansion Project.
November 2018
The World Bank approved USD133 million worth of credit to enhance Nepal's domestic transport infrastructure. The funds would be directed towards the construction and maintenance of safe, resilient and cost-effective bridges along Nepal's Strategic Road Network.
February 2019
The Indian government proposed to build the 400MW Lower Arun hydropower project in Nepal. Indian Minister of State (Independent Charge) for the Ministry of Power Raj Kumar Singh stated that the scheme could be developed on a build-own-operate-transfer model, which was also being adopted by India to develop the 900MW Arun III hydropower project in Nepal. The new project was expected to entail an investment of more than NPR100 billion (USD881 million). The Department of Electricity Development in Nepal was undertaking the project feasibility and detailed study. The project could have around 1GW capacity if it was designed to export power to India.
September 2019
Investment Board Nepal shortlisted Swiss firm Flughafen Zürich to construct the Nijgadh International Airport in the Bara district. The firm would now have to submit an extensive proposal for the project. The airport would be developed on public-private partnership model in three phases and was estimated to cost NPR340 billion (USD3 billion). The first phase would cost USD1.21 billion, while the second and third phases would cost USD1.12 billion each. The board also shortlisted Mainland China Communication Construction Company to build the Kathmandu Outer Ring Road Project.
December 2019
The Government of Nepal signed a USD358 million loan deal with the Asian Development Bank (ADB) for four projects in the country. Of the total, USD195 million would be allocated to the Mugling-Pokhara Highway Improvement Project, which involved the widening of 81km road from Pokhara to Abukhaireni to four lanes. The Bagmati River Basin Improvement Project would use USD63 million from the loan amount. The scheme aimed to improve flood management and river health in the Bagmati River basin.
March 2020
The Department of Roads In Nepal would proceed with the second phase of the Ring Road Expansion Project in Kathmandu. Backed by assistance from Mainland China, the project involved the construction of the 8.2km Kalanki-Maharajgunj section of the Ring Road. It also included the construction of two underpasses, a flyover and 10 overhead bridges.
Sources: BBC Country Profile – Timeline, Fitch Solutions
Major Economic Indicators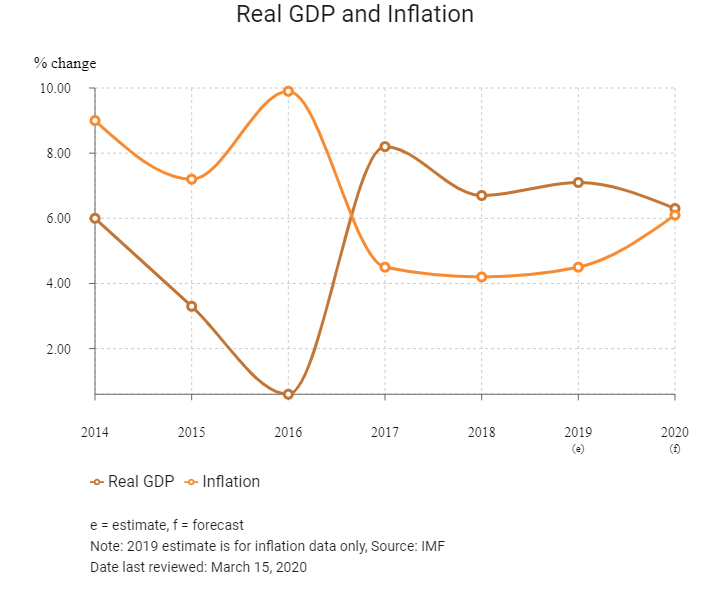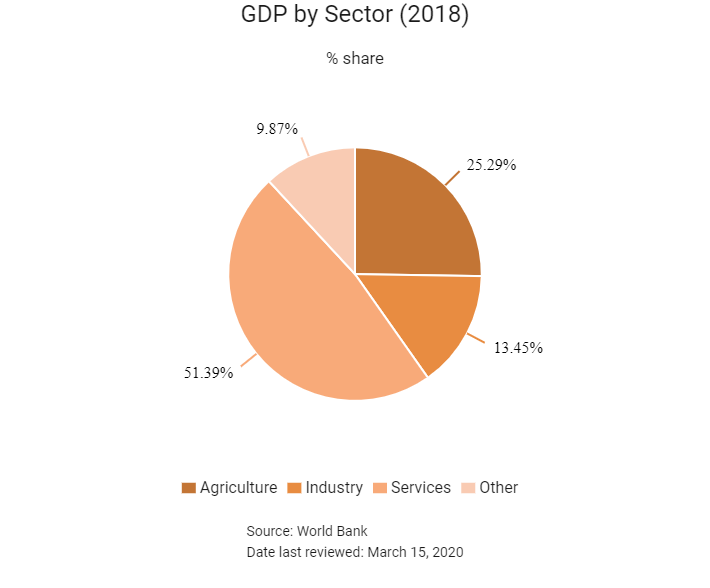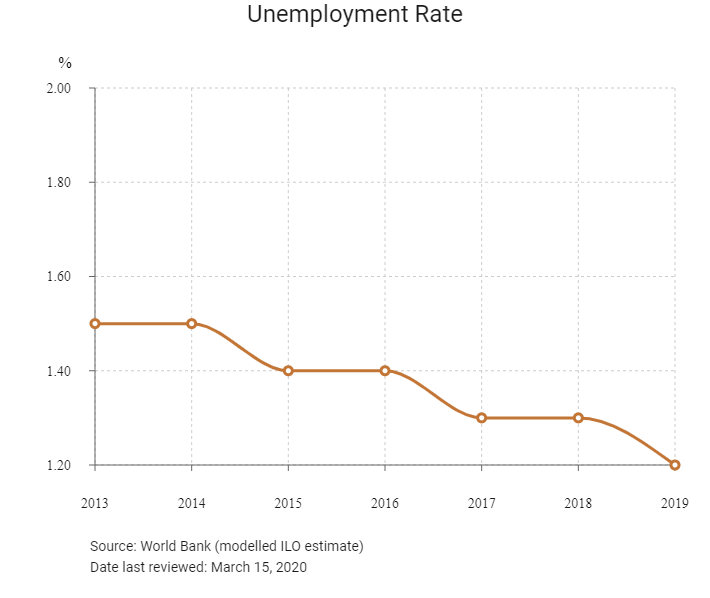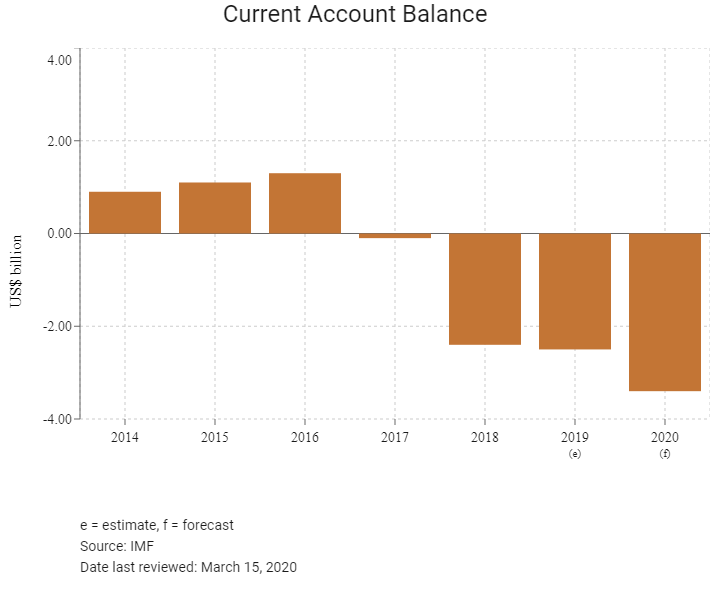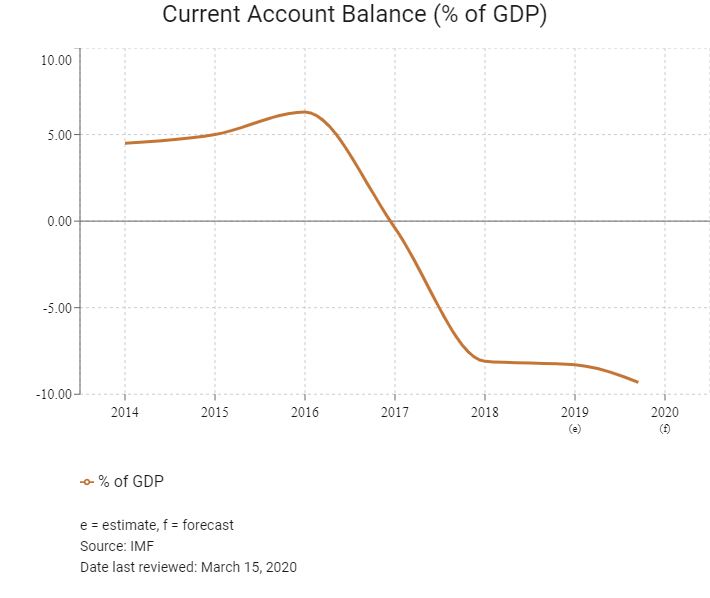 External Trade
Merchandise Trade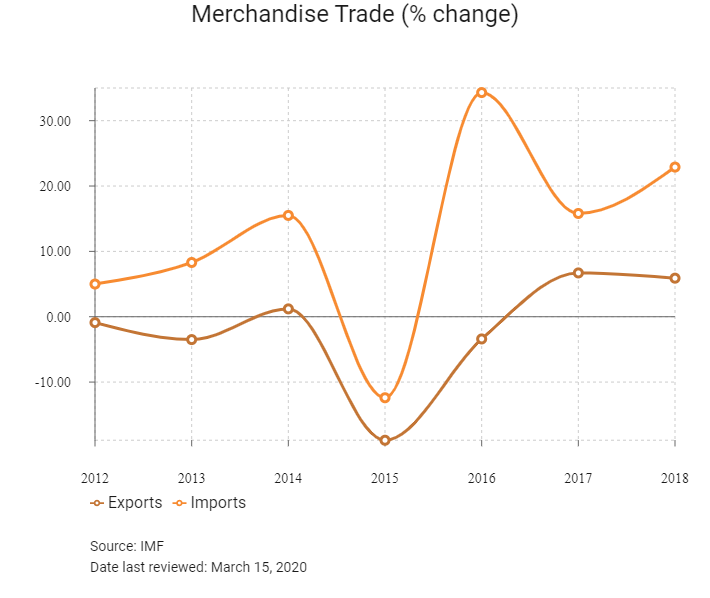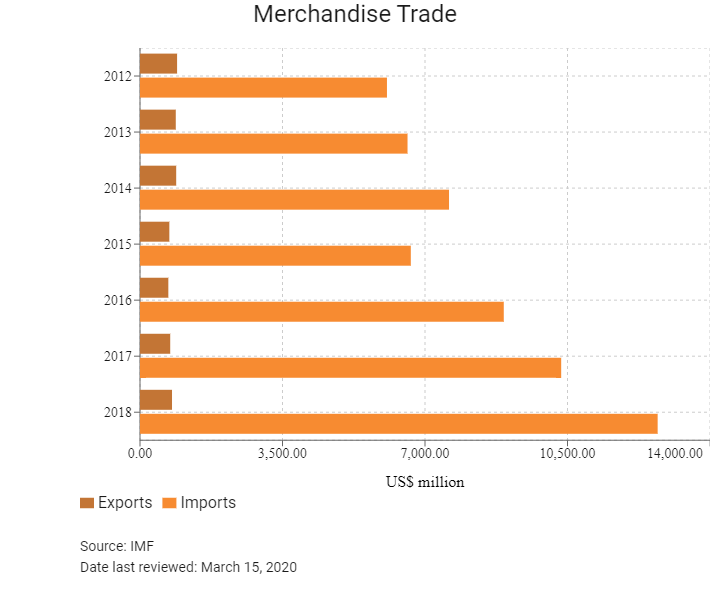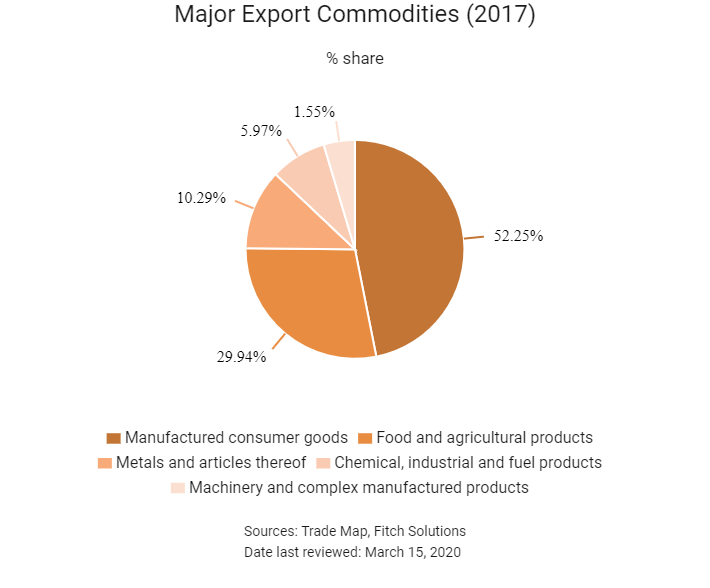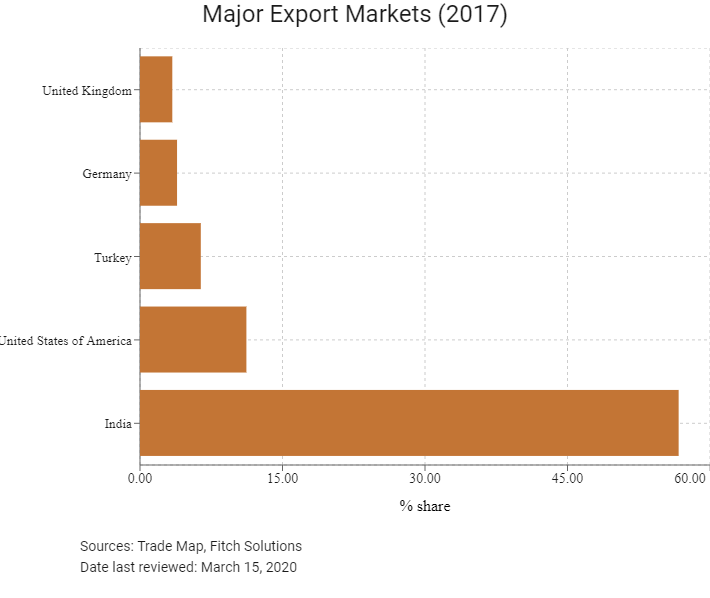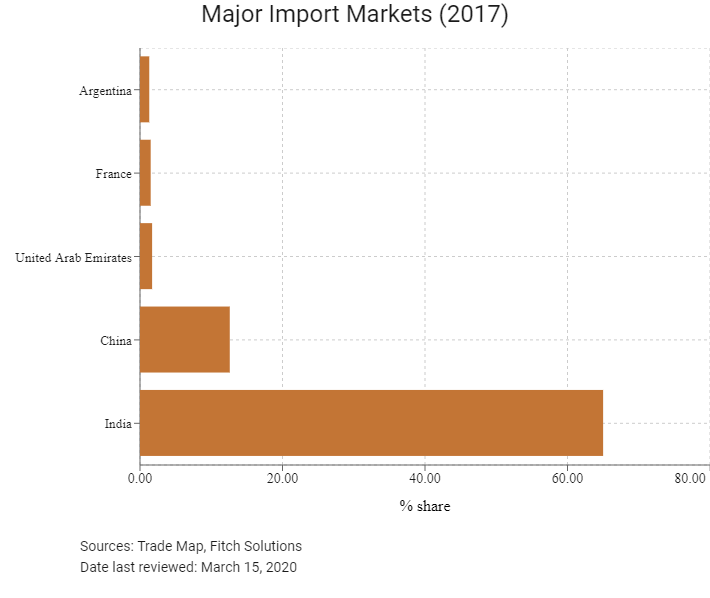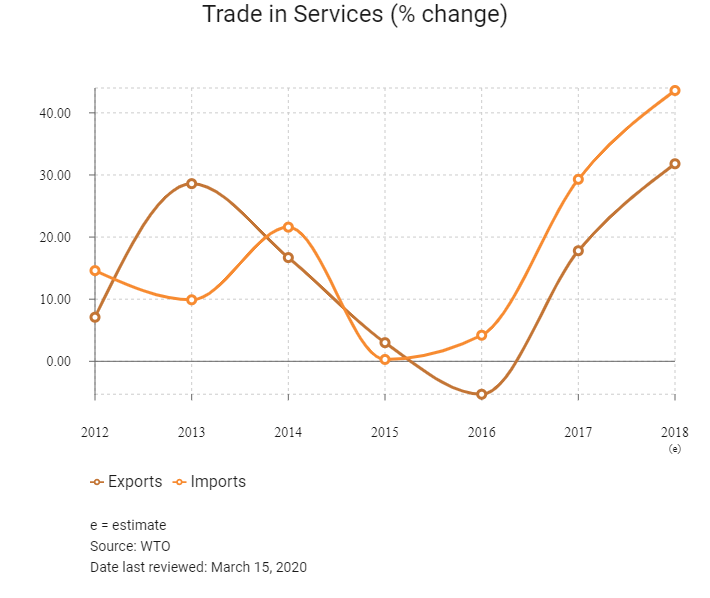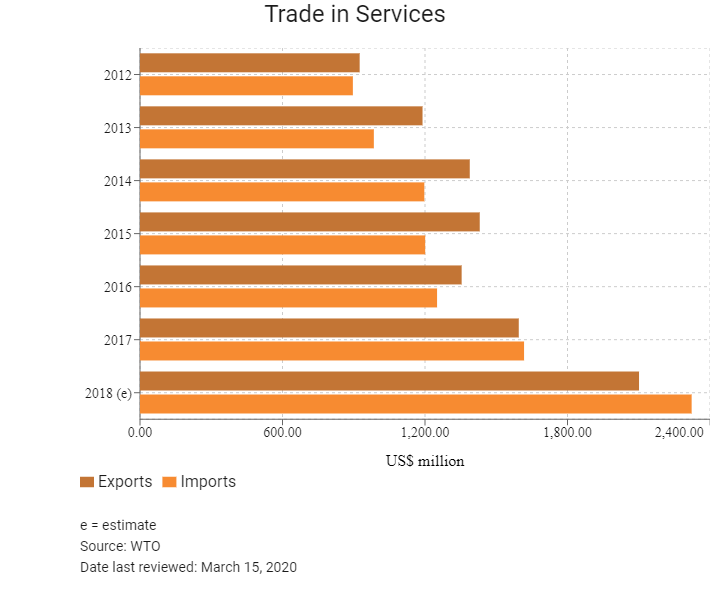 Trade Policies
Nepal joined the World Trade Organization (WTO) in April 2004 as its 147th member.


In the latest World Economic Forum (WEF) Enabling Trade Index (2016) which measures institutions, policies and services to facilitate trade in countries, Nepal was ranked 108th out of 136 countries.


Nepal benefits from the Generalized System of Preferences (GSP), but it does not participate in the Global System of Trade Preferences (GSTP) among developing states.


Nepal's average tariff rate, at 11.72%, is the second highest in the South Asia region (out of eight countries), with weapons and automobiles being subject to the highest applied most favoured nation (MFN) tariff. Cement faces an unbound tariff in order to develop the domestic industry, as Nepalese consumption of cement is mostly met by domestic production. Tariff escalation on certain products, including paper printing and publishing, textiles and leather, and chemicals, exists between first stage processing, semi-processed and fully processed products. However, these tariffs aim to collect revenue rather than protect the processing or manufacturing industry.


Nepal does not allow the import of used items, the definition of which is often interpreted to include refurbished products (with the exception of refurbished aircrafts).


Import duty rates in Nepal vary from 0% to 80%. Live animals, fish and most primary products are exempt from import duties if imported from India, while a duty of 10% is applied on imports of these items from countries other than India.


Infrastructure of standardisation and conformity assessment in Nepal is not sufficient as the country lacks an accreditation system and testing facilities. This makes it difficult for Nepalese exporters to compete in global markets due to, for example, exports of food, plant products, animal products and agricultural products requiring sanitary and phytosanitary certificates issued by the Ministry of Agriculture and Cooperatives.
Sources: WTO – Trade Policy Review, Fitch Solutions
Trade Agreement
Multinational Trade Agreements
Active
The South Asian Preferential Trade Agreement (SAPTA): This agreement was originally signed in 1993; however, the scope of SAPTA was limited; therefore, it was expanded to the South Asian Free Trade Agreement (SAFTA), which is a plurilateral Free Trade Agreement (FTA) between Nepal, Bhutan, Afghanistan, Bangladesh, India, Maldives, Pakistan and Sri Lanka. The agreement covers trade in goods and entered into force in January 2006; Afghanistan later joined in August 2011.


Nepal-India Partial Scope Agreement: The bilateral Partial Scope Agreement between Nepal and India covers trade in goods and entered into force in October 2009. India is Nepal's largest import source. As of 2017, Nepal imported 65.7% of its total imports from India, of which minerals, mineral fuels, mineral oils and products of their distillation, as well as bituminous substances, made up the highest percentage.
Under Negotiation
The Bay of Bengal Initiative on Multi-Sectoral Technical and Economic Cooperation (BIMSTEC): This plurilateral FTA is currently under negotiation. The agreement will focus on the trading of goods between Nepal, Bhutan, Myanmar, Sri Lanka, Bangladesh, India and Thailand. The bloc will bring together 1.5 billion people, or 21% of the world's population, and will have a combined GDP of more than USD2.8 trillion.

Sources: WTO Regional Trade Agreements database, Fitch Solutions
Investment Policy
Foreign Direct Investment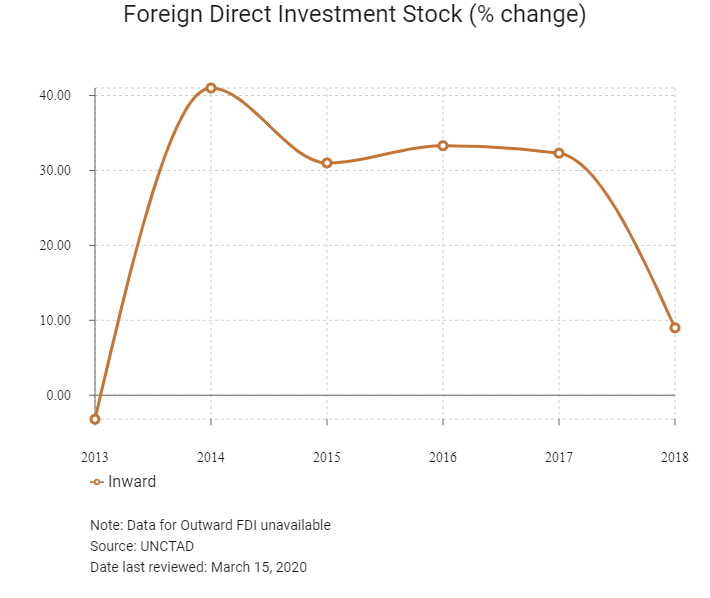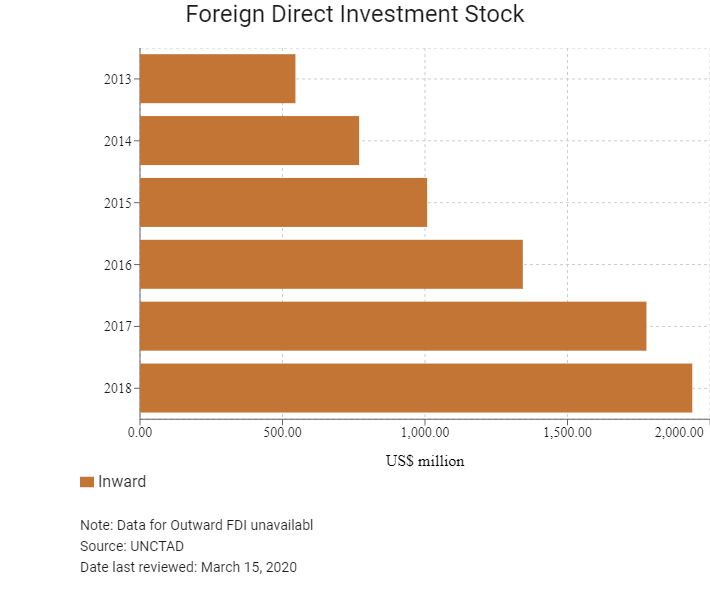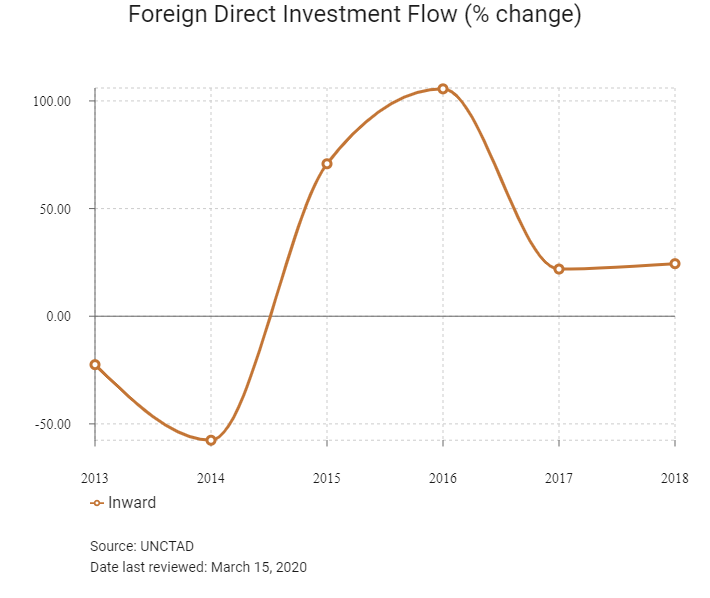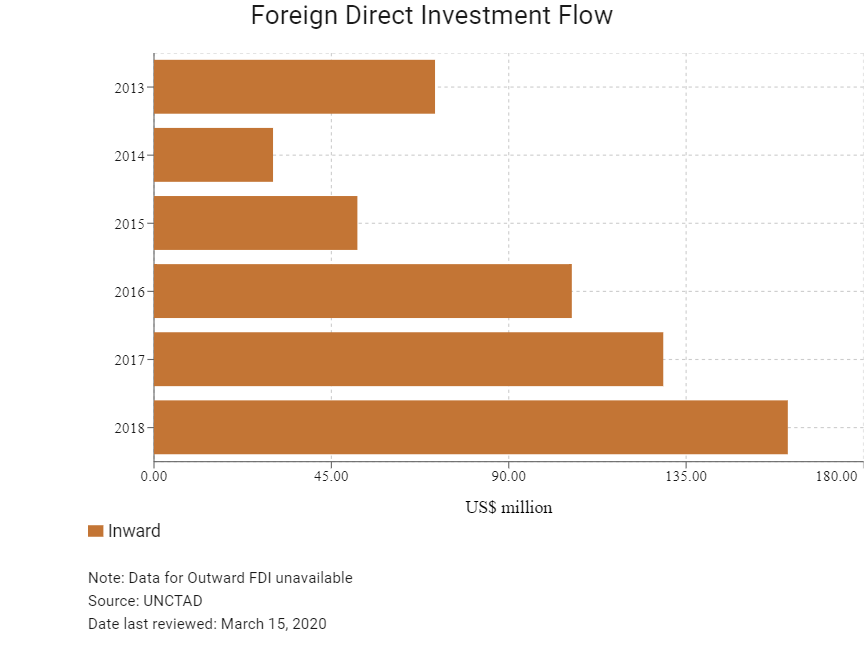 Foreign Direct Investment Policy
Invest Nepal is the country's information source and agency that is tasked with investment promotion and business facilitation. The entity aims to serve as a single reference point for sector-specific information for foreign and local investors.


In February 2015, the government of Nepal issued the Foreign Investment and One-Window Policy 2015, which replaced the Foreign Investment Policy of 1992. The new policy outlines priority sectors for foreign investment, which include hydropower, transportation infrastructure, agro-based and herbal processing industries, tourism, and mines and manufacturing industries. The Foreign Investment and One Window Policy also establishes currency repatriation guidelines, outlines visa regulations and arbitration guidelines, allows full foreign ownership in most sectors and creates a 'one window committee' for foreign investors.


The Foreign Investment and One Window Policy opened the retail sector to foreign investment for the first time; however, there are some conditions. Foreign multi-brand retail stores (such as Walmart or Tesco) are now permitted, provided the investor has operations in more than two countries and invests more than USD5.0 million in fixed capital. The policy also states that foreign investors will be treated the same as local investors, and industries run by foreign investors cannot be nationalised. The new policy is also aimed at simplifying visa policies for investors and family members, and assisting foreign investors with land acquisition, industrial security, and the repatriation of investment and profits.


Foreign and domestic private entities are allowed to establish and own business enterprises and engage in various forms of profit-generating activities. However, the Foreign Investment and Technology Transfer Act of 1992 restricts certain sectors from foreign investment, including small-scale and 'traditional' industries (such as handicrafts, wood carvings and artwork), real estate, certain types of primary agriculture and agribusiness and weapons production. The Foreign Investment Policy of 2015 lowered the number of restricted sectors, but these changes will not be implemented until parliament approves the draft Foreign Investment bill. Approval and registration requirements vary depending on the sector in which a foreign entity intends to invest.


Other than the restricted sectors mentioned above, 100% foreign investment is allowed in most sectors. Some limits on foreign ownership are imposed for certain services sectors, such as banking and financial institutions, where foreign investment is only permitted through joint venture, with a minimum of 20% and a maximum of 85% foreign ownership. Branch operations of a foreign bank are only permitted in the wholesale banking sector, not in the retail banking sector. The minimum capital requirement is USD20.0 million to operate a branch office of a foreign bank in Nepal, and an additional USD5.0 million is required for each new branch office.


The Nepal Stock Exchange does not allow foreign investors to own or trade any publicly traded companies on the exchange. Stock trading is only permitted to citizens of Nepal.
Sources: WTO – Trade Policy Review, ITA, US Department of Commerce, Fitch Solutions
Free Trade Zones and Investment Incentives
Free Trade Zone/Incentive Programme

Main Incentives Available

The government of Nepal is developing the country's first Special Economic Zone (SEZ) in Bhairahawa in southern Nepal, near the border with India. The government eventually plans to have up to 15 SEZs throughout Nepal.

In August 2016, Nepal's Parliament approved the SEZ Act, which provides numerous incentives for investors in SEZs, including exemptions on customs duties for raw materials, streamlined registration processes and guaranteed access to electricity. The act also bans labour strikes in SEZs.


General incentives

Businesses which invest in exporting industries are given investment incentives, as are those which invest in certain 'priority' industries, such as tourism, civil aviation and hydropower.

There is no discrimination against foreign investors regarding export/import policies or non-tariff barriers.

The government of Nepal offers tax incentives to encourage industries to locate outside the Kathmandu Valley.
Sources: US Department of Commerce, Fitch Solutions
Taxation – 2020
Value Added Tax: 13%
Corporate Income Tax: 20-30%
Source: Ministry of Finance, Nepal
Important Updates to Taxation Information
Revenue collection is expected to hover around NPR728.4 billion, which is very close to the target. Revised foreign development cooperation mobilisation is estimated to be NPR36.2 billion and NPR74.9 billion as grants and loans respectively.
Source: Ministry of Finance, Nepal
Business Taxes
Type of Tax

Tax Rate and Base

Resident company: Corporate Tax rates

- 20% flat rate for manufacturing industries
- 30% flat rate for financial institutions and businesses engaged in tobacco and alcoholic beverages
- 25% flat rate for other commercial businesses
- 20% concessional rate for hydropower

Excise duty

- Varies from 0-40%
- There is a legal provision to levy excise duties on domestic production as well as the import of excisable goods and provision of excisable services.

Customs duty

- Varies from 0-80% on the transaction value. Nepal has already incorporated the sixth version of the Harmonized Commodity.
- Description and Coding System since May, 2017, as approved by the World
Customs Organization.

Social security contributions

According to the Ministry of Labour, Employment and Social Security, the employers have been asked to submit their employees' database before May 21, 2019. Both the workers and the employers are expected to make their contribution to the fund mandatorily from May 22, 2019 onwards.

Value Added Tax

- 13% (GST – standard rate)
- 0% for certain specified goods including rice, pulses flour, fresh fish, meat, eggs, fruits, flowers, edible oil, piped water and wood fuel. This includes social welfare services including medicine, medical services, veterinary services and educational services.

Insurance premium

1.5% paid to non-resident insurance companies (withholding tax)

Rent

10% (withholding tax)
Sources: Nepal Inland Revenue Department, Fitch Solutions
Date last reviewed: March 15, 2020
Foreign Worker Requirements
Localisation Requirements
There are no formal localisation policies in Nepal, but some foreign businesses and foreign workers have noted the difficult process for obtaining work visas. The government of Nepal generally limits the number of expatriate employees permitted to work at a company.
Visa/Travel Restrictions
Citizens of India do not need a visa to enter Nepal and are granted freedom of movement. Most other passports are granted a visa on arrival once the required fee is paid.
Sources: Government websites, Fitch Solutions
Risks
Sovereign Credit Ratings
| | | |
| --- | --- | --- |
| | Rating (Outlook) | Rating Date |
| Moody's | Not rated | N/A |
| Standard & Poor's | Not rated | N/A |
| Fitch Ratings | Not rated | N/A |
Competitiveness and Efficiency Indicators
World Ranking

2018

2019

2020

Ease of Doing Business Index

105/190

110/190

94/190

Ease of Paying Taxes Index

146/190

158/190

175/190

Logistics Performance Index

114/160

N/A

N/A

Corruption Perception Index

124/180

113/180

N/A

IMD World Competitiveness

N/A

N/A

N/A
Sources: World Bank, Transparency International
Fitch Solutions Risk Indices
World Ranking

2018

2019

2020

Economic Risk Index Rank

106/202

89/202

100/202

Short-Term Economic Risk Score

56.5

57.3

58.8

Long-Term Economic Risk Score

51

53.6

52.0

Political Risk Index Rank

158/202

158/202

159/202

Short-Term Political Risk Score

44

44.0

44.0

Long-Term Political Risk Score

49.5

49.5

49.5

Operational Risk Index Rank

145/201

153/201

151/201

Operational Risk Score

38.1

36.8

36.8
Source: Fitch Solutions
Date last reviewed: March 15, 2020
Fitch Solutions Risk Summary
ECONOMIC RISK
Nepal saw a broad-based recovery in 2017 as economic activity picked up, inflation moderated, government revenue and spending rose, and remittances grew. The focus on infrastructure development will see construction and manufacturing benefit over the next five years. However, the slow recovery of exports, increase in lending rates and a dynamic political environment will continue to pose challenges.
OPERATIONAL RISK
Nepal is transitioning into a federal democratic state. It completed its first local elections in 20 years, which took place in three phases. Provincial and parliamentary elections were completed in December 2017. That said, significant adjustments need to be made to the government structure. Businesses in Nepal are challenged by risks of natural disasters and extreme weather conditions, such as the flooding in mid-August 2017, the third major shock in three years, which caused severe disruption and damage to existing supply chains, especially through the southern plains. Nepal's geographic location on the boundary of two large tectonic plates makes the country particularly prone to earthquakes, which would hinder the progress of infrastructure projects.
Source: Fitch Solutions
Date last reviewed: March 16, 2020
Fitch Solutions Political and Economic Risk Indices ​​​​​​​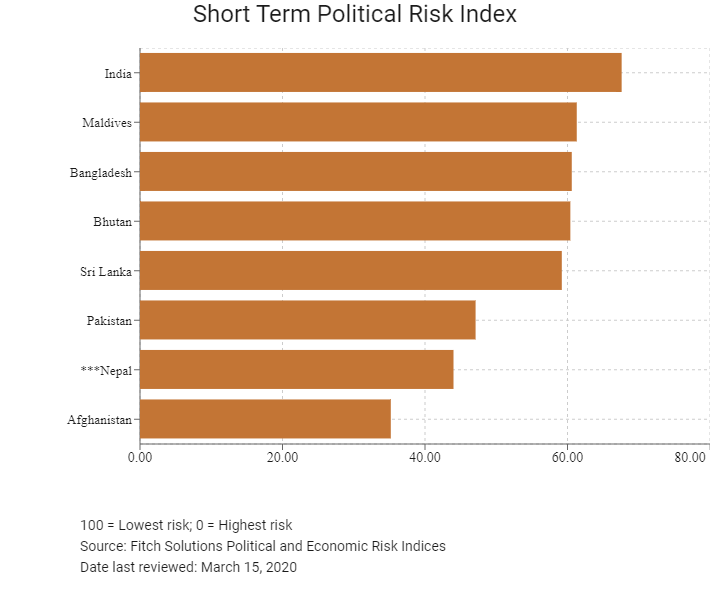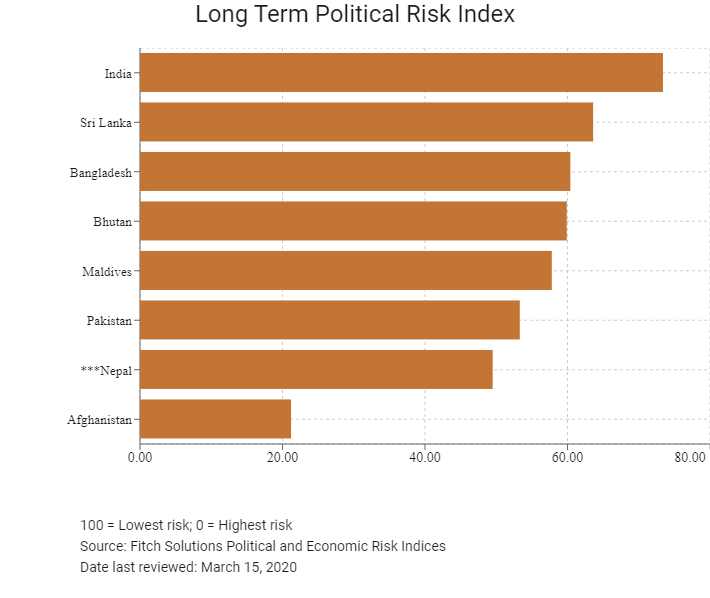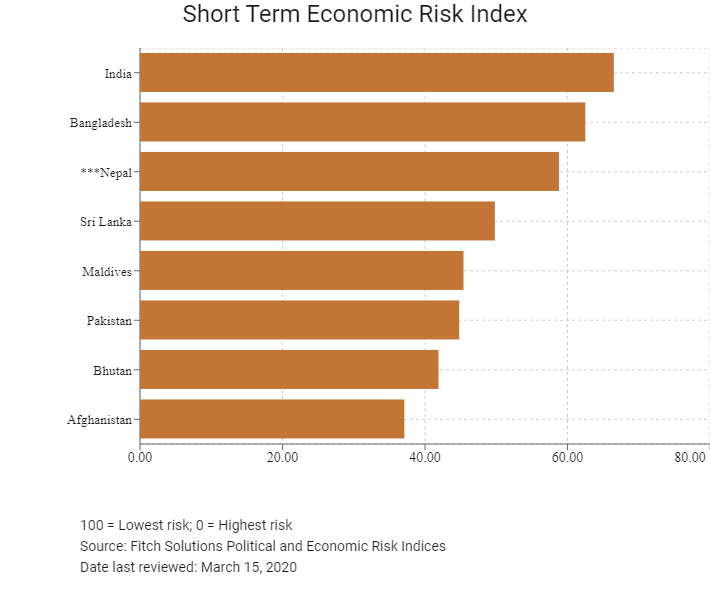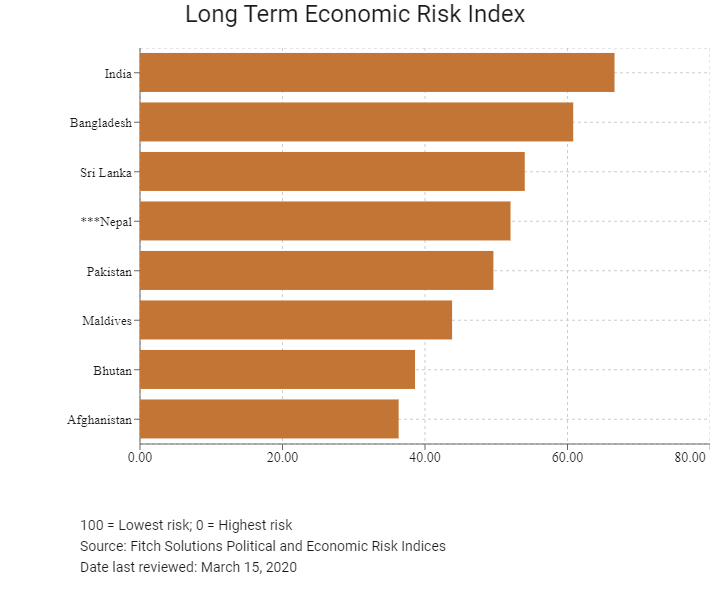 Fitch Solutions Operational Risk Index
| | | | | | |
| --- | --- | --- | --- | --- | --- |
| | Operational Risk | Labour Market Risk | Trade and Investment Risk | Logistics Risk | Crime and Security Risk |
| Nepal Score | 36.8 | 37.7 | 33.3 | 36.6 | 39.7 |
| South Asia Average | 42.2 | 44.6 | 40.4 | 43.7 | 40.0 |
| South Asia Position (out of 8) | 7 | 8 | 6 | 7 | 5 |
| Asia Average | 48.5 | 50.0 | 48.2 | 46.9 | 49.1 |
| Asia Position (out of 35) | 28 | 31 | 27 | 24 | 26 |
| Global Average | 49.7 | 50.2 | 49.8 | 49.3 | 49.2 |
| Global Position (out of 201) | 151 | 172 | 158 | 145 | 137 |
100 = Lowest risk, 0 = Highest risk
Source: Fitch Solutions Operational Risk Index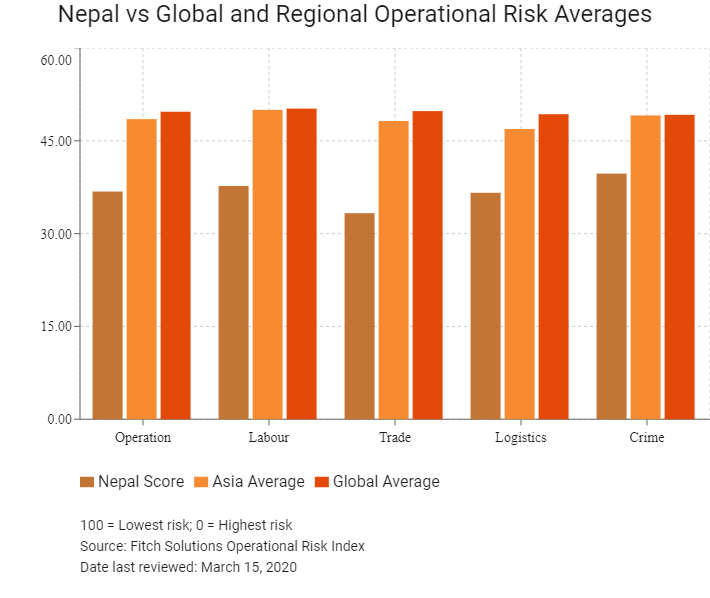 | | | | | | |
| --- | --- | --- | --- | --- | --- |
| Country/Region | Operational Risk Index | Labour Market Risk Index | Trade and Investment Risk Index | Logistics Risk Index | Crime and Secruity Risk Index |
| India | 53.4 | 46.5 | 53.6 | 66.6 | 47.0 |
| Sri Lanka | 50.6 | 46.9 | 49.3 | 56.0 | 50.5 |
| Bhutan | 49.3 | 44.0 | 44.7 | 51.2 | 57.3 |
| Maldives | 44.8 | 48.2 | 45.7 | 37.5 | 47.8 |
| Pakistan | 39.4 | 42.6 | 38.3 | 42.4 | 34.4 |
| Bangladesh | 38.2 | 50.3 | 29.0 | 40.1 | 33.5 |
| Nepal | 36.8 | 37.7 | 33.3 | 36.6 | 39.7 |
| Afghanistan | 24.4 | 40.4 | 29.0 | 19.1 | 9.7 |
| Regional Averages | 42.2 | 44.6 | 40.4 | 43.7 | 40.0 |
| Emerging Markets Averages | 46.2 | 48.2 | 47.4 | 45.0 | 45.9 |
| Global Markets Averages | 49.7 | 50.2 | 49.8 | 49.3 | 49.2 |
100 = Lowest risk; 0 = Highest risk
Source: Fitch Solutions Operational Risk Index
Date last reviewed: March 15, 2020
Hong Kong Connection
Hong Kong's Trade with Nepal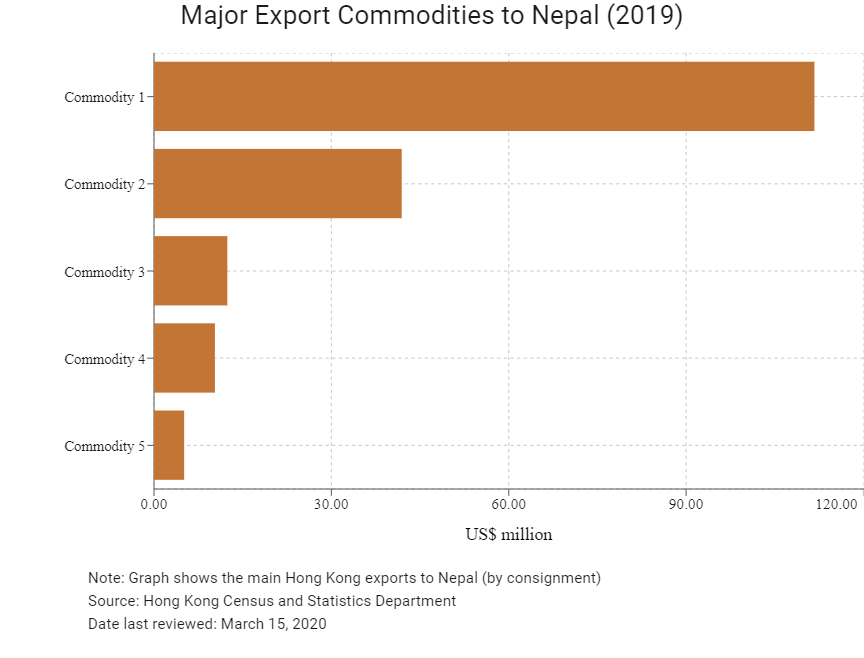 | | | |
| --- | --- | --- |
| Export Commodity | Commodity Detail | Value (US$ million) |
| Commodity 1 | Telecommunications and sound recording and reproducing apparatus and equipment | 111.7 |
| Commodity 2 | Non-ferrous metals | 41.9 |
| Commodity 3 | Office machines and automatic data processing machines | 12.4 |
| Commodity 4 | Photographic apparatus, equipment and supplies and optical goods; watches and clocks | 10.3 |
| Commodity 5 | Miscellaneous manufactured articles | 5.1 |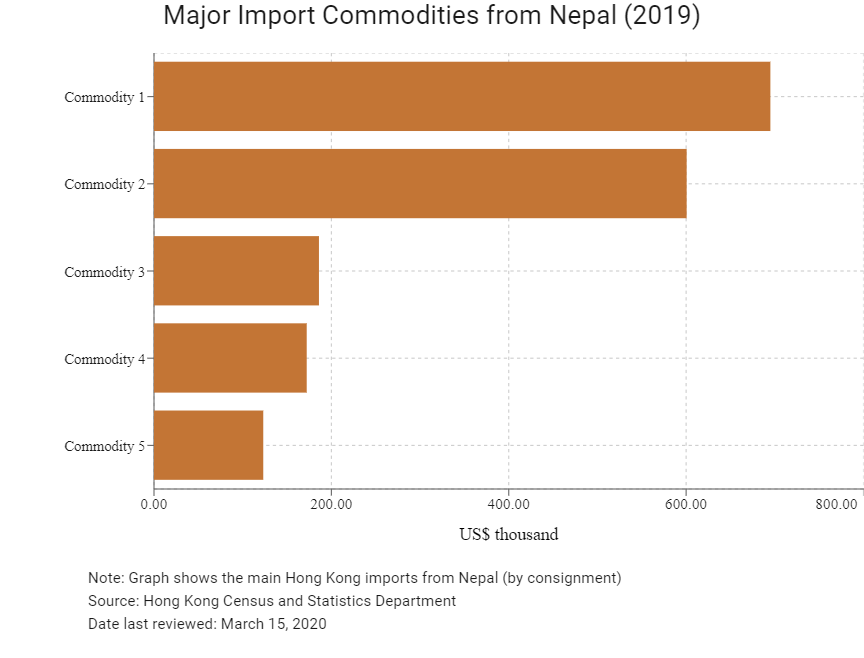 | | | |
| --- | --- | --- |
| Import Commodity | Commodity Detail | Value (US$ thousand) |
| Commodity 1 | Telecommunications and sound recording and reproducing apparatus and equipment | 695.0 |
| Commodity 2 | Manufactures of metals | 600.6 |
| Commodity 3 | Professional, scientific and controlling instruments and apparatus | 186.0 |
| Commodity 4 | Textile yarn, fabrics, made-up articles, and related products | 172.2 |
| Commodity 5 | Miscellaneous manufactured articles | 123.2 |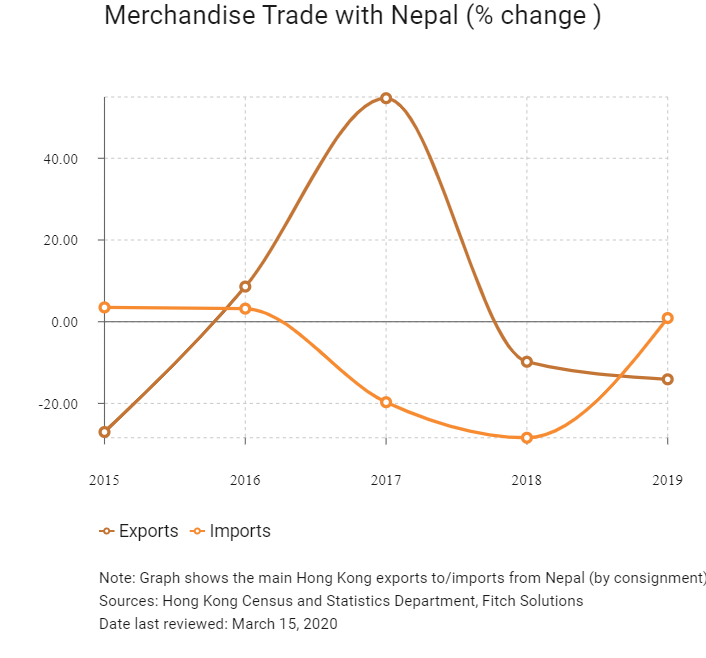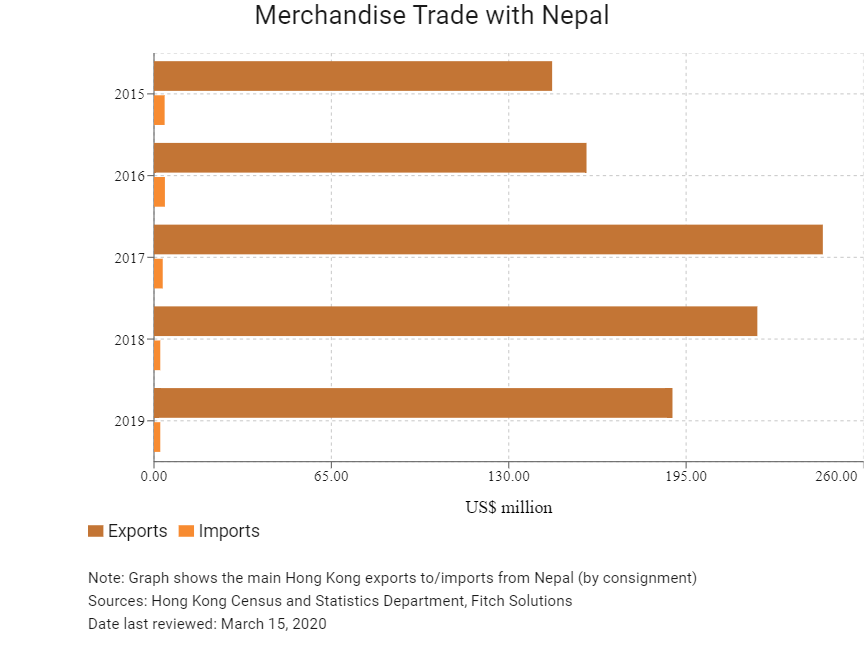 | | | |
| --- | --- | --- |
| | 2019 | Growth rate (%) |
| Number of Nepalese residents visiting Hong Kong | 6,007 | 7.1 |
| Number of Asia Pacific residents visiting Hong Kong | 52,326,248 | -14.3 |
Sources: UN, Hong Kong Tourism Board
| | | |
| --- | --- | --- |
| | 2019 | Growth rate (%) |
| Number of Nepalese residing in Hong Kong | 12,093 | 29.6 |
| Number of South Asians residing in Hong Kong | 49,794 | 29.6 |
Note: Growth for resident data is from 2015 to 2019, no UN intermediate data available
Source: United Nations Department of Economic and Social Affairs – Population Division, Hong Kong Tourism Board
Date last reviewed: March 15, 2020
Commercial Presence in Hong Kong
2020

Growth rate (%)

Number of Nepalese companies in Hong Kong

N/A

N/A

- Regional headquarters

- Regional offices

- Local offices
Source: Hong Kong Census and Statistics Department
Chamber of Commerce (or Related Organisations) in Hong Kong
Nepal Chamber of Commerce (Hong Kong)
Address: 1/F, 125 Shanghai Street, Yau Ma Tei, Kowloon, Hong Kong
Email: info@nepalchamber.hk
Tel: (852) 3488 1938
Fax: (852) 3488 1938
Source: Nepal Chamber of Commerce, Hong Kong
Consulate General of Nepal in Hong Kong
Address: Unit 715, Concordia Plaza, 1 Science Museum Road, Tsim Sha Tsui (East), Kowloon, Hong Kong
Email: cgnhk@biznetvigator.com / cnghongkongnp@gmail.com
Tel: (852) 2369 7813
Fax: (852) 2824 2970
Source: Consulate General of Nepal in Hong Kong
Visa Requirements for Hong Kong Residents
Hong Kong residents with valid passport may obtain Tourist Visa from the Consulate General of Nepal in Hong Kong or Gratis Tourist Visa on arrival at all immigration entry points of Nepal.
Source: Visa on Demand
Date last reviewed: March 15, 2020