Turkey
Turkey: Market Profile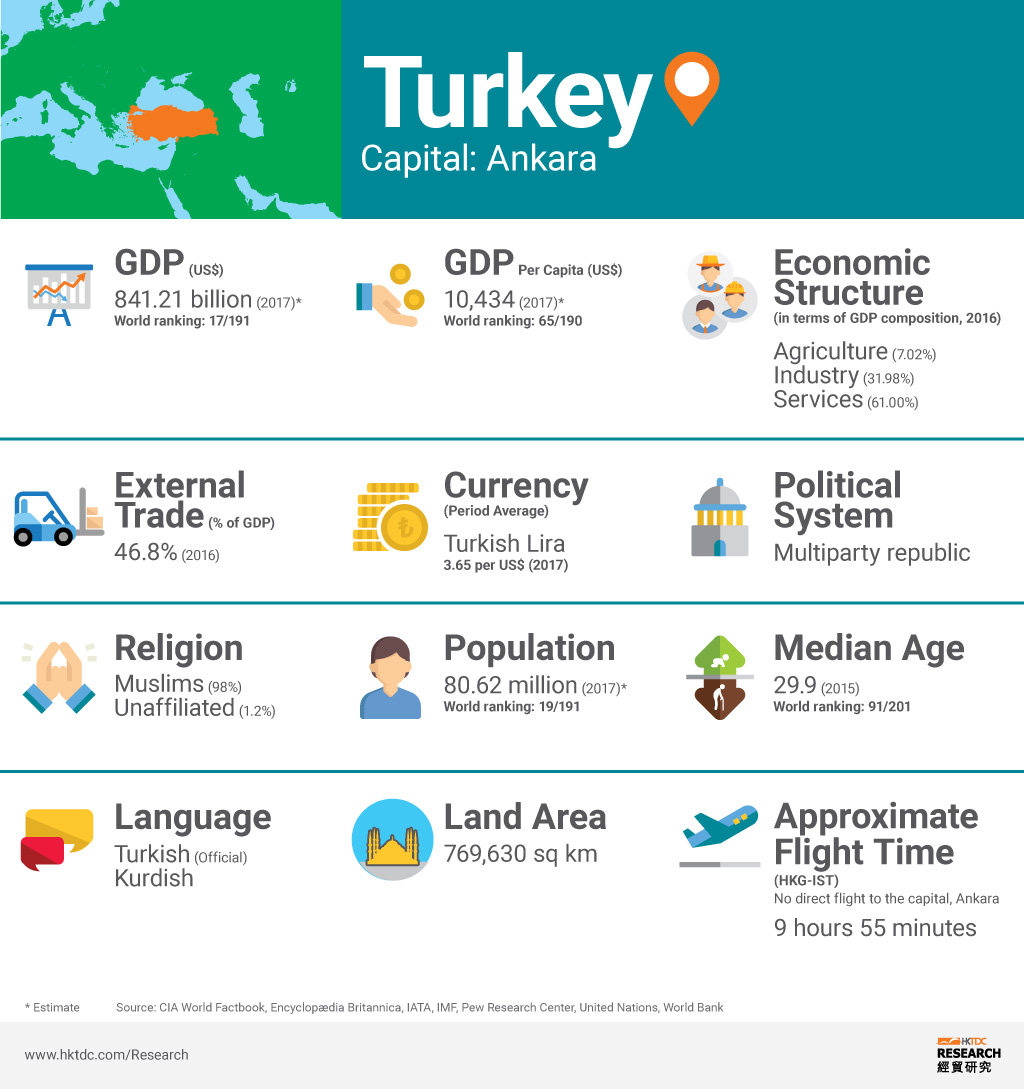 1. Overview
Turkey's economic performance since 2000 has been robust. Macroeconomic and fiscal stability were at the heart of its performance, enabling increased employment and incomes and making Turkey an upper-middle-income country. Poverty incidence more than halved over 2002-15, and during this time, Turkey urbanised dramatically, opened to foreign trade and finance, harmonised many laws and regulations with European Union (EU) standards, and greatly expanded access to public services. It also recovered well from the global crisis of 2008/09. Nevertheless, Turkey faces challenges to moving into high-income status as the country is being tested by an uncertain outlook. Most notably, new momentum is needed to improve the quality of education and boost productivity through greater innovation. Looking ahead, the government will need to take strong measures to revitalise private investment, boost growth, and resume Turkey's regional integration and global trade growth.
Source: World Bank, Fitch Solutions
2. Major Economic/Political Events and Upcoming Elections
August 2014
Prime Minister Erdogan won the first direct popular election for president.
November 2015
Governing AKP party regained parliamentary majority in snap elections.
November 2015
European Union struck a deal whereby Turkey restricted flow of migrants into Europe, in return for EUR3 billion and concessions on stalled EU accession talks.
May 2016
Prime Minister Ahmet Davutoglu resigned.
August 2016
President Erdogan visited St Petersburg for talks with Russian President Vladimir Putin. The two men pledged to restore the close economic ties.
June 2018
President Erdogan won another term in snap elections.
Source: BBC country profile – Timeline
3. Major Economic Indicators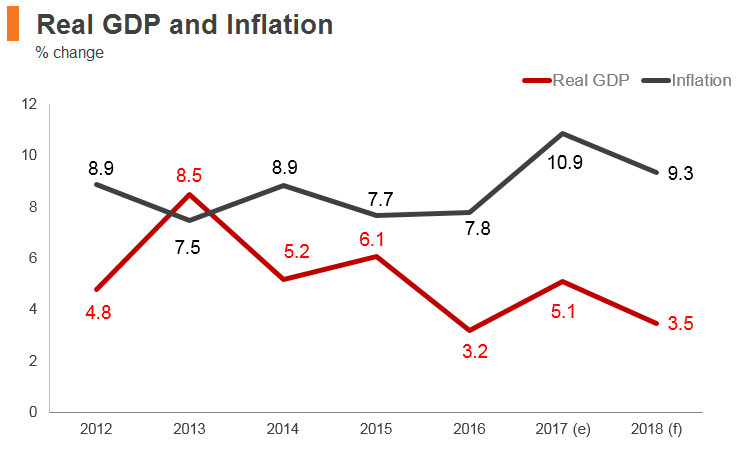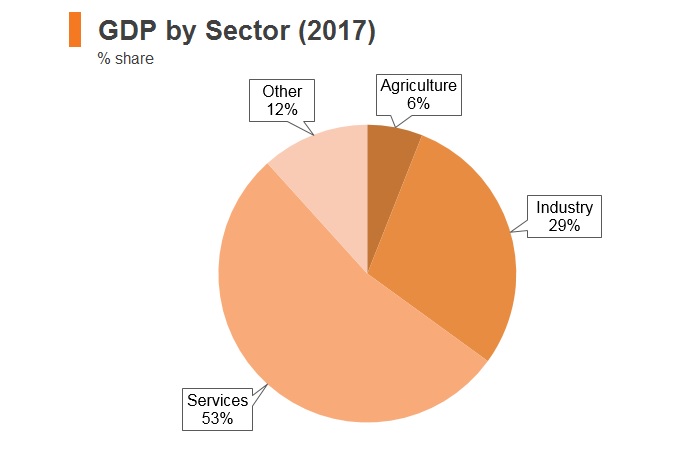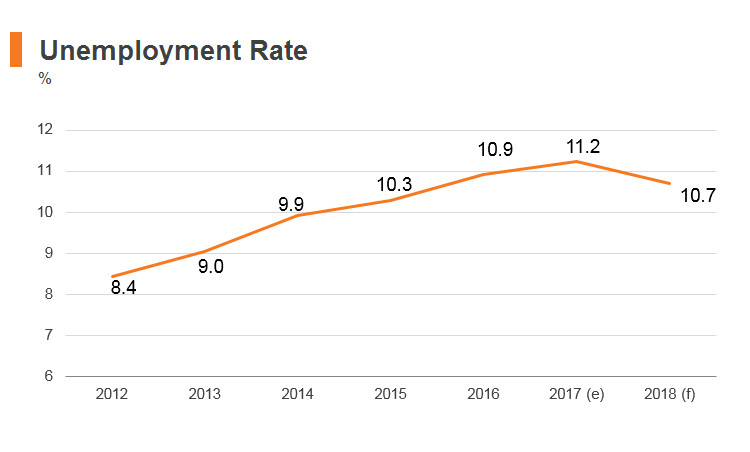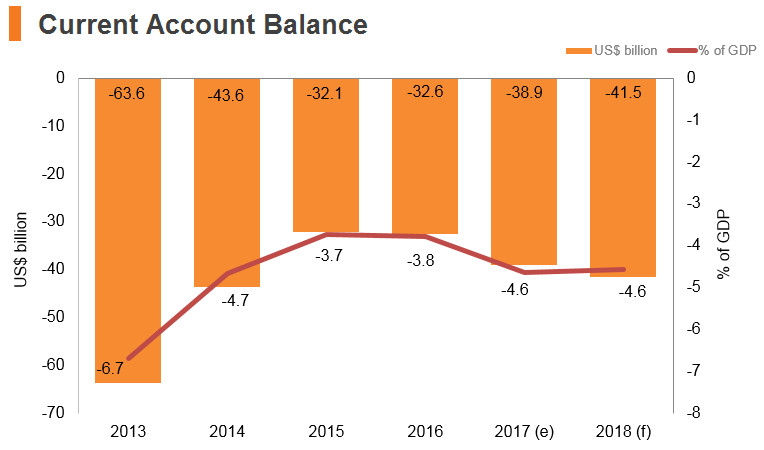 e = estimate, f = forecast
Source: IMF, World Bank, Fitch Solutions
Date last reviewed: August 20, 2018
4. External Trade
4.1 Merchandise Trade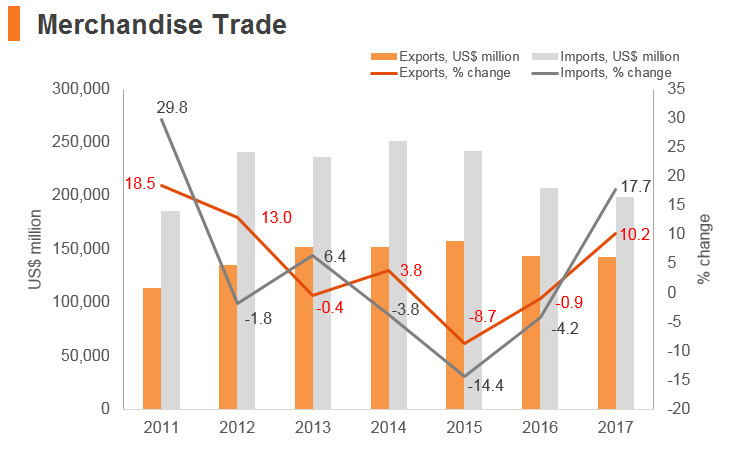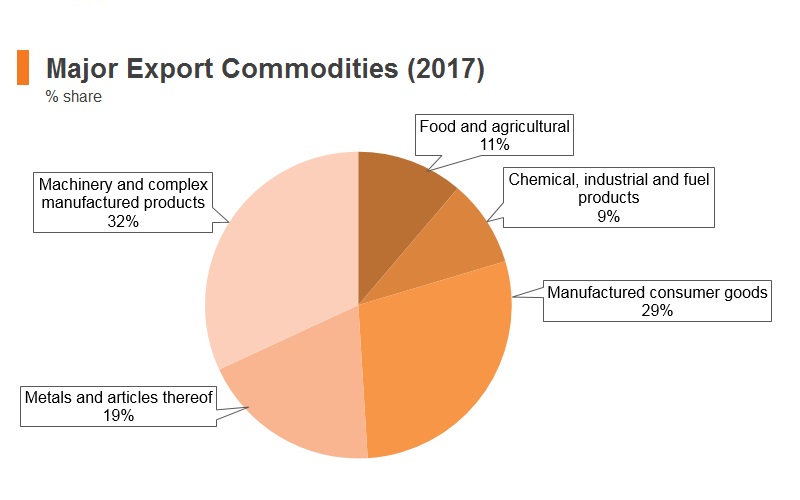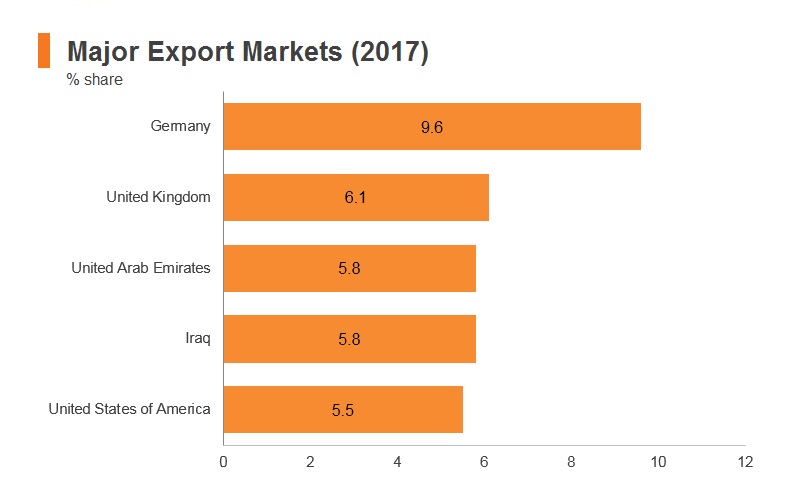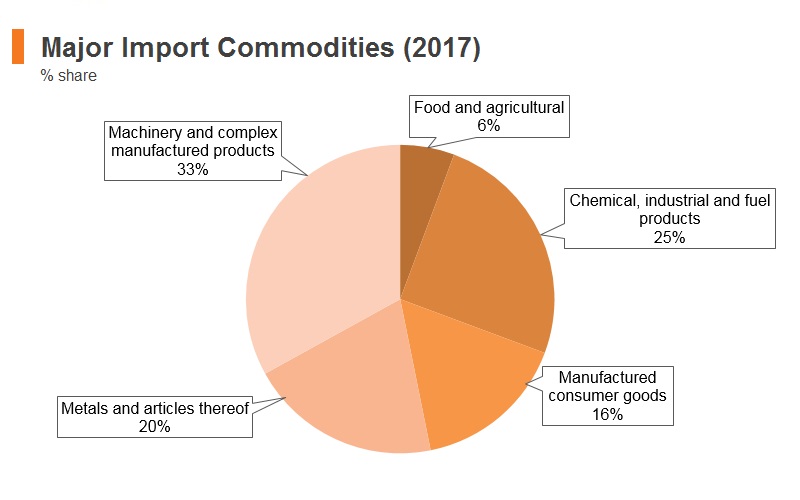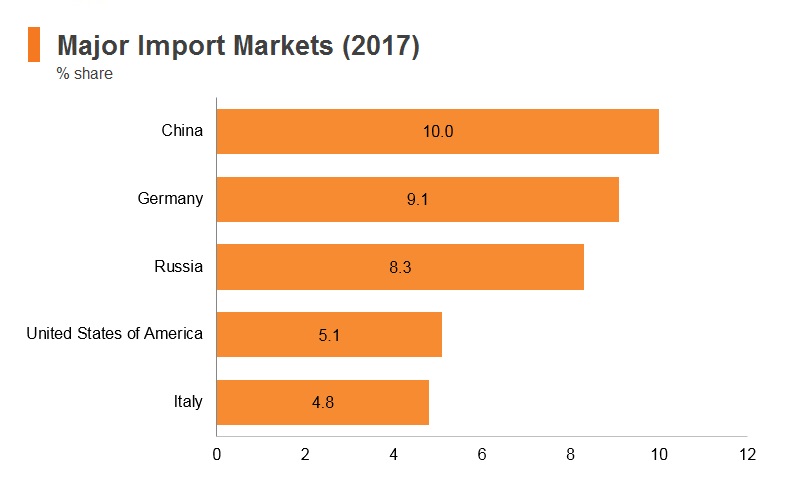 Source: Trade Map, Fitch Solutions
Date last reviewed: August 20, 2018
4.2 Trade in Services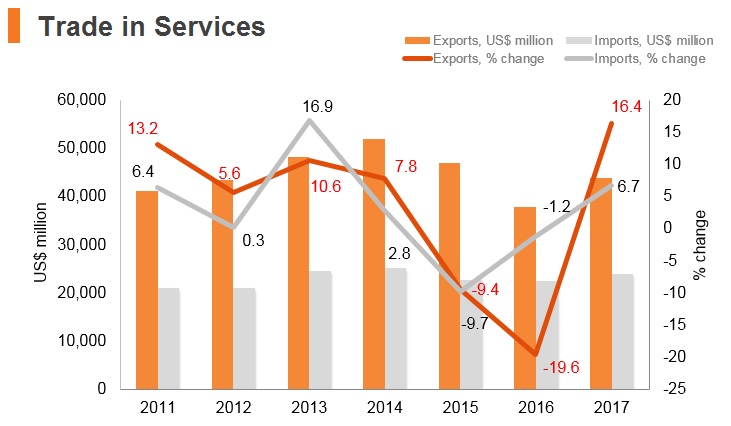 Source: WTO
Date last reviewed: August 20, 2018
5. Trade Policies
Turkey has significantly liberalised its import regime, especially in the last decade. Any individual or enterprise can freely register to engage in the import business. It is a member of the WTO, and its tariff scheme is based on the Harmonised System (HS) for commodity coding.
Trade flows in Turkey have been facilitated by the removal of trade barriers and lowering of tariffs alongside membership of a number of FTAs.
The EU-Turkey Customs Union came into force in January 1996, under which Turkey and the EU have abolished all customs duties, other surcharges and import quotas levied on most manufactured products from each other. Turkey has also adopted the EU's Common External Tariffs imposed on imports from third countries and economies. Products imported from sources other than the EU and Turkey can thus move freely, if all import formalities have been complied with customs duties.
Some industrial products from the least developed and developing countries (including the Chinese mainland) benefit from the EU's Generalised System of Preferences (GSP). With the creation of the Customs Union between the EU and Turkey, such products are also covered under Turkey's GSP regime.
Other states with active FTAs: Macedonia, Bosnia-Herzegovina, Tunisia, Morocco, Albania, Georgia, Montenegro, Serbia, Chile, Jordan, and Mauritius – These countries are not major trade partners of Turkey and, therefore, FTAs offer few benefits.
Turkey has its own anti-dumping actions which are separate from those of the EU. To harmonise with the relevant EU directives, the Turkish version of the RoHS directive entered into force in June 2009, while the Turkish version of the WEEE directive was published in the Turkish Official Journal on May 22, 2012 and implemented starting from January 2013 onwards.
The Turkish Standards Institution, or TSE, is the product standardisation body of Turkey, responsible for setting product standards and ensuring compliance. Taking electrical and electronic products as an example, while there is a minimum two-year warranty requirement, it is also necessary to obtain technical approval by TSE, and attain the European CE standard certification under the requirements set out by TSE, before the products can be imported and placed onto the Turkish market. As for toys, TSE also imposes a number of safety standards, which in large follow those required by the EU. Therefore, the attainment of CE standards certification can serve as a good reference for fulfilling the TSE requirements.
Source: WTO – Trade Policy Review, Fitch Solutions
6. Trade Agreement
6.1 Trade Updates
A free trade agreement between South Korea and Turkey will expand to the services sector and investment from the start of August 2018. The latest agreement calls for enhanced protection standard allowing stable corporate investment as well as opening up of cultural service sector such as of Turkey's movie, performance, and construction areas. Turkey also promised to open up its market by higher level in 18 areas including construction, culture, and environment.
6.2 Multinational Trade Agreements
Active
Turkey-EU: The EU and Turkey are linked by a Customs Union agreement, which came into force on December 31, 1995. Turkey has been a candidate country to join the European Union since 1999, and is a member of the Euro-Mediterranean partnership. The customs union with the EU provides tariff-free access to the European market, benefiting both exporters and importers; many of Turkey's major trade partners are EU states.


Israel-Turkey FTA: Israel is an important trade partner in the Middle East and there is potential for expansion of trade flows.


Egypt-Turkey FTA: Egypt is a relatively large export market, particularly for refined fuel.


Turkey-South Korea FTA: The expanded FTA will also allow each of the two countries to secure government policy authority – Korea in agriculture industry, energy, and real estate sectors, and Turkey in agriculture and fisheries, mining, and real estate sectors – while modernising Investor State Dispute Settlement (ISDS) to protect Korean companies with stake in Turkey. South Korea is in key source of complex manufactured goods.
Under Negotiation
Mercosur–Turkey FTA: Trade with Latin America is limited and may expand significantly under FTAs.
Signed But Not Ratified
Turkey-Lebanon, Kosovo, Moldova, Malaysia, and Faroe Islands: Trade flows with these countries are not substantial and they offer relatively limited markets – though Malaysia offers an alternative source of energy.
Negotiation Suspended
GCC: Though negotiations have been suspended, tariff-free access to the GCC would reduce costs on energy imports.
Source: WTO Regional Trade Agreements database, Fitch Solutions
7. Investment Policy
7.1 Foreign Direct Investment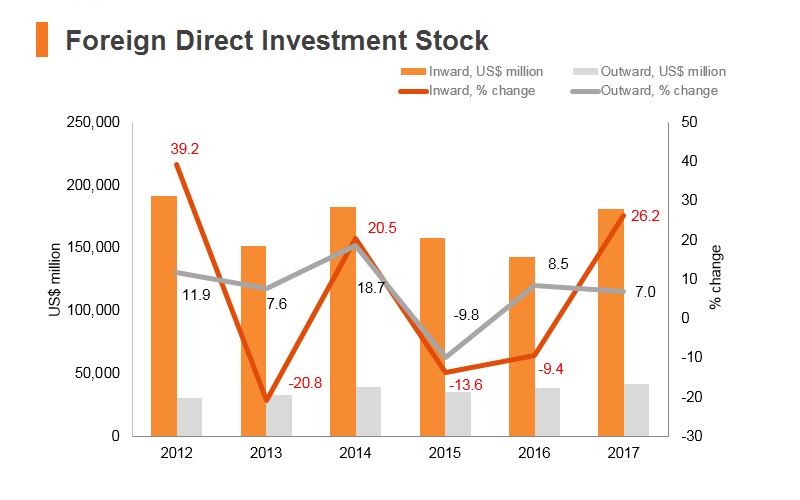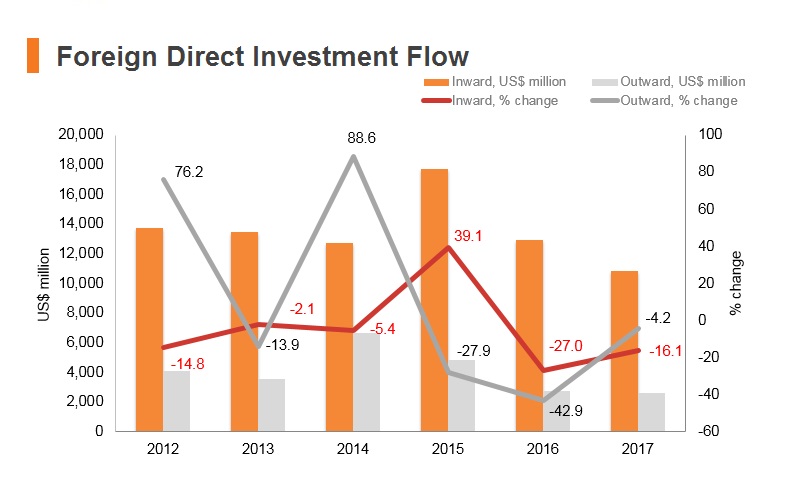 Source: UNCTAD
Date last reviewed: August 20, 2018
7.2 Foreign Direct Investment Policy
To encourage investments with the potential to reduce dependency on the importation of intermediate goods vital to the country's strategic sectors such as agriculture and food, automotive, business services, chemicals, electronics, energy and renewables, financial services, healthcare and pharmaceuticals, ICT, infrastructure, machinery, manufacturing, mining , real estate, tourism and transportation and logistics, the Turkish government has put in place investment incentives including VAT/customs duty exemption and social security premium support.


Effective as of January 1, 2012, local and foreign investors have equal access to the new investment incentives system comprised of four different schemes, namely General Investment Incentives Scheme, Regional Investment Incentives Scheme, Large-Scale Investment Incentives Scheme and Strategic Investment Incentives Scheme. More information on the investment environment and the relevant regulations can be found at the Investment Support and Promotion Agency of Turkey (ISPAT).


Since 2001, Turkey has pursued a comprehensive investment climate reform programme aimed at streamlining investment-related procedures and attracting more FDI. The government has launched the Coordination Council for the Improvement of the Investment Environment (YOIKK), which involves stakeholders from the public and private sectors, to advise on current investment policies. A supplementary role is played by the Investment Advisory Council of Turkey, which convenes yearly under the chairmanship of the prime minister and involves representatives from multinational companies, international institutions and non-governmental organisations. The recommendations supplied by this council are applied as guidelines for the YOIKK agenda.


The Privatisation Administration has been used to divest state assets in a wide range of industries, with 178 out of 188 former state-owned entities (SOEs) now boasting some level of private sector participation. Another government programme of more direct relevance is the Investment Support and Promotion Agency, which offers information and advice to foreign investors as well as support in setting up operations. All of these initiatives have been successful in improving the investment environment and increasing foreign participation in Turkey's economy.


Of greater interest to prospective investors, however, is the generous and wide-ranging incentive programme and suite of free zones which offer numerous fiscal benefits, funding support and logistical advantages to new projects. The current incentive system was established in 2012 and updated in 2015, and aims to encourage investment in strategic sectors, high value-add industries and underdeveloped regions. The programme is, therefore, divided into five different schemes which offer a varying range of benefits depending on the sector, location and amount of investment: the General Investment Incentive Scheme, the Regional Investment Incentive Scheme, the Large Scale Investment Scheme, the Priority Investment Incentive Scheme, and the Strategic Investment Incentive Scheme.


In addition, Turkey also has 19 operational 'free zones' that are located close to the EU and Middle Eastern markets with access to international trade routes. The advantages offered have resulted in the accumulation of sophisticated industrial clusters which offer immediate access to quality local suppliers and international trade routes, significantly reducing supply chain risks and logistics costs.


Public procurement preference – A number of provisions may be applied to government tenders which are detrimental to foreign investors, including restrictions on bids by foreign companies, the potential to offer price advantages of up to 15% for domestic bidders, a requirement to accept only lowest-cost bids, and the use of model contracts which leave little room for flexibility and specialisation.


Foreign ownership restrictions – There are few remaining regulatory restrictions on foreign investment, though equity participation is generally restricted to 50% in broadcasting and 49% in port operation and the aviation and maritime transportation sectors.


A number of provisions may be applied to government tenders including restrictions on bids by foreign companies, the potential to offer price advantages of up to 15% for domestic bidders, a requirement to accept only lowest-cost bids, and the use of model contracts which leave little room for flexibility and specialisation.


The Council of Ministers published a decree amending the Decree No. 32 on the Protection of the Value of the Turkish Currency (Decree No. 32) in the Official Gazette No. 30312 on January 25, 2018. The amendments providing restrictions on foreign exchange loans entered into force on May 2, 2018.Prior to the amendments, real person Turkish residents were not entitled to utilise foreign-currency denominated loans from abroad. With the amendments, Turkish residents that do not have foreign exchange income will no longer be able to utilise foreign-currency denominated loans from abroad, save for certain exceptions.
Source: WTO – Trade Policy Review, the International Trade Administration (ITA), Fitch Solutions
7.3 Free Trade Zones and Investment Incentives
Free Trade Zone/Incentive Programme
Main Incentives Available
General Investment Incentive Scheme: available regardless of location and investment amount and also applied to all other investment incentive programmes.
Exemption from VAT and customs duty
Regional Investment Incentive Scheme: offers a range of benefits depending on the development level of the region in which the project is located. All regions of Turkey are allocated a number from one to six, whereby one represents the most developed and offers the fewest incentives. The minimum investment amount is TRY1 million for zones one and two, and TRY500,000 for the remaining four zones.
– Automatic government land allocation
– Subsidised interest payments on loans
– Income tax reductions ranging from 15-55%
– Subsidies on employer social security contributions covering between 10-100% of the cost for 2-12 years
– The level of incentives offered increases from zones one to six and is also higher if the business is located in an Organised Industrial Zone
Large Scale Investment Incentive Scheme: available to investments in fuel refining (minimum investment TRY1 billion), chemical products, harbour services, automotive manufacturing (min. investment TRY200 million), automotive supply industries, railway trains and cars, pipelines, electronics, medical devices, aircraft, machinery, pharmaceuticals, metals production (minimum investment TRY50 million).
All incentives listed above, but more generous tax deductions of between 25%-65% and social security exemption for 2-12 years
Strategic Investment Incentive Scheme: offers the most generous benefits and is reserved for businesses establishing production facilities for goods which Turkey is currently a net importer. Minimum investment TRY50 million.
Tax deduction of 50% is available for all regions and social security contributions are subsidised for at least seven years
Free zones: 19 located throughout the country, mostly along the coastline and close to strategic ports such as Istanbul, Izmir and Mersin.

– Exemption from VAT, customs duty and stamp duty
– Exemption from corporate income tax for manufacturing companies
– Exemption from income tax on employees' salaries for companies that export at least 85% of the 'freight on board' value of the goods they produce in the free zones
Priority Investment Incentive Scheme: focused on specific sectors including high-tech manufacturing, defence industry, automotives, mining, education, LNG, power generation, rail and maritime transport.
– All incentives allocated to firms located in zone five regions are available to these industries regardless of location
– This includes income tax deductions of up to 50% and social security support for up to 10 years
Source: US Department of Commerce, Fitch Solutions
8. Taxation – 2018

Value Added Tax: 18%
Corporate Income Tax: 22%
Source: PWC tax Summaries 2018
8.1 Important Updates to Taxation Information
The Turkish government announced a series of measures aimed at increasing tax revenues in September 2017.The Omnibus Bill that was passed on December 5, 2017 includes important amendments to the corporate income tax (CIT) Law. The Omnibus Bill numbered 7061 increased the CIT rate from 20% to 22% for 2018, 2019 and 2020. The increase also applies to the advance tax filings to be made in respect of the concerned years. For companies with a special accounting period, the increased rate will apply in the tax years starting in 2018, 2019 and 2020. It must be highlighted that the Finance Minister has recently announced that the rate may be reduced soon within 2018 as one of the steps of fiscal tightening policy. According to the Law, the regulation shall enter into force and be applied on earnings that should be stated in CIT returns to be submitted after January 1, 2018.
New machine and equipment deliveries to those: in the manufacturing industry exclusively for taxpayers who possess an Industrial Registry Certificate, and located in technology development zones, specialised technology development zones, research and development (R&D) and design centres, and research laboratories with the activities in R&D, innovation, and design, to be used exclusively for these activities, have been exempted from VAT until December 31, 2019. This exemption is a full exemption. Taxes burdened due to deliveries within the scope of exemption will be refunded if it cannot be deducted.
8.2 Business Taxes
Type of Tax
Tax Rate and Base
Corporate Income Tax
22%
Value Added Tax
18%

Banking and Insurance Transactions Tax (applicable to licenced banks and financial services providers)
5% on the gains of such corporations from their transactions
Social security contributions

Social security premiums for both the employer and the employee total 34.5% of an employee's salary; 14% for the employee and 20.5% for the employer. In addition to social security payments, unemployment contribution is 3% of the salary, 1% for the employee and 2% for the employer.
Withholding Taxes
– 15% on dividends paid to non-residents
– Varying rates up to 18% on interest
– 20% on royalties
– 5% on professional fees for petroleum activities
– 5% on professional fees for other activities
– 20% on real estate rental payments

Source: PwC Tax Summaries
Date last reviewed: August 20, 2018
9. Foreign Worker Requirements
9.1 Localisation Requirements
Since January 2015, employers seeking to recruit foreign nationals must meet a number of stipulations which increase the obstacles to importing foreign workers.
Businesses must meet the following criteria in order to be eligible to employ foreign workers: a local employment quota of five local employees per foreign national; one of either a minimum amount of paid-in capital of TRY100,000, gross sales of TRY800,000, or exports to the value of USD250,000; and minimum monthly salary levels ranging between 1.5 and 6.5 times the minimum wage for the foreign worker, depending on their position.
9.2 Obtaining Foreign Worker Permits for Skilled Workers
For a foreign national to work in Turkey, an employment visa and a work permit (which also serves as a residency permit) must be acquired. This entails: an application for a work permit to the Turkish Embassy in the home country of the expatriate; an application to the Ministry of Labour and Social Security in Ankara within 10 days after the date of filing of the application with the Turkish Embassy; and an application for an employment visa within 90 days after obtaining the work permit from the Ministry.
Work permits are granted for an initial period of one year and are renewable first for up to three years and following this for up to six years. However, the employee must stay with the designated employer during this period, meaning that long-term expatriate workers, who will be in high demand due to their skills and experience of working in Turkey, will not be available for recruitment by other businesses, restricting recruitment options for businesses.
Due to the fact that professional services such as engineering, city planning and architecture are carefully regulated in Turkey, work permit applications for foreign nationals holding one of these degrees differ from the regular work permit applications and can take up to a year.
9.3 Visa/Travel Restrictions
Visitors from many European, Middle Eastern and South American countries may visit Turkey visa-free for up to 90 days. Visitors from other countries (including the US, China and the UK) may obtain visas for tourism or business purposes via the Electronic Visa Application System. This system, which was launched in 2013, allows visitors from some countries to obtain an e-Visa online, which streamlines the process for foreign business travellers needing to visit Turkey. E-visas cost between USD15-80 depending on the country of origin, while visas obtained on arrival cost between USD25-70 but are generally more expensive.
9.4 Refugee Employment Restrictions
Though Syrian refugees are permitted to apply for work permits to join the formal labour market, this scheme is not well publicised and has seen limited success. Businesses that want to formally employ Syrian refugees are expected to provide sponsorship and other payments. Compliance issues and supply chain risks for businesses employing refugees will therefore remain pertinent in the medium term.
Source: Government websites, Fitch Solutions
10. Risks
10.1 Sovereign Credit Ratings
| | | |
| --- | --- | --- |
| | Rating (Outlook) | Rating Date |
| Moody's | Ba3 (negative) | 17/08/2018 |
| Standard & Poor's | BB- (stable) | 17/08/2018 |
| Fitch Ratings | BB (negative) | 13/07/2018 |
Source: Moody's, Standard & Poor's, Fitch Ratings
10.2 Competitiveness and Efficiency Indicators


World Ranking

2016
2017
2018
Ease of Doing Business Index

63/189
69/190
60/190

Ease of Paying Taxes Index

61/189
128/190
88/190
Logistics Performance Index

34/160
N/A
47/160
Corruption Perception Index

75/176

81/180
N/A
IMD World Competitiveness
38/63
47/63
46/63
Source: World Bank, IMD, Transparency International
10.3 Fitch Solutions Risk Indices


World ranking
2016
2017
2018
Economic Risk Index Rank
64/202
Short-Term Economic Risk Score
46

56.5

52.9
Long-Term Economic Risk Score
 56.3
 60.6
59.8
Political Risk Index Rank
131/202
Short-Term Political Risk Score
 60.2
 57.1
57.1
Long-Term Political Risk Score
 58.4
 57.3
56.3
Operational Risk Index Rank
82/201
Operational Risk Score
 55.9
 54.2
52.9
Source: Fitch Solutions
Date last reviewed: August 20, 2018
10.4 Fitch Solutions Risk Summary
ECONOMIC RISK
Turkey's need to reduce its reliance on foreign capital, narrow external deficits and rebalance away from private consumption towards more domestic saving and investment will necessitate a period of slower trend growth. Risks of a sharp slowdown in headline growth remains high if there was to be a deterioration in the global macroeconomic outlook for emerging markets, which would see investor confidence suffer and capital inflows dry up.
OPERATIONAL RISK
Though Turkey continues to offer considerable investment potential, particularly due to its large labour force and open trade policies, investor sentiment towards the country will remain dampened over the medium term. The external environment remains uncertain and the civil war in neighbouring Syria has exerted a considerable influence over Turkish policymaking and gradually dragged the country into greater involvement, leading to an uptick in terrorist attacks, a huge influx of refugees and fractious relations with international powers also involved in the conflict.
Date last reviewed: August 21, 2018
10.5 Fitch Solutions Political & Economic Risk Indices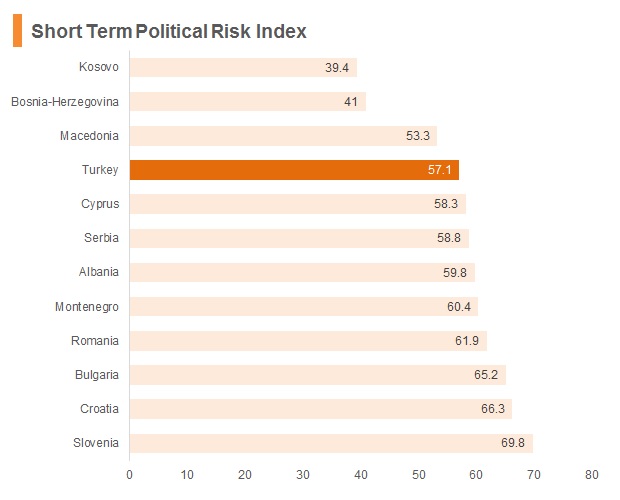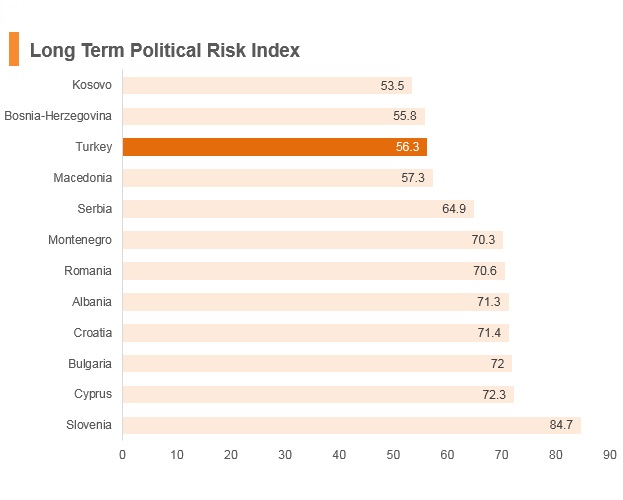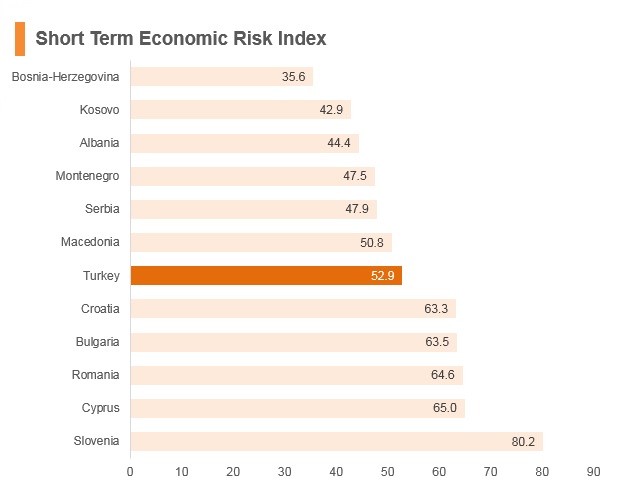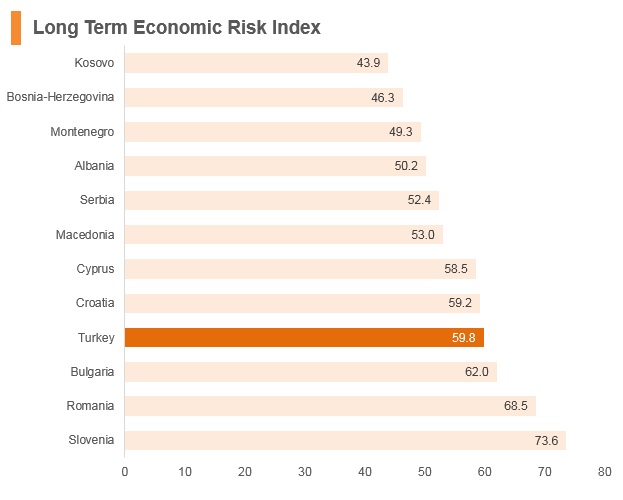 100 = Lowest risk, 0 = Highest risk
Source: Fitch Solutions Economic and Political Risk Indices
Date last reviewed: August 21, 2018
10.6 Fitch Solutions Operational Risk Index
| | | | | | |
| --- | --- | --- | --- | --- | --- |
| | Operational Risk | Labour Market Risk | Logistics Risk | Trade and Investment Risk | Crime and Security Risk |
| Turkey Score | 52.9 | 52.0 | 61.9  | 55.8 | 42.0 |
| Southeast Europe Average | 57.1 |  52.8 | 58.3 | 57.9 | 59.4 |
| Southeast Europe Position (out of 12) |  9 |  8 | 3 | 9 |  11 |
| Emerging Europe Average |  56.7 |  54.1 |  57.4 | 58.4 |  56.8 |
| Emerging Europe Position (out of 31) |  22 |  22 | 11 |  22 |  24 |
| Global Average |  49.7 |  49.8 | 49.3 | 50.0 |  49.9 |
| Global Position (out of 201) |  82 |  87 | 50 | 78 |  123 |
100 = Lowest risk, 0 = Highest risk            
Source: Fitch Solutions Operational Risk Index

| | | | | | |
| --- | --- | --- | --- | --- | --- |
| Country | Operational Risk Index | Labour Market Risk Index | Logistics Risk Index | Trade and Investment Risk Index | Crime and Secruity Risk Index |
| Slovenia | 67.2 | 54.0 | 70.6 |  60.9 | 83.4 |
| Croatia |  63.1 | 51.9 | 68.4 |  55.4 |  76.7 |
| Romania |  62.1 |  57.1 |  60.7 |  62.1 |  68.5 |
| Cyprus |  61.0 |  55.1 |  58.3 |  61.7 | 68.8 |
| Bulgaria |  60.2 |  55.5 |  60.6 |  63.6 |  61.1 |
| Macedonia |  57.5 |  47.2 |  57.2 |  68.3 |  57.3 |
| Montenegro |  56.9 |  52.8 |  56.5 |  58.8 |  59.3 |
| Serbia |  56.1 |  58.5 |  53.9 |  59.4 |  52.5 |
| Turkey |  52.9 |  52.0 |  61.9 |  55.8 |  42.0 |
| Kosovo |  52.3 |  55.2 |  55.6 |  57.6 |  40.7 |
| Albania |  50.8 |  49.0 |  49.8 |  47.6 |  56.8 |
| Bosnia |  45.5 |  45.5 |  46.1 |  44.3 |  45.9 |
| Regional Averages |  57.1 |  52.8 |  58.3 |  57.9 |  59.4 |
| Emerging Markets Averages |  46.8 |  48.0 |  45.8 |  47.5 |  46.0 |
| Global Markets Averages |  49.7 |  49.8 |  49.3 | 50.0 |  49.9 |
100 = Lowest risk, 0 = Highest risk
Source: Fitch Solutions Operational Risk Index
Date last reviewed: August 21, 2018
11. Hong Kong Connection
11.1 Hong Kong's Trade with Turkey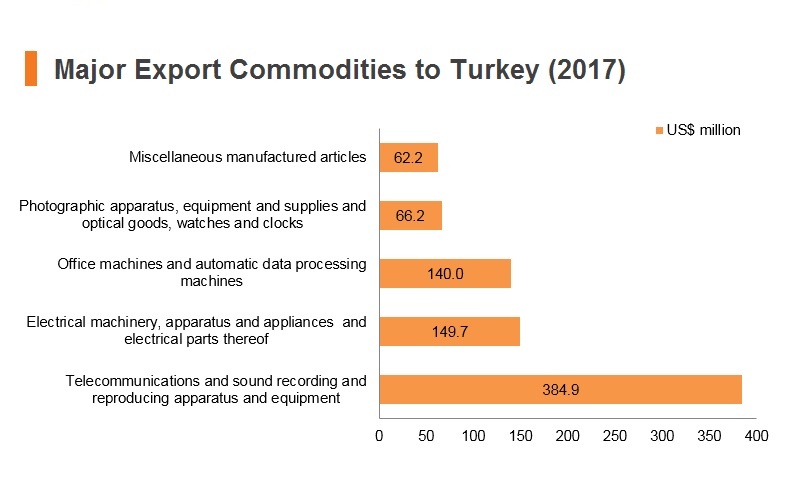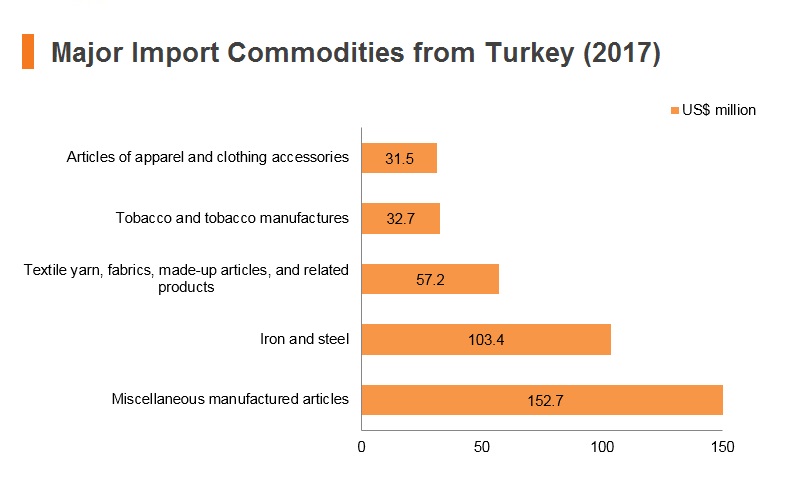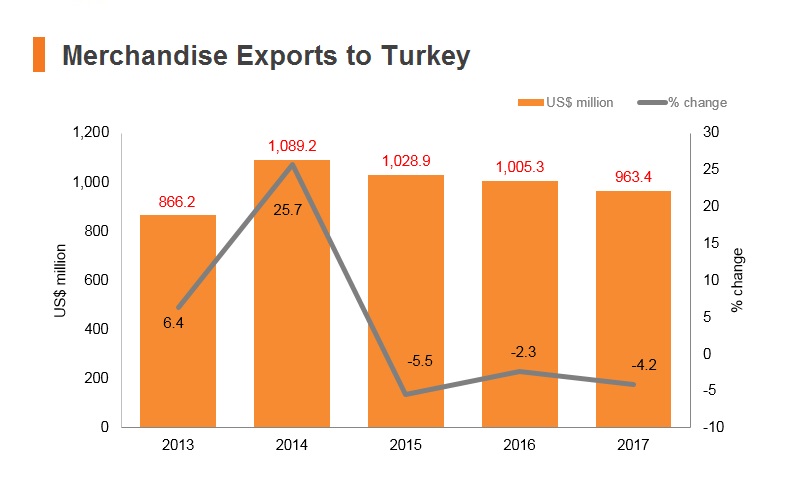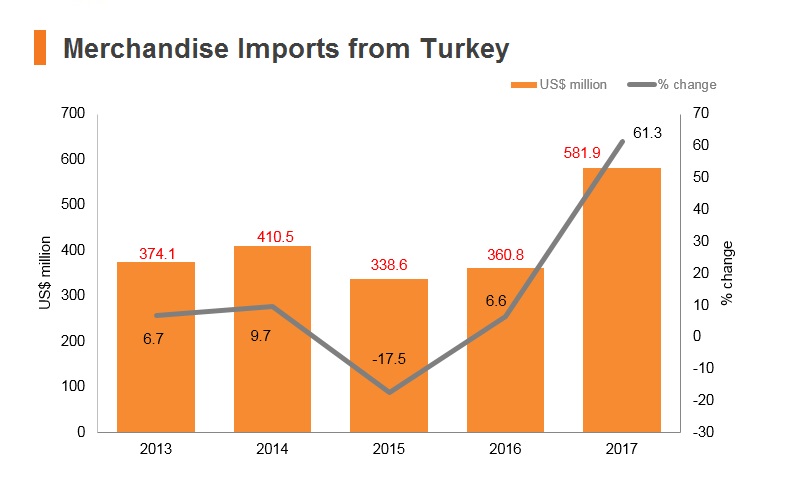 Official Exchange Rate HK$/US$, average
7.76 (2013)
7.75 (2014)
7.75 (2015)
7.76 (2016)
7.79 (2017)
Source: Hong Kong Census and Statistics Department, Fitch Solutions
Date last reviewed: August 21, 2018
| | | |
| --- | --- | --- |
| | 2017 | Growth rate (%) |
| Number of Turkish residents visiting Hong Kong | 27,388 | -4.6 |
Source: Hong Kong Tourism Board
Date last reviewed: August 21, 2018
11.2 Commercial Presence in Hong Kong


2016

Growth rate (%)
Number of Turkish companies in Hong Kong
 N/A

N/A
- Regional headquarters
- Regional offices
- Local offices

11.3 Chamber of Commerce (or Related Organisations) in Hong Kong
Turkish Consulate General in Hong Kong
Address: Room 301, 3/F, Sino Plaza, 255-257 Gloucester Road, Causeway Bay, Hong Kong
Email: consulate.hongkong@mfa.gov.tr
Tel: (852) 2572 1331
Fax: (852) 2893 1771
Source: http://hongkong.bk.mfa.gov.tr/Mission/Contact
11.4 Visa Requirements for Hong Kong Residents
HKSAR Passport Holder: Visa-free for up to 90 days (visits for tourism / conference / business meeting purposes only)
Source: Visa on Demand