Estonia
Estonia: Market Profile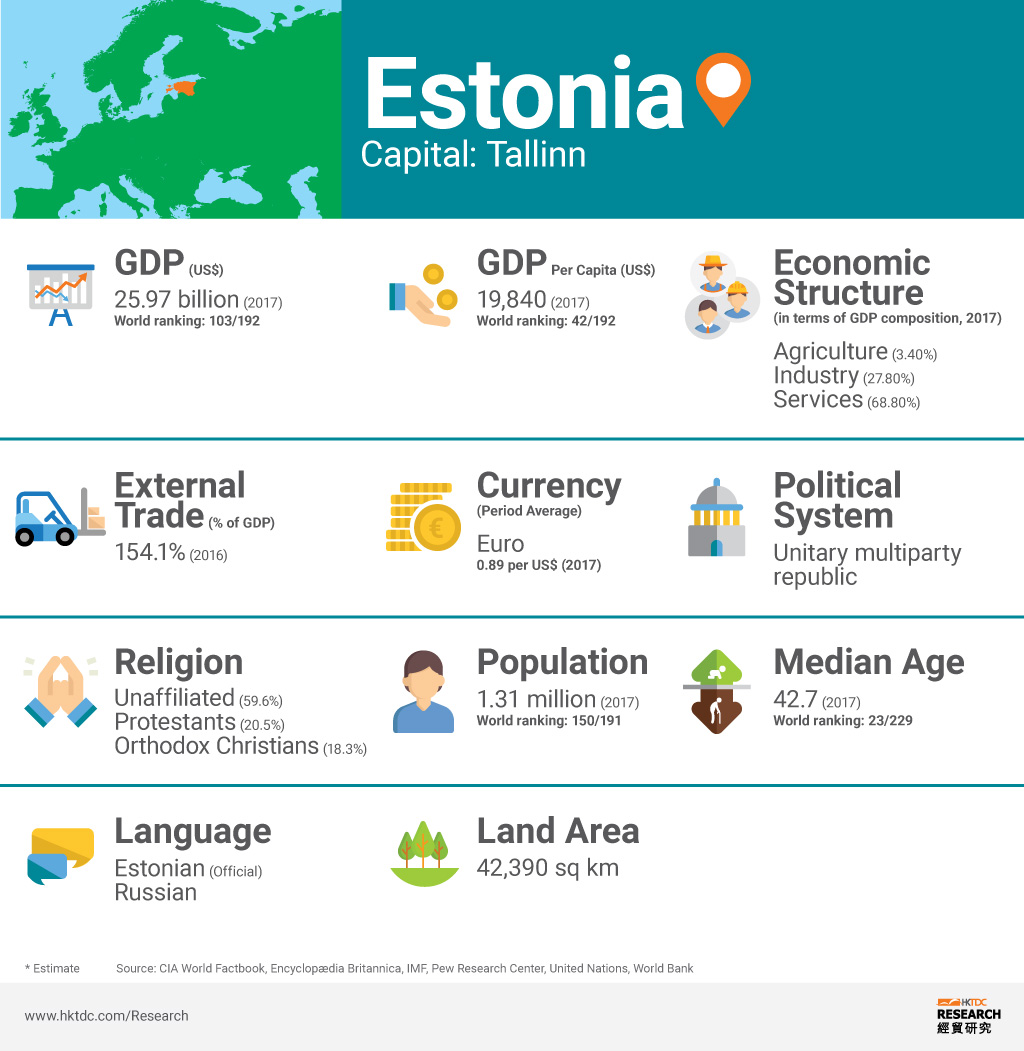 1. Overview
Estonia's political environment is characterised by consensus among major political parties towards liberal economic policy, conservative fiscal management, and European Union (EU) convergence. This has helped to substantially mitigate policy risks through the recession, preventing any major breakdown in the leadership despite worsening economic conditions for the majority of the electorate.
Source: World Bank, Fitch Solutions
2. Major Economic/Political Events and Upcoming Elections
March 2015
Prime Minister Taavi Rõivas' Reform Party emerged as winner in parliamentary election.
March 2017
The first of about 800 British troops arrived in Estonia as part of a major NATO mission in the Baltic States.
Source: BBC country profile – Timeline
3. Major Economic Indicators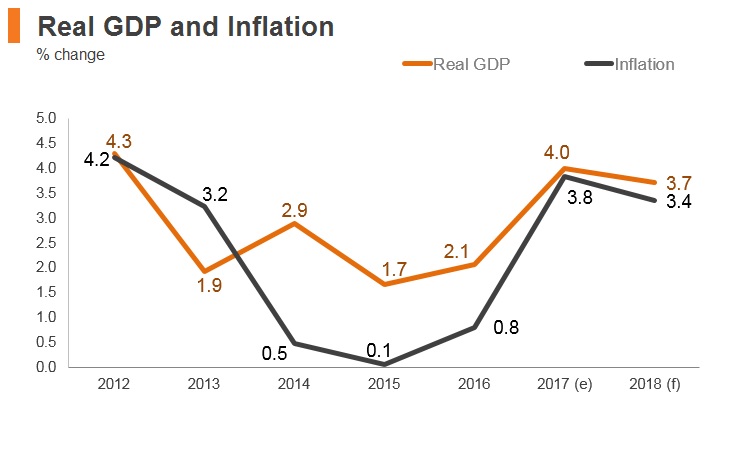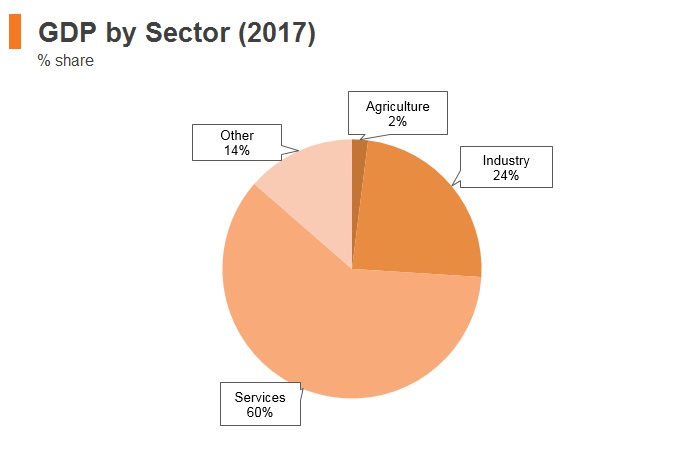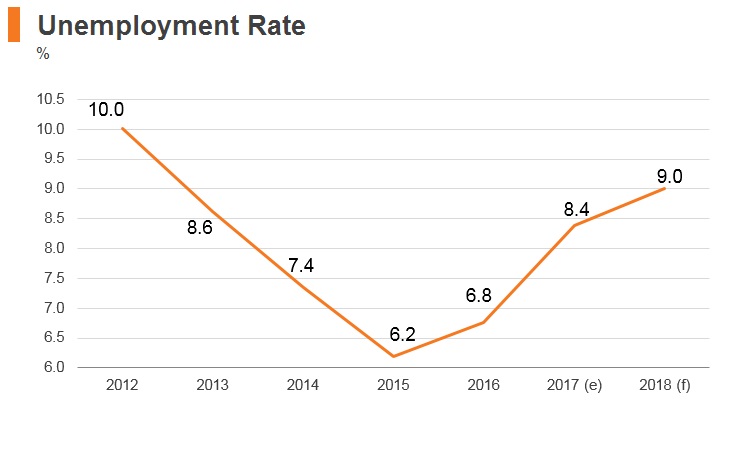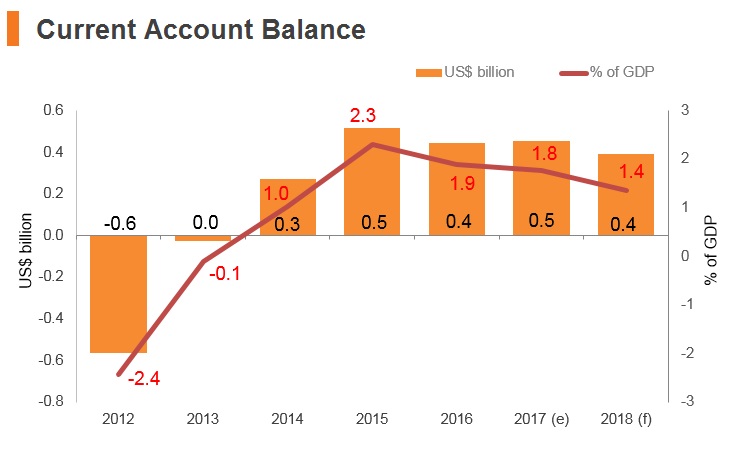 e = estimate, f = forecast
Source: International Monetary Fund, World Bank
Date last reviewed: August 21, 2018
4. External Trade
4.1 Merchandise Trade
Source: WTO
Date last reviewed: August 21, 2018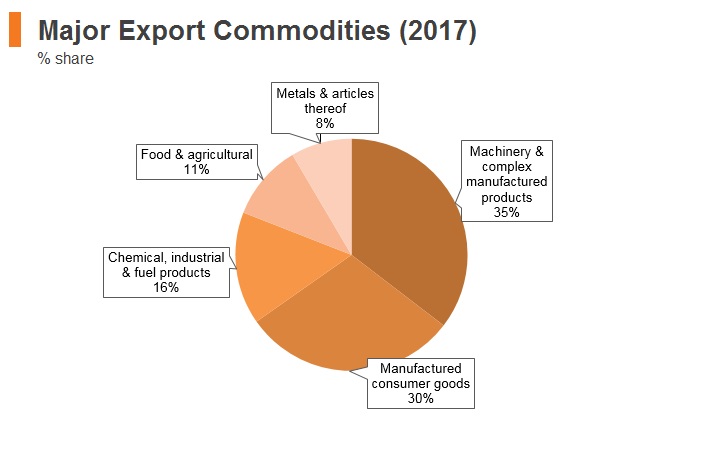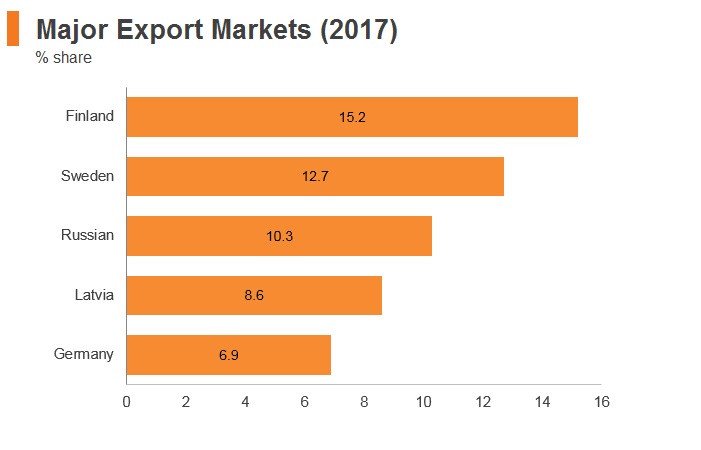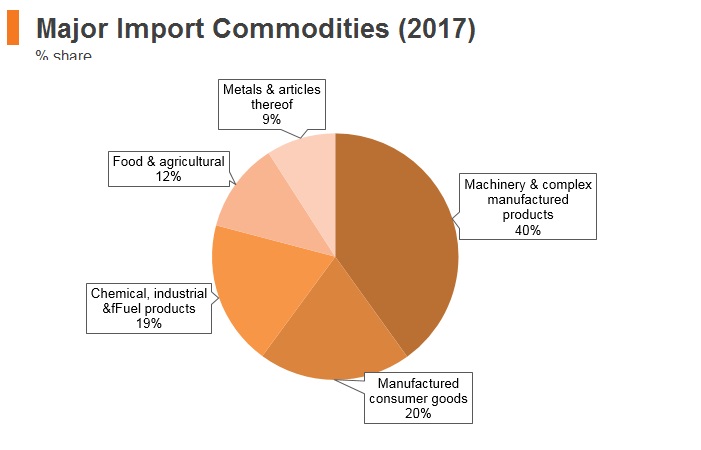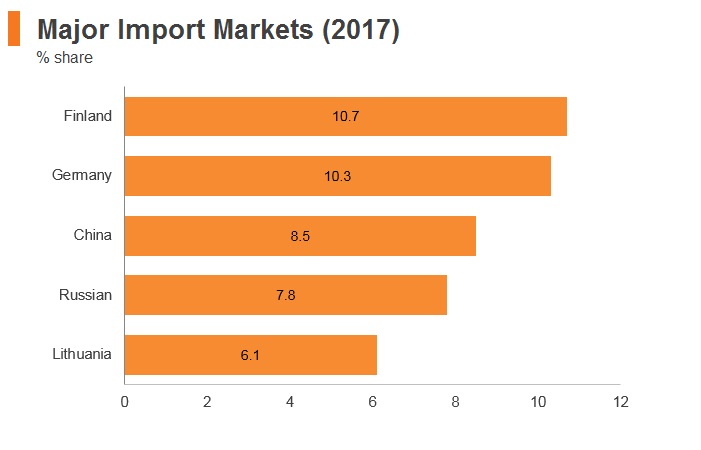 Source: Trade Map, Fitch Solutions
Date last reviewed: September 20, 2018
4.2 Trade in Services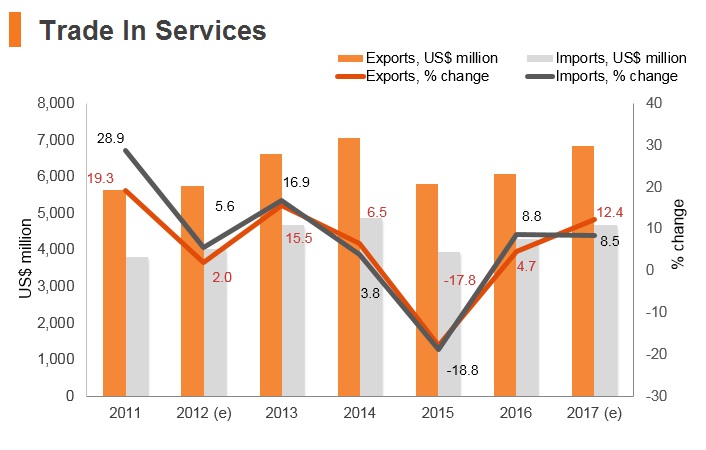 Source: WTO
Date last reviewed: August 21, 2018
5. Trade Policies
Estonia joined the World Trade Organisation (WTO) in November 1999, and in May 2004 it joined the EU.
Estonia applies the EU's Common External Tariff (CET), which means goods manufactured and imported from within the EU are not subject to customs charges. The average tariff rate for EU states is just 1.5%, which is among the lowest globally. The duties for non-European countries are also relatively low, especially for manufactured goods (4.2% on average). However, textile, clothing items (high duties and quota system) and food-processing industry sectors (average duties of a 17.3% and numerous tariff quotas) still see protective measures. Most of the country's major trade partners are within the EU, hence risks are less pronounced.
The EU has imposed various anti-dumping measures on a wide range of products, predominantly in the areas of textiles, parts, steel, iron, and machinery on goods coming from China and a few other Asian nations to protect domestic industries.
On November 13, 2016, the European Commission (EC) imposed a provisional anti-dumping duty on imports of some primary and semi-processed metals from China. The rate of duty is between 43.5% and 81.1% of the net free-at-union-frontier price before duty depending on the company. In the same vein, the rate of duty for similar goods from Belarus is 12.5% of the net, free-at-union-frontier price before duty.
In 2016, the EC also introduced an import licensing regime for steel products exceeding 2.5 tonnes. The regulation will be active until May 15, 2020.
In March 2016, the European Commission imposed a definitive countervailing duty (8.7% or 9%) on imports consisting largely of textiles products originating in India.
A multitude of issues persists with regard to the respect for Intellectual Property Rights (IPR) in China, which means many Latvian manufacturing and retail businesses face additional risks when importing finished or intermediate goods from this trading partner.
In Q215, the EC issued regulations on trade restrictions on cattle, beef, watermelons and prepared tomatoes with Turkey. This will help to protect domestic agriculture and regional farming businesses.
On January 1, 2017, the European Union imposed additional import duties on certain fruit and vegetables if the quantity of the subject goods exceeds the trigger volume level within the specified application period.
On November 15, 2017, the European Commission allocated a total value of EUR62 million (USD74.4 million) for funding promotional campaigns of EU agricultural products implemented in the internal market for the year 2018. The budget consists of various promotional topics of EU goods in the internal market with an additional focus on the promotion of fruit, vegetables and sheep/goat meat.
Source: WTO - Trade Policy Review, Fitch Solutions
6. Trade Agreement
6.1 Trade Updates
Membership of the Eurozone will reduce transaction costs and eliminate foreign exchange risk for inter-bloc trade and investment. This will provide scope for Latvia to expand and diversify its export markets, as well as attracting more foreign investment over the longer term.
6.2 Multinational Trade Agreements
Active
The EU: Estonia is a member of the EU that comprises 28 member states, and it follows EU's common external trade policy and measures. All EU member states adopt common external trade policy and measures. As such, the country's trade policy is largely identical to that of the wider regional bloc. The EU updated its trade policy (and, by extension, its import tariffs, customs, duties and procedures) in 2017.


European Economic Area (EEA)-European Free Trade Association (EFTA) (Iceland, Liechtenstein, Norway and Switzerland): The EEA unites the EU Member States and the three EFTA States (Iceland, Liechtenstein, and Norway) into an Internal Market governed by the same basic rules. These rules aim to enable goods, services, capital, and persons to move freely about the EEA in an open and competitive environment, a concept referred to as the four freedoms. While this agreement enhances trade flows between these countries, only Switzerland is a major trading partner to the EU.


EU-Turkey Customs Union: the EU and Turkey are linked by a Customs Union agreement, which came into force on December 31, 1995. Turkey has been a candidate country to join the EU since 1999, and is a member of the Euro-Mediterranean partnership. The customs union with the EU provides tariff- free access to the European market for Turkey, benefitting both exporters and importers. Turkey is the EU's fourth largest export market and fifth largest provider of imports. The EU is by far Turkey's number one import and export partner. Turkey's exports to the EU are mostly machinery and transport equipment, followed by manufactured goods. At present the Customs Union agreement covers all industrial goods, but does not address agriculture (except processed agricultural products), services or public procurement. Bilateral trade concessions apply to agricultural as well as coal and steel products. In December 2016, the European Commission proposed the modernisation of the Customs Union and to further extend the bilateral trade relations to areas such as services, public procurement and sustainable development.


EU-Canada Comprehensive Economic and Trade Agreement (CETA): CETA is expected to strengthen trade ties between the two regions, having come into effect in September 2017. Some 98% of trade between Canada and the EU is duty-free under CETA. The agreement is expected to boost trade between partners by more than 20%. CETA also opens up government procurement. Canadian companies will be able to bid on opportunities at all levels of the EU government procurement market and vice-versa. CETA means that Canadian provinces, territories and municipalities are opening their procurement to foreign entities for the first time, albeit with some limitations regarding energy utilities and public transport.
Ratification Pending
EU-Japan Trade Agreement: In July 2018, the EU and Japan signed a trade deal that promises to eliminate 99% of tariffs that cost businesses in the EU and Japan nearly EUR1 billion annually. According to the European Commission, the EU-Japan Economic Partnership Agreement (EPA) will create a trade zone covering 600 million people and nearly a third of global GDP. The result of four years of negotiation, the EPA was finalised in late 2017 and is expected to come into force by the end of the current mandate of the European Commission in 2019. The total trade volume of goods and services between the EU and Japan is EUR86 billion. The key parts of the agreement will cut duties on a wide range of agricultural products and it seeks to open up services markets, in particular financial services, e-commerce, telecommunications and transport. As of August 2018, the agreement is awaiting ratification by the European Parliament and the Japanese Diet, following which it could enter into force in 2019. At the same time, negotiations with Japan continue on investment protection standards and investment protection dispute resolution. Japan is the EU's second- biggest trading partner in Asia after China. EU exports to Japan are dominated by motor vehicles, machinery, pharmaceuticals, optical and medical instruments, and electrical machinery. The agreement awaits ratification from all parties concerned.


EU-SADC Economic Partnership Agreement (Botswana, Lesotho, Mozambique, Namibia, South Africa, Swaziland, Angola, Comoros, Democratic Republic of the Congo, Madagascar, Malawi, Mauritius, Seychelles, Tanzania, Zambia and Zimbabwe): An agreement between EU and SADC delegations was reached in 2016 and is awaiting ratification, with 13 of the 35 needed states having ratified the agreement as of April 2018.


EU-Central America Association Agreement (Guatemala, El Salvador, Honduras, Nicaragua, Costa Rica, Panama, Belize, and Dominican Republic): An agreement between the parties was reached in 2012 and is awaiting ratification (29 of the 34 parties have ratified the agreement as of April 2018).
Under Negotiation
EU-Australia: The EU, Australia's second largest trade partner, has launched negotiations for a comprehensive trade agreement with Australia. Bilateral trade in goods between the two partners has risen steadily in recent years, reaching almost EUR48 billion in 2017, while bilateral trade in services added an additional EUR27 billion. The negotiations aim at removing trade barriers, streamlining standards and putting European companies exporting to or doing business in Australia on an equal footing with those from countries that have signed up to the Trans-Pacific Partnership  or other trade agreements with Australia. The Council of the EU authorised opening negotiations for a trade agreement between the EU and Australia on May 22, 2018.


EU-US (Trans-Atlantic Trade and Investment Partnership): This agreement was expected to increase trade and services, but it is unlikely to pass under a Trump administration in the US.
Source: WTO Regional Trade Agreements database
7. Investment Policy
7.1 Foreign Direct Investment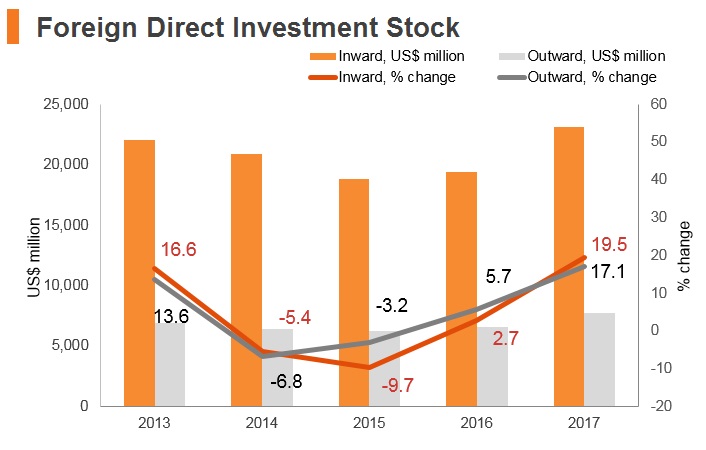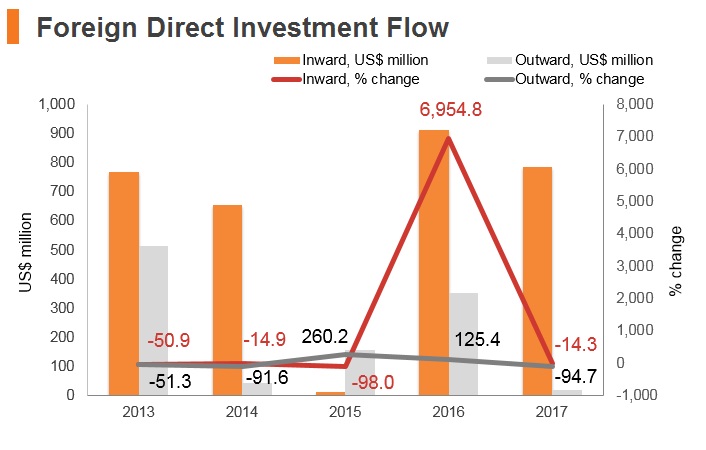 Source: UNCTAD
Date last reviewed: August 21, 2018
7.2 Foreign Direct Investment Policy
The Estonian Investment Agency (EIA), a part of Enterprise Estonia, is a government agency promoting foreign investments in Estonia and assisting international companies in finding business opportunities in Estonia. EIA offers comprehensive, one-stop investment consultancy services, free of charge. The agency's goal is to increase awareness of business opportunities in Estonia and promote the image of Estonia as an attractive country for investments.


Licenses are required for foreign investors to enter the following sectors: mining, energy, gas and water supply, railroad and transport, waterways, ports, dams and other water-related structures and telecommunications and communication networks.


Estonia's government has not set limitations on foreign ownership and it does not screen foreign investment.


As an EU member, Estonia maintains liberal policies in order to attract investment and export-oriented companies. Creating favourable conditions for FDI and openness to foreign trade has been the foundation of Estonia's economic strategy. Existing requirements are not intended to restrict foreign ownership but rather to regulate it and establish clear ownership responsibilities.
Sources: WTO – Trade Policy Review,The International Trade Administration (ITA), U.S. Department of Commerce
7.3 Free Trade Zones and Investment Incentives
Free Trade Zone/Incentive Programme
Main Incentives Available
Four free trade zones: Muuga port (near Tallinn), Sillamae port (northeast Estonia), Paldiski north port (northwest Estonia) and in Valga (southern Estonia)
- All free trade zones are open for FDI on the same terms as Estonian investments.

- Estonia's Customs Act permits the government to establish free trade zones.

- Goods in a free trade zone are considered to be outside the customs territory.

- Value added tax (VAT), excise, import and export duties (as well as possible fees for customs services) do not have to be paid on goods brought into free trade zones for later re-export.

8. Taxation – 2018

Value Added Tax: 20%
Corporate Income Tax: 20%
Source: PwC Tax Summaries 2018
8.1 Important Updates to Taxation Information
There is no separate capital gains tax. Gains derived by resident companies or branches of foreign companies are exempt until a distribution is made.


Estonia is regarded as offering a relatively favourable income tax regime, as all undistributed corporate profits are tax exempt. Estonia levies a corporate income tax only on profits that are distributed as dividends, share buy-backs, capital reductions, liquidation proceeds, or deemed profit distributions. Distributed profits are generally subject to 20% corporate tax (20/80 on the net amount of the profit distribution).
8.2 Business Taxes
Type of Tax
Tax Rate and Base
Corporate Income Tax
20% on gross profits
Social security contributions
33% (all employers)

Unemployment insurance:
- Employer 0.8% of gross salary
- Employee 1.6% of gross salary
VAT/GST
- 20% (standard)
- A lower rate of 9% applies to certain items such as books, newspapers and medicinal products
Land Tax
Annual tax rate of 0.1%-2.5%, depending on the municipality, which is calculated on the assessed value of land.
Source: PwC Tax Summaries 2018, Fitch Solutions
Date last reviewed: September 20, 2018
9. Foreign Worker Requirements
9.1 Foreign Worker Permits
EU nationals, citizens of EEA member states and citizens of Switzerland enjoy the right of free movement within the EU.
9.2 Localisation Policies
The Estonian government does not mandate local employment or follow localisation policies.
9.3 Visa Requirements
Other than EU passport holders, Estonia waivers visas for 62 other countries globally.
Source: Government websites, Fitch Solutions
10. Risks
10.1 Sovereign Credit Ratings
| | | |
| --- | --- | --- |
| | Rating (Outlook) | Rating Date |
| Moody's | A1 (Stable) | 21/07/2017 |
| Standard & Poor's | AA- (Stable) | 09/08/2011 |
| Fitch Ratings | A+ (Positive) | 04/05/2018 |
Source: Moody's, Standard & Poor's, Fitch Ratings
10.2 Competitiveness and Efficiency Indicators


World Ranking

2016
2017
2018
Ease of Doing Business Index

11/189
12/190
12/190
Ease of Paying Taxes Index

30/189
21/190
14/190
Logistics Performance Index

38/160
N/A
36/160
Corruption Perception Index

22/176
21/180
N/A
IMD World Competitiveness
31/61
30/63
31/63
Source: World Bank, IMD, Transparency International
10.3 Fitch Solutions Risk Indices


World Ranking
2016
2017
2018
Economic Risk Index Rank
26/202
Short-Term Economic Risk Score
77.3

80.6
81.9
Long-Term Economic Risk Score
70.4

72
73.2
Political Risk Index Rank
21/202
Short-Term Political Risk Score
84.4
84.4
84.4
Long-Term Political Risk Score
84.8
83.3
83.3
Operational Risk Index Rank
24/201
Operational Risk Score
68.4
70.4
71.0
Source: Fitch Solutions
Date last reviewed: August 21, 2018
10.4 Fitch Solutions Risk Summary
ECONOMIC RISK
The Estonian economy is on a path of sustainable growth. Although its rapid recovery from severe recession following the global economic downturn in 2008 was characterised by export-led growth, economic activity will be increasingly driven by domestic demand in coming years. Estonia will aim to increase its share of global trade on the back of strong competitiveness gains since 2010. In addition to a diversified manufacturing sector, the higher value-added services sectors will increase its presence in the economy.
OPERATIONAL RISK
While the broad consensus among political parties for responsible economic management and market liberalism are likely to remain in play, the potential for change in policies exist should key opposition parties become increasingly acceptable as alternative coalition partners.
Source: Fitch Solutions
Date last reviewed: September 25, 2018
10.5 Fitch Solutions Political & Economic Risk Indices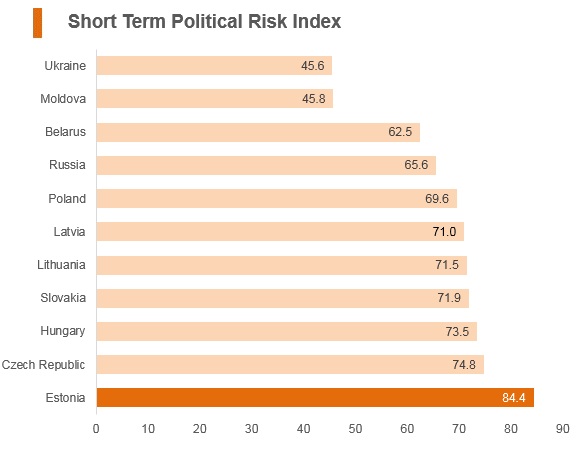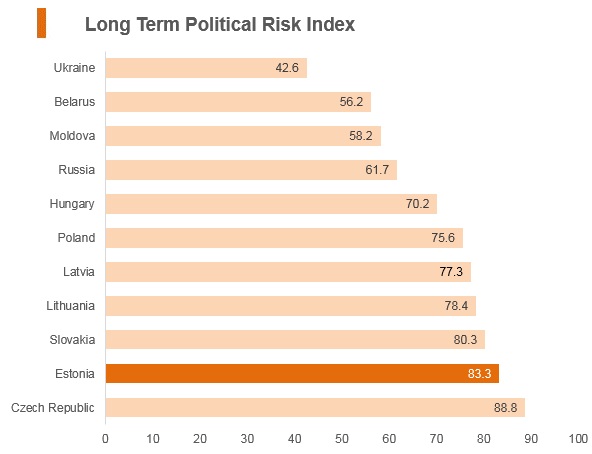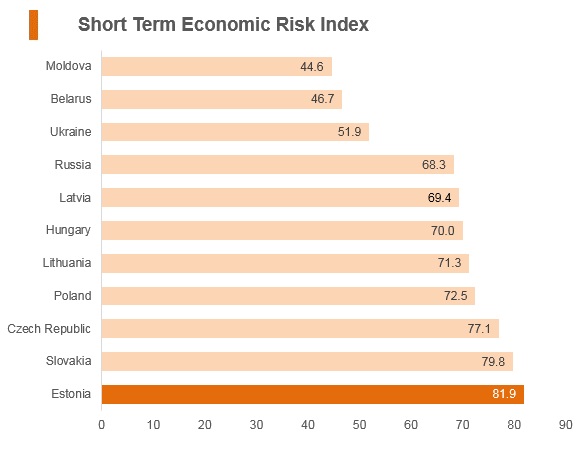 100 = Lowest risk; 0 = Highest risk
Source: Fitch Solutions Economic and Political Risk Indices
Date last reviewed: August 21, 2018
10.6 Fitch Solutions Operational Risk Index
| | | | | | |
| --- | --- | --- | --- | --- | --- |
| | Operational Risk | Labour Market Risk | Trade and Investment Risk | Logistics Risk | Crime and Security Risk |
| Estonia Score | 71.0 | 59.1 | 77.2 | 70.5 | 77.0 |
| Central and Eastern Europe Average | 61.1 | 55.0 | 63.4 | 63.6 | 62.5 |
| Central and Eastern Europe Position (out of 11) | 1 | 2 | 1 | 3 | 3 |
| Emerging Europe Average | 56.7 | 54.1 | 58.4 | 57.4 | 56.8 |
| Emerging Europe Position (out of 31) | 1 | 5 | 1 | 4 | 4 |
| Global Average | 49.7 | 49.8 | 50.0 | 49.3 | 49.9 |
| Global Position (out of 201) | 24 | 39 | 11 | 31 | 28 |
100 = Lowest risk; 0 = Highest risk
Source: Fitch Solutions Operational Risk Index

| | | | | | |
| --- | --- | --- | --- | --- | --- |
| Country | Operational Risk Index | Labour Market Risk Index | Trade and Investment Risk Index | Logistics Risk Index | Crime and Secruity Risk Index |
| Estonia | 71.0 | 59.1 | 77.2 | 70.5 | 77.0 |
| Czech Republic | 70.6 | 57.7 | 70.0 | 70.2 | 84.5 |
| Poland | 68.9 | 55.6 | 69.2 | 72.3 | 78.4 |
| Lithuania | 67.4 | 55.2 | 71.8 | 71.3 | 71.5 |
| Latvia | 65.1 | 57.5 | 68.4 | 67.9 | 66.6 |
| Hungary | 63.2 | 55.6 | 63.4 | 62.4 | 71.3 |
| Slovakia | 62.9 | 49.7 | 67.7 | 60.7 | 73.5 |
| Belarus | 57.1 | 56.5 | 59.2 | 62.7 | 49.9 |
| Russia | 56.0 | 63.6 | 56.2 | 63.4 | 40.9 |
| Moldova | 45.3 | 39.8 | 49.2 | 48.7 | 43.4 |
| Ukraine | 45.1 | 54.9 | 45.6 | 49.5 | 30.5 |
| Regional Averages | 61.1 | 55.0 | 63.4 | 63.6 | 62.5 |
| Emerging Markets Averages | 46.8 | 48.0 | 47.5 | 45.8 | 46.0 |
| Global Markets Averages | 49.7 | 49.8 | 50.0 | 49.3 | 49.9 |
100 = Lowest risk; 0 = Highest risk
Source: Fitch Solutions Operational Risk Index
Date last reviewed: August 21, 2018
11. Hong Kong Connection
11.1 Hong Kong's Trade with Estonia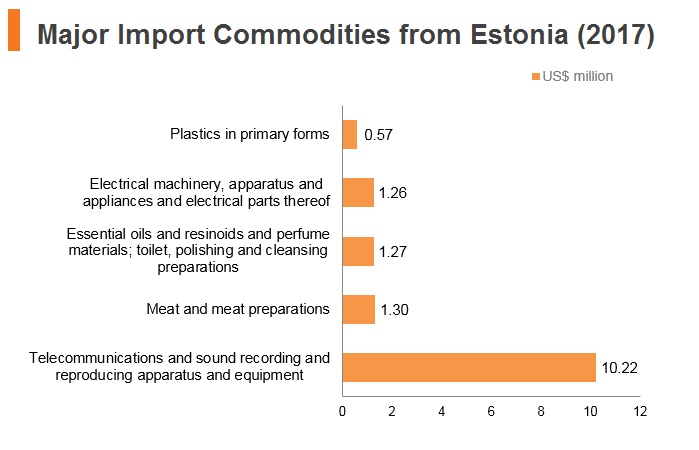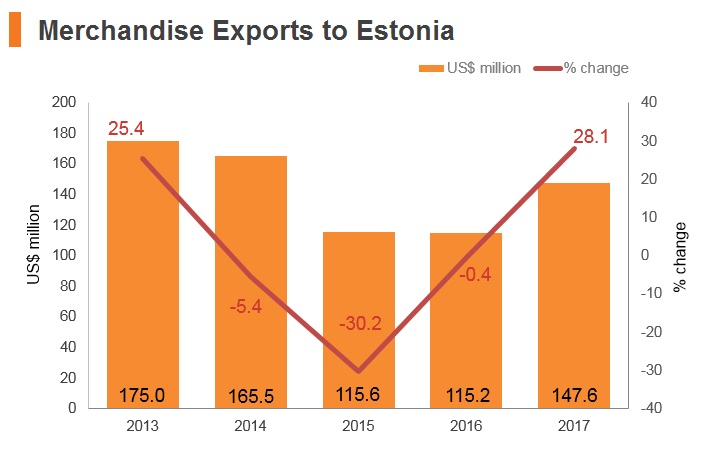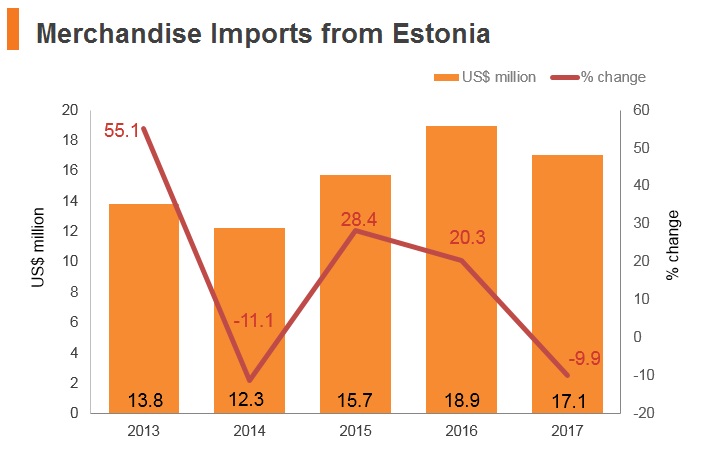 Exchange Rate HK$/US$, average
7.76 (2013)
7.75 (2014)
7.75 (2015)
7.76 (2016)
7.79 (2017)
Source: Hong Kong Census and Statistics Department, Fitch Solutions
| | | |
| --- | --- | --- |
| | 2017 | Growth rate (%) |
| Number of Estonian residents visiting Hong Kong | 3,902 | -21.1 |
Source: Hong Kong Tourism Board
| | | |
| --- | --- | --- |
| | 2017 | Growth rate (%) |
| Number of European residents visiting Hong Kong | 1,929,824 | -0.2 |
Source: Hong Kong Tourism Board, Fitch Solutions
Date last reviewed: September 12, 2018
11.2 Commercial Presence in Hong Kong
| | | |
| --- | --- | --- |
| | 2017 | Growth rate (%) |
| Number of EU companies in Hong Kong | 2,053 | 5 |
| - Regional headquarters | 459 | 2.5 |
| - Regional offices | 685 | -2 |
| - Local offices | 909 | 4.1 |
Source: Hong Kong Census and Statistics Department
11.3 Treaties and agreements between Hong Kong and Estonia

The Double Taxation Agreement (DTA) between China and Estonia was signed on May 12, 1998 and entered into force in both countries on January 8, 1999.


Estonia and mainland China have a Bilateral Investment Treaty that entered into force in June 1994.
Source: UNCTAD, Government Sources, Fitch Solutions
11.4 Chamber of Commerce (or Related Organisations) in Hong Kong
Estonian Honorary Consulate in Hong Kong
Address: Suite 3101, 31/F, 9 Queen's Road, Central, Hong Kong
Email: info@estoniaconsulate.com.hk
Tel: (852) 2868 3110
Fax: (852) 2868 5006
Source: Protocol Division Governmnet Secretariat
11.5 Visa Requirements for Hong Kong Residents
HKSAR passport holders do not need a visa for Latvia for a period of up to 90 days.
Source: Hong Kong Immigration Department
Date last reviewed: September 20, 2018