GDP (US$ Billion)
303.99 (2017)
World Ranking 41/192
GDP Per Capita (US$)
1,541 (2017)
World Ranking 151/192
Economic Structure
(in terms of GDP composition, 2017)
Services
(53.09%)
Industry
(17.94%)
Agriculture
(22.88%)
External Trade (% of GDP)
25.1 (2016)
Currency (Period Average)
Pakistani Rupee
105.46 per US$ (2017)
Political System
Federal republic
Overview
While Pakistan's growth trajectory remains promising over the long term – underpinned by its large consumer and labour markets, a strong infrastructure development project pipeline and rising industrial sector – macroeconomic imbalances will remain significant over the short-to-medium term. The country's fiscal and current account deficits will prove to be significant drags on growth in the near term, despite some modest support provided by the significant and growing remittance inflows into the country. The improving but unpredictable security situation, difficult business climate, lengthy legal processes and challenging tax environment have contributed to lower overall growth and foreign direct investment (FDI) inflows than its regional competitors.
Sources: World Bank, Fitch Solutions
Major Economic/Political Events and Upcoming Elections
August 2017
Prime Minister Nawaz Sharif resigned.
March 2018
Pakistan allowed the rupee to weaken twice over the five months leading up to March 2018 as it attempted to improve its financial position before elections in July 2018.
August 2018
Former international cricket star Imran Khan became prime minister on a pledge to end corruption and dynastic politics, after his political party, Pakistan Tehreek-e-Insaf, became the largest player in a coalition government in the July 2018 general election.
November 2018
Pakistan's Executive Committee of the National Economic Council approved six development projects worth an estimated USD4.9 billion. The approvals include adding Tangir Hydropower in the Diamer-Bhasha dam and the Peshawar Sustainable Bus Rapid Transit Corridor Project, with completion of the latter expected in June 2019. Other approved schemes include a more than 750km transmission line project for power evacuation from the 870MW Suki Kinari Hydropower Project (HPP) in Khyber Pakhtunkhwa's Mansehra district, a 1.12GW Kohala HPP in the Muzaffarabad district of Azad Jammu and Kashmir (AJK) and a 590MW Mahal HPP in Bagh District in AJK. The Sind Solar Energy Project and rehabilitation of the Dargai hydroelectric power station in Malakand were also approved.
March 2019
The United Arab Emirates (UAE) pledged to assist Pakistan via the transfer of USD2 billion to the State Bank of Pakistan. This followed the first tranche of USD1 billion committed by the UAE in January 2019.
Sources: BBC Country Profile – Timeline, Fitch Solutions, Government Sources
Major Economic Indicators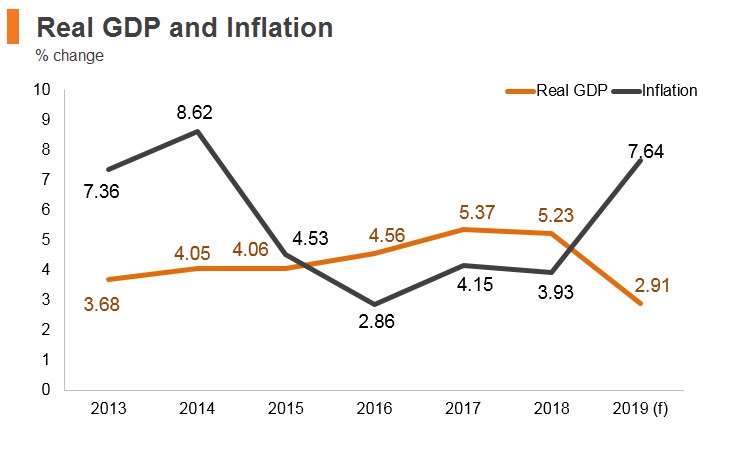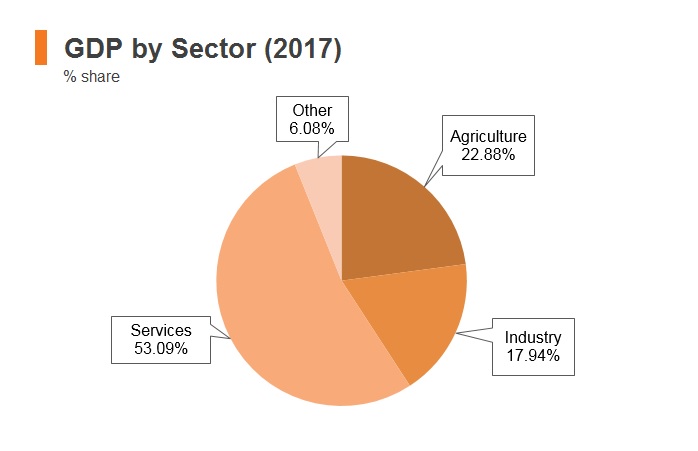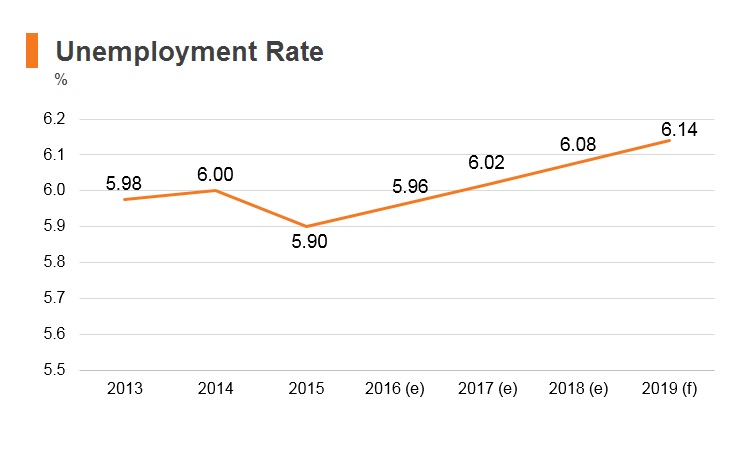 e = estimate, f = forecast
Sources: IMF, World Bank
Date last reviewed: June 15, 2019
External Trade
Merchandise Trade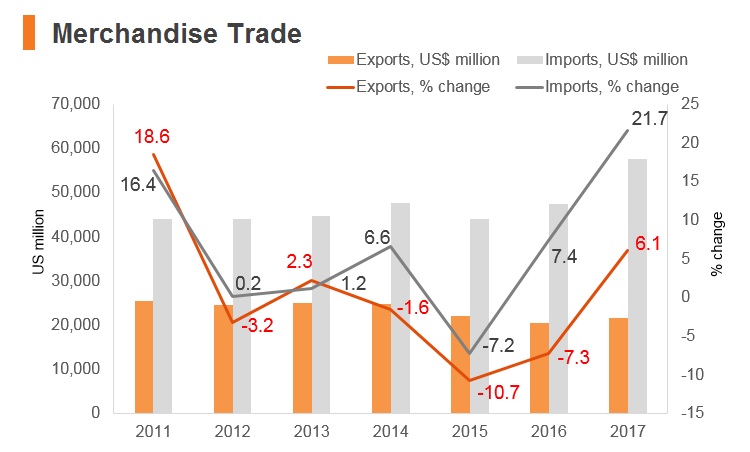 Source: WTO
Date last reviewed: June 15, 2019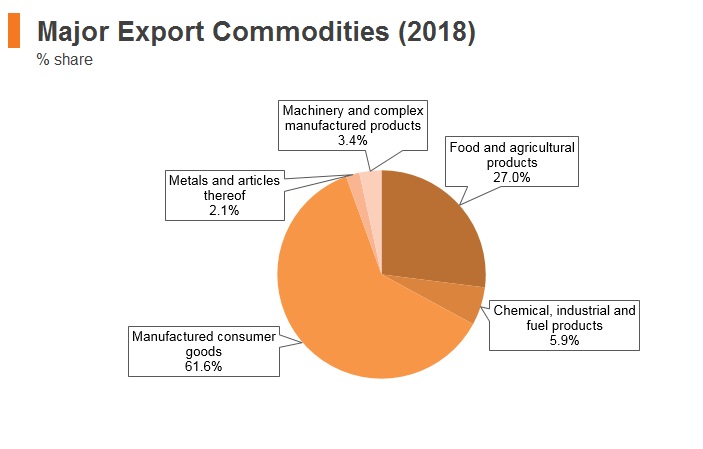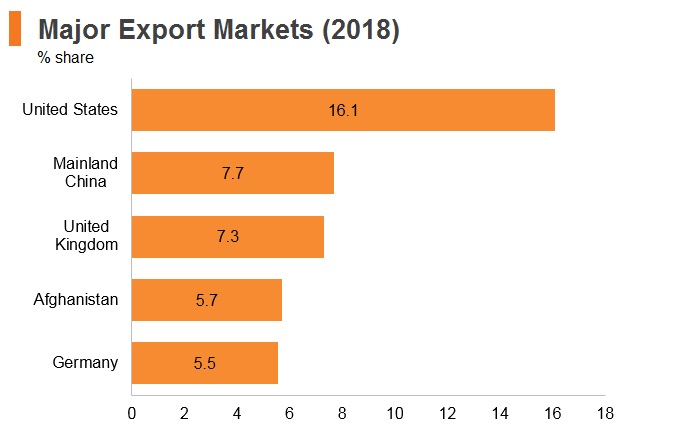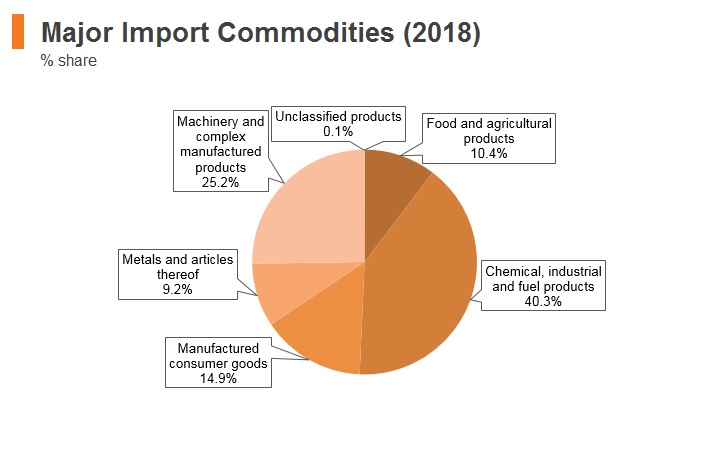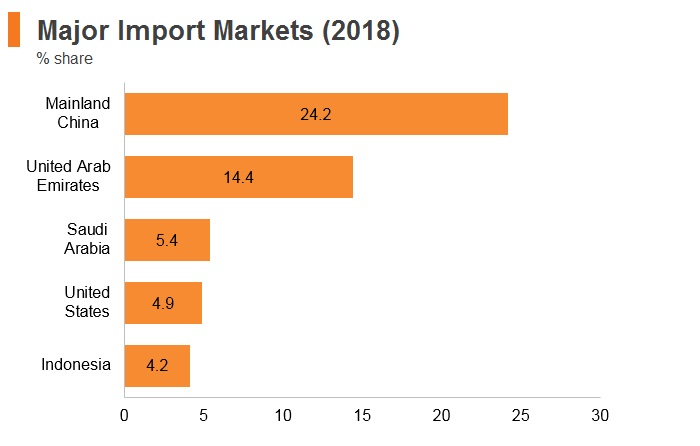 Sources: Trade Map, Fitch Solutions
Date last reviewed: June 15, 2019
Trade in Services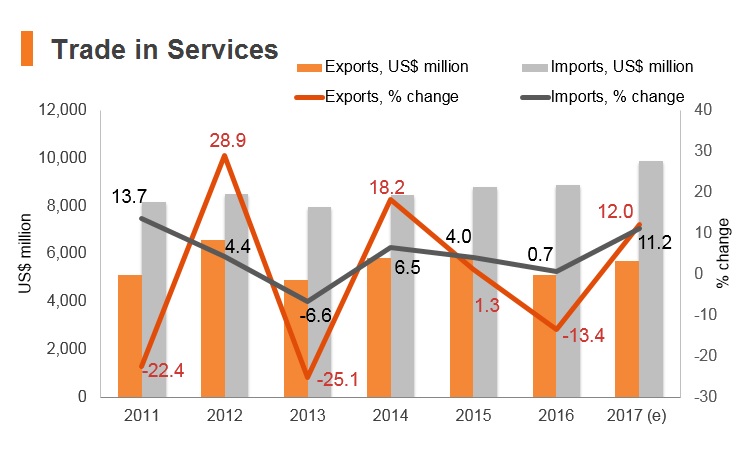 e = estimate
Source: WTO
Date last reviewed: June 15, 2019
Trade Policies
Pakistan became a member of the World Trade Organization in January 1995.


Commercial importers, which were subject to tax on a presumptive basis, have now been made subject to tax under the normal tax regime, with tax at 5% of the import value considered to be a minimum tax on related transactions.


The exemption on income from the export of computer software, information technology (IT) services, or IT-enabled services, has been extended to tax year 2025.


Customs and certain other duties are collected at the import stage at varying rates classified under the Harmonized System Code. Pakistan's customs department has several reform agendas, including the Transit Trade Management System (ITTMS) programme, which is the flagship trade facilitation programme of Pakistan Customs. ITTMS is designed to improve the quality of trade facilitation for Pakistan's regional trade. It is supporting physical infrastructure development at three land-border crossing points – Wahga Border with India in Lahore, and Torkham and Chaman with Afghanistan.


Pakistan's current Web Based One Customs' system is now among the largest IT systems in the government sector, with further streamlining and digitisation set to boost the country's trade profile. The move from paper-based customs management systems to web-based paperless customs solutions – which are accessible on-the-go – is a boon for businesses operating in the country. This paradigm shift has been supported by the World Customs Organization.


Pakistan Customs is developing a paperless environment to digitise all cross-border trade documents and digitally connect the relevant authorities, while the system is expected to be launched in the next four years at a cost of USD40-50 million. The customs department is taking a number of initiatives to remove the trade hurdles in Pakistan, with the flagship initiative being the National Single Window (NSW) system that is due to be active by 2022. Pakistan's NSW will provide a single Information and Communication Technology platform to fulfil all regulatory requirements in relation to imports, exports and transit trade. The key upgrades are focused on improving trade logistics and regional integration as well as streamlining customs clearance procedures to increase trade flows and improving performance on the 'trading across borders' indicator of the Ease of Doing Business reforms. This will boost the country's ease of trading and help to equip the country to handle the Mainland China-Pakistan Economic Corridor trade in the medium-to-long term.


Pakistan's average tariff rate is relatively high at an estimated 8.9% in 2017 (latest available data). There are various regulatory duties in place to protect local industries, particularly in textiles, agriculture, oil and gas, steelmaking as well as autos industries; these regulatory duties range from 10-30% on certain finished products.


In December 2015, Pakistan increased the regulatory duty on the import of old and used vehicles from 50% to 60%.


In March 2016, Pakistan's Ministry for Industries and Production released the Automotive Development Policy 2016-2021, which outlines various import duties for the Autos sector. The import duty on sub-components increased from 5% to 10%; the import duty on non-localised knocked-down kits reduced from 32.5% to 30% and on localised knocked-down kits the import duty reduced from 50% to 45%. The import duty on completely built units ranges from 40-75%. These are targeted to improve local production.


An additional 1% duty has been imposed on all imported products, except certain exempted items, such as all non-dutiable imports, imports of agricultural machinery, essential raw materials and agricultural inputs, components for local industry in 25 sectors (such as leather, pesticides, sugar, fans and electric motors). The 1% duty has also been imposed on the telecommunications sector and on imports of fertilisers, seeds and spores of sowing. Imports under small- and medium-sized enterprises and export oriented unit rules, which fall under the temporary importation scheme, and imports of old and used vehicles have also had an additional 1% duty imposed on them.


In December 2017, Ministry of Finance, Revenue and Economic Affairs imposed a regulatory duty of PKR4,699/metric tonne (equivalent USD44.59) on imports of liquefied petroleum gas. This will raise production costs for energy-intensive firms in the country.


Steel imports are heavily regulated and the country also faces risks from increasing global trade protectionism, which could spur further tariff measures in the near term.


There are various export duties (around 25%) surrounding scrap metal, some steel products and aluminium waste.


There are various anti-dumping duties and import restrictions applied on manufactured goods (particularly those that can be supplied locally) and on items such as tiles, galvanised coils and other metal items, textile inputs and chemical products. Across 2018, the country implemented anti-dumping duties on tinplate imports from Mainland China, the European Union, the United States and South Africa. Anti-dumping measure were also implemented regarding colour coated steel coils, lead pencils from Mainland China and uncoated writing and printing materials. Measures were introduced in 2019 against the importation of aluminium cans from the United Arab Emirates, Jordan and Sri Lanka.


In January 2017, the government of Pakistan announced an export package to support the textile industry worth PKR180 billion. The policy measures announced include the removal of sales tax on imported textile machinery and the removal of customs duty and sales tax on cotton imports.
Sources: WTO – Trade Policy Review, Fitch Solutions, national sources
Trade Agreement
Trade Updates
In September 2018, Pakistan and Turkey sought to revive negotiations on a free trade agreement (FTA). In March 2019, the governments of Pakistan and Turkey entered into a strategic economic framework for the enhancement of bilateral relations in trade, tourism, healthcare, hospitality, industry, education, housing, agriculture, aviation and banking.
Multinational Trade Agreements
Active
Mainland China-Pakistan FTA: This major FTA was concluded in 2006 and entered into force in July 2007. Trade volumes between the two states registered USD13 billion in 2013, and reached USD16.4 billion in 2018, after both countries signed 51 agreements and memoranda of understanding for cooperation in different fields in 2017. The agreement has to be implemented in two stages. It was agreed that by the end of phase two (phase one was completed in 2012), the two sides would liberalise 90% of tariff lines and the trade value. In 2018, Mainland China had already agreed to immediately eliminate tariffs on 57 priority export items to Pakistan, which covers 67% of current exports to Mainland China and 32% of global exports. Firms will benefit from the development of the Mainland China-Pakistan Economic Corridor (CPEC) that will increase foreign direct investment and improve logistical infrastructure. Negotiations on the second phase continued in Q219.


Pakistan-United States: The Pakistan-United States Economic Partnership will boost bilateral trade and investments and help to sustain economic reforms in the country. Firms will benefit from increased bilateral trade between the United States and Pakistan, which, in 2018, was more than USD6.7 billion – out of which exports from Pakistan were about USD3.8 billion, while imports from the United States were about USD2.9 billion.


Economic Cooperation Organisation Trade Agreement (ECOTA): This agreement includes Iran, Tajikistan, Afghanistan, Pakistan and Turkey. This agreement opens up trade between key regional peers and increases industrialisation in the country, contingent on greater development of logistical infrastructure and special economic zones. Greater opportunities are now available to firms with the lifting of sanctions on Iran.


Mauritius-Pakistan: The partial scope agreement came into force in November 2007.


The FTA and economic integration agreement, which includes goods and services, came into force in January 2008.


Pakistan-Sri Lanka: The FTA came into force in June 2005.


South Asian FTA (SAFTA): The FTA includes Afghanistan, Bangladesh, Bhutan, India, Maldives, Nepal, Pakistan and Sri Lanka. The agreement came into force in January 2006.


South Asian (PTA) (SAPTA): The partial scope agreement came into force in December 1995 and includes Bangladesh, Bhutan, India, Maldives, Nepal, Pakistan and Sri Lanka.


Pakistan-MERCOSUR PTA: This agreement was signed into effect in 2009. MERCOSUR-Pakistan trade is minimal, however, limiting the PTA's impact. Businesses wishing to export to or import from MERCOSUR will benefit from the agreement.
Under Negotiation
Association of Southeast Asian Nations (ASEAN): The 10 member states of ASEAN are Brunei, Indonesia, Malaysia, Philippines, Singapore, Thailand, Myanmar, Cambodia, Laos and Vietnam. Joining this group will extend the market access of firms in Pakistan and bolster regional trade. Pakistan has signed only one preferential trade agreement with Indonesia in February 2012, which became operational in September 2013.


Pakistan-Gulf Cooperation Council (GCC): Firms would benefit from easier access to GCC markets and greater trade facilitation in light of the country's need for fuel and energy products. Greater investment from GCC states would improve the telecommunications, real estate, energy, infrastructure, ports, aviation, manufacturing and financial services sectors with increased growth of Islamic banking services. The proximity of Pakistan to the Gulf States will be highly beneficial to firms with greater trade facilitation and the advent of the CPEC. Pakistan's government aims to increase its trade volume with the bloc and has proposed that the GCC consider relaxation in terms of payment for crude oil purchased by Pakistan.


Pakistan-Afghanistan-Tajikistan Trilateral Transit Trade Agreement: This agreement will liberalise trade between the three states and allow businesses in Pakistan access to Central Asia, which will mitigate supply chain risks and stimulate investments. Trade between Afghanistan and Pakistan remains very low due to regional security concerns; however, defence cooperation will help increase regional trade in the medium term.


Pakistan is negotiating with the following states over the establishment of bilateral free trade areas:

Bangladesh
Iran
Morocco
Singapore
Thailand
Turkey
Source: WTO Regional Trade Agreements database
Investment Policy
Foreign Direct Investment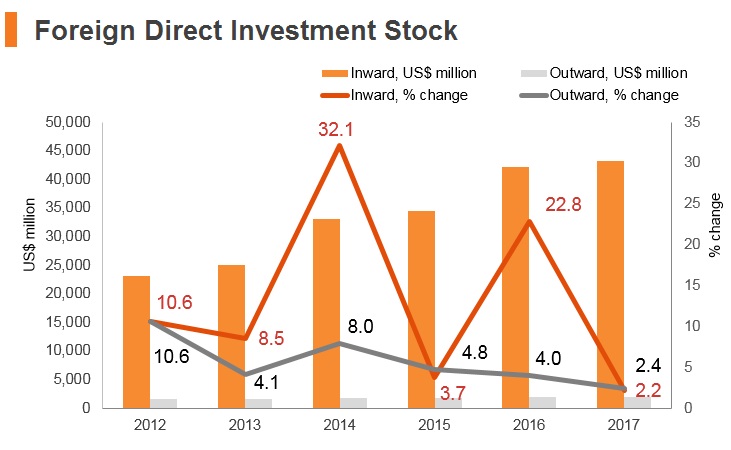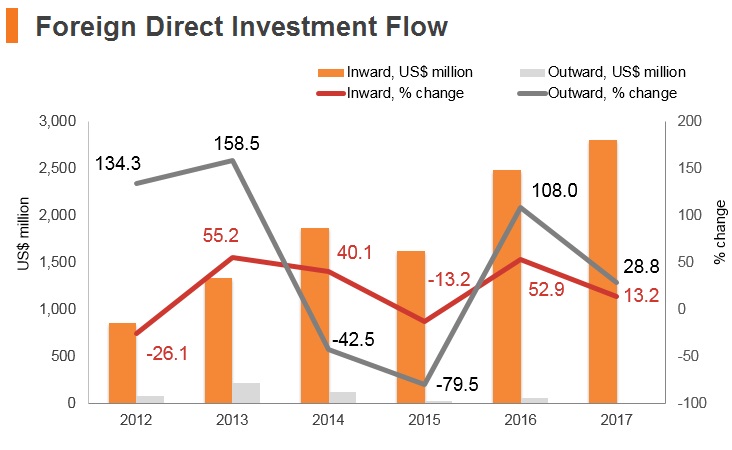 Source: UNCTAD
Date last reviewed: June 15, 2019
Foreign Direct Investment Policy
Pakistan is moving towards becoming more open for FDI and spearheading the development of special economic zones; however, FDI flows to the country have been negatively affected by the security situation and policy uncertainty. The country remains a difficult environment for foreign investors, as they are faced with chronic energy shortages and high levels of bureaucracy.


Pakistan has executed the Mainland China-Pakistan Economic Corridor, an agreement with Mainland China in 2013 that will bring in investments of almost USD50 billion for the construction of 3,000km of roads joining Kashgar, Mainland China, with Gwadar Port in Pakistan, development of 1,200km of new rail lines, upgrade of 3,100km of rail lines, development of 21 new power generation projects, development of 40 industrial parks and economic zones, laying of gas pipelines, and many more development projects. Most of the work remains in progress. The 5.5m-deep sea port will have 120 berths and 300-400 tonnes of cargo is expected to be processed annually. According to the government, this will add 15% to the GDP of the country, generating 5 million jobs and impacting the lives of 30 million people.


Profits and gains derived from an electric power generation project set up in Pakistan are exempt from tax.


Profits and gains derived by refineries that are set up between July 1, 2018 and June 30, 2023 have been granted exemption from tax for a period of 20 years, on the fulfilment of certain conditions.


Low-cost housing projects have been incentivised by allowing a reduction in tax liability (arising on profits and gains) of 50%, subject to the fulfilment of certain conditions.


Income derived by an enterprise set up in a special economic zone is exempt from tax for a period of 10 years, starting from commencement of commercial operations or production, subject to certain conditions. These special economic zones have been established in different territories of the country.


Special rules are applicable for the computation of income from the exploration and production of petroleum and mineral deposits, and from insurance and banking business.


Profits and gains derived by liquefied natural gas terminal operators and terminal owners are exempt from tax for a period of 5 years beginning from the date of commercial production.


Pakistan has executed agreements for avoidance of double taxation with 65 countries.


Pakistan's Economic Coordination Committee approved the new Automotive Development Policy in March 2016. The new policy is aimed at developing and incentivising new international investment in the manufacturing industry by favouring Greenfield investment over the expansion of existing facilities. This move by the government will continue to attract interest from international brands, which will increase competition within the local automotive industry.


Foreign ownership is permitted with the exception of some sectors designated as strategic, including defence-related industries, media, forestry and farmland. Foreign banks are permitted to establish locally incorporated subsidiaries, provided they have the minimum global tier-one paid up capital of USD5 billion or they belong to one of the regional organisations or associations to which Pakistan is a member. Without these requirements, foreign banks are limited to a maximum 49% equity stake in locally incorporated subsidiaries. Foreign and local banks must submit an annual branch expansion plan to the State Bank of Pakistan (SBP) for approval. The SBP approves branch openings depending on the bank's net worth, adequacy of capital structure, future earnings prospects, credit discipline, and the need of the local population. All banks are required to open 20% of their new branches in small cities, towns and villages, which considerably raises operating costs. International transport (mainly air) is restricted to local firms, and foreign ownership in media is capped at 49%.


Large state-owned enterprises (SOEs) have retained a monopoly in a few key sectors, and the state provides annual subsidies to cover SOEs' losses. Three of the country's largest SOEs are Pakistan Railways, Pakistan International Airlines and Pakistan Steel Mills. Moves towards privatisation have been slow.
Sources: US Department of Commerce, national sources, Fitch Solutions
Free Trade Zones and Investment Incentives
Free Trade Zone/Incentive Programme
Main Incentives Available
Karachi Export Processing Zone (EPZ), Risalpur EPZ, Sialkot EPZ, Gujranwala EPZ, Saindak EPZ, Duddar EPZ, Tuwairqi EPZ, Gwadar EPZ
Developed land on competitive rates for 30 years.

Single-window operation with simplified procedures, including the facilitated issuance of import permits and export authorisations.

Duty-free import of machinery, equipment and materials (including components, spare parts, and packing material).

Freedom from national import regulations. Exchange control regulations of Pakistan are not applicable.

Repatriation of capital and profits – the zone is exempted from all provisions of the Foreign Exchange Regulations Act. No sales tax on input goods, including utilities bills. Duty-free vehicles are allowed under certain conditions. The domestic market is available to the extent of 20% of goods manufactured. Exceptions may be available.

Presumptive tax at 1%. Only the Export Processing Zones Authority is authorised to collect presumptive tax at the time of export of goods, which will be the final tax liability.

Obsolete or old machinery can be sold in the domestic market after payment of applicable duties and taxes. Defective goods or waste can be sold in the domestic market after payment of applicable duties, up to a maximum of 3% of total value.

EPZ units are allowed to supply goods to custom manufacturing bonds and indefinite loss carry forward is applicable.
Khairpur Special Economic Zone (SEZ) in Karachi
The normal incentives for exports as available to projects established anywhere in the country would be applicable to exports from the projects located inside the zone.

State-of-the-art infrastructure and efficient design (much is still under construction).

Easy access to labour, training facilities and quality logistic services.

The zone will provide inherent benefits of essential supporting amenities to small, medium and large enterprises to grow in a global market place. Zone enterprises have exemption from custom duties on imports of capital goods. There is income tax amnesty for 10 years to encourage investment in the SEZ in Pakistan's capital.

There are investment opportunities with 100% ownership.
Sources: US Department of Commerce, national sources, Fitch Solutions
Taxation – 2019
Value Added Tax: 17%
Corporate Income Tax: 29%
Source: Federal Board of Revenue, Government of Pakistan
Important Updates to Taxation Information
The generally applicable corporate tax rate of 30% (relevant for tax year 2018) will be reduced by 1% each year until a rate of 25% is applicable for tax year 2023 and onwards. The corporate tax rate for 'small companies', presently 25%, will also be reduced by 1% each year until a rate of 20% is applicable for tax year 2023 and onwards. Super tax, presently leviable at 3%, is to be gradually phased out in the case of persons (including companies, other than banking companies) by 1% each year, until tax year 2021. Tax on 'undistributed reserves' regarding public companies has been reduced from 7.5% to 5% in 2018. Previously, no tax was payable where a company distributed at least 40% of after-tax profits. This threshold is now being reduced to 20%. Moreover, issuance of bonus shares shall no longer be considered as distribution of profits for the purposes of these provisions. Tax at 5% previously applicable to the issue of bonus shares has been abolished. 'Fees for offshore digital services' received by non-resident persons have been made subject to final tax (such as royalties and 'fees for technical services') at the rate of 5% of the gross amount.
Gain on the disposal of listed and other securities held for more than five years but less than six years were previously taxable at 0%; however, these have been made taxable at 15% (20% for non-filers). The rate of tax chargeable/deductible on dividends received by a company from collective investment schemes, real estate investment trust schemes, or mutual funds (other than stock funds) has been reduced from 25% to 15%. The tax credit on investment in plant and machinery and newly established undertakings is extended for a period up to June 30, 2021.
Business Taxes
Type of Tax
Tax Rate and Base
Corporate Income Tax (CIT)
- 29% on operating profit at the standard rate (to be reduced by 1% each year to 2023 until a rate of 25% is reached)

- 35% for banking companies

- 24% for small companies (to be reduced by 1% each year to 2023 until a rate of 20% is reached)
Branch Tax
Taxed as CIT
Alternate Corporate Tax
The minimum tax liability of a company is determined as the higher rate between:

- 17% of accounting income

- the corporate tax liability determined under the ordinance, including minimum tax on turnover
Minimum Tax on Turnover
If tax owed by a company is less than 1.25% of the firm's turnover, the entity is obliged to pay the full 1.25% as equal to its turnover. For service-providing companies, the rate is 8% of turnover (unless concessions have been made)
Super Tax
Stamp duty at 2% is applied to the transfer or registration of real estate. If payment is made within two months following the transaction date, the rate is reduced to 1.7%
Capital Gains Tax
- Generally taxed at the same rate as the CIT

- If asset being sold has been held for one year, the rate is reduced by 1% (effectively 28% in 2019)

- For companies selling securities acquired after June 30, 2013, the rate is 15%

- The selling of securities obtained on or before June 30, 2013 are exempt from this tax
Stamp Duties
- 0.5% on issuance

- 1.5% on transfer

- Minimum value of PKR1
Transfer Tax
5% on the sale or auction of property
Withholding Tax: Branch Remittance Tax
15%
Withholding Tax: Interest
10% for nonresidents that do not have a permanent establishment in Pakistan. The rate is 20% for nonresidents with a permanent establishment in Pakistan
Withholding Tax: Royalties
15%
Withholding Tax: Dividends
- 15% for Pakistan residents

- 20% for non-residents, unless the rate is reduced by a tax treaty
Payroll Tax (withheld by employer)
Maximum rate of 15% for income that exceeds PKR4.8 million
Value Added Tax
17% on value of the products
Sales Tax on Services
Sales tax on services is levied by all four provinces, Islamabad Capital Territory, Gilgit-Baltistan, AJK at rates ranging from 13% to 16%. Sales tax paid on services, federal sales tax on goods and federal excise duty are adjustable against each other, with a few exceptions
Source: Federal Board of Revenue, Government of Pakistan
Date last reviewed: June 15, 2019
Foreign Worker Requirements
Localisation Requirements
Pakistan does not mandate specific performance requirements for foreign entities operating in the country. There is no requirement to hire local workers at any grade or have local representation on the company's board of directors. Technical and managerial personnel working in sectors that are open to foreign investment are not required to obtain special work permits. Work visas for technical and managerial personnel are granted for one year and can be extended on a yearly basis.
Visa/Travel Restrictions
A work visa is required unless a visa abolition agreement exists between Pakistan and the employee's country of origin, subject to the approval of the Board of Investment Pakistan. The process of obtaining a visa and work permit for foreigners in Pakistan is lengthy, taking an average of two months, and is bureaucratically complex. Bureaucratic steps include providing proof of departure, residency status, a copy of the applicant's driving licence and the completion of a Global Service Order Form. Working visas are also expensive, though the cost varies depending on whether it is a single or double entry (up to around USD295) visa or a multiple entry visa for one (USD565), two (USD565) or five years (an estimated USD1,250). However, 37 countries worldwide do not require a working visa in Pakistan, including Mainland China, Uganda, South Africa and Iran. No visa exemptions apply to European countries or major Western economies. Pakistan also issues fast-track business visas with five years' validity to businesspeople of 69 countries on the business visa list.
Language/Cultural Barriers
Though foreign language skills, especially in English, are becoming more widespread, foreign workers based in more rural areas will face language and cultural barriers.
Security Considerations
Weak infrastructure and high risk of violence and instability will dent recruitment prospects in the near term. Foreign workers will likely demand higher hardship and danger pay in order to take on the risk of working in the country. Security costs will remain elevated and businesses must employ private security companies to protect their personnel.
Sources: Government sources, Fitch Solutions
Risks
Sovereign Credit Ratings
| | | |
| --- | --- | --- |
| | Rating (Outlook) | Rating Date |
| Moody's | B3 (Negative) | 20/06/2018 |
| Standard & Poor's | B- (Stable) | 04/02/2019 |
| Fitch Ratings | B- (Stable) | 14/06/2019 |
Sources: Moody's, Standard & Poor's, Fitch Ratings
Competitiveness and Efficiency Indicators
World Ranking
2017
2018
2019
Ease of Doing Business Index
144/190
147/190
136/190
Ease of Paying Taxes Index
156/190
172/190
173/190
Logistics Performance Index
N/A
122/160
N/A
Corruption Perception Index
117/180
117/180
N/A
IMD World Competitiveness
N/A
N/A
N/A
Sources: World Bank, IMD, Transparency International
Fitch Solutions Risk Indices
World Ranking
2017
2018
2019
Economic Risk Index Rank
N/A
95/202
109/202
Short-Term Economic Risk Score
53.1
47.5
45.2
Long-Term Economic Risk Score
52.3
52.4
51.1
Political Risk Index Rank
N/A
147/202
147/202
Short-Term Political Risk Score
48.3
48.3
47.5
Long-Term Political Risk Score
53.3
53.3
53.3
Operational Risk Index Rank
N/A
165/201
155/201
Operational Risk Score
35
34.5
36.5
Source: Fitch Solutions
Date last reviewed: June 15, 2019
Fitch Solutions Risk Summary
ECONOMIC RISK
Textiles account for most of Pakistan's export earnings; however, gaps in logistics infrastructure hamstring expansion in heavy industries and other energy-intensive sectors, such that the country is considerably exposed to shifts in global demand. However, the Generalised System of Preferences Plus status granted by the European Union improved the situation and supports the country's trade openness. The country's main long-term challenges include reducing the fiscal and current account deficits, expanding investment, enhancing electricity production, reducing dependence on foreign donors and improving governance through an improved political system.
OPERATIONAL RISK
Legal risks and regional security challenges will continue to impede development and social stability in the medium term. The country's logistics infrastructure is underdeveloped and overstretched, such that there are frequent interruptions to supply chains as a result of acute energy and water shortages. Looking ahead, the medium-to-long term growth of the country will benefit from the implementation of the Mainland China-Pakistan Economic Corridor, which will provide much-needed stimulus to the economy and improve infrastructure capacity in the long run, contingent on significant progress being made in terms of economic reforms and improving the current security landscape.
Source: Fitch Solutions
Date last reviewed: June 15, 2019
Fitch Solutions Political and Economic Risk Indices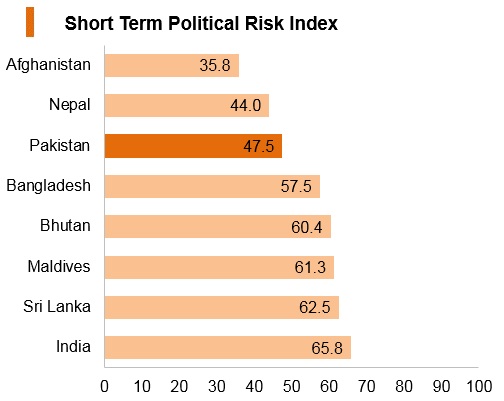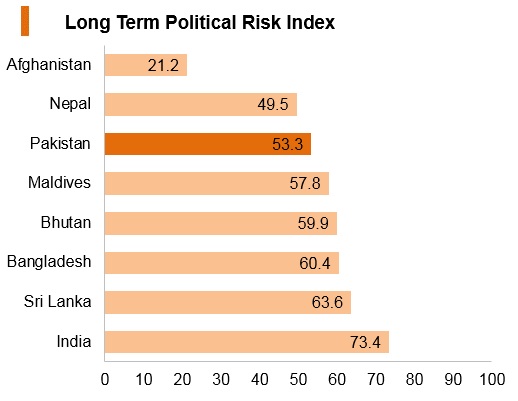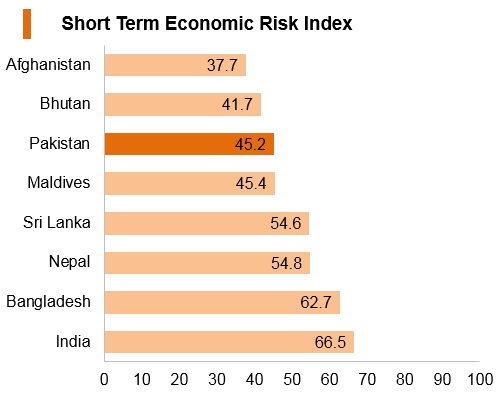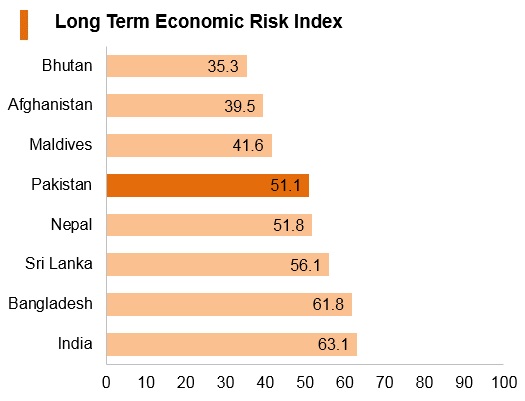 100 = Lowest risk, 0 = Highest risk
Source: Fitch Solutions Political and Economic Risk Indices
Date last reviewed: June 15, 2019
Fitch Solutions Operational Risk Index
| | | | | | |
| --- | --- | --- | --- | --- | --- |
| | Operational Risk | Labour Market Risk | Trade and Investment Risk | Logistics Risk | Crime and Security Risk |
| Pakistan Score | 36.5 | 43.3 | 38.3 | 43.1 | 21.4 |
| South Asia Average | 42.1 | 44.3 | 40.4 | 43.4 | 40.5 |
| South Asia Position (out of 8) | 7 | 6 | 5 | 4 | 7 |
| Asia Average | 48.5 | 49.7 | 48.2 | 46.0 | 50.1 |
| Asia Position (out of 35) | 28 | 25 | 23 | 16 | 34 |
| Global Average | 49.7 | 50.3 | 49.8 | 49.0 | 49.8 |
| Global Position (out of 201) | 155 | 141 | 142 | 114 | 182 |
100 = Lowest risk, 0 = Highest risk
Source: Fitch Solutions Operational Risk Index

| | | | | | |
| --- | --- | --- | --- | --- | --- |
| Country | Operational Risk Index | Labour Market Risk Index | Trade and Investment Risk Index | Logistics Risk Index | Crime and Security Risk Index |
| India | 51.0 | 45.9 | 53.6 | 61.8 | 42.8 |
| Sri Lanka | 50.4 | 46.0 | 49.3 | 58.2 | 48.4 |
| Bhutan | 50.4 | 43.6 | 44.7 | 51.0 | 62.5 |
| Maldives | 47.9 | 46.5 | 45.7 | 39.5 | 59.9 |
| Bangladesh | 38.8 | 51.7 | 29.0 | 39.0 | 35.5 |
| Nepal | 36.8 | 37.8 | 33.3 | 34.9 | 41.1 |
| Pakistan | 36.5 | 43.3 | 38.3 | 43.1 | 21.4 |
| Afghanistan | 25.1 | 39.5 | 29.0 | 19.7 | 12.3 |
| Regional Averages | 42.1 | 44.3 | 40.4 | 43.4 | 40.5 |
| Emerging Markets Averages | 46.0 | 48.1 | 46.5 | 44.7 | 44.8 |
| Global Markets Averages | 49.7 | 50.3 | 49.8 | 49.0 | 49.8 |
100 = Lowest risk, 0 = Highest risk
Source: Fitch Solutions Operational Risk Index
Date last reviewed: June 15, 2019
Hong Kong Connection
Hong Kong's Trade with Pakistan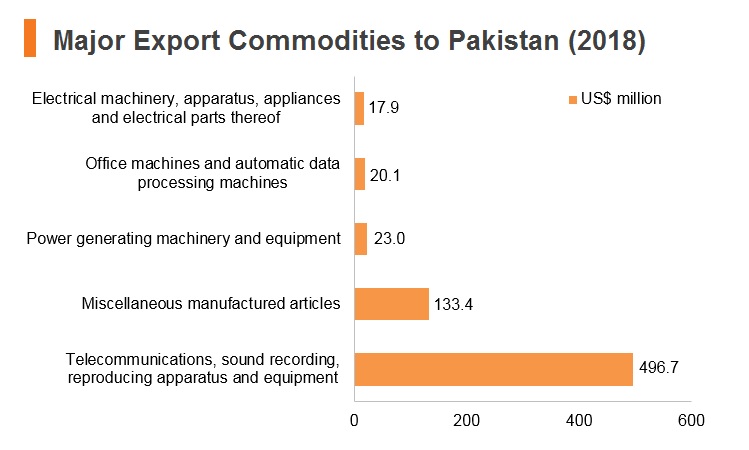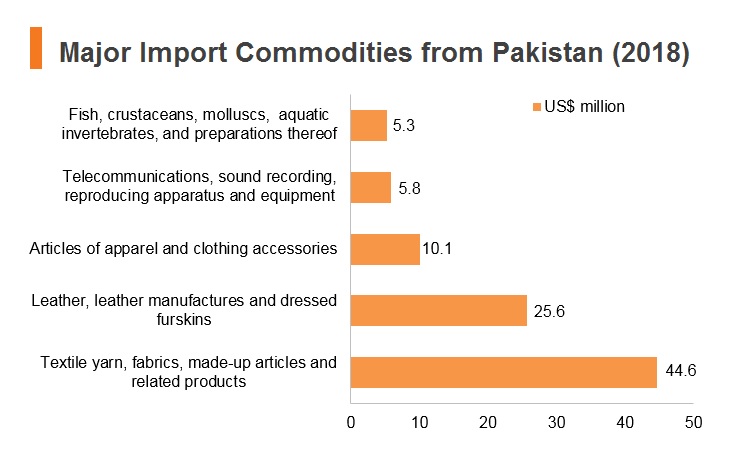 Note: Graph shows the main Hong Kong exports to/imports from Pakistan (by consignment)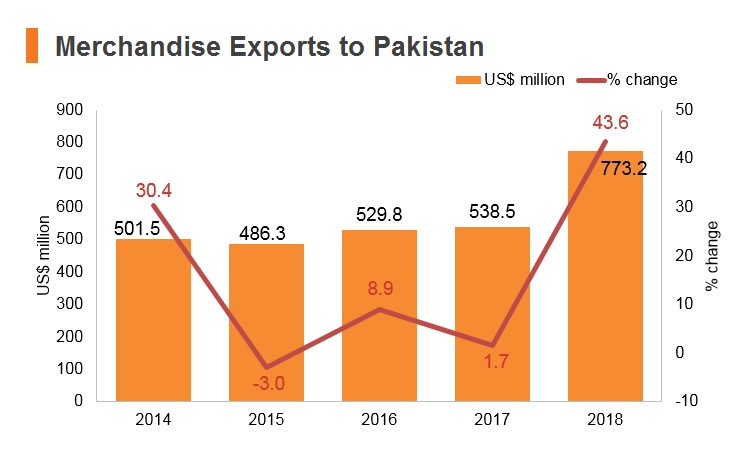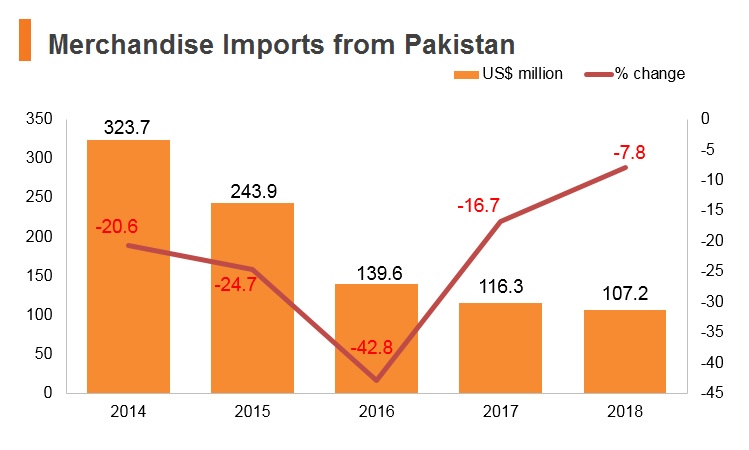 Note: Graph shows Hong Kong exports to/imports from Pakistan (by consignment)
Exchange Rate HK$/US$, average
7.75 (2014)
7.75 (2015)
7.76 (2016)
7.79 (2017)
7.83 (2018)
Sources: Hong Kong Census and Statistics Department, Fitch Solutions
Date last reviewed: June 15, 2019
| | | |
| --- | --- | --- |
| | 2017 | Growth rate (%) |
| Number of Pakistani residents visiting Hong Kong | 5,917 | -13.3 |
| Number of Pakistanis residing in Hong Kong | 7,672 | N/A |
Visitor source: Hong Kong Tourism Board
Resident sources: UN, Fitch Solutions
| | | |
| --- | --- | --- |
| | 2017 | Growth rate (%) |
| Number of Asia Pacific residents visiting Hong Kong | 54,482,538 | 3.5 |
| Number of South Asians residing in Hong Kong | 36,680 | 1.6 |
Visitor source: Hong Kong Tourism Board
Resident sources: UN, Fitch Solutions
Date last reviewed: June 15, 2019
Commercial Presence in Hong Kong
2016
Growth rate (%)
Number of Pakistani companies in Hong Kong
N/A
N/A
- Regional headquarters
- Regional offices
- Local offices
Source: Hong Kong Census and Statistics Department
Treaties and Agreements between Hong Kong and Pakistan
Hong Kong and Pakistan have a Double Taxation Avoidance Agreement which came into force on November 24, 2017.
Source: Inland Revenue Department
Chamber of Commerce (or Related Organisations) in Hong Kong
Consulate General of Pakistan in Hong Kong

Address: Room 803-4, 8/F, Tung Wai Commercial Building, 109-111 Gloucester Road, Wan Chai, Hong Kong

Email: consulate@pakistan.hk

Tel: (852) 2827 1966, 2508 5899

Fax: (852) 2827 6786
Source: Protocol Division Government Secretariat
Visa Requirements for Hong Kong Residents
Hong Kong residents require a visa to visit Pakistan. The cost for Hong Kong residents to acquire a visa stands at HKD190.
Source: Consulate General of Pakistan in Hong Kong

Date last reviewed: June 15, 2019