GDP (US$ Billion)
74.27 (2017)
World Ranking 71/192
GDP Per Capita (US$)
17,973 (2017)
World Ranking 44/192
Economic Structure
(in terms of GDP composition, 2017)
Services
(51.65%)
Industry
(46.45%)
Agriculture
(1.90%)
External Trade (% of GDP)
77.4 (2016)
Currency (Period Average)
Omani Rial
0.38 per US$ (2017)
Political System
Monarchy
Overview
Oman is a middle-income economy that remains significantly dependent on dwindling oil resources. Low oil prices in Q418 weighed on fiscal revenues, and this – coupled with tightening global financial conditions – drove up government borrowing costs. It is expected that the government will pare back expenditure: in the 2019 budget (agreed in early January of the same year) the government envisioned much slower spending growth over the coming year than in 2018. In turn, this will impact the non-oil economy, primarily through slower implementation of capital projects (non-hydrocarbon investment spending fell by one-fifth in the first 10 months of 2018 compared to the same period in 2017). Over the next decade, declining oil production and diversification will lead to growth in non-oil sectors as a share of the economy. As a result of declining reserves, Oman has actively pursued a development plan that focuses on diversification, industrialisation and privatisation, with the objective of reducing the oil sector's contribution to GDP to 9% by 2020. Tourism and gas-based industries are key components of the government's diversification strategy. Oman's GDP is expected to grow around 2.2% per year over the next decade, down from annual growth of 3.7% in the previous decade.
Source: Fitch Solutions
Major Economic/Political Events and Upcoming Elections
October 2015
A new Consultative Assembly (the lower house of the Council of Oman) was elected.
June 2017
Qatar circumvented sea, land and air transport restrictions imposed by its Gulf neighbours by using ports in Oman to carry cargo.
September 2018
A subsidiary of Oman Oil Company signed a long-term partnership agreement with Thailand-based firm Gulf Energy Development to develop the Duqm independent power and water project in Oman in the Duqm Special Economic Zone (SEZ). The USD483 million project will supply power and water output to the Duqm refinery and is geared to start operations in three phases between July 2020 and May 2022.
Sources: BBC country profile – Timeline, Fitch Solutions
Major Economic Indicators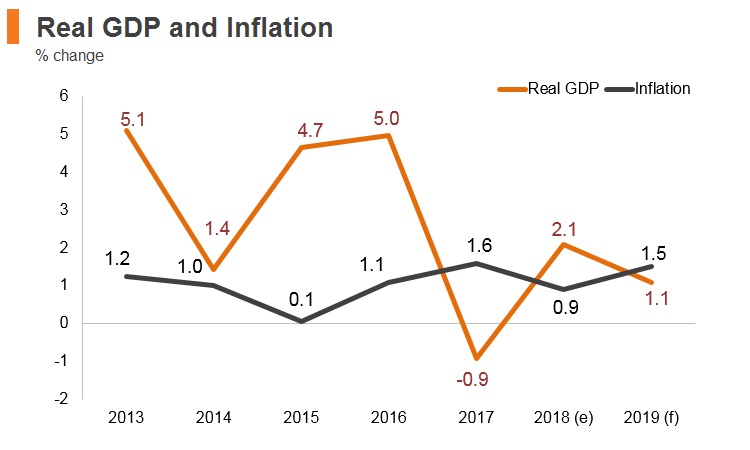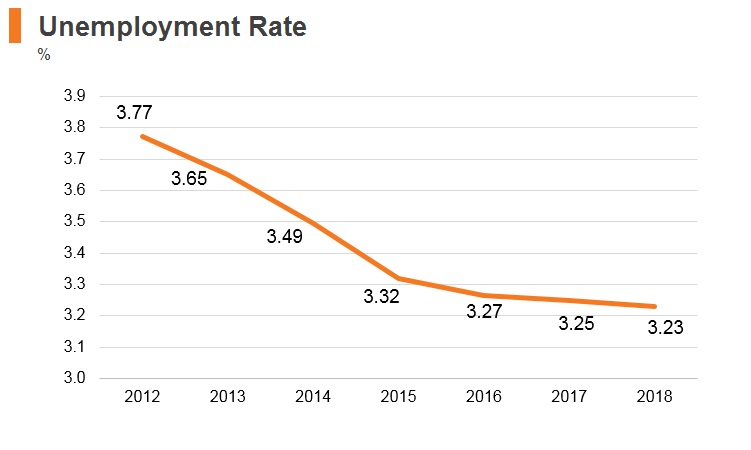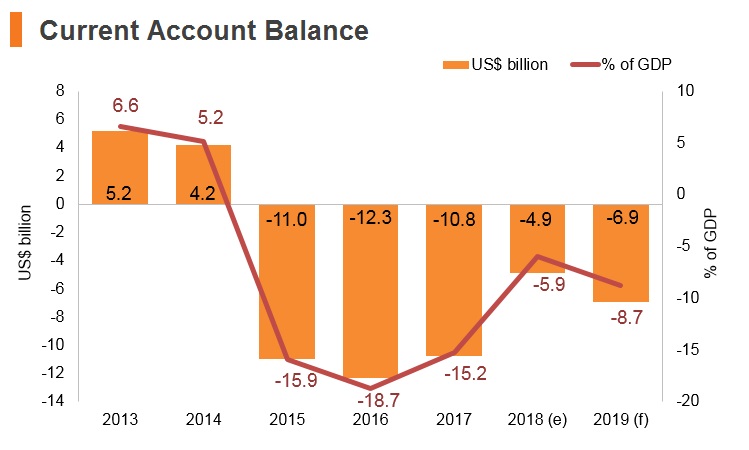 e = estimate, f = forecast
Sources: IMF, World Bank
Date last reviewed: June 15, 2019
External Trade
Merchandise Trade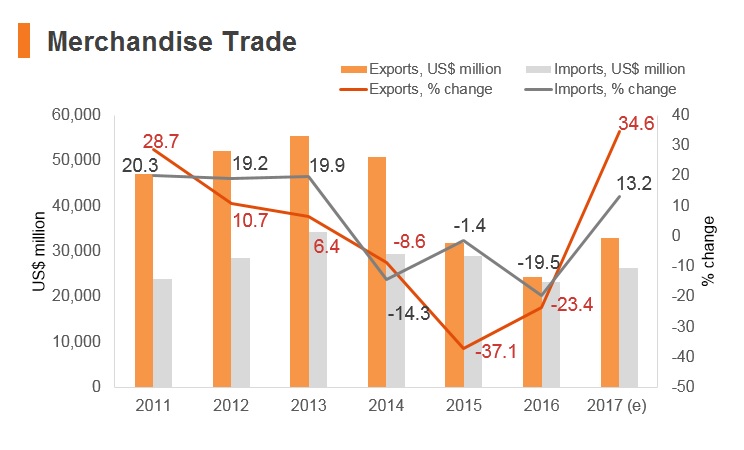 e = estimate for both imports and exports
Source: WTO
Date last reviewed: June 15, 2019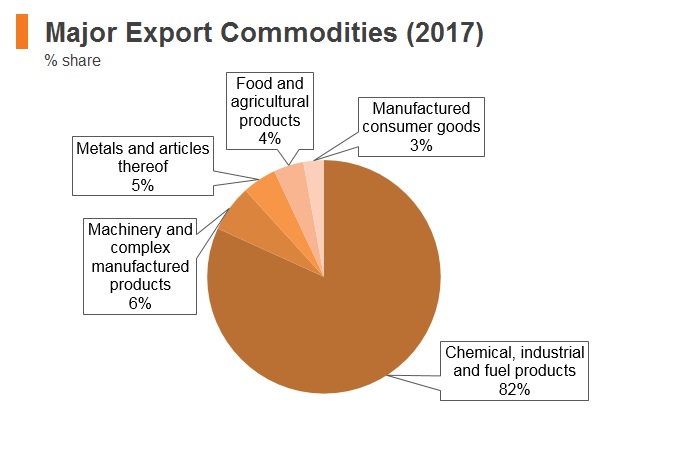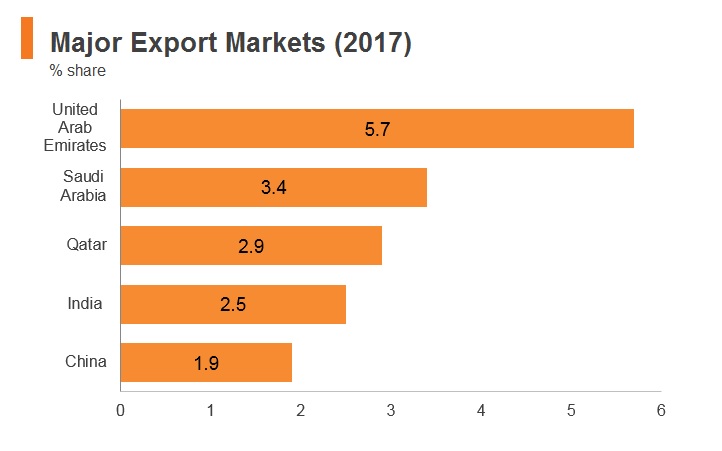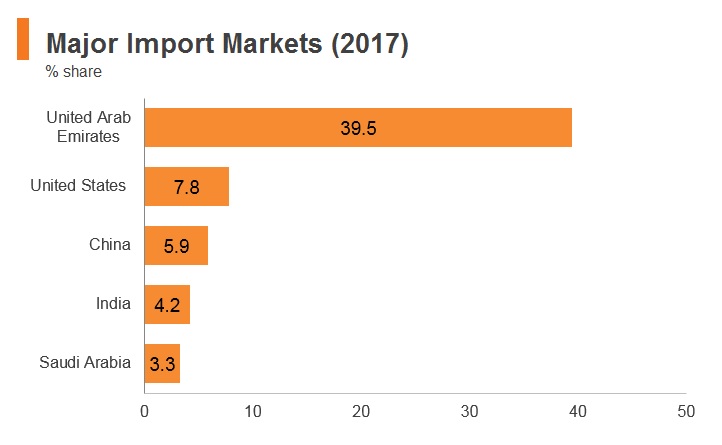 Sources: Trade Map, Fitch Solutions
Date last reviewed: June 15, 2019
Trade in Services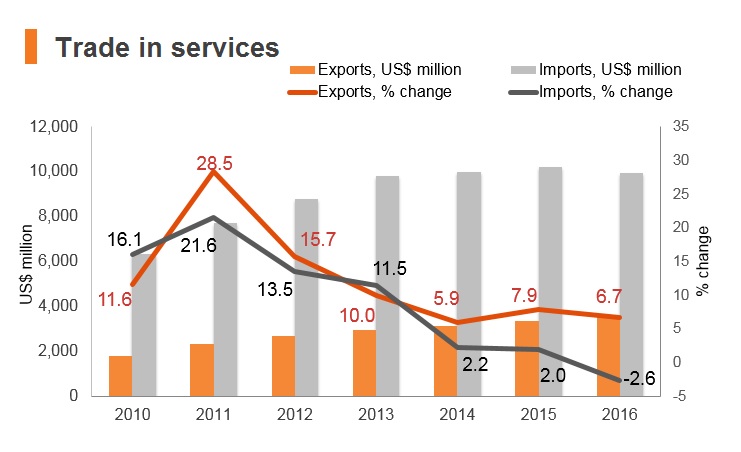 Note: 2017 data not available
Source: WTO
Date last reviewed: June 15, 2019
Trade Policies
Oman is a member of the Gulf Cooperation Council (GCC), and the GCC is a member of the Financial Action Task Force. A common market was launched on January 1, 2008 among GCC countries with plans to realise a fully integrated single market. The creation of a GCC customs union began in 2003 and was completed and fully operational on January 1, 2015.


Oman is a member of the World Trade Organization (WTO) reflecting the country's receptiveness to international and support for free trade. Membership to the WTO alongside that of the GCC has been instrumental in shaping Oman's trade policy and placing a strong emphasis on standards, which has also promoted a low tariff regime.


The GCC is seeking to become a trade and logistics hub in the Gulf, which is encouraged by low import tariffs. Foreign, non-United States/GCC goods are imported according to Oman's tariff schedule, which imposes modest duties, generally not exceeding 10%.


Companies must register with the Ministry of Commerce and Industry and obtain special authorisations for some goods such as alcohol, livestock and explosives.


Oman has strongly demonstrated a commitment to trade liberalisation via its membership to the WTO in addition to a number of bilateral and multilateral trade agreements that it is party to.
Sources: WTO – Trade Policy Review, Fitch Solutions
Trade Agreement
Multinational Trade Agreements
Active
The GCC: In January 2015, the GCC implemented a customs union and FTA that allows free movement of local goods among member states. Members of the GCC are Bahrain, Oman, Qatar, Saudi Arabia, and the United Arab Emirates. This agreement helps member states to leverage one another's industrial capacity and logistics networks. The geographic proximity of these countries and their general adoption of free trade economic policies are factors that foster a competitive business environment. Only imports on certain sensitive goods from GCC countries face tariffs, and there is freedom of movement between GCC countries without customs or non-customs restrictions.


GCC-Singapore FTA (GSFTA): The GSFTA became effective on September 1, 2013. GSFTA eliminates most tariffs (99%) of Singapore's exports to the GCC. This is a comprehensive agreement covering trade in goods, rules of origin, customs procedures, trade in services and government procurement among others. Key sectors benefitting include telecommunication, electrical and electronic equipment, petrochemicals, jewellery, machinery and iron and steel-related industry. The recognition of the halal certification of Singapore's Majlis Ugama Islam Singapura (MUIS) will also pave the way for trade in halal-certified products to gain faster access to the GCC countries.
Signed But Not Yet In Effect
The Trade Preferential System of the Organization of the Islamic Conference (TPS-OIC): The agreement would see to the promotion of trade between member states by including most-favoured nation principles, harmonising policy on rules of origin, exchanging trade preferences among member states, promoting equal treatment of member states and special treatment for least developed member states and providing for regional economic bodies made up of OIC nations to participate as a block. The agreement will cover all commodity groups. The OIC comprises 57 members, making a full realisation of such an agreement highly impactful, encompassing approximately 1.8 billion people. Although the Framework Agreement, the Protocol on Preferential Tariff Scheme and the Rules of Origin have all been agreed on, a minimum of 10 members are required to update and submit their concessions list for the agreements to come into effect. As of January 2019, only seven nations have done so.


GCC-European Free Trade Association (EFTA) (Iceland, Liechtenstein, Norway and Switzerland): The GCC and the European Free Trade Association signed an FTA on June 22, 2009 which entered into force on July 1, 2014. The Agreement covers the progressive elimination of tariffs in trade in services and manufactured goods as well as investment, and other trade-related issues, such as protection of intellectual property, and is fully consistent with provisions of the WTO. In addition, bilateral arrangements on agricultural products between individual EFTA States and the GCC form part of the instruments establishing the free trade area between both sides. Between 2014 and 2017, total trade between the GCC and EFTA grew by 22%.


United Kingdom-Oman Comprehensive Agreement: On May 22, 2019 the United Kingdom and Oman signed a comprehensive agreement which promises cooperation across several sectors. The two countries will work together in sectors such as science, health, technology and innovation.
Under Negotiation
Australia-GCC: Australia and the GCC share a significant economic relationship, encompassing trade and investment across a broad range of goods and services. The GCC is a key market for agricultural exports such as livestock, meat, dairy products, vegetables, sugar, wheat and other grains. The agreement provides an opportunity to address a range of tariff and non-tariff barriers related to food exports that will benefit the GCC.


GCC-mainland China: The first-round negotiations of the GCC-mainland China FTA commenced on April 27, 2005. Greater trade liberalisation will help develop the industrial and service sectors. Trade liberalisation with the GCC will help the group integrate and grow with mutual cooperation and comprehensive tariff reduction. In 2017, mainland China accounted for 12% of the GCC's total global trade.


India-GCC: The GCC and India are negotiating an FTA. The agreement is expected to remove restrictive duties, push down tariffs on goods and pave the way for more intensive economic engagement between the nations. More than 50% of India's oil and gas comes from the GCC countries.


Japan-GCC: Japan and the GCC are negotiating an FTA. This agreement will seek to reduce tariffs and liberalise services trade and investment. Japan mainly imports aluminium, natural gas, liquid natural gas and petroleum products from the GCC, while Japan mainly exports electronics, vehicles, machinery and other industrial products to the GCC.


Other: A number of other GCC FTAs are currently under negotiation. The countries engaged in negotiations include Pakistan, New Zealand, South Korea, the Mercosur bloc and Turkey.
Sources: WTO Regional Trade Agreements database, USTR, National Sources, Fitch Solutions
Investment Policy
Foreign Direct Investment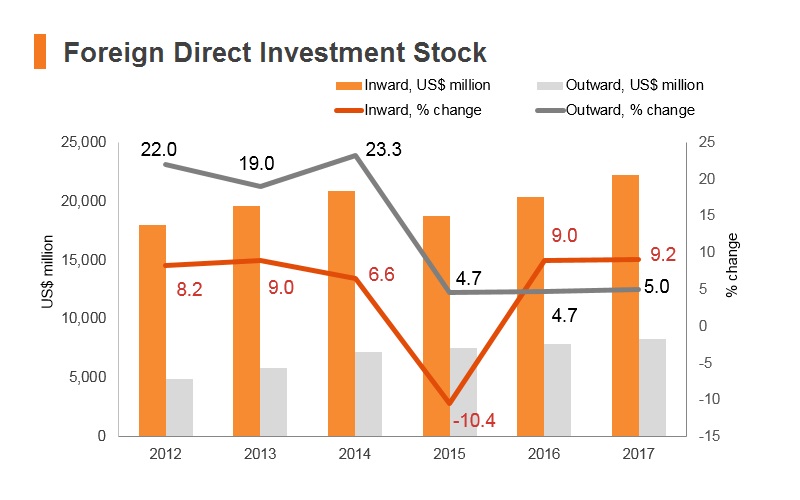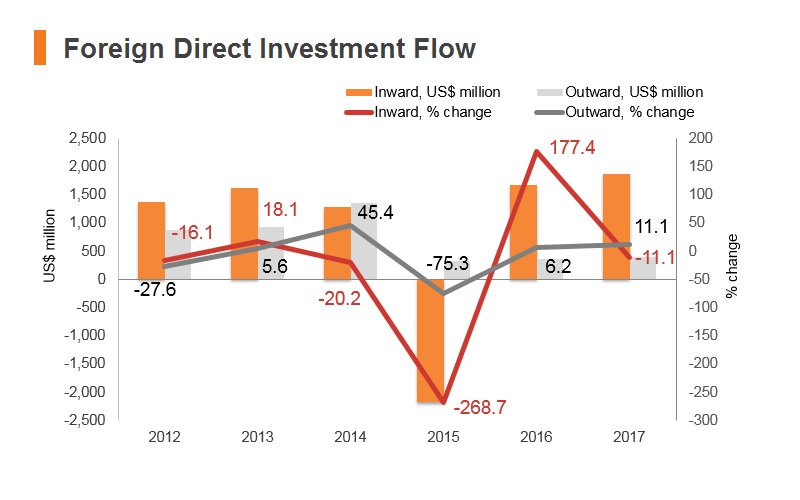 Source: UNCTAD
Date last reviewed: June 15, 2019
Foreign Direct Investment Policy
The Foreign Capital Investment Law (Royal Decree No 102/94) provides the legal framework for foreign direct investment (FDI) in Oman. The main barrier to investment in Oman stems from restrictions on foreign ownership, with the current investment code imposing a minimum of 30% local ownership (exceptions exist). The introduction of a new investment code is expected to reduce restrictions on foreign ownership.


The Public Authority for Investment Promotion and Export Development (PAIPED) is tasked with attracting foreign investors and facilitating the smooth operation of business formation and private sector development. PAIPED provides prospective foreign investors with information on government regulations. The organisation has representatives in a range of countries including the United Arab Emirates, mainland China, Australia, the United States, Germany and Hong Kong who can provide potential investors with advice on developing businesses in Oman.


Existing regulations impose a minimum of 30% local ownership for the majority of investments in the country. Exceptions exist in the banking sector, where 100% foreign ownership is allowed, while in other sectors it is possible to obtain special authorisation for 100% foreign ownership. These restrictions do not apply to GCC nationals. With 70% of ownership available to foreign investors, Oman has been attracting a large amount of foreign investment. As with other GCC countries, Oman has seen a number of significant developments in the real estate and tourism sector, including the establishment of several integrated tourism complexes and an increase in the number of tourism-related projects (eg, golf courses and hotels).


Legislative procedures have been amended through the issuance of Sultani Decree 99/2011 which gives Shura and the State Councils the right to review any draft laws and provide comment. It is envisaged that the Foreign Capital Investment Law will, once issued, permit better ownership and control of companies which are incorporated in Oman by local investors. Foreigners are allowed to purchase residential property, but only within designated tourist complexes (with extensive visa restrictions). GCC companies may hold a more preferential position, as GCC nationals (and joint stock companies with a minimum of 51% Omani shareholding) may own land under certain circumstances.


Another key law which may further encourage foreign investment and assist foreign investors to exercise more direct control through their investments is Ministerial Decision Number 95/2017 issued by the Minster of the Ministry of Housing which regulates the conditions of ownership in real estate investment funds (the 'Ministerial Resolution') and came into force on November 16, 2017. Real Estate Investment Funds (REIFs) will be regulated and licensed by the Capital Market Authority and will take the form of a closed fund with fixed share capital. REIFs may own properties necessary for the conduct of its licensed activities. In particular, the Ministerial Resolution has provided an alternative structure for local investors and extended the very limited rights of non-GCC (foreign) nationals and/or entities to own real property in Oman, albeit only in respect of developed land.


There are no controls on foreign exchange transactions in Oman and no restrictions on remittances. In terms of portfolio investment, there are no restrictions on the flow of capital and the repatriation of profits. Foreigners may invest in the Muscat Securities Market (MSM) as long as they do so through an authorised broker.


Income derived by investment funds established in Oman and by funds established outside Oman dealing in Omani securities listed in the MSM is exempt from tax. These exemptions are for indefinite periods.


The SEZs in Oman, most notably that at Duqm, highlight the successful implementation of SEZs to catalyse economic transformation. Combining a strategic geographical position outside of the Strait of Hormuz that serves to mitigate the risks associated with a prominent global flashpoint with the aforementioned regulatory and tax incentives, infrastructure investment continues to pour into Oman's SEZs at Salalah, Duqm, Sohar and Al Mazunah. The development of free trade zones (FTZs) and SEZs is in line with the spirit of Vision 2020, which is the country's national development plan that aims to reduce the oil sector's contribution to Oman's GDP. The country has attracted significant investment pledges since 2017, the majority of which are orientated around industrial operations destined for export and based in SEZs.


The government has outlined initiatives to modernise the local economy and privatise state utilities. A significant increase in government spending and FDI has led to the development of a wide range of non-oil sectors.


For Omani proprietorships ('establishments') and limited liability companies (LLCs) that meet certain requirements, a 3% tax rate is effective and is coupled with a requirement for small- and medium-sized enterprises (SMEs) to file income tax returns. The key requirements are that the entity has registered capital that does not exceed OMR50,000 at the beginning of the tax year, gross income that does not exceed OMR100,000 for any tax year and an average number of employees during the tax year that does not exceed 15. Furthermore, these firms must be involved in taxpayer activities that do not include air/sea transport, extraction of natural resources, banking, insurance, or financial services, public utility concessions, or other special activities that are to be decided by the Minister of Finance after approval by the Council of Ministers.


Special provisions are applicable to the taxation of income derived from the sale of petroleum. The tax rate specified for such companies is 55%. However, the tax rates are applied on income as determined by the individual Exploration and Production Sharing Agreement entered into between the government of Oman and the company engaged in the sale of petroleum. Under these agreements, the government pays the company's share of income tax from amounts withheld from the government's share of production. Consequently, the income tax is not actually carried by the company.


Omani companies and sole proprietorships engaged in shipping are exempt from tax. Foreign shipping and aviation companies are also exempt from tax in Oman if the Omani shipping and aviation companies enjoy similar reciprocal treatment in their respective foreign governments.


Tax holidays are available to companies engaged in industrial activities. The exemption is restricted to five years, subject to the fulfilment of certain conditions.
Sources: National sources, WTO – Trade Policy Review, The International Trade Administration, United States Department of Commerce, Fitch Solutions
Free Trade Zones and Investment Incentives
Free Trade Zone/Incentive Programme
Main Incentives Available
Ten major industrial estates in key locations including Rusayl, Salalah, Sohar, Sur, Nizwa and Buraimi
Industrial estates benefit from solid supporting infrastructure, including transport and utility connections which make them attractive to potential investors.
Sohar FTZ
The Sohar FTZ provides facilities to attract investors in the metal and steel, food and logistics sectors. The zone is home to around 14 foreign companies, ranging from metals and minerals to logistics and food processing.

The FTZ offers close proximity to Sohar Industrial Estate and the Port of Sohar. The incentives available include a tax exemption for up to 25 years, full exemption of customs duties on goods imported into the FTZ and full foreign ownership of the business.

Omani authorities have started planning the second phase of the Sohar FTZ expansion, developing an area of around 1,000 hectares.
Salalah FTZ
Investors in the chemical and material processing, manufacturing, and assembly and logistics sectors can benefit from the Salalah FTZ.

Salalah FTZ boasts competitive costs in terms of labour, utilities and infrastructure compared to other regions in the country. The FTZ offers tax and commercial incentives which include income tax exemption for up to 30 years, full exemption of customs duties, no minimum capital, full foreign ownership and a 10% Omanisation rate.

The zone is connected to a southern port with connections to a range of key trading markets in Asia, Africa and Europe.

The Salalah FTZ was recently ranked as the fifth best port zone globally, reflecting its strong transport connectivity and developed infrastructure.
Al-Mazunah Free Zone (AMFZ)
The AMFZ, in the Dhofar region in the south west, attracts investors in the trading, light industry and assistant services sectors.

This zone is located along the border with Yemen and was set up in 1999 to facilitate cross-border trade and greater access to regional labour markets. Yemeni nationals are allowed to work in the zone without visas or work permits.

AMFZ provides tax and commercial incentives including an income tax exemption for up to 30 years, full exemption of customs duties, no minimum capital, full foreign ownership and 10% Omanisation rate.
Knowledge Oasis Muscat
A technology park, dedicated to developing Oman's technological business economy.
Duqm Special Economic Zone (DSEZ)
Located in the Al Wustah region in the centre of the country, DSEZ is around 500km south of the capital, Muscat, and will be one of the largest special zone projects in the MENA region. Its 1,777sq km total area is bordered by an 80km coastline. Located on the Arabian Sea coast, DSEZ will become a key hub and gateway not only to Oman, but also to the rest of the Middle East, North and East Africa and South Asia.

DSEZ attracts local and foreign investors of various sectors. It is a model of an integrated economic development comprising several zones, namely: port and the dry dock, fishing port and fisheries industries, industrial areas, logistics services, commercial businesses centre, tourism area and spas, educational towns, filters and petrochemicals complex, New Duqm Town and Duqm Airport. In addition to the facilities provided, DSEZ also offers various incentives including competitive land lease rates, a 30-year income tax exemption, customs duty exemption and allowance of full foreign ownership of the business.

The USD1.5 billion dry dock is the second largest in the Middle East and is providing a significant boost to import and export times and costs as ships from non-Gulf countries can save 1.5 days on transit times to Dubai's ports.
Sources: US Department of Commerce, Fitch Solutions
Taxation – 2019
Value Added Tax: 0%
Corporate Income Tax: 15%
Source: Secretariat General For Taxation, Oman
Important Updates to Taxation Information
The Omani government made broad changes to the income tax law with effect from January 1, 2017 with the aim of increasing tax revenue, improving administration and stimulating small business activity. The changes included an increase in corporate income tax rates, with the highest corporate tax rate rising to 15% from January 1, 2017.


The government also reaffirmed its intention to implement a GCC-wide value added tax (VAT) at a rate of 5%. VAT implementation is expected to take effect in 2019.


An excise tax will be introduced in 2019. The tax may be levied on tabacco, energy drinks, certain carbonated drinks and alcohol.
Source: Times of Oman
Business Taxes
Type of Tax
Tax Rate and Base
Corporate Tax rates
- 15% (standard rate)
- 55% (oil sector)
Corporate Tax rates for small- and medium-sized enterprises
3%
Capital gains
15%, capital gains are treated as part of business income. Gains on listed securities are exempt
VAT/GST (standard)
10% municipality tax levied on the rental of commercial and residential property to expatriates
Withholding Tax
- Dividends: 10%
- Interest: 10%
- Royalties: 10%
Transfer Tax
None
Stamp duty
On transfer of land and property at 5% of the value
Source: Secretariat General For Taxation, Oman
Date last reviewed: June 15, 2019
Foreign Worker Requirements
Localisation Requirements
The government's 'Omanisation' initiative, a non-codified quota system mandating hiring of specified percentages of Omani citizens, is a high priority for the government. Organisations with more than 50 employees are expected to set aside the following 'Omanised' positions for citizens: HR manager, security officers, secretarial or administrative clerks, public relations officers and drivers.
Omanisation requirements increased after 'Arab Spring' protests in 2011 and included an obligation to provide a minimum wage and more training programmes for Omani employees. Omanisation targets were again increased as of March 1, 2014. The state is authorised to impose fines on companies that do not achieve targets. These fines can reach up to 50% of the average of total non-Omani salaries making up the difference between target and actual Omanisation rates, though they are rarely enforced if the company is attempting to recruit Omanis. In addition, strict penalties, including deportation, are applicable for transferring employment visa sponsorship from one individual to another or working under tourist visa status.
Foreign Worker Permits
Employers must obtain employment visas for any foreign employees aged 21 or older for entry into Oman. This is the standard visa for employers to sponsor a foreign national for work in Oman. The employment requires the approval of the Directorate General of Labour Affairs. The employment visa requires the employer to have labour clearance from the Ministry of Manpower. The employee must satisfy approval criteria to be eligible for an employment visa, including Omanisation quotas for the minimum level of Omani nationals employed in the company.
The duration of the employment visa is limited to two years from the date of entry. Even after entry, the employee is not allowed to work until all the necessary applications are processed, including the residence permit. Employees holding employment visas must not exit Oman for longer than six months, unless they are family members. Family members may apply for a family joining visa, allowing the employee's family to reside in Oman but these family members may not work for the duration of the visa.
Visa/Travel Restrictions
Citizens of member nations of the GCC and New Zealand may travel to Oman without visa limits. Nationals of 66 other countries are granted visa-free access on arrival to Oman for a period of 30 days. All visitors must hold a passport that will be valid for at least six months.
Sources: Government websites, Fitch Solutions
Risks
Sovereign Credit Ratings
| | | |
| --- | --- | --- |
| | Rating (Outlook) | Rating Date |
| Moody's | Ba1 (Negative) | 05/03/2019 |
| Standard & Poor's | BB (Stable) | 10/11/2017 |
| Fitch Ratings | BB+ (Stable) | 18/12/2018 |
Sources: Moody's, Standard & Poor's, Fitch Ratings
Competitiveness and Efficiency Indicators
World Ranking
2017
2018
2019
Ease of Doing Business Index
66/190
71/190
78/190
Ease of Paying Taxes Index
12/190
11/190
12/190
Logistics Performance Index
N/A
43/160
N/A
Corruption Perception Index
68/180
53/180
N/A
IMD World Competitiveness
N/A
N/A
N/A
Sources: World Bank, IMD, Transparency International
Fitch Solutions Risk Indices
World Ranking
2017
2018
2019
Economic Risk Index Rank
N/A
143/202
120/202
Short-Term Economic Risk Score
45
45.6
46.9
Long-Term Economic Risk Score
46.4
44.2
49.5
Political Risk Index Rank
N/A
78/202
55/202
Short-Term Political Risk Score
79.8
78.5
81.3
Long-Term Political Risk Score
68.9
68.9
72.8
Operational Risk Index Rank
N/A
45/201
38/201
Operational Risk Score
62.8
62.8
66.2
Source: Fitch Solutions
Date last reviewed: June 15, 2019
Fitch Solutions Risk Summary
ECONOMIC RISK
Oman's real GDP growth rate will accelerate in 2019, mainly on the back of stronger hydrocarbon production. Non-oil growth will also rise on higher oil prices, although tighter government finances will keep growth moderate. Looking ahead, Oman's continuing dependence on hydrocarbons for the majority of its economic output constitutes the most pressing economic risk. Although the government has been investing in non-oil sectors over the past decade, the economy has remained highly reliant on oil resources. Therefore, any disruption to oil production and any shocks to oil prices can threaten the country's near-term economic outlook. Reforming the state finances to foster revenue sources outside oil will remain one of the main economic priorities for Omani policymakers over the coming years, particularly given the ongoing slump in crude prices; sectors being targeted include financial services, manufacturing, logistics and tourism. Further momentum in job creation, underlined by the government's successful creation of 25,000 jobs for Omanis over the past few months, will support stability.
OPERATIONAL RISK
Oman performs well by MENA regional standards in terms of its operating environment. The country's clear strengths lie in its security and logistical environments, as despite being located in an unstable region, Oman is one of the most politically stable GCC states, with fewer concerns regarding domestic unrest or terrorist attacks. Additionally, with the various Omani road, port and airport projects which are being constructed or planned, as well as low levels of trade bureaucracy for exporters and importers, the country's plans to become a logistics hub are starting to take shape. Areas which have higher levels of risk attached to them for business operation in Oman are its labour market and trade and investment environment. The local Omani population is small, as in many Gulf peers, and education levels are not very good, which means that there is a dearth of recruitment options for highly and technically skilled positions. Additionally, the domestic economy is not very diversified as crude still accounts for around half of Omani exports, followed by other hydrocarbons such as natural gas and refined fuels.
Source: Fitch Solutions
Date last reviewed: June 15, 2019
Fitch Solutions Political and Economic Risk Indices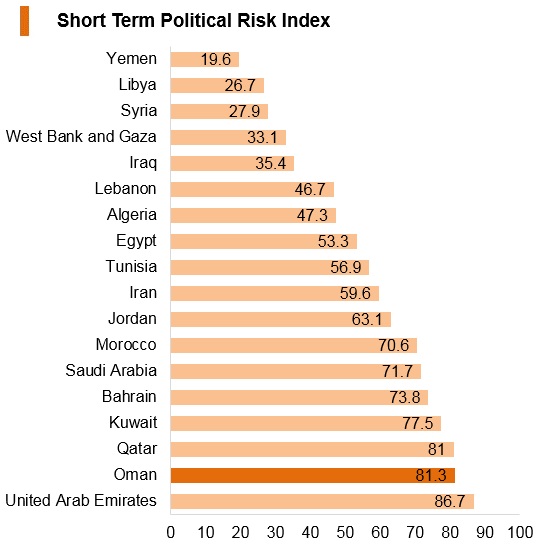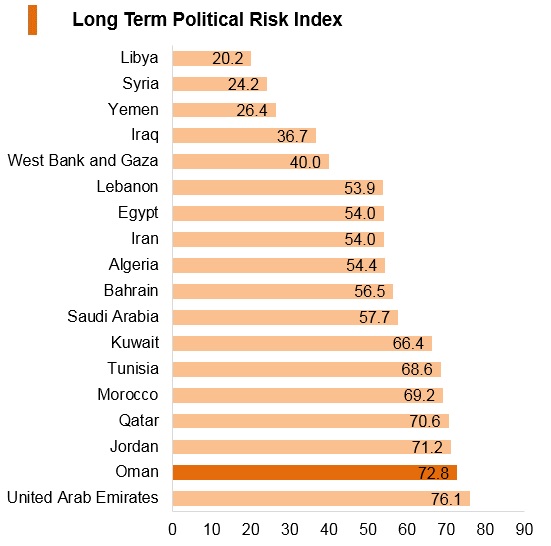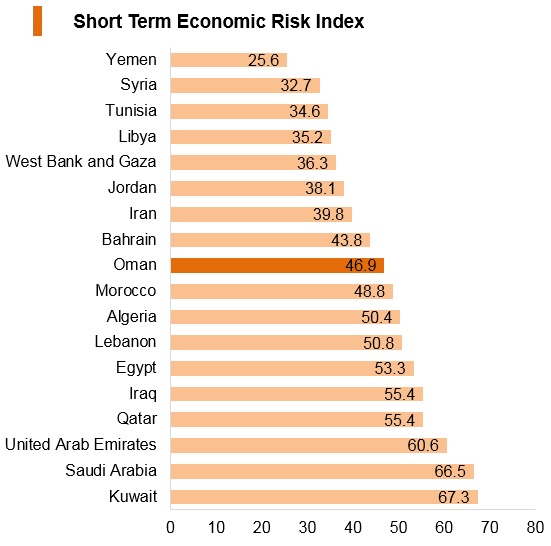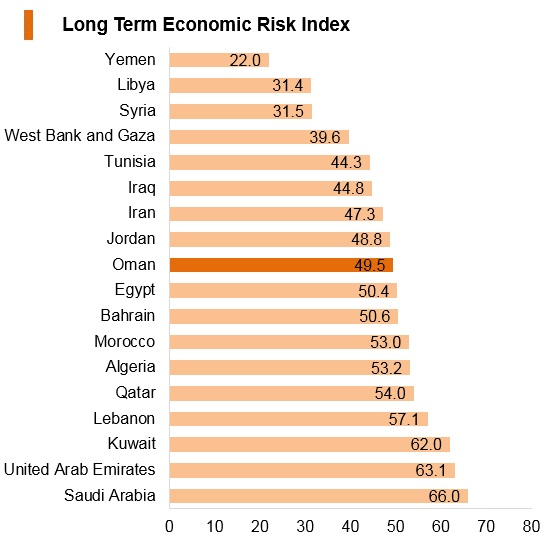 100 = Lowest risk, 0 = Highest risk
Source: Fitch Solutions Political and Economic Risk Indices
Date last reviewed: June 15, 2019
Fitch Solutions Operational Risk Index
| | | | | | |
| --- | --- | --- | --- | --- | --- |
| | Operational Risk | Labour Market Risk | Trade and Investment Risk | Logistics Risk | Crime and Security Risk |
| Oman Score | 66.2 | 62.2 | 61.9 | 64.5 | 76.0 |
| MENA Average | 48.3 | 52.3 | 48.0 | 48.7 | 44.1 |
| MENA Position (out of 19) | 4 | 5 | 5 | 4 | 1 |
| Global Average | 49.7 | 50.3 | 49.8 | 49.0 | 49.8 |
| Global Position (out of 201) | 38 | 32 | 55 | 45 | 30 |
100 = Lowest risk, 0 = Highest risk
Source: Fitch Solutions Operational Risk Index

| | | | | | |
| --- | --- | --- | --- | --- | --- |
| Country | Operational Risk Index | Labour Market Risk Index | Trade and Investment Risk Index | Logistics Risk | Crime and Security Risk Index |
| UAE | 73.6 | 71.2 | 79.1 | 68.7 | 75.3 |
| Qatar | 66.2 | 65.0 | 61.8 | 71.6 | 66.5 |
| Oman | 66.2 | 62.2 | 61.9 | 64.5 | 76.0 |
| Bahrain | 66.0 | 63.1 | 69.5 | 71.5 | 60.1 |
| Saudi Arabia | 62.6 | 67.2 | 62.1 | 62.7 | 58.6 |
| Jordan | 59.1 | 56.9 | 60.7 | 59.0 | 60.0 |
| Kuwait | 55.5 | 54.2 | 51.2 | 52.5 | 64.1 |
| Morocco | 54.1 | 43.2 | 63.8 | 54.8 | 54.6 |
| Egypt | 49.3 | 49.9 | 45.7 | 56.4 | 45.3 |
| Tunisia | 47.1 | 42.2 | 56.2 | 47.3 | 42.8 |
| Lebanon | 44.7 | 43.0 | 51.9 | 41.4 | 32.4 |
| Iran | 43.0 | 49.5 | 36.7 | 50.8 | 35.1 |
| Algeria | 42.0 | 46.1 | 31.1 | 42.9 | 47.9 |
| West Bank and Gaza | 34.8 | 48.8 | 37.4 | 32.0 | 21.2 |
| Libya | 28.0 | 47.2 | 22.1 | 29.3 | 13.4 |
| Syria | 27.3 | 45.5 | 23.7 | 27.0 | 12.7 |
| Iraq | 27.1 | 43.7 | 24.8 | 28.6 | 11.3 |
| Yemen | 22.4 | 32.7 | 24.9 | 15.8 | 16.1 |
| Regional Averages | 48.3 | 52.3 | 48.0 | 48.7 | 44.1 |
| Emerging Markets Averages | 46.0 | 48.1 | 46.5 | 44.7 | 44.8 |
| Global Markets Averages | 49.7 | 50.3 | 49.8 | 49.0 | 49.8 |
100 = Lowest risk, 0 = Highest risk
Source: Fitch Solutions Operational Risk Index
Date last reviewed: June 15, 2019
Hong Kong Connection
Hong Kong's Trade with Oman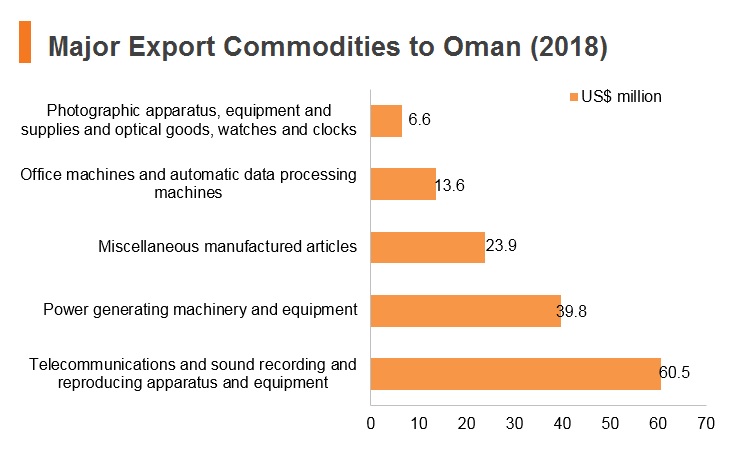 Note: Graph shows the main Hong Kong exports to/imports from Oman (by consignment)
Date last reviewed: June 15, 2019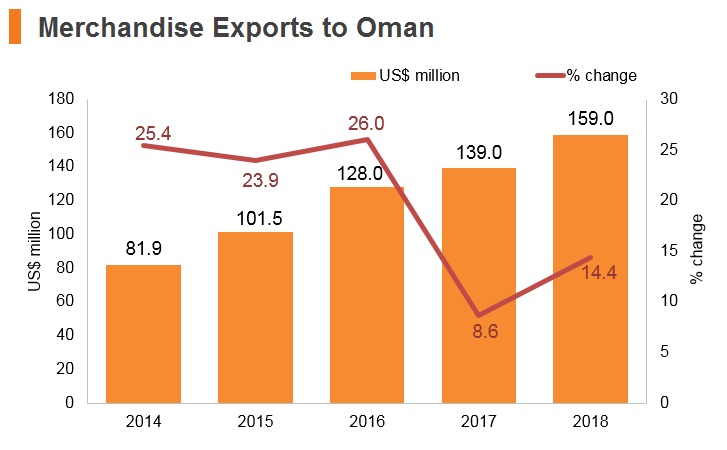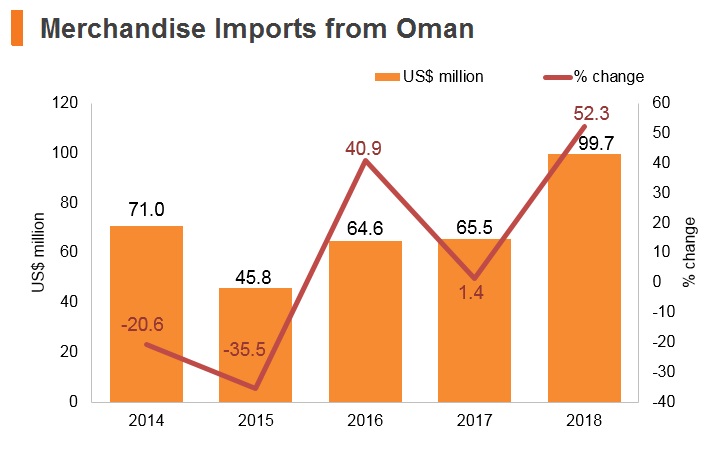 Note: Graph shows Hong Kong exports to/imports from Oman (by consignment)
Exchange Rate HK$/US$, average
7.75 (2014)
7.75 (2015)
7.76 (2016)
7.79 (2017)
7.83 (2018)
Sources: Hong Kong Census and Statistics Department, Fitch Solutions
Date last reviewed: June 15, 2019
| | | |
| --- | --- | --- |
| | 2017 | Growth rate (%) |
| Number of Omani residents visiting Hong Kong | 1,213 | -22.5 |
Source: Hong Kong Tourism Board
| | | |
| --- | --- | --- |
| | 2017 | Growth rate (%) |
| Number of GCC residents visiting Hong Kong | 38,629 | -22.7 |
Source: Hong Kong Immigration Department
Date last reviewed: June 15, 2019
Commercial Presence in Hong Kong
2016
Growth rate (%)
Number of Omani companies in Hong Kong
N/A
N/A
- Regional headquarters
- Regional offices
- Local offices
Source: Hong Kong Census and Statistics Department
Treaties and Agreements between Hong Kong and Oman
Oman and mainland China have a double tax agreement which was signed in March 2002 and became effective in 2003.
Oman and mainland China have a bilateral investment treaty which came into force in August 1995.
Chamber of Commerce (or Related Organisations) in Hong Kong
The Arab Chamber of Commerce and Industry
The Arab Chamber of Commerce and Industry was established in Hong Kong in 2006 as a leading organisation at promoting commercial ties between Hong Kong/mainland China and the Arab World.
Address: 20/F, Central Tower, 28 Queens Road, Central, Hong Kong
Email: info@arabcci.org, secretariat@arabcci.org
Tel: (852) 2159 9170
Fax: (852) 2159 9688
Source: The Arab Chamber of Commerce and Industry, Hong Kong
Honorary Consulate of the Sultanate of Oman in Hong Kong SAR
Address: Room B, 19/F, Gee Chang Hong Centre, 65 Wong Chuk Hang Road, Hong Kong
Email: omanhk@biznetvigator.com
Tel: (852) 2873 0888
Fax: (852) 2873 6168
Source: Visa on Demand
Visa Requirements for Hong Kong Residents
E-visa system is now available. Please apply for the visa online at www.evisa.rop.gov.om. For enquiries, applicants can contact the specialists at the E-visa Service Centre at (968) 2451 2974/5/6 or e-mail to Visa@rop.gov.ominfo-oman.
Source: Visa on Demand
Date last reviewed: June 15, 2019