Montenegro
Montenegro: Market Profile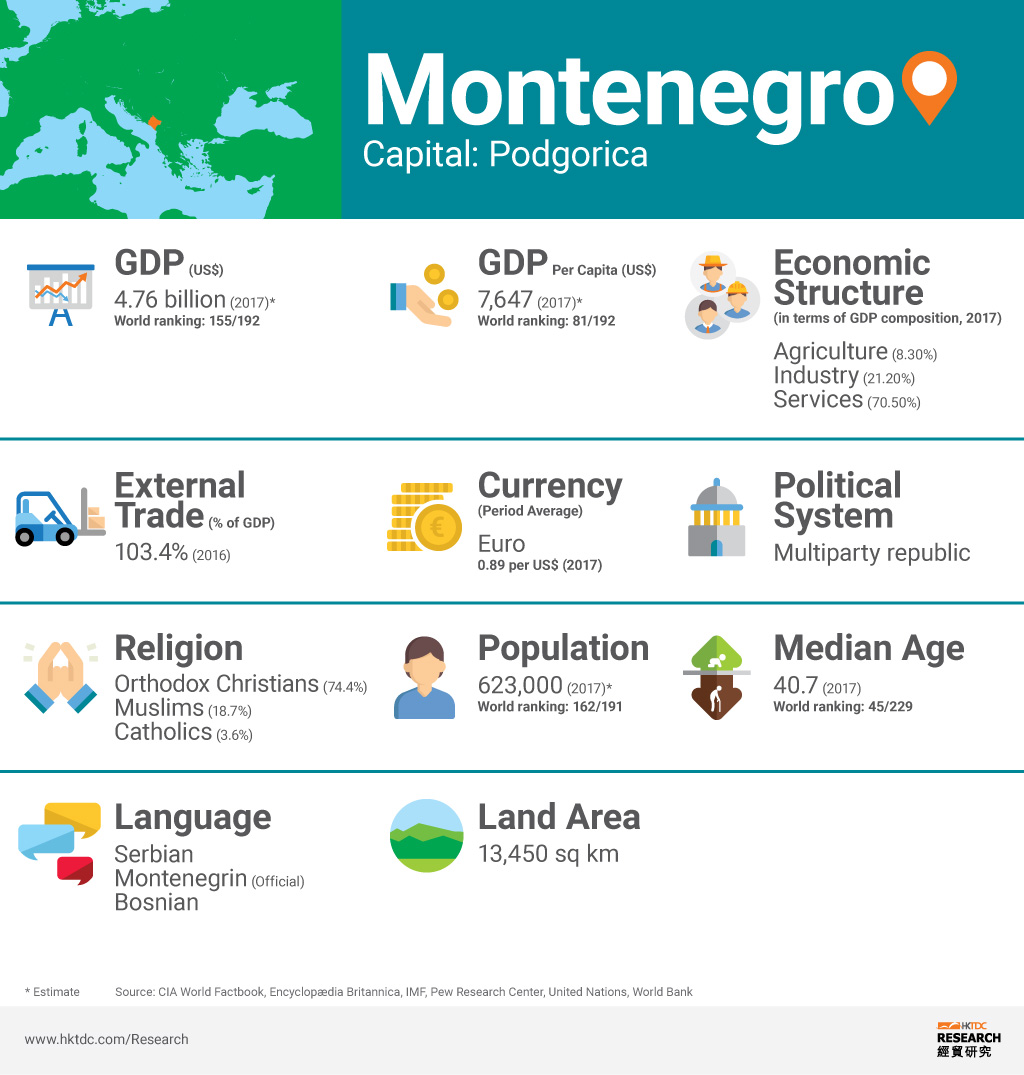 1. Overview
Montenegro is a small, open economy aspiring to join the European Union (EU) by 2020. Alongside the ongoing EU accession negotiations that began in June 2012, Montenegro has concluded free trade agreements with the EU, the European Free Trade Association (EFTA), the Central European countries (CEFTA) and Russia. It is also an economy particularly vulnerable to external shocks, as it relies heavily on capital inflows from abroad to stimulate its growth.
Source: World Bank, Fitch Solutions
2. Major Economic/Political Events and Upcoming Elections
June 2016
Montenegro joined the North Atlantic Treaty Organisation (NATO).
November 2016
Dusko Markovic took over as Prime Minister from his Democratic Party of Socialists colleague Milo Djukanovic after the party lost seats at the October election, but remained in power due to an opposition boycott of parliament.
Source: BBC Country Profile – Timeline, Fitch Solutions
3. Major Economic Indicators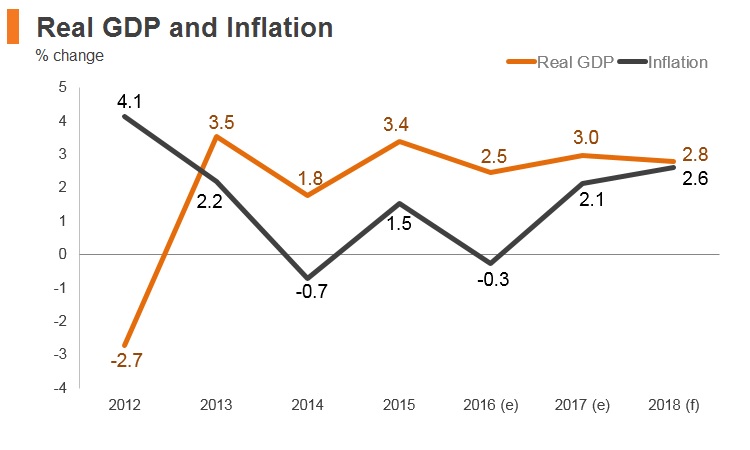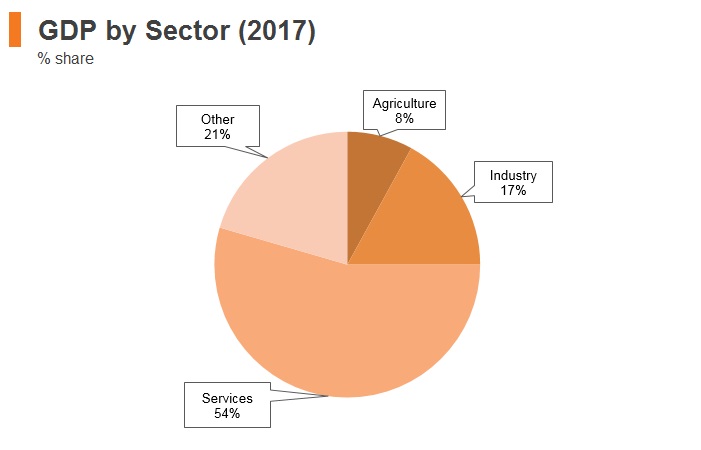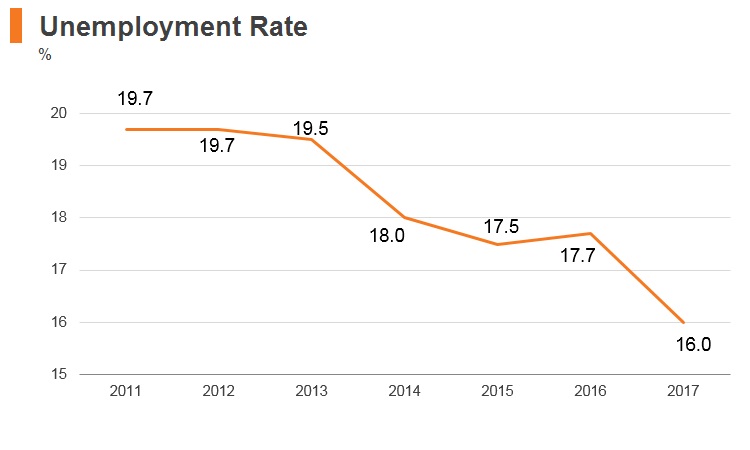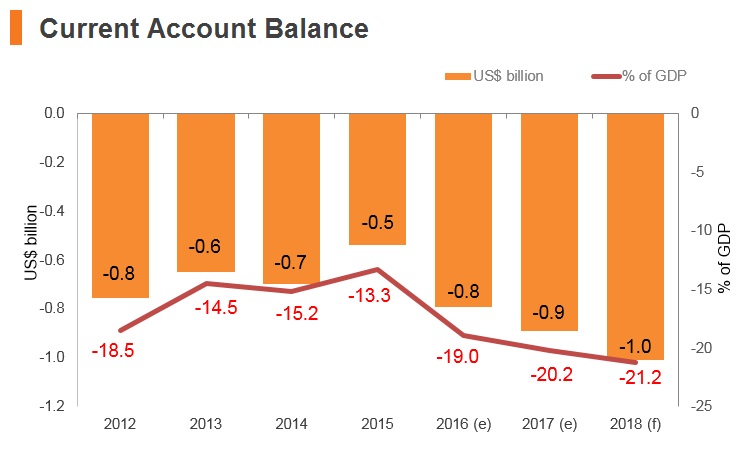 e = estimate, f = forecast
Source: International Monetary Fund, World Bank, Fitch Solutions
Date last reviewed: August 21, 2018
4. External Trade
4.1 Merchandise Trade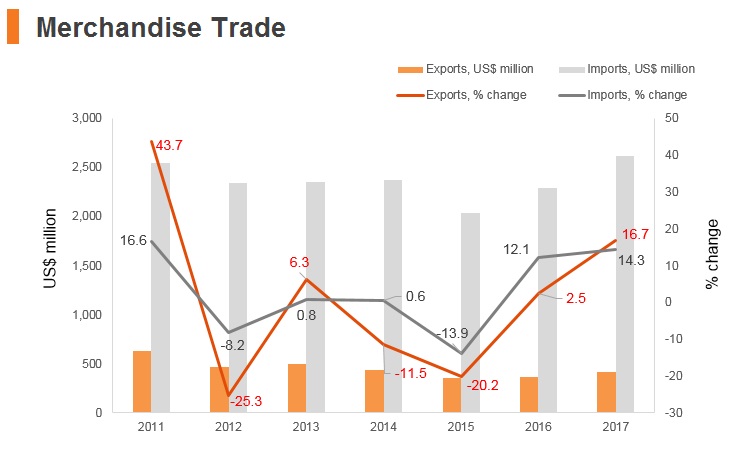 Source: WTO
Date last reviewed: August 21, 2018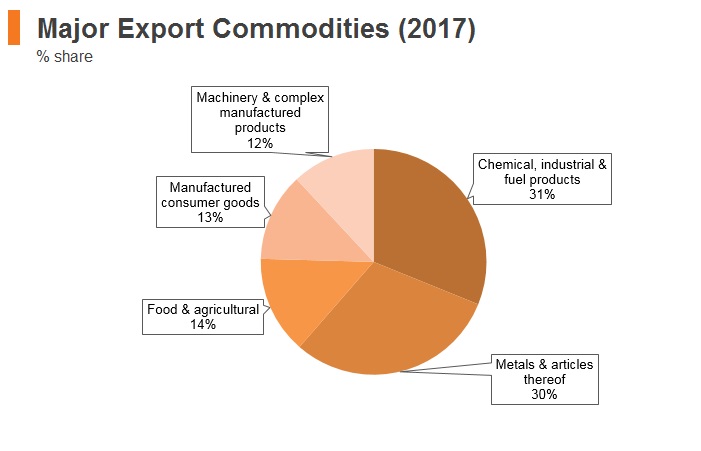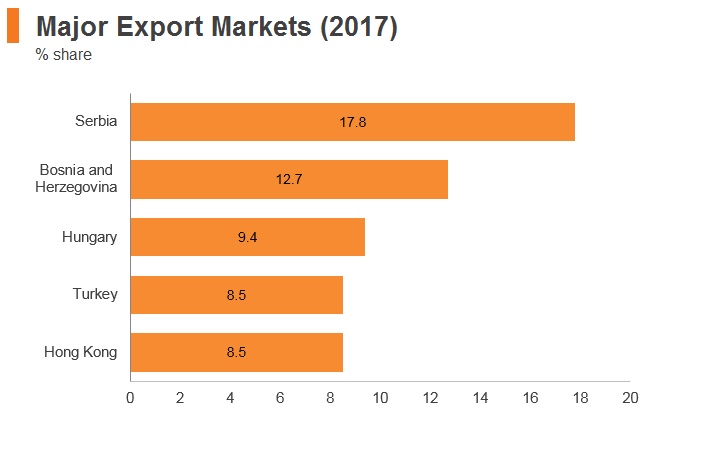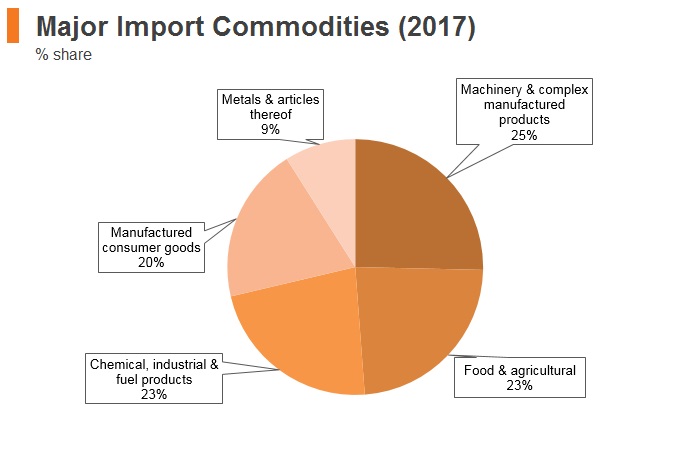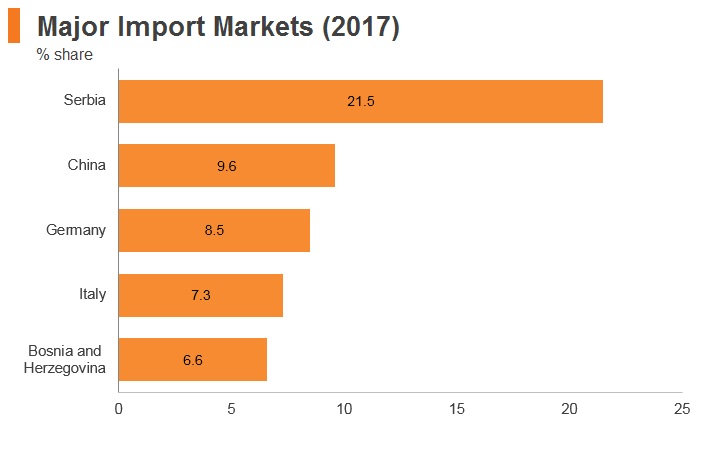 Source: Trade Map, Fitch Solutions
Date last reviewed: September 20, 2018
4.2 Trade in Services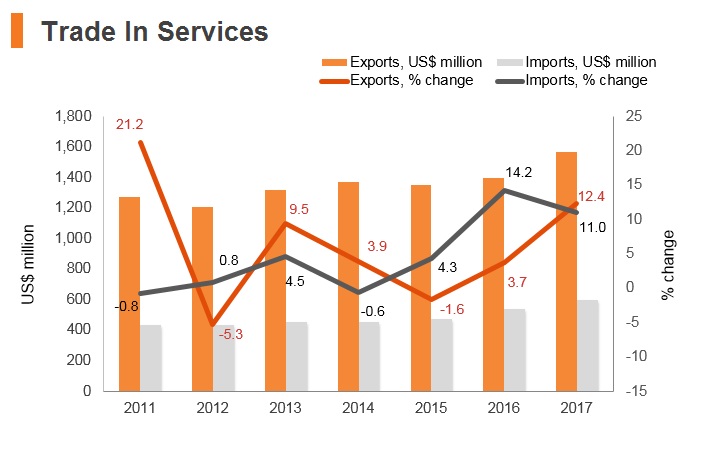 Source: WTO
Date last reviewed: August 21, 2018
5. Trade Policies
On January 18, 2007, Montenegro joined the World Bank and International Monetary Fund (IMF). Montenegro signed a Stabilisation and Association agreement with the EU in October 2007. On June 5, 2017 became a member of the NATO.
Montenegro joined the World Trade Organisation (WTO) in April 2012, when it became its 154th member. The country implemented significant trade policy reforms, bringing its practices in compliance with WTO requirements and those of the EU. Reforms included the elimination of import quotas, the reduction of import licensing requirements and prohibitions, streamlining customs procedures, and a reduction of tariff and non-tariff barriers. Montenegro is an official EU candidate country.
Montenegro's Foreign Trade Law lowers the barriers for doing business and executing foreign trade transactions in accordance with WTO Agreements. That said, the law still provides for some restrictive measures, such as quotas, and discretionary government intervention in a small number of areas.
The law also provides the government with the authority to implement temporary measures to regulate trade. In almost all cases, the government has phased out quantitative restrictions, but certain goods still require a license from the government. New laws are being promulgated to improve the custom and trade regimes.


There are no export duties in Montenegro, nor is it forbidden to export any goods. Exceptionally, the Montenegrin government can impose quantity limitation of exports only in case of critical shortage of certain goods or for the purpose of protection of non-renewable natural resources, under certain conditions.


For imports, customs duties are paid on goods imported into the customs territory of Montenegro in accordance with the rates and tariffs set forth in the Customs Tariffs, which is in line with the harmonised system of tariff codes prescribed by the WTO.


Customs duties can be levied in two manners, as ad valorem or specific duty per unit of goods. Ad valorem duties are prescribed within the scope from 0% to 30%. For agricultural and alimentary products, a combined duty has been determined, that is, both ad valorem and specific duty are charged simultaneously.


Customs rates stipulated by international agreements are only applied to goods of preferential origin from countries covered by such agreements. The most important free trade agreements that Montenegro signed are with the European Union, the EFTA, the CEFTA states, Russia, Turkey, and Ukraine.
Source: WTO - Trade Policy Review, PwC, Fitch Solutions
6. Trade Agreement
6.1 Multinational Trade Agreements
Active
The CEFTA: Consisting of Albania, Bosnia and Herzegovina, Serbia, Moldova, Montenegro, Former Yugoslav Republic of Macedonia and UNMIK/Kosovo and came into force in May 2007. It helps increase trade between regional counterparts and fosters non-EU bilateral relations.


Montenegro and the EFTA: Consisting of Switzerland, Norway, Iceland and Liechtenstein. The main focus of the EFTA-Montenegro Free Trade Agreement (FTA) is on the liberalisation of trade in goods.


The Free Trade Agreement and Economic Integration Agreement between Montenegro and the EU: This agreement entered into force in January 2008 (for goods trade) and January 2008 (for services trade). The Agreements stimulate Montenegro's already large export and import volumes with EU member states, including Germany, Italy and Greece.
Source: WTO Regional Trade Agreements database
7. Investment Policy
7.1 Foreign Direct Investment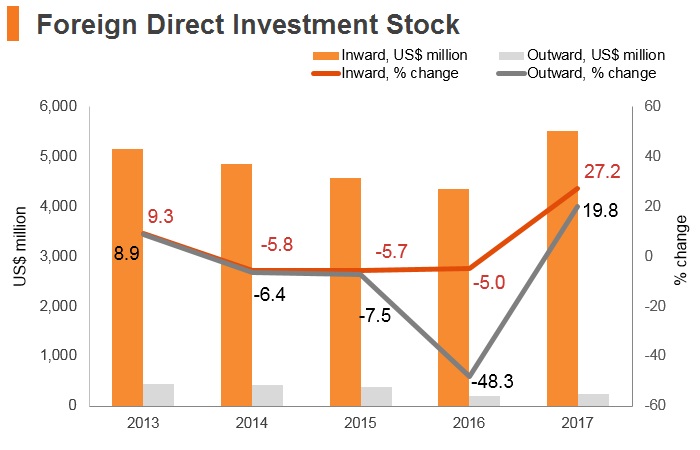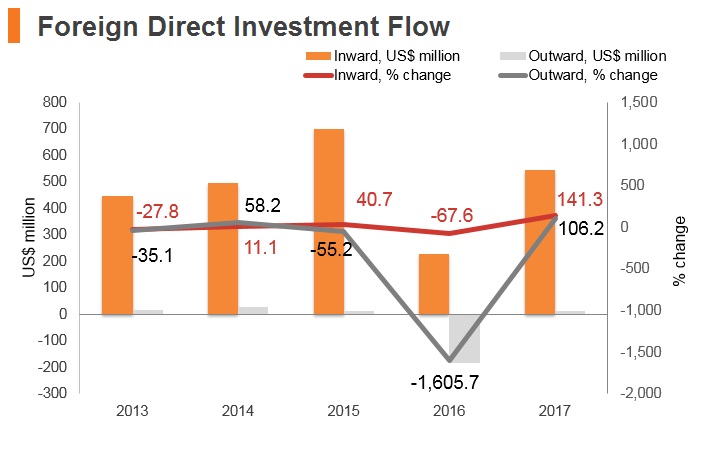 Source: UNCTAD
Date last reviewed: August 21, 2018
7.2 Foreign Direct Investment Policy
Montenegro regained its independence in 2006 and, since then, the country has adopted an investment framework that, in principle, encourages growth, employment, and exports. Montenegro, however, is still in the process of establishing a liberal business climate that fosters foreign investment and local production. The country remains dependent on imports from neighbouring countries despite its significant potential in some areas of agriculture and food production.


In general, there are no distinctions made between domestic and foreign-owned companies. Foreign companies can own 100% of a domestic company, and profits and dividends can be repatriated without limitations or restrictions.


Newly established production companies located in underdeveloped municipalities are entitled to an eight-year tax exemption. The maximum amount of tax exemption for the period of eight years is limited to EUR200,000.


Legal entities are subject to environmental charges for the following:

- Use of firing or electrical feed equipment with power greater than 1MW

- Import of substances harmful to the atmosphere

- Production or deposit of dangerous waste

- Tax for use of road vehicles (vignettes)

- Charges for access to certain services that are of general interest (for use of mobile telephones, electricity, cable television connection, space denominated for consumers of tobacco products and acoustic devices)


The "tax exemption for newly established businesses in underdeveloped municipalities" incentive is applicable to companies whose business units are established in underdeveloped regions. In that case, tax holiday is proportional to the amount of profit generated by such unit over the total profit for the period of eight years from establishment of the unit. The tax incentive is not applicable to a taxpayer operating in the sectors of primary production of agricultural products, transport, shipbuilding, fishery, steel production, trade, and catering, except primary catering facilities.


Resident taxpayers are entitled to a tax credit up to the amount of corporate tax paid in another country on income realised in that country. This tax credit is equal to the tax paid in another country, but may not exceed the amount of the tax that would have been paid in Montenegro.


The main principles of the Montenegrin VAT are in line with the EU Sixth Directive guidelines. Taxable supplies are subject to a general 21% VAT rate; however, certain supplies are taxed at a reduced 7% rate (e.g., bread, milk, books, medicines, and computers) and 0% rate (e.g., export of goods, supply of gasoline for vessels in international traffic).


Foreign investors can participate in local privatisation processes and can own land in Montenegro generally on the same terms as locals. Expropriation of property can only occur for a 'compelling public purpose' and compensation must be made at fair market value. There has been no known expropriation of foreign investments in Montenegro. International arbitration is allowed in commercial disputes involving foreign investors.


Montenegro has enacted specific legislation outlining guarantees and safeguards for foreign investors. Montenegro has also adopted more than 20 other business-related laws, all in accordance with EU standards. The main laws that regulate foreign investment in Montenegro are: the Foreign Investment Law; the Enterprise Law; the Insolvency Law; the Law on Fiduciary Transfer of Property Rights; the Accounting Law; the Law on Capital and Current Transactions; the Foreign Trade Law; the Customs Law; the Law on Free Zones; the Labour Law (which is currently undergoing amendment to make personnel decisions more efficient); the Securities Law; the Concession Law, and the set of laws regulating tax policy.


While Montenegro has taken steps to make the country more open for foreign investment, some deficiencies still exist. The absence of fully developed legal institutions has fostered corruption and weak controls over conflicts of interest. The judiciary is still slow to adjudicate cases, and court decisions are not always consistently reasoned or enforced. Montenegro's significant grey economy impacts its open market, negatively affecting businesses operating in accordance with the law. Favourable tax policies established at the national level are often ignored at the municipal level.


To better promote investment and foster economic development, the government established the Montenegrin Investment Promotion Agency (MIPA) in mid-2005. It seeks to promote Montenegro as a competitive investment destination by actively facilitating investment projects in the country.
Sources: WTO - Trade Policy Review, Government websites, Fitch Solutions
7.3 Free Trade Zones and Investment Incentives
Free Trade Zone/Incentive Programme
Main Incentives Available
The Port of Bar is currently the only free trade zone in Montenegro
All Free Zone users have many benefits provided by the Law and other regulations including (but not limited to):

- Exemption from customs duties,

- Exemptions from customs fees and VAT;

- Storage of goods in a duty free regime for an unlimited period of time;

- Low corporate tax;

- Simplified procedures;

- Ability to benefit from the use of infrastructure, port handling services, and telecommunication services.

Source: US Department of Commerce, Fitch Solutions
8. Taxation – 2018

Value Added Tax: 21%
Corporate Income Tax: 9%
Source: PwC 2018
8.1 Important Updates to Taxation Information
VAT Law and the Rulebook on application of VAT Law have been amended. The most important changes relate to the increase of the standard VAT rate to 21%, amendments of the rules for determining the place of supply of services, and introduction of the procedure for appointment of a fiscal representative.
8.2 Business Taxes
Type of Tax
Tax Rate and Base
Corporate Income Tax
9% on profit
Withholding Tax Rate
9%

Social security contributions (all employers)
- Pension and disability insurance: 5.5%
- Health insurance: 4.3%
- Unemployment insurance: 0.5%
VAT/GST (standard)

- General VAT: 21%
- Certain supplies are taxed at a reduced 7% rate (e.g. bread, milk, books, medicines, computers)
- 0% rate for products such as export of goods, supply of gasoline for vessels in international traffic, etc
Property Tax
Ranges from 0.25% to 1%
Property Transfer Tax
3%
Source: PwC Tax Summaries 2018, Fitch Solutions
Date last reviewed: September 20, 2018
9. Foreign Worker Requirements
9.1 Localisation Requirements
Montenegro has improved and liberalised its business environment due to amendments to the Law on Foreigners. This law has aided previously held requirements placed on hiring practices. According to revisions to the law, businesses no longer need to prove that there are no local citizens of the required vocational profile that is available for a particular job before the company decides to hire a foreigner.
9.2 Labour Quotas

The government does not use 'forced localisation', the policy in which foreign investors must use domestic content in goods or technology. The only exception is an agreement with a Chinese company that is constructing the country's first national highway. The agreement for this project, which is currently the largest infrastructure project in Montenegro, requires that 30% of the labour contract be engaged locally.
Source: Government websites, Fitch Solutions
10. Risks
10.1 Sovereign Credit Ratings
| | | |
| --- | --- | --- |
| | Rating (Outlook) | Rating Date |
| Moody's | B1 (Positive) | 21/09/2018 |
| Standard & Poor's | B+ | 14/11/2014 |
| Fitch Ratings | N/A | N/A |
Source: Moody's, Standard & Poor's, Fitch Ratings
10.2 Competitiveness and Efficiency Indicators


World Ranking

2016
2017
2018
Ease of Doing Business Index

48/189
51/190
42/190
Ease of Paying Taxes Index

64/189
57/190
70/190
Logistics Performance Index

123/160
N/A
77/160
Corruption Perception Index

64/176
64/180
N/A
IMD World Competitiveness
N/A
N/A
N/A
Source: World Bank, IMD, Transparency International
10.3 Fitch Solutions Risk Indices


World Ranking
2016
2017
2018
Economic Risk Index Rank
115/202
Short-Term Economic Risk Score
46.7
48.1
47.5
Long-Term Economic Risk Score
48.1
45.8
49.3
Political Risk Index Rank
68/202
Short-Term Political Risk Score
60.4
60.4
60.4
Long-Term Political Risk Score
61.9
70.3
70.3
Operational Risk Index Rank
65/201
Operational Risk Score
56.6
56.7
56.9
Source: Fitch Solutions
Date last reviewed: September 20, 2018
10.4 Fitch Solutions Risk Summary
ECONOMIC RISK
Montenegro's economy has recovered from the recession over the past couple of years, but the trend growth is likely to remain well below pre-crisis levels, concomitant with a protracted period of fiscal austerity and still sluggish growth across the broader Eurozone. EU accession commands broad support across the country's political spectrum, and Montenegro is likely to continue progressing towards membership. The economy's convergence with the more developed states of Western Europe is likely to continue apace over the long term, but a failure to clamp down on endemic corruption or push through further business environment reforms could significantly undermine foreign investors' perceptions of the country.
OPERATIONAL RISK
In terms of industry, manufacturing remains the dominant sector in Montenegro, including the production of basic metals, food and beverages, tobacco and chemical industries. On the back of Montenegro's fertile and unpolluted land and pure water quality, agriculture has become an increasingly strategic area of the country's economic development. Montenegro has privatised its large aluminium complex, which is its dominant industry, as well as most of its financial sector. It has also begun to attract foreign direct investment in the tourism sector. Montenegro began accession talks with the EU and these negotiations will provide a major stabilising force for the Balkan country as the bloc acts as a firm policy anchor for reform. Since the end of the Yugoslav war, Montenegro has attracted considerable interest from foreign investors, particularly in the areas of financial services and tourism. The Montenegrin government is open to foreign investment and has taken significant steps to improve the country's business environment. The government's desire to undertake additional political and economic reforms will further benefit the country's business environment.
Source: Fitch Solutions
Date last reviewed: September 25, 2018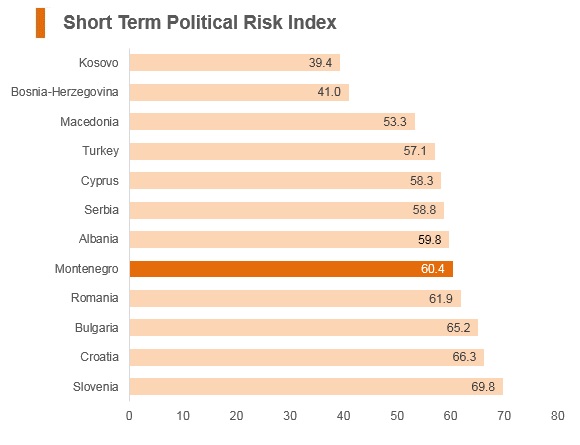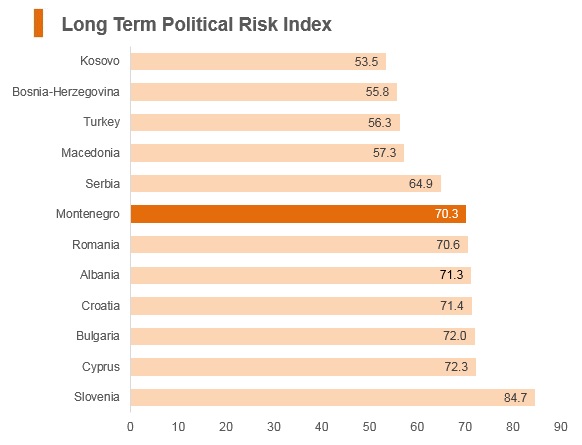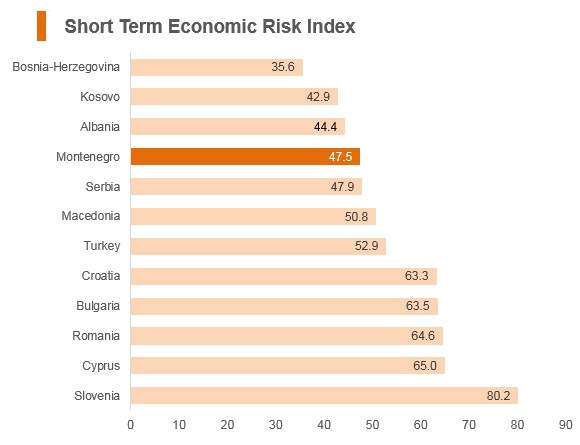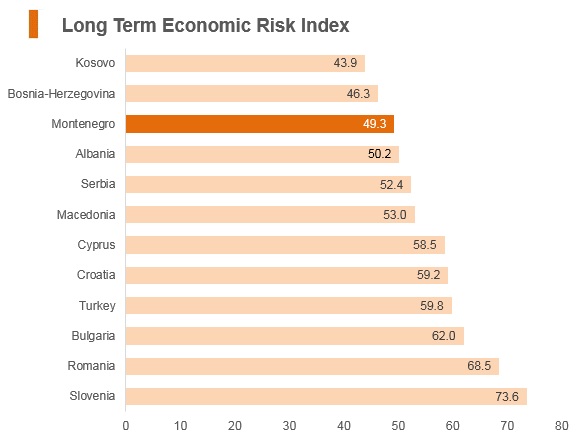 100 = Lowest risk; 0 = Highest risk
Source: Fitch Solutions Economic and Political Risk Indices
Date last reviewed: September 21, 2018
10.5 Fitch Solutions Operational Risk Index
| | | | | | |
| --- | --- | --- | --- | --- | --- |
| | Operational Risk | Labour Market Risk | Trade and Investment Risk | Logistics Risk | Crime and Security Risk |
| Montenegro Score | 56.9 | 52.8 | 58.8 | 56.5 | 59.3 |
| Southeast Europe Average | 57.1 | 52.8 | 57.9 | 58.3 | 59.4 |
| Southeast Europe Position (out of 12) | 7 | 7 | 7 | 8 | 6 |
| Emerging Europe Average | 56.7 | 54.1 | 58.4 | 57.4 | 56.8 |
| Emerging Europe Position (out of 31) | 18 | 20 | 16 | 19 | 13 |
| Global Average | 49.7 | 49.8 | 50.0 | 49.3 | 49.9 |
| Global Position (out of 201) | 65 | 77 | 64 | 66 | 71 |
100 = Lowest risk; 0 = Highest risk
Source: Fitch Solutions Operational Risk Index

| | | | | | |
| --- | --- | --- | --- | --- | --- |
| Country | Operational Risk Index | Labour Market Risk Index | Trade and Investment Risk Index | Logistics Risk Index | Crime and Secruity Risk Index |
| Slovenia | 67.2 | 54.0 | 60.9 | 70.6 | 83.4 |
| Croatia | 63.1 | 51.9 | 55.4 | 68.4 | 76.7 |
| Romania | 62.1 | 57.1 | 62.1 | 60.7 | 68.5 |
| Cyprus | 61.0 | 55.1 | 61.7 | 58.3 | 68.8 |
| Bulgaria | 60.2 | 55.5 | 63.6 | 60.6 | 61.1 |
| Macedonia | 57.5 | 47.2 | 68.3 | 57.2 | 57.3 |
| Montenegro | 56.9 | 52.8 | 58.8 | 56.5 | 59.3 |
| Serbia | 56.1 | 58.5 | 59.4 | 53.9 | 52.5 |
| Turkey | 52.9 | 52.0 | 55.8 | 61.9 | 42.0 |
| Kosovo | 52.3 | 55.2 | 57.6 | 55.6 | 40.7 |
| Albania | 50.8 | 49.0 | 47.6 | 49.8 | 56.8 |
| Bosnia and Herzegovina | 45.5 | 45.5 | 44.3 | 46.1 | 45.9 |
| Regional Averages | 57.1 | 52.8 | 57.9 | 58.3 | 59.4 |
| Emerging Markets Averages | 46.8 | 48.0 | 47.5 | 45.8 | 46.0 |
| Global Markets Averages | 49.7 | 49.8 | 50.0 | 49.3 | 49.9 |
100 = Lowest risk; 0 = Highest risk
Source: Fitch Solutions Operational Risk Index
Date last reviewed: September 17, 2018
11. Hong Kong Connection
11.1 Hong Kong's Trade with Montenegro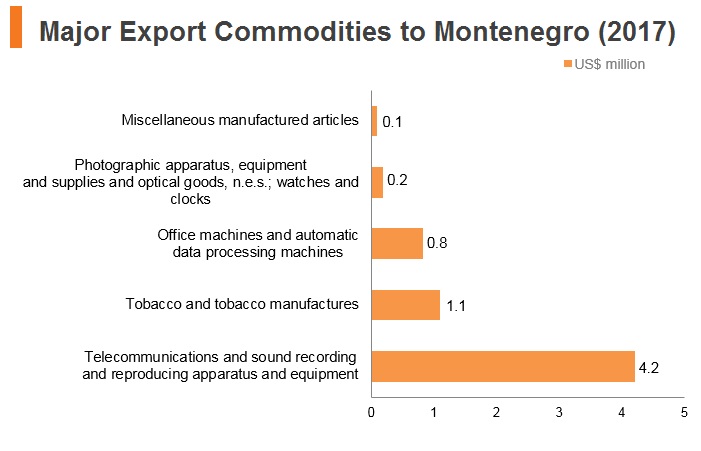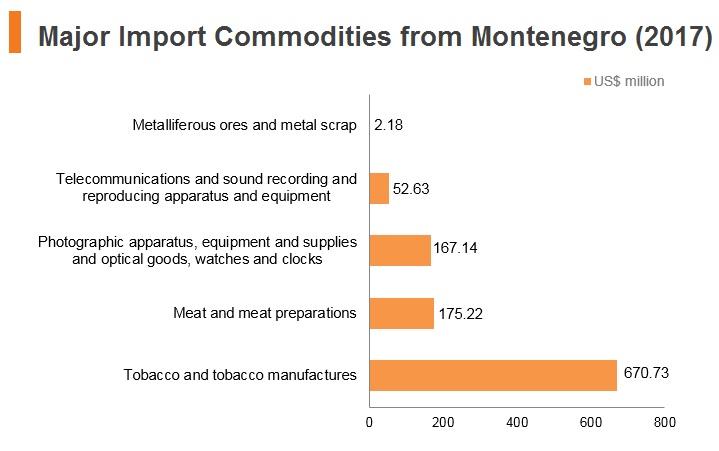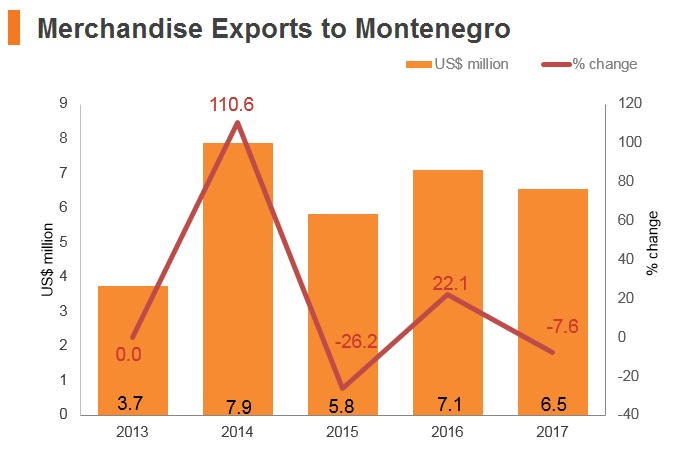 Exchange Rate HK$/US$, average
7.76 (2013)
7.75 (2014)
7.75 (2015)
7.76 (2016)
7.79 (2017)
Source: Hong Kong Census and Statistics Department, Fitch Solutions
Date last reviewed: September 21, 2018
| | | |
| --- | --- | --- |
| | 2017 | Growth rate (%) |
| Number of Montenegrin residents visiting Hong Kong | 56 | -10.0 |
Source: Hong Kong Tourism Board
| | | |
| --- | --- | --- |
| | 2017 | Growth rate (%) |
| Number of European residents visiting Hong Kong | 1,929,824 | -0.2 |
Source: Hong Kong Tourism Board
Date last reviewed: September 21, 2018
11.2 Commercial Presence in Hong Kong


2016

Growth rate (%)

Number of EU companies in Hong Kong
N/A

N/A
- Regional headquarters
- Regional offices
- Local offices
Source: Hong Kong Census and Statistics Department, Fitch Solutions

11.3 Treaties and Agreements between Hong Kong and Montenegro

Agreement between the Government of the People's Republic of China and the Federal Government of the Federal Republic of Yugoslavia for the Avoidance of Double Taxation with respect to Taxes on Income and on capital entered into force in January 1998.
Source: PwC, Fitch Solutions
11.4 Visa Requirements for Hong Kong Residents
HKSAR passport holders do not need a visa for Montenegro for a stay of up to 90 days.
Source: Travel Visa Services
Date last reviewed: September 24, 2018