Bulgaria
Bulgaria: Market Profile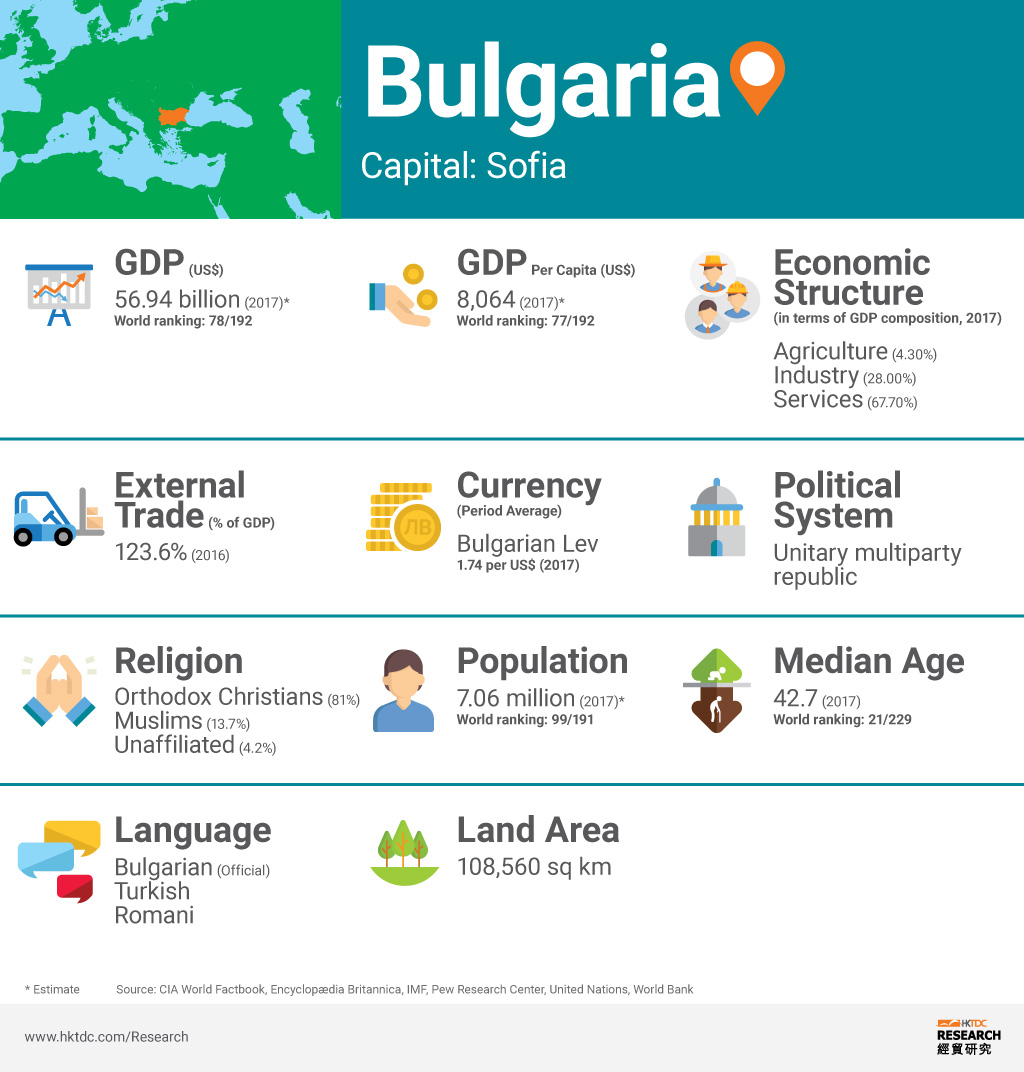 1. Overview
The World Bank classified Bulgaria's economy as an 'upper-middle-income economy'. Bulgaria is a Balkan nation with diverse terrain encompassing Black Sea coastline, a mountainous interior and rivers, including the Danube. As a member of the European Union (EU), Bulgaria has well-developed macroeconomic policies and is one of the most financially stable economies in the Central and Eastern region of Europe. In recent years, Bulgaria has been an increasingly attractive destination for outsourcing of businesses in a number of sectors, such as the pharmaceutical sector and the IT and communications sectors. Looking ahead, Bulgaria faces the twin inter-related challenges of raising productivity and addressing the country's rapid demographic change. Higher productivity growth is critical to accelerating convergence, as Bulgaria's income per capita is only 47% of the EU average, the lowest in the EU. Productivity will need to grow by at least 4% per year over the next 25 years if Bulgaria is to catch up with average EU income levels and boost shared prosperity.
Source: World Bank, Fitch Solutions
2. Major Economic/Political Events and Upcoming Elections
July 2014
Prime Minister Plamen Oresharski stepped down after little more than a year in office, paving the way for a snap election.
October 2014
An inconclusive early election produced a parliament divided between a record eight parties.
November 2014
Boyko Borisov returned to the premiership as his Gerb party formed a coalition with fellow Reformist Bloc.
January 2015
Bulgaria said it would extend a fence along its border with Turkey by 80 km to help stem the flow of illegal immigrants.
November 2016
Rumen Radev won the presidential election. This was shortly followed by the resignation of Prime Minister Boyko Borisov.
January 2018
Parliament overturned a presidential veto on anti-corruption legislation, clearing the way for the creation of a special unit to tackle high-level abuse.
Source: BBC Country Profile – Timeline, Fitch Solutions
3. Major Economic Indicators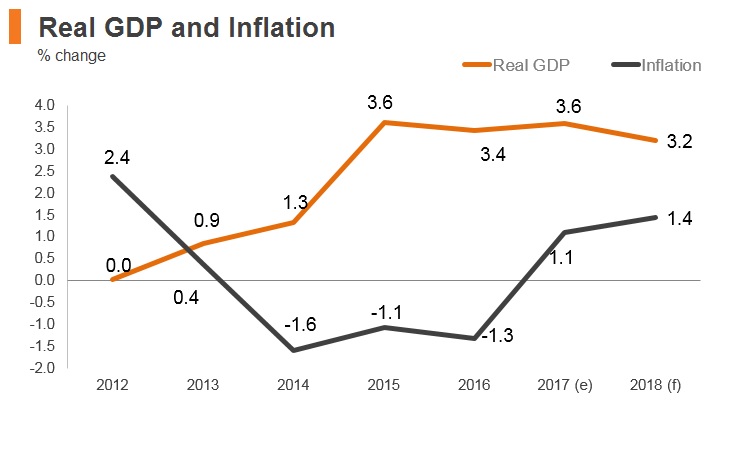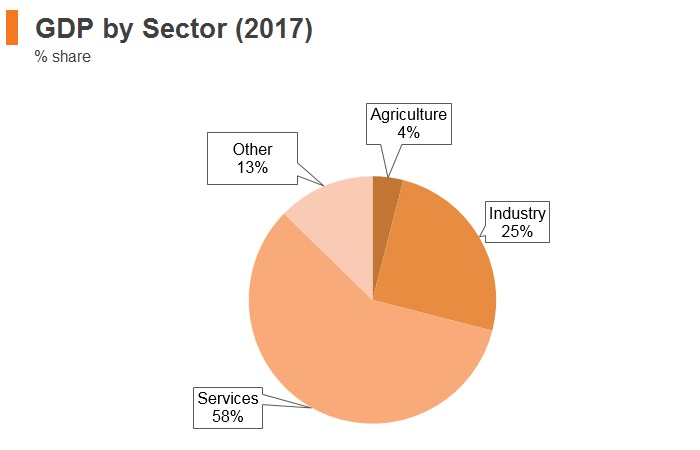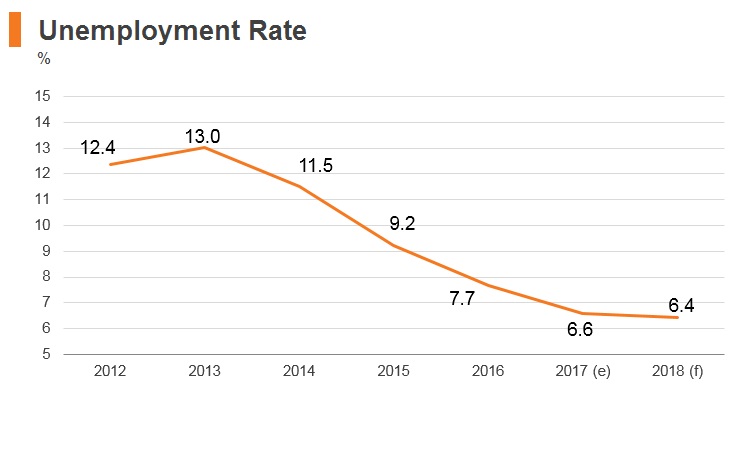 e = estimate, f = forecast
Source: International Monetary Fund, World Bank, Fitch Solutions
Date last reviewed: August 21, 2018
4. External Trade
4.1 Merchandise Trade
Source: WTO
Date last reviewed: August 21, 2018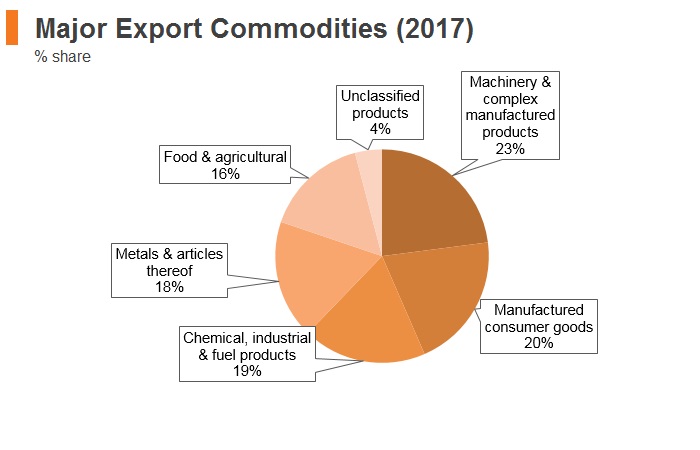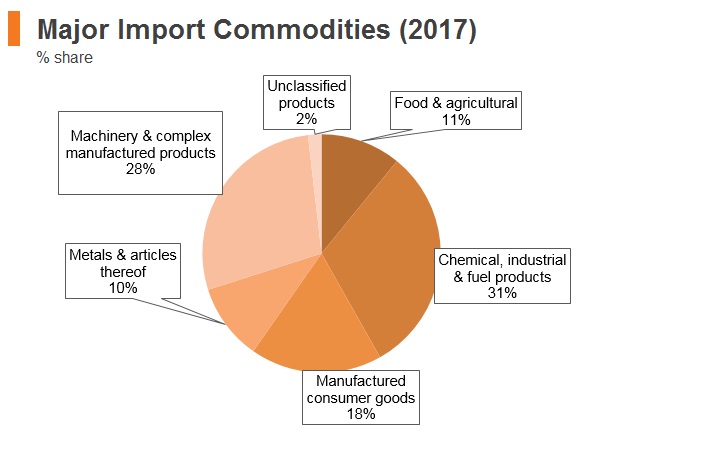 Source: Trade Map, Fitch Solutions
Date last reviewed: September 14, 2018
4.2 Trade in Services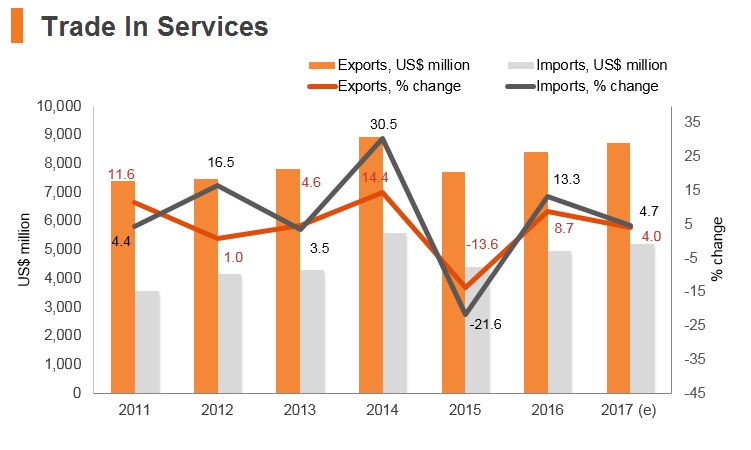 e = estimate
Source: WTO
Date last reviewed: August 21, 2018
5. Trade Policies
Bulgaria has been a member of WTO since December 1, 1996. Bulgaria bound all its tariffs under GATT 1994 on accession to the WTO, including zero rates for products falling under the Plurilateral Agreement on Civil Aviation and the Agreement on Information Technology.
Bulgaria has been a member of the EU Common since January 2007. This means that a common tariff applies to the import of goods across the external borders of the EU. Once goods are cleared by customs authorities upon entry into any EU member state, these imported goods can move freely among EU member states without any additional customs procedures. Tariff rates in Bulgaria are, therefore, particularly low, at an average of 1%.
Bulgaria applies the EU's Common External Tariff (CET), which means goods manufactured and imported from within the EU are not subject to customs charges. As such, the trade policy is largely identical to that of the wider regional bloc. The EU updated its trade policy (and, by extension, its import tariffs, customs, duties and procedures) in 2017.
Goods from outside of the EU will attract import tariffs which can range from 0% (for books) to 48.5% (for bicycles imported from China). Additional taxes may be payable on alcohol and tobacco products.


The EU is party to some 50 FTAs and, consequently, access to other markets of the countries concerned is currently mediated through those agreements. The EU's scheme on generalised system of preferences (GSP) entered into effect on January 1, 2014. Under the scheme, tariff preferences have been removed for imports into the EU from countries where per-capita income has exceeded USD4,000 for four years in a row. Bulgaria is a relatively open market, but certain administrative and procedural requirements can become non-tariff trade barriers. Poor IP protection and the need for greater transparency and predictability in the regulatory environment are common market access issues for investors.


The EU has imposed various anti-dumping measures on a wide range of products, predominantly in the areas of textiles, parts, steel, iron and machinery on goods coming from China and a few other Asian nations to protect domestic industries. A number of Chinese mainland-origin products are subject to EU's anti-dumping duties, including bicycles, bicycle parts, ceramic tiles, ceramic tableware and kitchenware, fasteners, ironing boards and solar glass. On November 13, 2016, the European Commission (EC) imposed a provisional antidumping duty on imports of some of the primary and semi-processed metals from China. As of end-December 2017, the EU did not apply any anti-dumping measures on imports originated from Hong Kong.


In March 2016, the European Commission imposed a definitive countervailing duty (8.7% or 9%) on imports consisting largely of textiles products originating in India.


In 2016, the European Commission introduced an import licensing regime for steel products exceeding 2.5 tonnes. The regulation will be active until May 15, 2020.
Source: WTO - Trade Policy Review, Fitch Solutions
6. Trade Agreement
6.1 Trade Updates
In 2018, Bulgaria and Romania continued to push to join EU's Schengen Area Multinational Trade Agreements.
6.2 Multinational Trade Agreements
Active
EU: Bulgaria is a member of the EU that comprises 28 member states, and it follows EU's common external trade policy and measures. All EU member states adopt common external trade policy and measures. Intra-EU trade accounts for 68% of Bulgaria's exports (Germany 14%, Italy 9% and Romania 9%), while outside the EU 8% go to Turkey and 2% to China. In terms of imports, 67% come from EU Member States (Germany 13%, Italy 8% and Romania 7%), while outside the EU 9% come from Russia and 6% from Turkey.


European Economic Area-European Free Trade Association (Iceland, Liechtenstein, Norway and Switzerland): The European Economic Area (EEA) unites the EU Member States and the EFTA States (Iceland, Liechtenstein, and Norway) into an Internal Market governed by the same basic rules. These rules aim to enable goods, services, capital, and persons to move freely about the EEA in an open and competitive environment, a concept referred to as the four freedoms. While this agreement enhances trade flows between these countries, only Switzerland is a major trading partner to the EU.


EU-Turkey Customs Union: the EU and Turkey are linked by a Customs Union agreement, which came into force on December 31, 1995. Turkey has been a candidate country to join the EU since 1999, and is a member of the Euro-Mediterranean partnership. The customs union with the EU provides tarff-free access to the European market for Turkey, benefitting both exporters and importers. Turkey is the EU's fourth largest export market and fifth largest provider of imports. The EU is by far Turkey's number one import and export partner. Turkey's exports to the EU are mostly machinery and transport equipment, followed by manufactured goods. At present, the Customs Union agreement covers all industrial goods, but does not address agriculture (except processed agricultural products), services or public procurement. Bilateral trade concessions apply to agricultural as well as coal and steel products. In December 2016, the European Commission proposed the modernisation of the Customs Union and to further extend the bilateral trade relations to areas such as services, public procurement and sustainable development.


EU-Canada Comprehensive Economic and Trade Agreement (CETA): CETA is expected to strengthen trade ties between the two regions, having provisionally entered into force in September 2017. Some 98% of trade between Canada and the EU is duty-free under CETA. The agreement is expected to boost trade between partners by more than 20%. CETA also opens up government procurement. Canadian companies will be able to bid on opportunities at all levels of the EU government procurement market and vice-versa. CETA means that Canadian provinces, territories and municipalities are opening their procurement to foreign entities for the first time, albeit with some limitations regarding energy utilities and public transport.
Ratification Pending
EU-Japan Trade Agreement: In July 2018, the EU and Japan signed a trade deal that promises to eliminate 99% of tariffs that cost businesses in the EU and Japan nearly EUR1 billion annually. According to the European Commission, the EU-Japan Economic Partnership Agreement (EPA) will create a trade zone covering 600 million people and nearly a third of global GDP. The result of four years of negotiation, the EPA was finalised in late 2017 and is expected to come into force by the end of the current mandate of the European Commission in 2019. The total trade volume of goods and services between the EU and Japan is an estimated EUR86 billion. The key parts of the agreement will cut duties on a wide range of agricultural products and it seeks to open up services markets, in particular financial services, e-commerce, telecommunications and transport. As of August 2018, the agreement was awaiting ratification by the European Parliament and the Japanese Diet, following which it could enter into force in 2019. At the same time, negotiations with Japan continue on investment protection standards and investment protection dispute resolution. Japan is the EU's second biggest trading partner in Asia after China. EU exports to Japan are dominated by motor vehicles, machinery, pharmaceuticals, optical and medical instruments, and electrical machinery. The agreement awaits ratification from all parties concerned.


EU-SADC Economic Partnership Agreement (Botswana, Lesotho, Mozambique, Namibia, South Africa, Swaziland, Angola, Comoros, Democratic Republic of the Congo, Madagascar, Malawi, Mauritius, Seychelles, Tanzania, Zambia and Zimbabwe): An agreement between EU and SADC delegations was reached in 2016 and is awaiting ratification, with 13 of the 35 needed states having ratified the agreement as of April 2018.


EU-Central America Association Agreement (Guatemala, El Salvador, Honduras, Nicaragua, Costa Rica, Panama, Belize, and Dominican Republic): An agreement between the parties was reached in 2012 and is awaiting ratification (29 of the 34 parties have ratified the agreement as of April 2018).
Under Negotiation
EU-Australia: The EU, Australia's second largest trade partner, has launched negotiations for a comprehensive trade agreement with Australia. Bilateral trade in goods between the two partners has risen steadily in recent years, reaching almost EUR48 billion in 2017, while bilateral trade in services added an additional EUR27 billion. The negotiations aim at removing trade barriers, streamlining standards and putting European companies exporting to or doing business in Australia on an equal footing with those from countries that have signed up to the Trans-Pacific Partnership or other trade agreements with Australia. The Council of the EU authorised opening negotiations for a trade agreement between the EU and Australia on May 22, 2018.


EU-US (Trans-Atlantic Trade and Investment Partnership): This agreement was expected to increase trade and services, but it is unlikely to pass under a Trump administration in the US, against the backdrop of rising global trade tensions.
Source: WTO Regional Trade Agreements database, Fitch Solutions, European Commission
7. Investment Policy
7.1 Foreign Direct Investment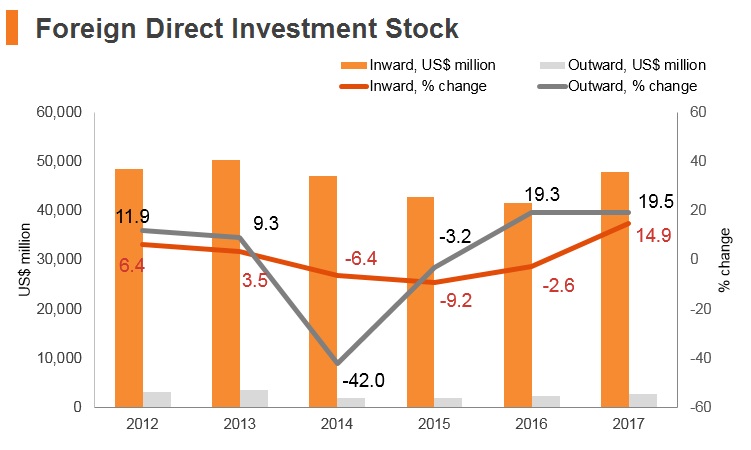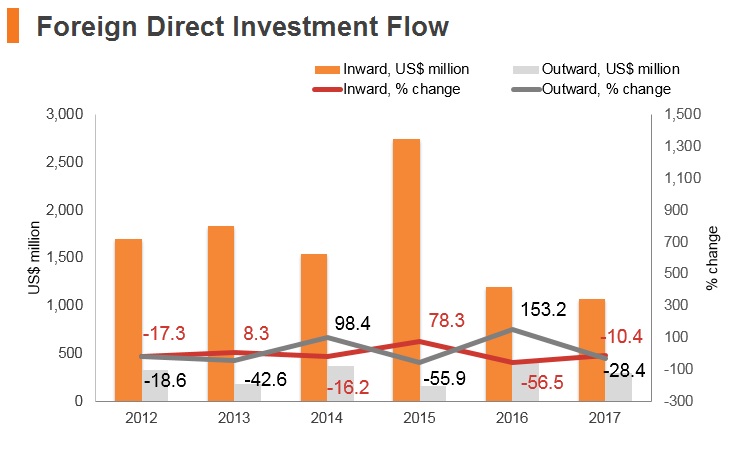 Source: UNCTAD
Date last reviewed: September 13, 2018
7.2 Foreign Direct Investment Policy
The Invest Bulgaria Agency (IBA), the government's investment coordinating body, provides information, administrative services, and incentive assessments to prospective foreign investors.


There are no legal limits on foreign ownership or control of firms. With some exceptions, foreign entities are given the same treatment as national firms and their investments are not screened or otherwise restricted.


The 2004 Investment Promotion Act stipulates equal treatment of foreign and domestic investors. The law encourages investment in manufacturing and high-technology, as well as in education and human resource development. It creates investment incentives by helping investors purchase land, providing state financing for basic infrastructure and training new staff, and facilitating tax incentives and opportunities for public-private partnerships (PPPs) with the central and local government.


Bulgaria offers a wealth of incentives ranging from VAT exemption, the possibility for R&D expenditure write-off to accelerated depreciation of two years for computers and new manufacturing equipment. Tax incentives may apply in certain circumstances, including: partial granting of the corporate income tax due for performance of agricultural activities, additional tax deductions for hiring of long-term unemployed, handicapped, or elderly persons and granting back of up to 100% of the income tax due for investment in regions with high unemployment.


Bulgaria offers one of the most attractive tax environments for doing business in Europe. These include a corporate income tax rate of 10%, a flat personal income tax of 10%, tax exemption for industries in high-unemployment areas and a two-year VAT exemption for imports of equipment for investment projects above EUR5 million and creating at least 50 jobs.


The 2016 amended Offshore Company Act lists 28 activities banned for business by companies registered in offshore jurisdictions with more than 10% offshore participation. The law, however, allows those companies to do business if the physical owners of the parent company are Bulgarian citizens and known to the public, if the parent company's stock is publicly traded, or if the parent company is registered in a jurisdiction with which Bulgaria enjoys a treaty for the avoidance of double taxation.


The most common type of organisation for foreign investors is a limited liability company. The required minimum for registering a limited liability company is one euro. Other typical corporate entities include joint stock companies, joint ventures, business associations, general and limited partnerships, and sole proprietorships.


Foreign investments into production and manufacturing industries also benefit from 30% off the price of heavy machinery, 50% off the price of computer hardware and software, and five years of corporate tax exemption for investment into areas of high unemployment.
Sources: WTO - Trade Policy Review, The International Trade Administration (ITA), US Department of Commerce, Fitch Solutions
7.3 Free Trade Zones and Investment Incentives
Free Trade Zone/Incentive Programme
Main Incentives Available
Industrial zones located at Rakovski, Kuklen, Maritsa, Parvomai and Letnitsa
- 100% foreign ownership permitted

- 100% exemption of corporate income tax for all businesses involved in manufacturing in regions with high unemployment

- Fewer bureaucratic procedures

- All necessary skilled labour and administrative resources provided
Source: US Department of Commerce, Fitch Solutions
8. Taxation – 2018

Value Added Tax: 20%
Corporate Income Tax: 10%
Source: PwC Tax Summaries 2018
8.1 Important Updates to Taxation Information
As of February 1, 2018, an entity should have a registration in the electronic system of the Customs Agency under a new regime in order to submit customs declarations and applications (or to have such submitted on its behalf). The registration is required for all entities that are holders of customs procedures (import, export, inward or outward processing, and others).


As of January 1, 2018, some amendments have been introduced into the rules on mandatory VAT registration under the Bulgarian VAT Act. The VAT Act previously provided for mandatory VAT registration upon reaching a statutory threshold of BGN 50,000 taxable turnover in Bulgaria for a period of 12 months. As of January 1, 2018, if said threshold of BGN50,000 taxable turnover in Bulgaria is reached for a period not longer than two consecutive months, including the current month, the taxable person shall apply for a mandatory VAT registration within seven days.


As of January 1, 2017, Bulgarian tax residents that have acquired particular types of foreign-source income, taxable with one-off tax in Bulgaria, have to declare and pay the tax themselves on an annual basis only with the annual tax return, instead of on a quarterly basis. These are, for example, dividends and liquidation proceeds, interest on foreign bank accounts, etc.


On August 4, 2017, the amendments to the Tax and Social Security Procedures Code (TSSPC) introducing the CbC reporting requirements in Bulgaria were published in the State Gazette. The rules regulate the mandatory CbC reporting by multinational enterprise groups (MNE groups) with consolidated group revenue exceeding EUR750 million. Once submitted, the CbC reports will be subject to automatic exchange between the tax administrations of the jurisdictions in which the MNE group operates.

Specific rules have also been enacted with respect to MNE groups with total consolidated group revenue exceeding BGN100 million, whose ultimate parent company is a Bulgarian tax resident. Those groups are now obligated to file CbC reports to the National Revenue Agency (NRA) that will not be subject to automatic exchange of information with other jurisdictions.
8.2 Business Taxes
| | |
| --- | --- |
| Type of Tax | Tax Rate and Base |
| Resident company: Corporate Tax Rates | Corporate income is subject to corporate income tax (CIT) at a flat rate of 10% |
| Alternative Tax (applicable to gambling) | 15% |
| Tonnage Tax (applicable to the operation of commercial maritime vessels, as per their net tonnage) | 10% |
| Resident company: Capital Gains Tax | Capital gains from disposals of assets, including shares, derived by Bulgarian tax residents, are included in the current year tax base and subject to tax at the standard corporate tax rate of 10%. |
| Dividends | A 5% withholding tax is imposed on dividends paid by Bulgarian companies to companies resident for tax purposes in non-EU/EEA countries, as well as on hidden profit distributions to residents of EU/EEA countries. |
| VAT | 20%, a reduced VAT rate of 9% applies to certain tourist services. Some activities are zero-rated, including intra-community supplies, exports of goods to countries outside the EU, international transport of goods, and supplies of goods and services related to aircraft and vessels, subject to statutory limitations. |
| Real Estate Transfer Tax; levied on the acquisition of real estate | 0.1%-3% depending on municipality |
| The Annual Property Tax Rate as determined by each municipality | Ranges from 0.01% to 0.45% of the tax value of property |
Source: PwC 2018, Fitch Solutions
Date last reviewed: September 20, 2018
9. Foreign Worker Requirements
9.1 Localisation Requirements
Foreigners can obtain a work permit under the following conditions:
Only such positions can be occupied for which no Bulgarian citizenship is required under the law;


Account needs to be taken of the development and public interest of the national labour market;


The total number of foreign employees of the local employer cannot exceed 10% of the average number of staff on the payroll for the preceding 12 months;


The conditions of labour and remuneration of foreigners cannot be less favourable than those for the comparable Bulgarian worker;


The remuneration has to provide the necessary means of subsistence in the country in accordance with the amount determined by MS.
9.2 Foreign Worker Permits
EU nationals, citizens of EEA member states and citizens of Switzerland enjoy the right of free movement within the EU. They do not need to obtain a work permit or register with the Employment Agency to work or engage in self-employment activities in Bulgaria. Individuals not enjoying preferential treatment who intend to work in the country under a local employment contract or under the terms of a secondment or intercorporate transfer must obtain a work permit from the Employment Agency. The term of validity of the standard work permit is up to one year and should be renewed each year. In general, non-EU nationals may not reside in Bulgaria while their work permit application is being processed. Work permits are inexpensive, averaging around BGN600, while residence permits are around BGN500.
Source: Government websites, Fitch Solutions
10. Risks
10.1 Sovereign Credit Ratings
| | | |
| --- | --- | --- |
| | Rating (Outlook) | Rating Date |
| Moody's | Baa2 (Stable) | 26/05/2017 |
| Standard & Poor's | BBB- (Positive) | 01/12/2017 |
| Fitch Ratings | BBB (Stable) | 01/06/2018 |
Source: Moody's, Standard & Poor's, Fitch Ratings
10.2 Competitiveness and Efficiency Indicators


World Ranking

2016
2017
2018
Ease of Doing Business Index

37/189
39/190
50/190
Ease of Paying Taxes Index

88/189
83/190
90/190
Logistics Performance Index

72/160
N/A
52/160
Corruption Perception Index

75/176
71/180
N/A
IMD World Competitiveness
50/61
49/63
48/63
Source: World Bank, IMD, Transparency International
10.3 Fitch Solutions Risk Indices


World Ranking
2016
2017
2018
Economic Risk Index Rank
63/202
Short-Term Economic Risk Score
59.8
59.4
63.5
Long-Term Economic Risk Score
55.4
58.5
62
Political Risk Index Rank
57/202
Short-Term Political Risk Score
65.2
65.2
65.2
Long-Term Political Risk Score
73.1
72
72
Operational Risk Index Rank
56/201
Operational Risk Score
59.7
59.3
60.2
Source: Fitch Solutions
Date last reviewed: September 20, 2018
10.4 Fitch Solutions Risk Summary
ECONOMIC RISK
As a member of the EU, Bulgaria has well-developed macroeconomic policies and is one of the most financially stable economies in the Central and Eastern region of Europe. With Bulgaria aiming to apply for membership in the European Exchange Rate Mechanism II, the adoption of the euro seems feasible after the obligatory two-year stay in the ERM. Apart from the necessary legal convergence, Bulgaria already fulfils all of the remaining Eurozone convergence criteria. The most important sectors of Bulgaria's economy are industry, wholesale and retail trade, transport, accommodation and food services and public administration.
OPERATIONAL RISK
In recent years, Bulgaria has been an increasingly attractive destination for outsourcing of businesses in a number of sectors, such as the pharmaceutical sector and the IT and communications sectors. The workforce in Bulgaria is well-educated, while the cost of labour in the country is relatively low. The country has a low corporate income tax rate of 10%. Investors in Bulgaria face growing risks sourcing suitable workers in the local labour pool, as the already small population is in the process of a demographic decline and suffering from high levels of emigration of skilled and unskilled workers.
Source: Fitch Solutions
Date last reviewed: September 21, 2018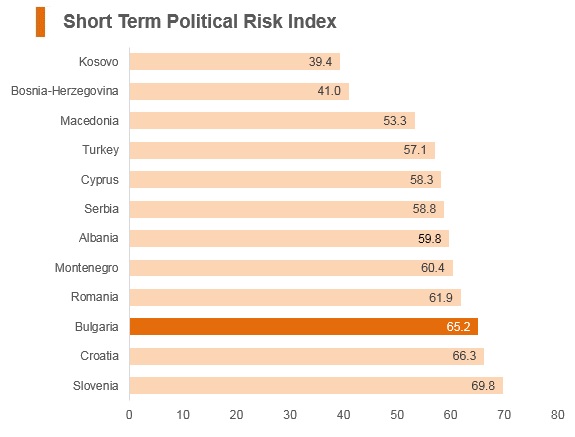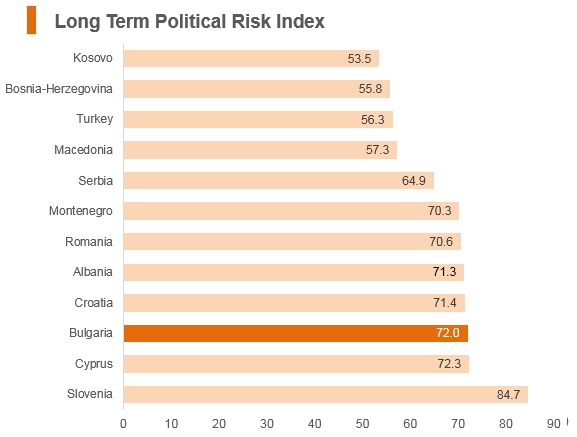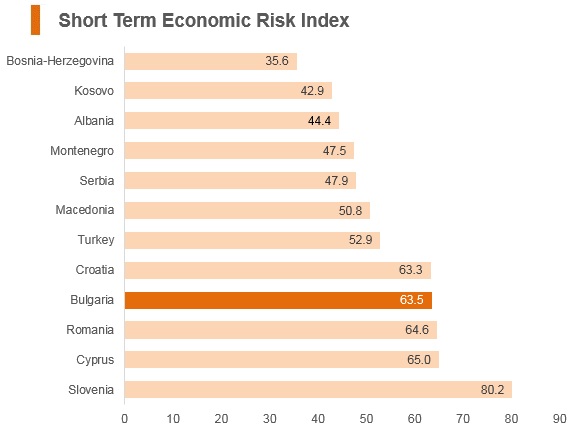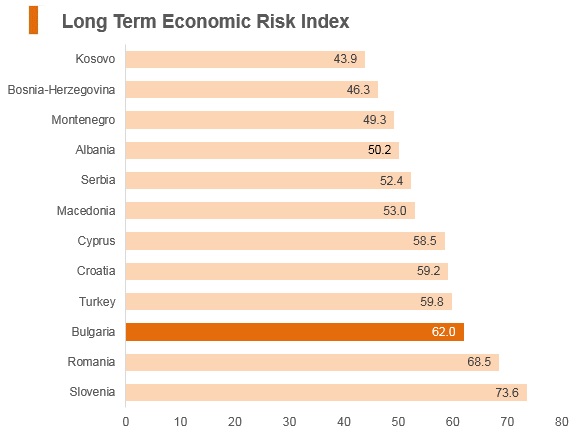 100 = Lowest risk; 0 = Highest risk
Source: Fitch Solutions Economic and Political Risk Indices
Date last reviewed: August 21, 2018
10.5 Fitch Solutions Operational Risk Index
| | | | | | |
| --- | --- | --- | --- | --- | --- |
| | Operational Risk | Labour Market Risk | Trade and Investment Risk | Logistics Risk | Crime and Security Risk |
| Bulgaria Score | 60.2 | 55.5 | 63.6 | 60.6 | 61.1 |
| Southeast Europe Average | 57.1 | 52.8 | 57.9 | 58.3 | 59.4 |
| Southeast Europe Position (out of 12) | 5 | 3 | 2 | 5 | 5 |
| Emerging Europe Average | 56.7 | 54.1 | 58.4 | 57.4 | 56.8 |
| Emerging Europe Position (out of 31) | 13 | 14 | 9 | 14 | 12 |
| Global Average | 49.7 | 49.8 | 50.0 | 49.3 | 49.9 |
| Global Position (out of 201) | 56 | 58 | 47 | 55 | 60 |
100 = Lowest risk; 0 = Highest risk
Source: Fitch Solutions Operational Risk Index

| | | | | | |
| --- | --- | --- | --- | --- | --- |
| Country | Operational Risk Index | Labour Market Risk Index | Trade and Investment Risk Index | Logistics Risk Index | Crime and Secruity Risk Index |
| Slovenia | 67.2 | 54.0 | 60.9 | 70.6 | 83.4 |
| Croatia | 63.1 | 51.9 | 55.4 | 68.4 | 76.7 |
| Romania | 62.1 | 57.1 | 62.1 | 60.7 | 68.5 |
| Cyprus | 61.0 | 55.1 | 61.7 | 58.3 | 68.8 |
| Bulgaria | 60.2 | 55.5 | 63.6 | 60.6 | 61.1 |
| Macedonia | 57.5 | 47.2 | 68.3 | 57.2 | 57.3 |
| Montenegro | 56.9 | 52.8 | 58.8 | 56.5 | 59.3 |
| Serbia | 56.1 | 58.5 | 59.4 | 53.9 | 52.5 |
| Turkey | 52.9 | 52.0 | 55.8 | 61.9 | 42.0 |
| Kosovo | 52.3 | 55.2 | 57.6 | 55.6 | 40.7 |
| Albania | 50.8 | 49.0 | 47.6 | 49.8 | 56.8 |
| Bosnia and Herzegovina | 45.5 | 45.5 | 44.3 | 46.1 | 45.9 |
| Regional Averages | 57.1 | 52.8 | 57.9 | 58.3 | 59.4 |
| Emerging Markets Averages | 46.8 | 48.0 | 47.5 | 45.8 | 46.0 |
| Global Markets Averages | 49.7 | 49.8 | 50.0 | 49.3 | 49.9 |
100 = Lowest risk; 0 = Highest risk
Source: Fitch Solutions Operational Risk Index
Date last reviewed: August 21, 2018
11. Hong Kong Connection
11.1 Hong Kong's Trade with Bulgaria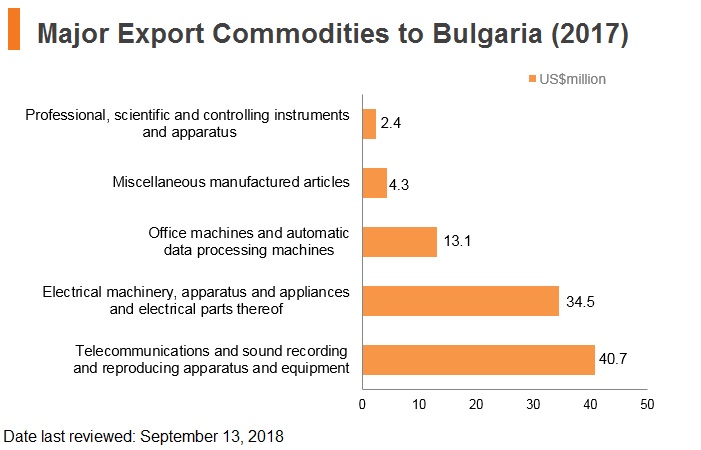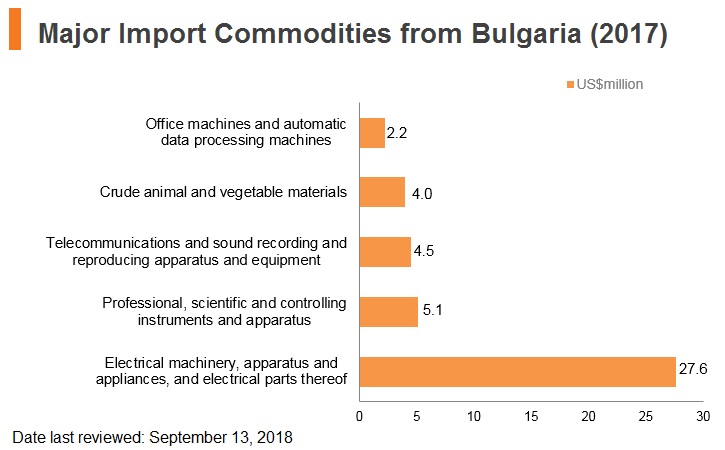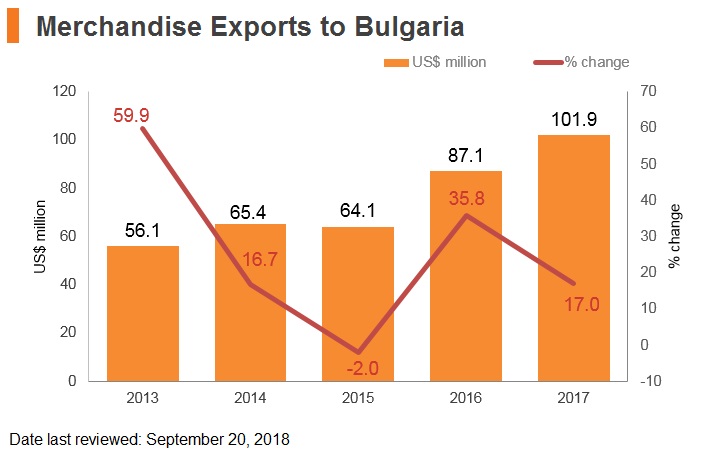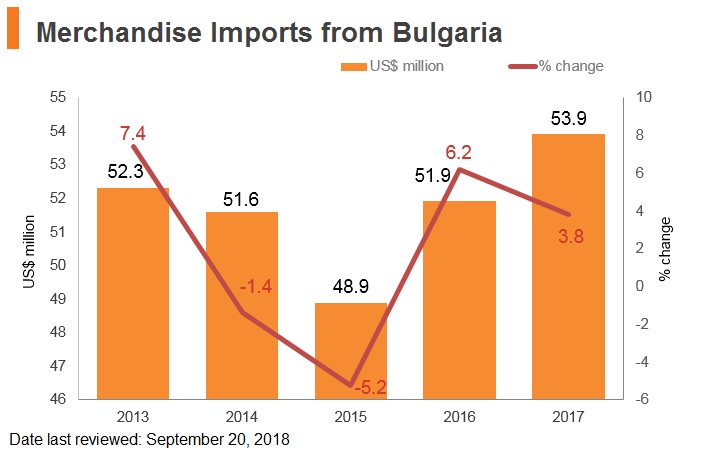 Exchange Rate HK$/US$, average
7.76 (2013)
7.75 (2014)
7.75 (2015)
7.76 (2016)
7.79 (2017)
Source: Hong Kong Census and Statistics Department, Fitch Solutions
| | | |
| --- | --- | --- |
| | 2017 | Growth rate (%) |
| Number of Bulgarian residents visiting Hong Kong | 5,863 | 2.8 |
Source: Hong Kong Tourism Board
| | | |
| --- | --- | --- |
| | 2017 | Growth rate (%) |
| Number of European residents visiting Hong Kong | 1,929,824 | -0.2 |
Source: Hong Kong Tourism Board, Fitch Solutions
Date last reviewed: September 20, 2018
11.2 Commercial Presence in Hong Kong


2017

Growth rate (%)

Number of Bulgarian companies in Hong Kong
N/A

N/A

- Regional headquarters
- Regional offices
- Local offices
Source: Hong Kong Census and Statistics Department, Fitch Solutions

11.3 Treaties and Agreements between Hong Kong and Bulgaria

There is an existing greement between China and Bulgaria for the Avoidance of Double Taxation and the Prevention of Fiscal Evasion with respect to Taxes on Income and Capital. The original agreement entered into force in May 1990. The ammended agreement entered into force in January 2003.
Source: State Administration of Taxation (The People's Republic of China)
11.4 Visa Requirements for Hong Kong Residents
HKSAR passport holders do not need a visa to visit Bulgaria for a period of up to 90 days within a six-month period.
Source: Immigration Department of the Hong Kong SAR

Location: Bulgaria
Sectors: Aviation
Looking for: Open for Negotiation