Pakistan
Pakistan: Market Profile
Major Economic Indicators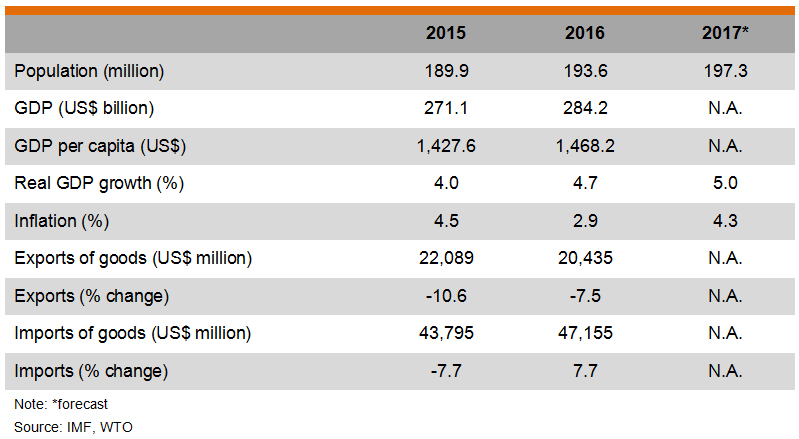 Pakistan is part of the southern region of the Asian continent that is known as South Asia – it is located on the crossroads of Asia and the Middle East, bordering China in its north-most area, India in the east and Iran and Afghanistan in the west.
With about 200 million people, Pakistan is the world's sixth most populous country. However, its per capita income of around US$1,400 is only slightly higher than that of Myanmar or Bangladesh (both are least developed country or LDCs).
In the latest financial year ending June 2017, Pakistan recorded GDP growth of 5.3% on the back of a 9% growth in construction activities. Services, which account for nearly 60% of GDP, rose by 6% in the same period, thanks to strong growth in the finance and insurance as well as government service industries.
As the second largest economy in South Asia after India, Pakistan is expected to maintain medium-term trend growth, with real GDP growth projected at 5% for 2017 amid lower oil prices, rising infrastructure spending and the implementation of structural and economic reforms. 
Power shortages have long been a hurdle to quickening Pakistani output and economic growth. President Hussain has attempted to reform the country's gas and power sector since taking office in 2013. His power policy includes an ambitious agenda to increase electricity generation, raise tariffs, and improve efficiency.
Main Pakistani exports include textiles and garments, rice, leather and sports goods, with a total export value of more than US$20 billion in 2016, though the export growth momentum was waning amid reports of an over-valued currency. Key imports include crude oils, petroleum products, machinery, plastics and transportation equipment.
In 2016, China was Pakistan's largest trading partner and import source (imports valued US$8.6 billion, surpassing US$4.1 billion of the UAE, which ranked second). In the same year, Pakistani exports to China reached US$1.6 billion, shy of US$3.6 billion to the US market. Both the US and EU provide GSP benefits to Pakistan.  In April 2017, China provided a loan of US$1.2 billion to Pakistan to help it ward off a currency crisis.
Pakistan is a member of the South Asian Association for Regional Cooperation (SAARC), which was established in 1985 and comprises eight countries (i.e.  Bangladesh, Bhutan, India, the Maldives, Nepal, Pakistan, and Sri Lanka, with Afghanistan joining SAARC only in 2006).
Pakistan's first free trade agreement (FTA) was entered into with China in 2006. The two countries are negotiating an FTA upgrade with the last round of talk in December 2016. The talk between Pakistan and Hong Kong on a comprehensive double taxation agreement (CDTA) is in progress.
Under the Belt and Road Initiative, the China-Pakistan economic corridor (CPEC) is being established as a collection of modern infrastructure projects including roads, rails and power plants. Originally valued at US$45 billion over a period of 15 years, as pledged by President Xi Jinping to Pakistan in 2015, CPEC is currently expected to cost US$62 billion. The 392-km Multan-Sukkur section of the Lahore-Karachi motorway, a CPEC flagship project, began construction in May 2016. Gwadar Port of Pakistan, operated by China Overseas Port Holding Co., started operations in November 2016.
According to the State Bank of Pakistan, FDI inflow to Pakistan reached US$1.6 billion in January-July 2017. China ranked as the largest FDI source, investing US$901.7 million in Pakistan. In the same period, Hong Kong's inward FDI in Pakistan was US$22.5 million. 
Pakistan is one of the most liberal foreign investment regimes in South Asia with 100% foreign equity permitted in the manufacture and infrastructure sectors. The Pakistani government offers a number of tax incentives to FDI projects in many sectors spanning infrastructure, electronics and software. More information on Pakistan's investment climate and regulations can be found on the website of Board of Investment, the primary agency responsible for investment promotion.
Hong Kong's Trade with Pakistan
In the first seven months of 2017, Hong Kong's total exports to Pakistan increased by 1.8% to US$285 million. Major export items included telecom equipment and parts (US$137 million, 48.1% of total), musical instruments & parts/accessories; sound recordings (US$47 million, 16.4% of total) and miscellaneous manufactured articles (US$9 million, 3.3% of total).
Hong Kong's imports from Pakistan fell by 21.1% to US$64 million in the same period. Major import items included leather (US$20 million, 31.4% of total), textile yarn (US$19 million, 30.1% of total) and cotton fabrics, woven (US$ 5 million, 8.2% of total).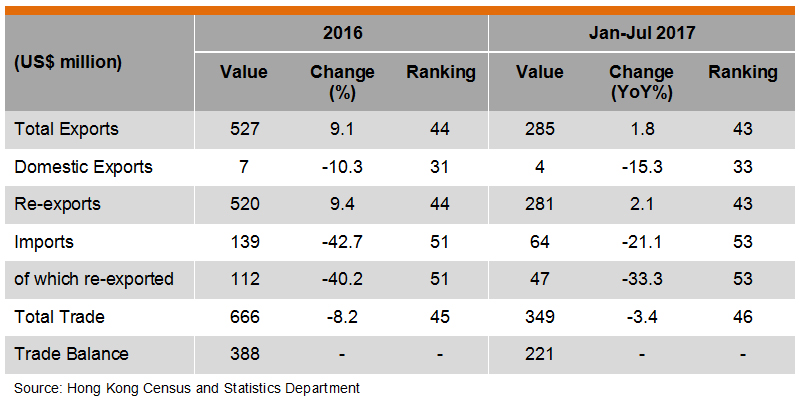 More Information   
More information on the Belt and Road countries' economic and investment environment, tax and other subjects that are important in considering investment and doing business are available in The Belt and Road Initiative: Country Business Guides.
Location: Pakistan
Sectors: Health Facilities
Looking for: Open for Negotiation
Location: Pakistan, Sri Lanka
Sectors: Hospitality & Tourism, ICT Infrastructure